Changes in shopping habits, advances in technology, and a more competitive landscape mean that high street brands are closing or reducing their physical locations.
Businesses used to be able to get by with a website and basic social media profiles, but now, in order to survive as a retail brand you have to work harder than ever to reach, attract, and engage with shoppers online.
Users want to engage with brands in a personal way. As a brand, you need to build a community, establishing rapport with your existing and potential customers, and tell your brand story.
For this purpose, Instagram outperforms all other platforms. Arguably, it's the best place for you to promote your brand and engage with your users.
And with a massive one billion monthly active users and 500 million daily users, it's hardly surprising that savvy retail brands include increasing their Instagram followers in their social media strategies.
But it's more than just the sheer size of Instagram's audience.
Take a moment to consider these statistics about actions consumers take after they've followed a brand:
87% visit the brand's website or app
78% visit the brand's physical store
78% talk about the brand with friends and family
77% choose to buy from the brand instead of another
67% increase spending with the brand
53% engage with that brand on social media
Any doubts about the power of Instagram and social media for your brand should be well and truly quashed by those figures.
If you'd like to generate more followers for your retail brand from Instagram, here are five tips from AB Tasty to do so.
Tip 1: Increase Instagram Followers with Instagram Stories
More than 80% of brands surveyed by SEMRush used Instagram Stories as a part of their social media strategy.
That's because Instagram Stories are perfectly placed to humanize your brand and engage users, all while generating leads and sales.
The results are impressive too.
A whopping 68% of users on Instagram engage with brands, as opposed to just 32% on Facebook.
That's because Instagram allows brands to show their personality in a way that's engaging, interactive, and human, with features like geographical location tagging, gifs, hashtags, polls, and so on, all designed specifically to grow your following and increase engagement.
Brands like Nike, for example, don't use Instagram Stories to sell products or brag about its successes; Nike uses them to share the experiences of inspirational people and athletes like "thatbigguy700," the story of a 700-pound man on a journey to lose weight.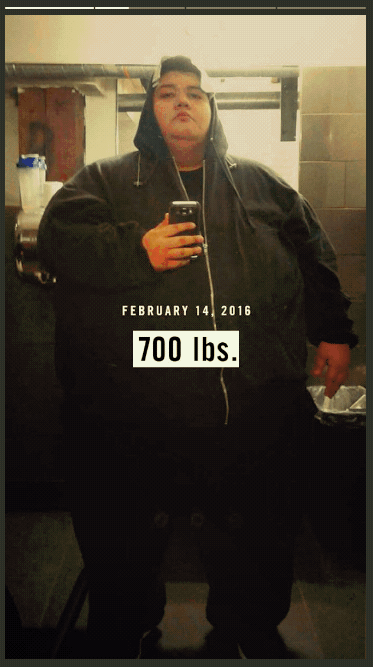 Or the story of Paralympian Sarah Reinertsen's determination to compete despite missing one leg.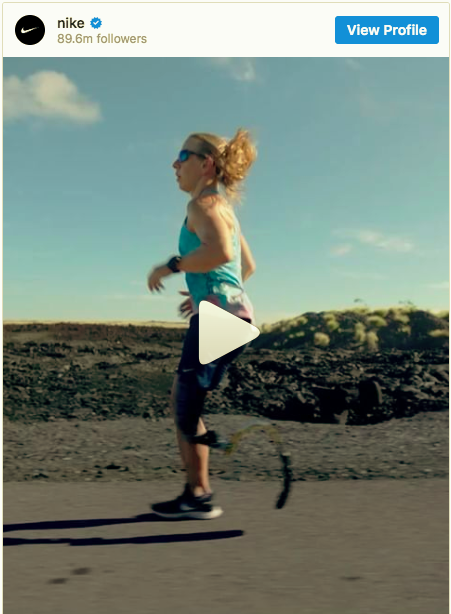 Tip 2: Increase Instagram Followers with Macro and Micro Influencers
Influencer marketing is one of the best ways to quickly build your Instagram following and increase brand awareness among your target audience.
In fact, Forbes found that influencer marketing is growing faster than digital ads. 
Influencer marketing is successful because it uses a pre-made audience and leverages the relationships, trust, and credibility an influencer has with their fans.
People respect and trust influencers' content and recommendations and are more likely to buy based on the suggestions of the people they trust.
There are two types of influencers:
Micro influencers: 1,000 to 100,000 followers
Macro influencers: 100,000+ followers
You may be tempted to dive straight in with macro influencers as, clearly, the reach is far greater.
However, the type of influencer you need will depend on your business type, business objectives, and your budget.
Studies show that micro influencers get better engagement, are perceived to be more trustworthy, and are cheaper.
In fact, micro influencers offer the following benefits:
There's no right or wrong type of influencer, but you do need to find one (or more) that fits with your brand goals.
For example, if you're a smaller brand aiming to make sales, micro influencers could be a better fit. On the other hand, if you're a global brand looking for increased reach and brand awareness, consider macro influencers.
In reality, the most compelling is a blend of micro and macro influencers.
Here's how to find Instagram influencers.
Option One: Search Instagram
The most basic technique is to use Instagram's search bar. Enter a keyword relevant to your brand into the search bar.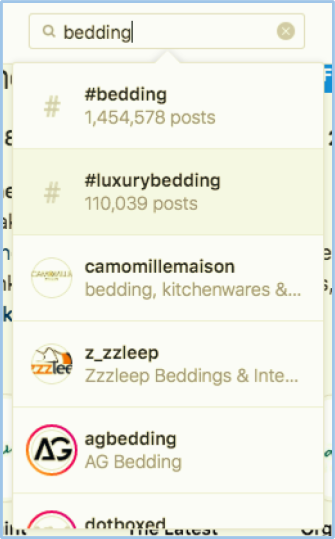 Browse through a list of profiles associated with the keyword and if you find a good match, send them a message asking about a potential collaboration.
However, there is one important caveat. The results presented will depend on your profile and how you've interacted with Instagram in the past.
This means that if you've engaged with cat posts but are now searching for kitchen-related influencers, your results will be different to someone who's only ever interacted with kitchen posts.
This means that while it's a workable technique, it's not the best out there.
Option Two: Use Google Search
Go to your Google search settings and set your location results to your preferred location or global.
Then enter the following search term into Google:
[Your Niche Keyword] + [Your Target Location] + site:Instagram.com
You should see a page that looks like this: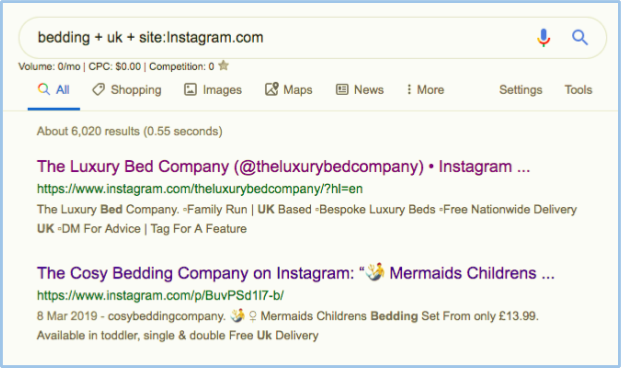 Click the profiles and check them out. The first one in my example above is a luxury bed company with almost 250,000 followers, which isn't bad for a couple of minutes of research.
If you decide that they are a good fit, send them a message and chat about possible partnerships.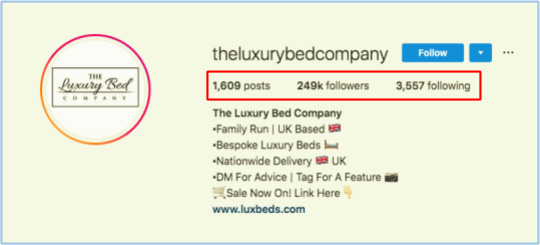 Option Three: Pay an Agency
If budget isn't your primary concern, you can hire an influencer agency. They will research, find, and negotiate with influencers on your behalf. There are tons of agencies around and you can find them by performing a search on Google for "Influencer Agency."
Just be prepared to pay for it.
If you're keen, you can learn more about influencer marketing here.
Tip 3: Increase Instagram Followers with User-Generated Content
People are more likely to buy based on the recommendations of a friend or family.
This is the reason why user-generated content (UGC) is so successful.
UGC is content that is created by your users or customers about your brand.
Because it's not paid for by the brand, it's perceived to be much more authentic and trustworthy than other kinds of paid advertising.
The statistics support UGC, showing that three-quarters of people trust content that is shared by regular people rather than by brands, and 100% of consumers trust recommendations from others.
By creating a brand hashtag for your UGC campaign, you can encourage your customers to showcase how your products are used.
Take the online furniture store Wayfair's UGC campaign.
After purchasing items from Wayfair and setting them up at home, customers post pictures of their new furniture and add the simple hashtag #WayfairAtHome.
The result looks like this: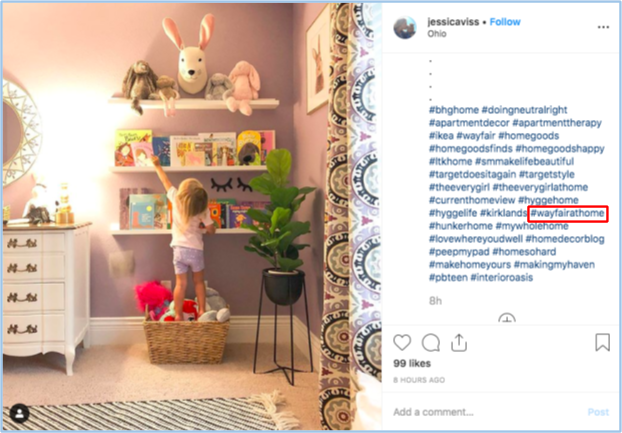 Tip 4: Increase Instagram Followers with Hashtags
Instagram acts like a search engine, but instead of keywords, it uses hashtags to rank your content.
Let's take a brand like Lululemon, for example.
Enter Lululemon into the search bar and you'll find more than 2.5 million posts using the hashtag.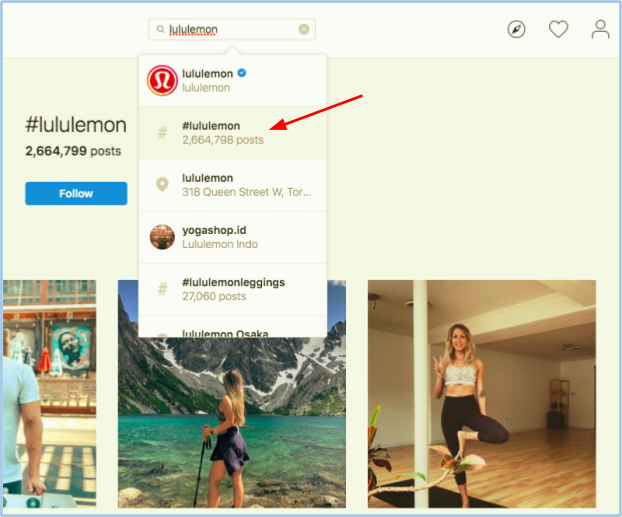 Click on #lululemon and you'll see the Top Posts (the most popular posts with that hashtag) and the Recent Posts.
It's not easy to get into the Top Posts, especially when you're targeting a highly competitive term, but there are a couple of hacks.
When your post lands in Recent Posts, if your post is well-considered, engaging, and appeals to your audience, then you're likely to get comments and likes.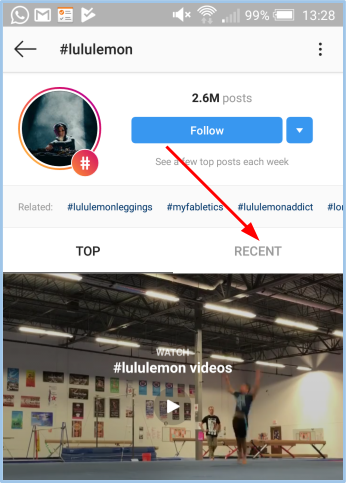 If your post works really well and gets lots of attention, then it can be potentially pushed up into the Top Posts section.
I'm not saying this is easy, but it is possible, especially if you consider your hashtag selection to make sure it's popular.
Let's consider the other side of this coin.
If you don't use hashtags, your brand won't be found and your carefully curated post will have gone to waste. Don't be that guy.
If you're wondering how many hashtags to use, you can use up to 30 in the description of the post. Buffer found that posts with more than 11 hashtags received the most engagement.
As with any kind of marketing, it's important not to be fake or spammy. In the Instagram community, this means using #hashtags that are relevant to your post.
Here's how to find popular, relevant hashtags on Instagram:
Create an Iconosquare account
Connect your Instagram account
Use the search bar to enter one hashtag that you are considering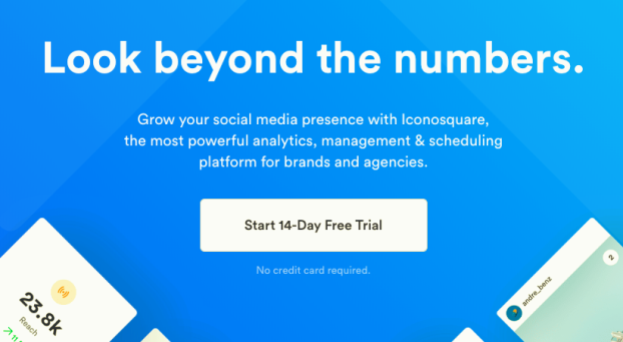 Once you've completed the above steps, Iconosquare will let you know how many posts use that hashtag, plus offer relevant suggestions.
Create a spreadsheet of your findings so you can easily refer to them at a later date.
Tip 5: Increase Instagram Followers with Contests and Giveaways
An Instagram giveaway or contest is a promotion in which brands give away a product or service according to a specified set of criteria.
When done well, it is a great way to get more likes, followers, and shares for your brand.
But there's a caveat. It's not a deal-breaker, but it is worth considering at the outset.
As the primary driver is the interest in free or cheap prizes, the quality of a user won via a contest or a giveaway and their willingness to pay may be lower than other users.
#1 Choose the Prize
It goes without saying that you need something to give away. It needs to be something that your audience will love, whether it's a gift card, an experience, or one of your products.
#2 Collaborate
Next, the best giveaways are done in collaboration with other Instagrammers. If you can, try to collaborate with an influencer (or two) or with some of your most active followers.
Getting your audience involved right from the get-go is a great way to skyrocket your campaign.
#3 Decide on the Entry Criteria
Create a strategy for what you'd like your users to do in order to get a chance to win. For instance, to be entered into the draw, they might need to do the following:
Like your photo: More likes on a post could mean you land in the coveted Top Posts spot.
Follow your account: To state the obvious, this will help you increase your following.
Repost your image with an @mention: Get seen by a wider audience and generate more engagement.
Or is it a combination?
There's no rule, but the key is to make sure the criteria align with your business goals.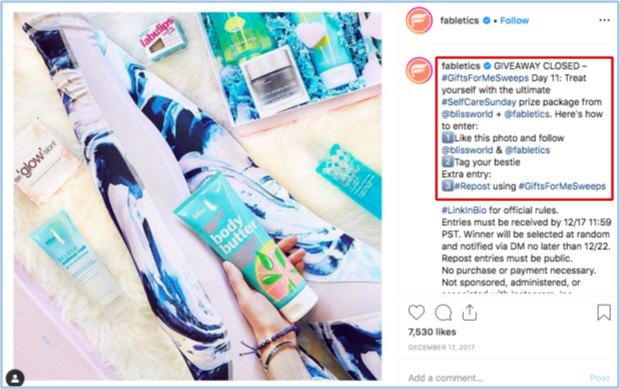 #4 Choose the Contest Length
You can run your contest for as long as you like. If you've got a large audience then a shorter period might suffice, while smaller brands might allow a week to ten days to ensure enough interaction.
#5 Design the Post
Create a beautiful, highly shareable post for the giveaway. It needs to include clear instructions on how to enter, what needs to be done, and what's up for grabs.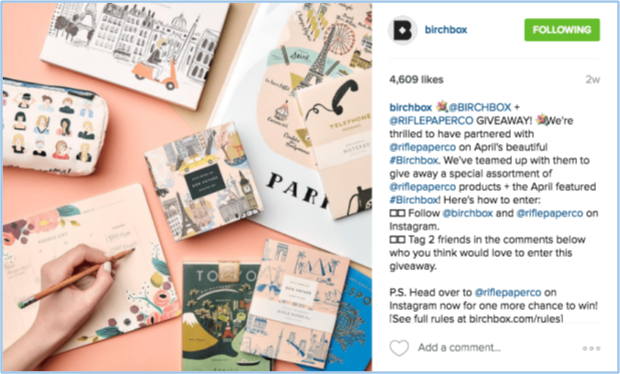 #6 Set Reminder Posts
Don't publish the giveaway post and forget about it. To get the most interaction out of it, create multiple reminder posts throughout the period of the giveaway.
#7 Spread the News about the Winner
Once the contest has finished and the winner has been picked, shout the winner from the rooftops. This is another great opportunity to get positive feedback for your brand and capitalize on the goodwill of the contest.
Now It's Your Turn
Now I'd like to hear from you.
Which strategy from this post are you going to try first?
Or maybe I didn't mention one of your favorite techniques to grow your Instagram following?
Either way, let me know by leaving a comment right now.
If you want to learn more, head over to our blog, 7 Tips for Implementing A/B Testing in Your Social Media Campaigns.