Social proof is pivotal in establishing your company's credibility. Recommendations from current customers cultivates trust in your brand, and prospective clients value the "tried-and-true" insight your testimonials provide.
Here are some quick stats on the positive impact of testimonials:
Customers are likely to spend

31% more

with a business that has "excellent" reviews.

Nearly 70% of consumers

rely on online reviews

before making a purchase.

90% of respondents

who read online reviews said positive ones impact their buying decisions.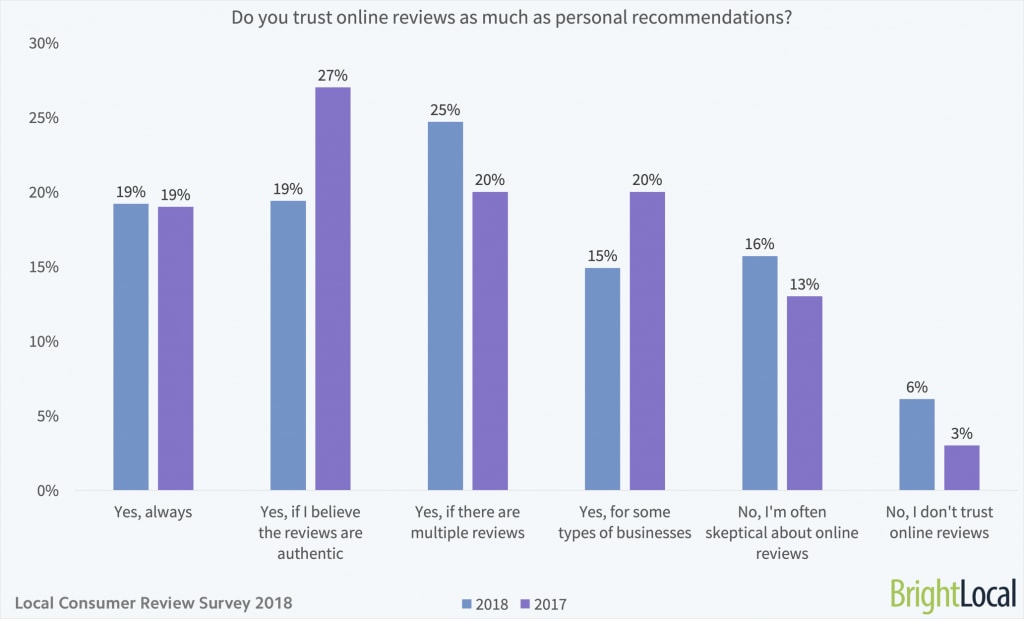 But just adding a few testimonials to your website isn't enough. Brands that inspire higher emotional intensity receive 3x as much word-of-mouth as opposed to less emotionally-connected brands.
Unless your customer testimonials tell a convincing story that resonates with people, they will never sell. So, how do you curate testimonials that have a positive impact?
Showcase Reverse Testimonials
A reverse testimonial is a positive review that begins with skepticism. It homes in on the uncertainty your customer had before making a purchase, what swayed them to choose you, and why that was the right decision. (This is something Copyblogger has made popular.)
Reverse testimonials feel more genuine than praise-only pull quotes, which can come across as saccharine and insincere. By acknowledging that your customer initially had doubts about your product, you create an immediate connection with a prospect that's weighing your brand against your competitors.
Check out the Bony to Beastly review below. Adam begins by talking about how overwhelmed he was searching for a workout program when most of them seemed like shams.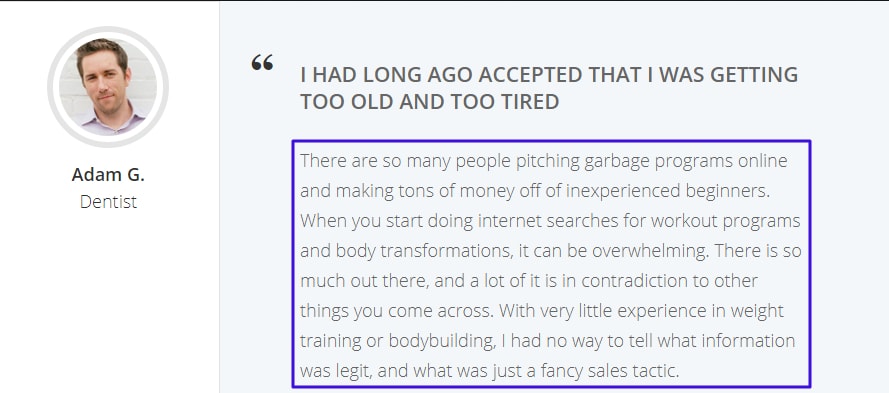 Adam echoes a universal doubt that people feel when evaluating a product: Will I be satisfied with my purchase?  Is this the best choice?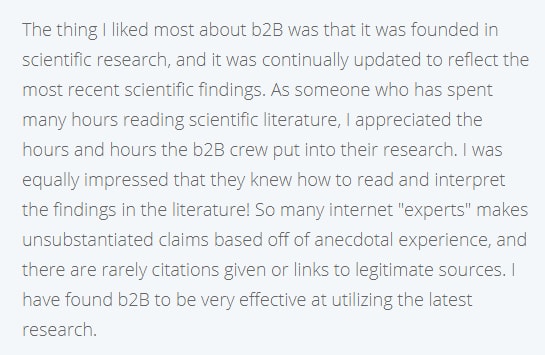 Adam then notes what the deciding factor was for selecting Bony to Beastly, and why this workout program is unique compared to all the others (making it the top choice).
Feature Your High-Profile, Influential Customers
People with a strong reputation—whether they be celebrities or esteemed professionals—are often admired for their success, skillset, and expertise. When your company has a high-profile ambassador recommending your product, your perceived value automatically increases.
This, in part, is the result of a cognitive bias called the Halo Effect. According to this theory, an impression someone has of one thing will influence their idea of another, unrelated, thing.
How does the Halo Effect relate to conversions? The logic is, "I admire X, and X recommends this product, so the product must be worth buying."
Look at how BuzzSumo features the Rolling Stones, HubSpot, and Moz.com.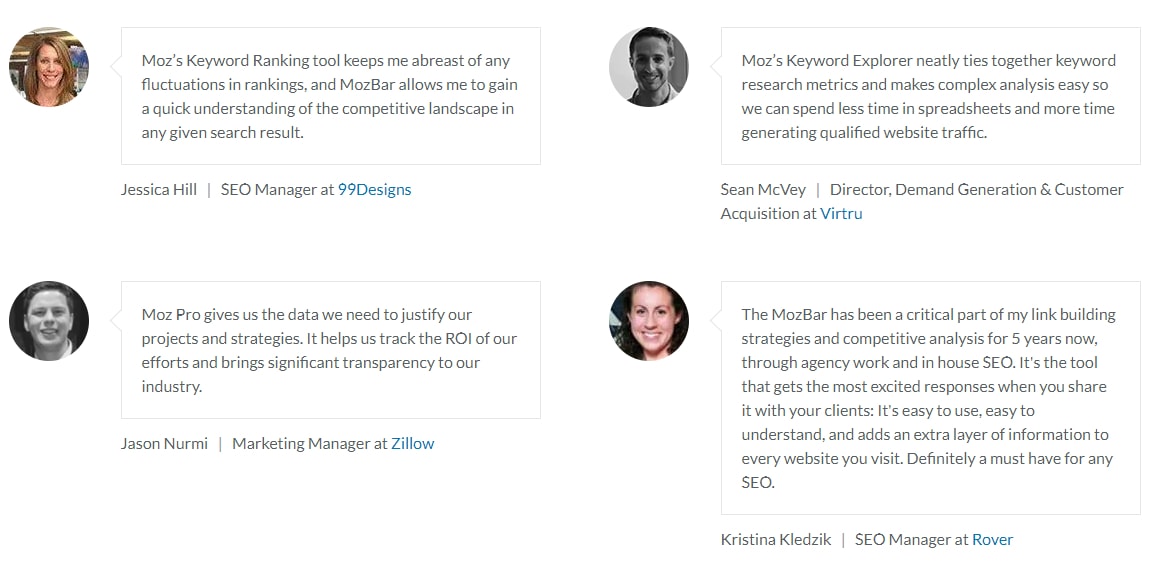 This "influencer" strategy isn't new—it's been used by marketers and advertisers for a long time.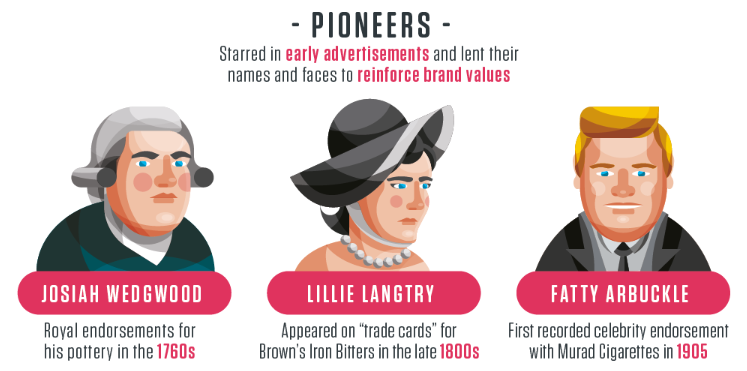 Check out this article, if you are interested in learning more about the evolution of this tactic.
Create a Case Study Page
A case study allows you to chronicle your success story in detail and demonstrate the true value of your product/service. Here's how to get started:
Ask the right questions

.

Show where your customer was before you came into the picture and how things turned out for them.

Include data to legitimize claims.
List your case studies on a dedicated section of your website. 
At AB Tasty, we named our page "Client Stories." These stories validate our claims and give readers a sense of security, both in terms of the number of clients we've worked with and the quality of our service.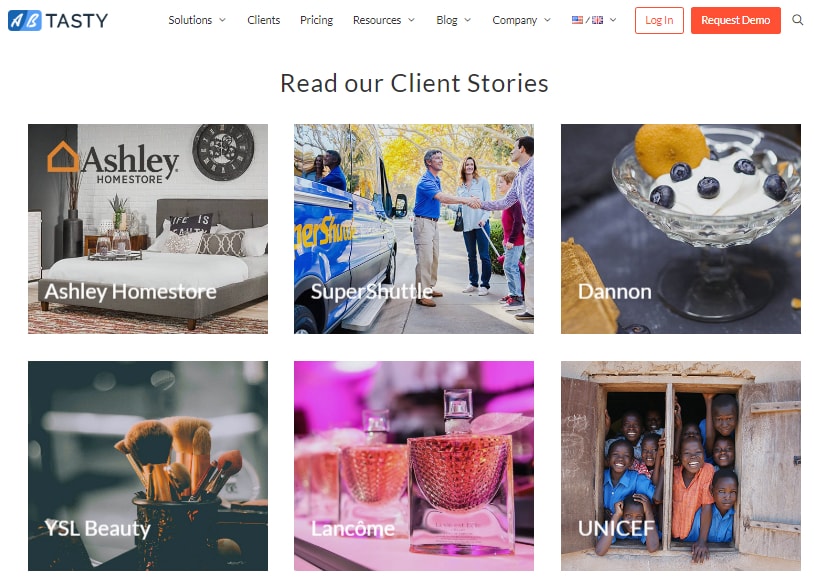 If you're looking for design inspiration for your page or testimonial, check out Hubspot. You can filter results by industry, location, company size, challenges, and so on. Hootsuite's archive is also worth a look.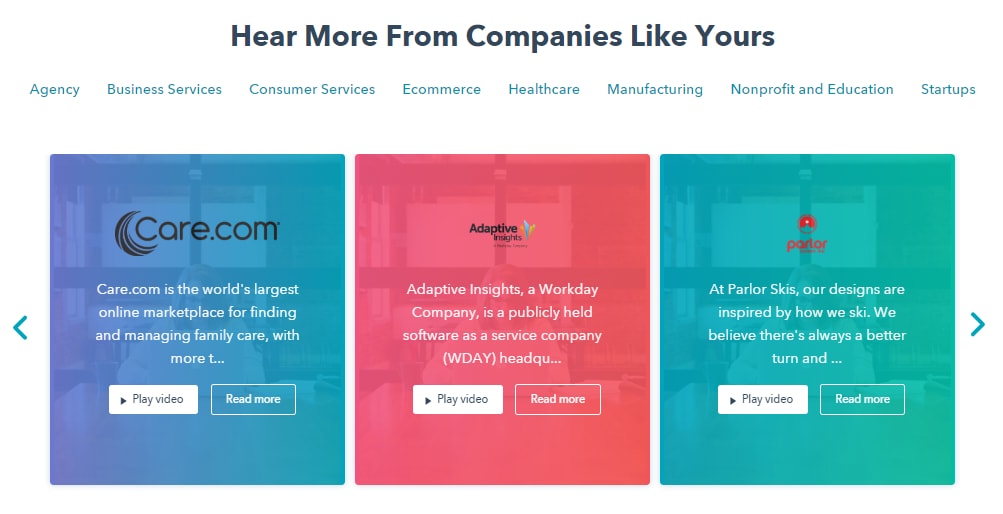 Experiment with the video format
HubSpot research says that 45% of people watch an hour or more of video per day.
Another study noted that 79% of people would rather watch a video about a product than read about it, and roughly 84% of consumers have bought something after watching a video.
The bottom line? Videos are a fantastic way to engage with customers, especially with video testimonials.  
Producing these videos can be costly, but the ROI is worth it. Aberdeen Group says that video marketers get 66% more qualified leads per year and achieve a 54% increase in brand awareness.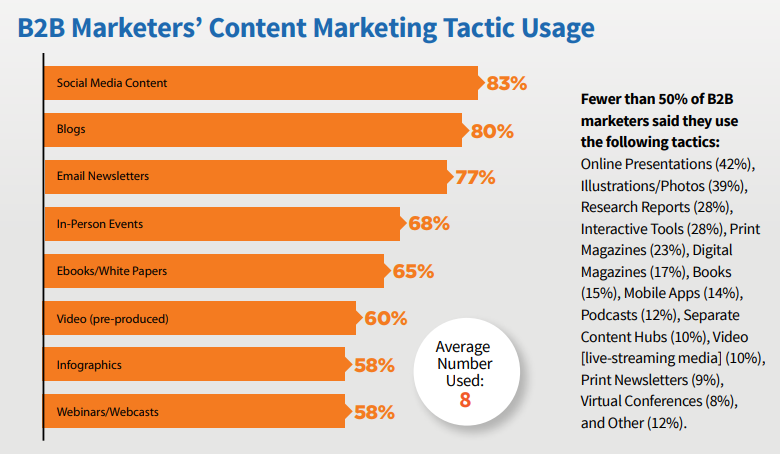 Let's look at the video testimonial on the Codeacademy website:
The focus is on three former students—not the brand—who talk about their experience before and after the coding course. This is a video testimonial done right. It's long enough to hold a viewer's attention and features relatable anecdotes. 
Include Quotes That Provide Insight
Quotes are relatively easy to get but tricky to get right. Potential clients usually aren't impressed by a generic compliment like, "the product is user-friendly!"
So how do you get a quote that's crisp, substantial, and believable?
For one, ask your clients to be specific. What feature do they love using and why? Do they have any data that highlights their successes?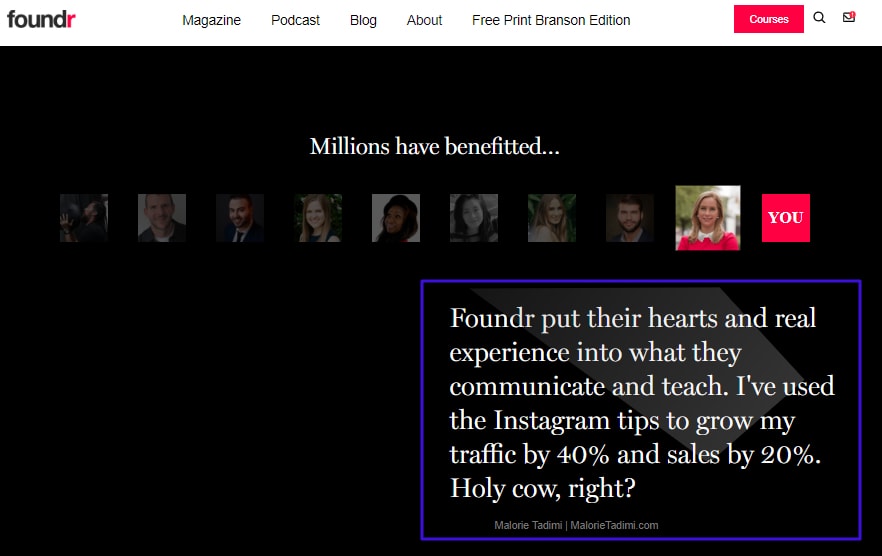 Then, give context. Add a photograph of the person giving the quote, along with their credentials, to humanize the testimonial and give it a greater sense of  "truthiness."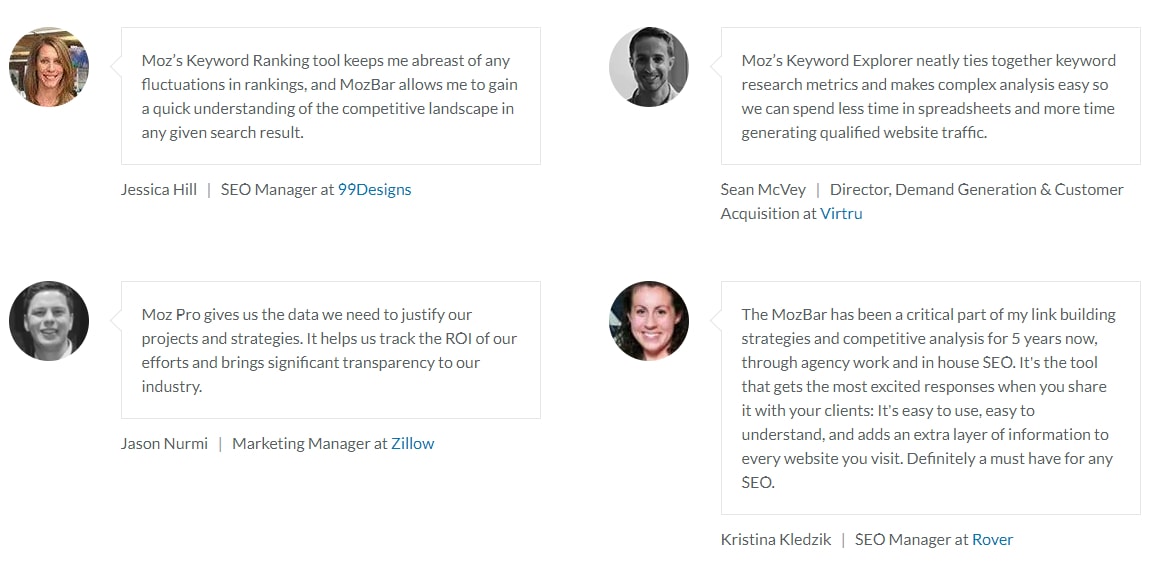 One A/B test and found that including the face of a happy customer increases conversion rates by 102.5%.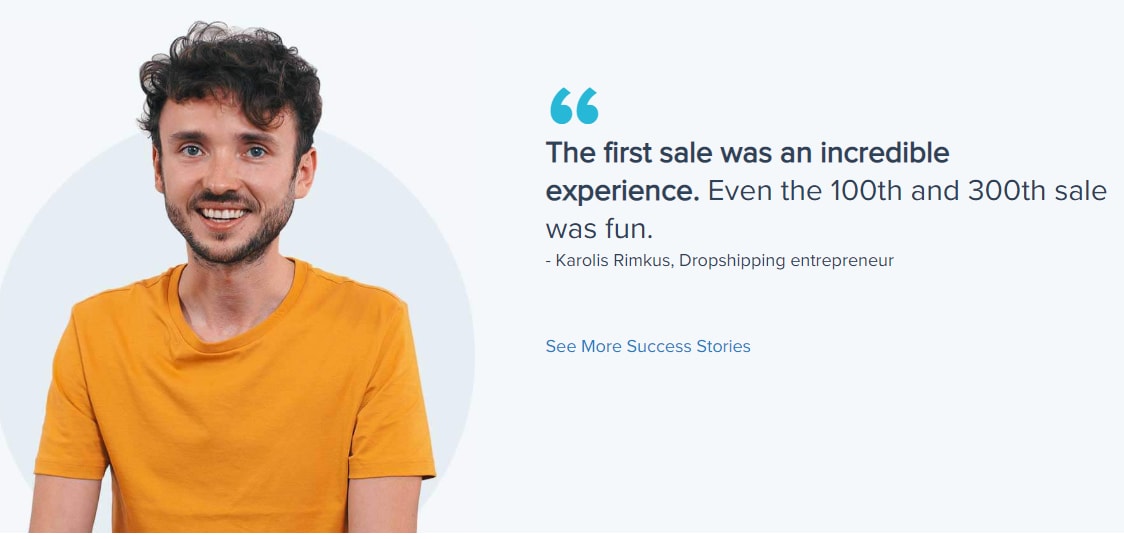 Interview Your Customers
A great example of using an interview for a testimonial is from Squarespace. They conducted an interview with Keanu Reeves (a high-profile ambassador) and interspersed his answers throughout the page, highlighting not-to-be-missed quotes.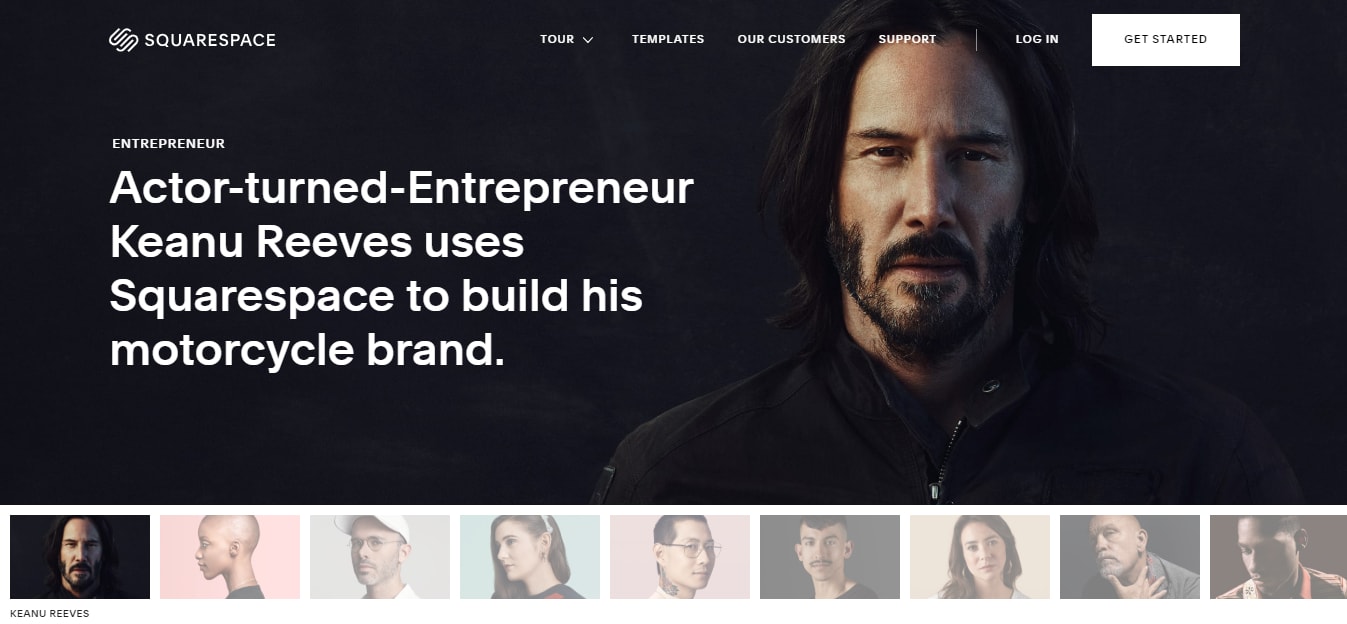 The content is informative, interesting, and feels organic—it never comes across like a  sales pitch.

Look For Unsolicited Testimonials
…and use them wherever you can.
Deadline Funnel used unsolicited testimonials on their website and plans to use them in their email sequences as well.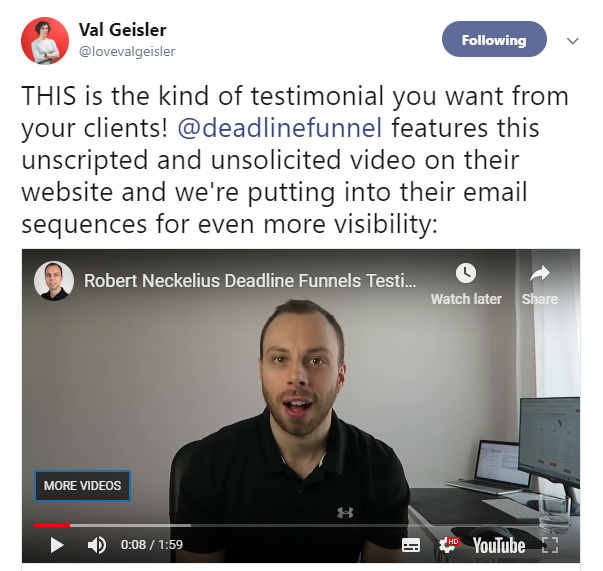 Unsolicited praise is genuine, unscripted, and without an ulterior motive: it's just from customers sincerely happy with your brand. These sorts of testimonials cement your company's credibility and increase your conversions.
So don't let public praise for your company go to waste! It's a great way to show the positive impact you've had on customers, and the appreciation you have for them in return.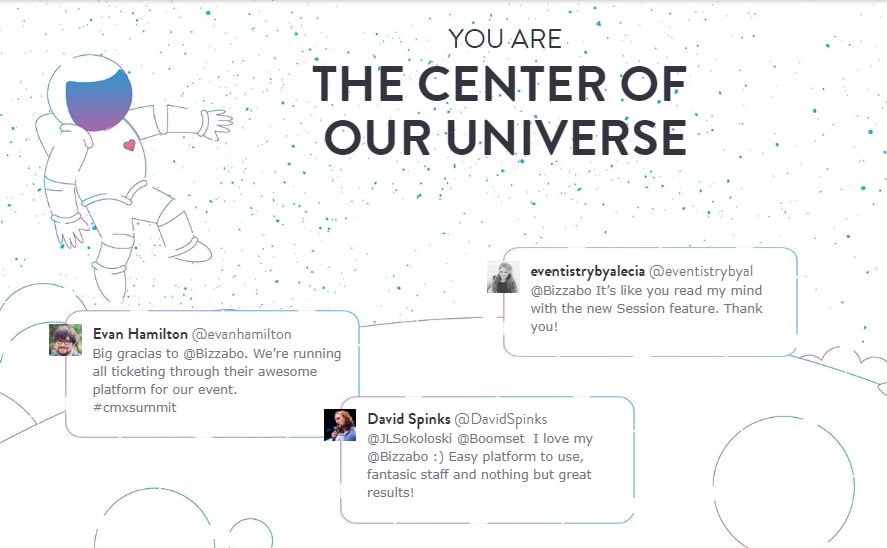 Getting Started
Now that you've stockpiled some useful tips on using testimonials to increase conversions, it's time to start curating! Run an A/B test to see what sort of testimonials work best for you, and don't limit yourself when it comes to formatting, style, and placement.
And now we turn it to you: How do you make customer testimonials stand out?