Conversion rate optimization is vital to maximizing the potential of web traffic, but it's equally important to retain customers once they convert. The probability of selling to an existing customer is 60-70% higher than selling to a new prospect (which has roughly a 5-20% chance).  A Harvard Business report found the same, noting that customer acquisition is anywhere from 5-25x more expensive than customer retention.
Which means the profitability of your business is largely affected by your ability to maintain loyalty for your brand and keep churn rate low.
What is Customer Churn Rate?
Customer churn rate is the percentage of people that have stopped using a company's product or service (canceling their subscription, closing/deactivating an account, etc.). 
This is a highly important metric for SaaS companies that have a subscription-based revenue model. But, even ecommerce players are showing an interest in this metric,  factoring in churn alongside conversion rates, repeat purchases, etc. to measure their growth.
How to Calculate Customer Churn
Customer Churn Rate is the number of customers lost during a fixed period, divided by the total customers started with, multiplied by 100. 
Let's say you had 2000 customers at the beginning of a quarter. By the end of it, 92 of those 2000 have churned. This means the churn rate is (92/2000) * 100 = 4.6%. 
How to Reduce Customer Churn
To reduce churn rate, you need to have a thorough understanding of your prospects and their specific needs. It's largely about creating an ideal customer experience. Below are a few methods to keep in mind. 
Create a Positive Onboarding Experience
 75% of people abandon a new software in 7 days.
40-60% of free trial users will engage with your product once and then forget about it completely. 
Why?
One common culprit is a poor onboarding experience; it's a mistake to assume that customers will intuitively understand how a product works. If a customer doesn't fully understand how to use a product or service it can cause frustration, roadblocks, and ultimately not provide the assistance or benefits they expected. Which leads to churn.
The founder of  Bingo Card Creator learned this firsthand. The software helps school teachers create custom, ready-to-print,  bingo cards.  Yet, the company's creator noticed high churn/drop-off rates when users reached the customize (and then Schedule Print) stages.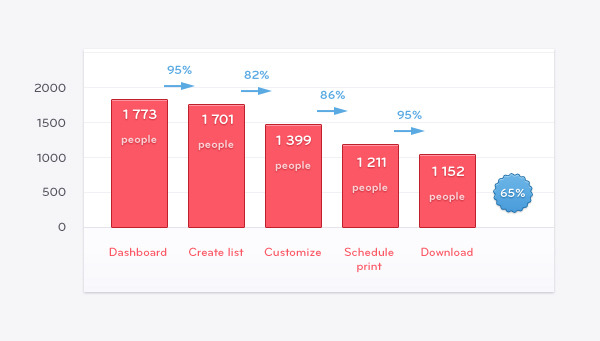 So, the team decided to make a few UX changes to assure customers that these steps were simple and could be completed in a matter of minutes. One modification included adding a progress bar to show how far along users were in the process. By the end of this revamp (which was focused on providing more guidance and a clearer UX to customers), 90% of customers completed the "customize" step as opposed to 82% in the original UX. 
It's important to note that while there are common themes when it comes to reducing churn rate, it will look different in practice depending on the company and prospects. Customers have varying expectations for each business—what works for one company may not work for the next.
To carve out a strategy, it's important to have a clear understanding of the following:
What is the user's main reason for signing up for your product?

How will you show the value of your product right away?

Does the user have experience with similar software/products, or are they relatively new to this technology?

How easy is it for new users to grasp your product's functions, benefits, and features?

How do you plan to streamline and simplify common points of friction, like account setup?
Tip: check out UX designer  Samuel Hulick's list on onboarding teardowns for more insights.
Improve Customer Experience
Today's consumer wants a holistic relationship with a brand. There's a high value placed on authenticity— especially with millennials—along with the expectation that your service is delivered without causing any cognitive dissonance.
Thankfully, businesses have taken note and resolved to make superior customer experience (CX) a key differentiator. Gartner reports that by 2020, 81% of brands expect to be competing mostly or completely on the basis of CX.
First, focus on some of the commonly-reported customer experience issues:'Response time' and the 'quality of interaction' are commonly cited issues in customer feedback.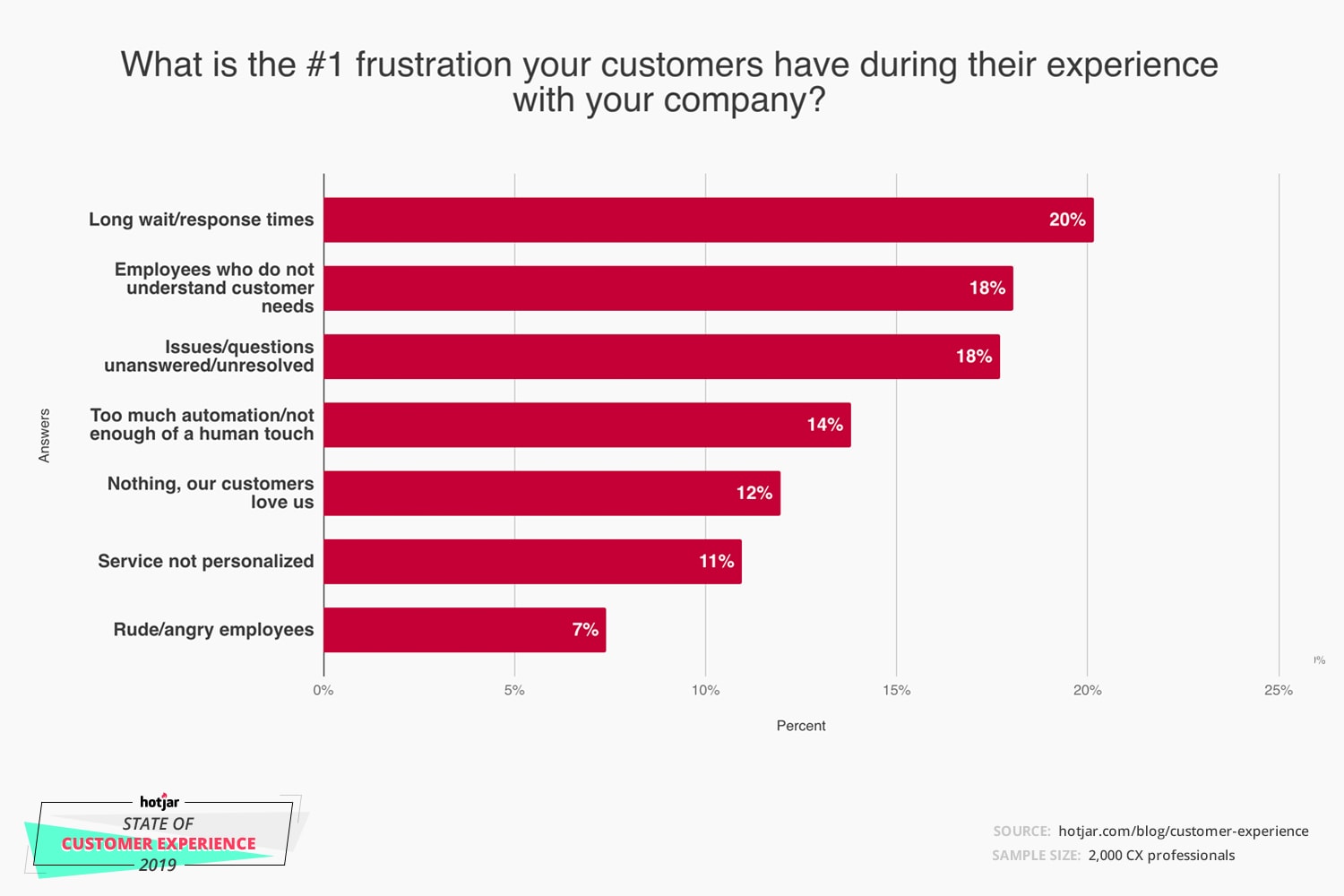 To foster a positive relationship with your customers consider the tips below.
Don't Work in Silos
Keep teams on the same page when it comes to customer interactions and feedback, to provide context and ensure people don't feel as if they're repeating themselves or going unheard.
Keep in mind, Microsoft reported that 72% of consumers expect a customer service agent to 'know who they are, what they have purchased and insight into their previous engagements.'
Embrace Live Chat Tools
Chat enables a speedy resolution to customer problems and can often be the most convenient form of communication (available to consumers anytime, and anywhere).  In fact, Emarketer discovered that 63% of customers were more likely to return to a website that offers live chat.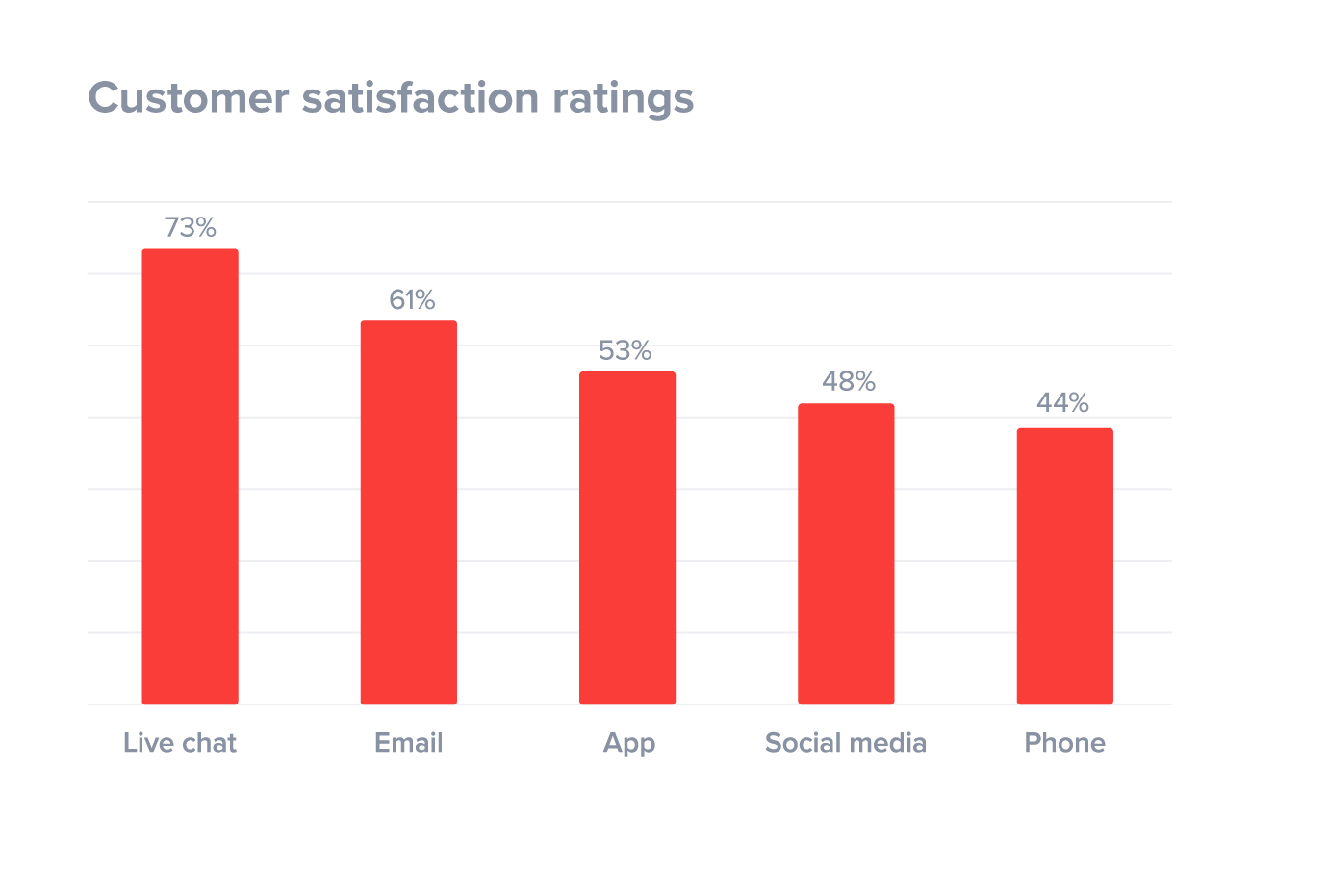 Be Responsive on Social Media
Microsoft reports that people view brands that respond to questions and complaints on social platforms favorably. But they also expect you to get back to them in under 24 hours.

Collect Feedback
77% of consumers like brands that proactively invite or accept customer feedback. The most popular ways to measure customer satisfaction, include:
Net Promoter Score

Customer Satisfaction Score (CSAT)

Chat logs

Customer support tickets

Customer interviews

Surveys

Social Media monitoring
The bottom line: talk to your customers. It may seem simple, but Groove reduced their churn by 71% just by asking why their customers were leaving.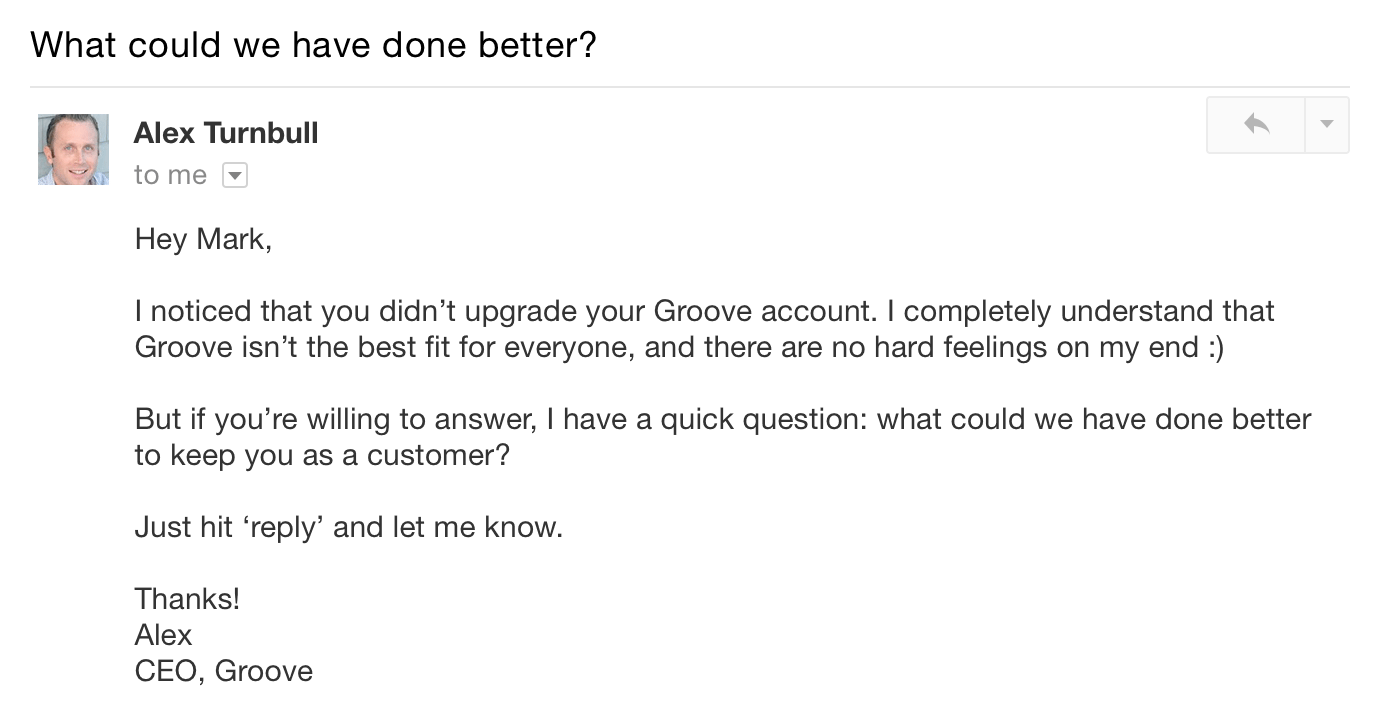 With the answers they received, they were able to re-engage and make specific changes that proved to customers that Groove was receptive and responsive to their needs.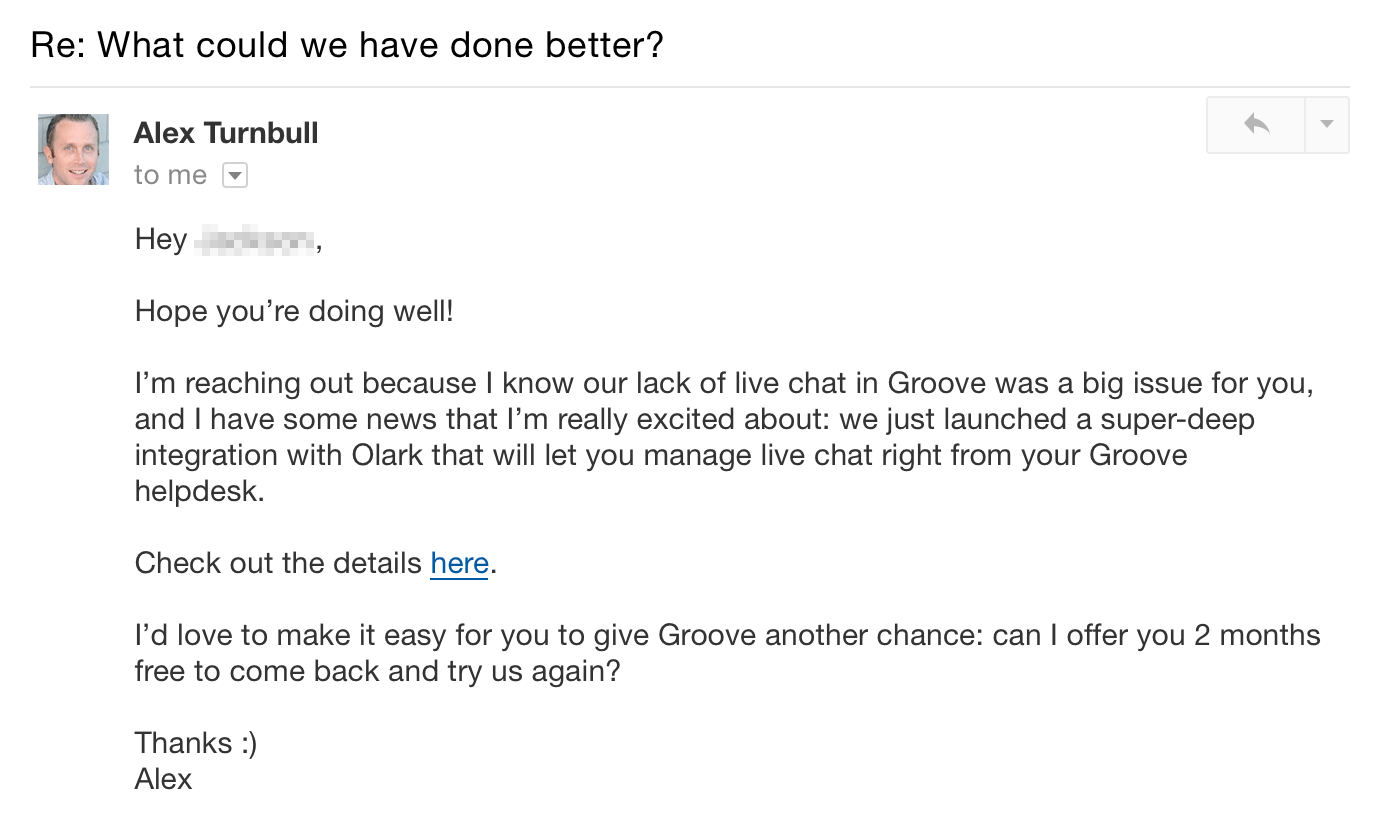 Create Personalized Experiences Leveraging the Internet of Things
For quick context, the Internet of Things (IoT) refers to everyday devices and objects that are connected to the internet and can send and receive data. Gartner predicts that the number of connected devices will exceed 20 billion by 2020,  ranging from cars to virtual reality-enabled headsets, to refrigerators fitted with sensors to communicate data.

Applying personalization data to the Internet of Things is a great way to provide a top-notch customer experience. For instance, Nest is a learning thermostat that adjusts the temperature depending on owners' preferences and schedules, and helped customers save 10-12% on heating costs and 15% on cooling bills. 
How to Tap Into the Potential of IoT
"Be sure to balance pragmatism (what is proven to deliver now) with vision (how the IoT can enable transformational business moments). Move beyond viewing the IoT as a general technology wave by applying an industry lens to identify relevant use cases
." 
—
Chet Geschickter
, Gartner Research Director.

Chet Geschickter, Research Director at Gartner, encourages combining IoT with other technologies, such as machine learning, advanced analytics, augmented reality or all the above.
Amazon is a great example. It's conducting a study with Body Labs that is speculated to help develop a "style assistant" on their home devices and let people eventually try on clothing virtually.
Have Data Experts By Your Side
It's worth noting that integrating these technologies together, and using them to create a next-level customer experience will require expert data analysts. 
Gartner's team of researchers suggests companies retrain their CIOs and IoT architects in this field, at least partially, to satisfy this in-demand skill for the short term.
Final Thoughts
The reality is that customer churn is inevitable for businesses. But high rates are a sign of deeper issues, which likely stem from a flawed customer experience. It's important to make users feel supported when they invest in your product or service, to onboard them seamlessly and provide high-quality interactions. 
Communicate with customers. Understand their needs and how to make your product—and the experience of using your product—valuable. Those are huge factors in establishing a strategy that keeps churn low, and your profitability high.