As we wrote about in a previous article, shopping cart abandonment is an extremely common ecommerce occurrence. As we explained, it isn't the end of the world – but it's always better to limit it if you can. NB: you can read our article on Shopping Cart Page Optimization for more in-depth best practices.
Here are our 10 tips for reducing shopping cart abandonment for your ecommerce site:
1. Offer free shipping
Shipping charges are a major obstacle to conversion. A Forrester Research study showed that 40% of visitors who abandon their shopping cart do so because shipping is not included for free. TechCrunch also reported that 50% of e-commerce sites now offer free shipping in one form or another. Given the maturity and competitiveness of some market actors, such as Amazon, visitors expect free shipping. Moreover, other studies have shown that visitors spend an average of 30% more when there are no delivery charges.
Therefore, to the extent possible, cover shipping expenses or offer other order fulfillment options that give the shopper the impression that delivery will not cost them any money (e.g. delivery to nearest brick-and-mortar outlet, click and collect, etc.).
If you cannot provide free shipping throughout the year, schedule promotional periods during which you will cover delivery costs. A UPS study showed that when merchants occasionally offer free shipping, their sales jump 10 to 20% during those periods. Another possibility is to offer free shipping on orders whose total reaches a predefined threshold; this allows you to keep a decent margin and make it easier for shoppers who like your products to go through with their purchase. A final alternative, if you cannot afford to give free shipping, is to offer some kind of incentive that will add value to the transaction and help them swallow the bitter pill of delivery charges. Sample incentives could be a loyalty program, a discount on a future purchase or free samples.
2. Be transparent about delivery charges from the outset
Internet shoppers just want to know what the total cost will be before they move into your purchase funnel. As a reminder, 37% of visitors who do not complete their transaction said the main reason was that the shipping charges were not revealed until late in the process. Therefore, rather than not displaying shipping fees until after the user creates an account, display them as early as possible. The same applies to taxes. Always list the price inclusive of all taxes to avoid unpleasant surprises for visitors to your site. Indeed, 56% of them abandon their shopping cart if the e-merchant shows unexpected charges.
56% of shoppers abandon their shopping cart if the e-merchant shows unexpected charges.
This means you must pay attention to the fixed elements in your product pages. It is crucial that you always display the tax-inclusive price and the shipping charges on the page template. If you do offer free shipping, hammer it home. It is a decisive factor.
You could also display the least expensive shipping charges on the product page. Display a more complete list of delivery options when visitors click, such as a full list that opens in a new tab, to keep visitors on the product page.
3. Do not require visitors to create an account to check out
Some 28% of shoppers who abandon their carts do so because they are asked to register with the site. Creating an account slows down the checkout process and creates an obligation at the very beginning. Forcing visitors to create accounts can be a barrier to ordering, as proven by a study from User Interface Engineering which showed that eliminating the compulsory account creation step enabled some e-merchants to boost their conversion rate by 45%.
And yet, creating an account may meet other marketing objectives or requirements; in some cases, it may be indispensable. Fortunately, there are many alternatives. You can, for example, make registration optional, but remind shoppers of the benefits of creating an account (order tracking, invitations to private sales, etc.). This allows you to satisfy as many visitors as possible – those who do not want to sign up, those who do not care either way and those who like the loyalty programme concept.
Another option – more insidious but equally effective – is to automatically create an account for the user without presenting it as a step in itself. This entails simply asking for a password when customers enter their contact information (name, e-mail, address, etc.). They will realize that they are creating an account, but will be sufficiently engaged in your order funnel so there is no risk of abandonment, especially as they are not dealing with an entirely distinct stage in the process.
One final possibility is to ask customers to create an account after completing their purchase. At this point, it is easier to prompt visitors to complete this step, especially if you remind them that it enables them to track their order, access the help desk and so on.
4. Limit the number of steps in your purchase funnel
21% of visitors who abandon their shopping cart do so because they find the checkout process too long. Have you tried reducing the number of stages in your purchase funnel to a single step, also known as "one-step checkout"?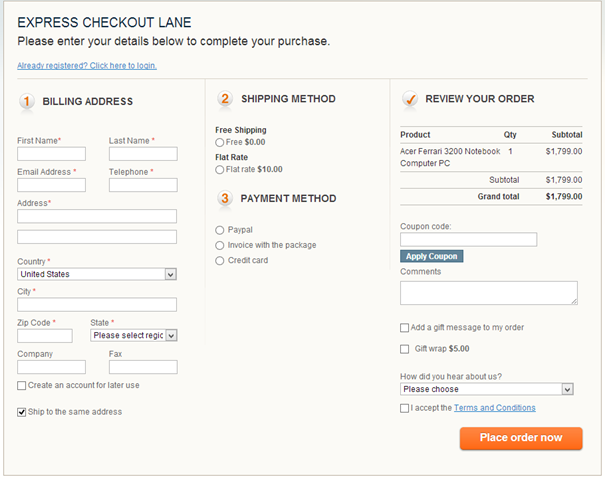 You should tread carefully because, although some tests have shown that this type of funnel which gives visitors the impression of a shorter process can be more effective, other studies suggest the opposite because less information is requested at each step, so they seem easier to complete. Every site is different, so you should conduct tests to find what best suits your audience. If you opt for a multi-step process, it is important to remind visitors of the number of steps they can expect by displaying a progress bar and create no more than three steps.
Every site is different, so you should conduct tests to find what best suits your audience.
You can also implement a quick ordering system along the lines of Amazon for customers who have already registered their payment method, which helps them save even more time.
5. Minimise distractions at every stage in your purchase funnel
Distractions are any elements that divert visitors' attention from the initial action expected from them. These may be visual elements, product offers or simply interface features that require visitors to make a mental effort to distinguish the main message from what amounts to background noise. The attention they spend analyzing these elements amounts to energy wasted on analyzing the key message. In some extreme – yet quite common – cases, these distractions can actually cause them to leave the page to look at other offers, as in the example below, where the action button to begin the checkout process is swallowed up by promotional offers.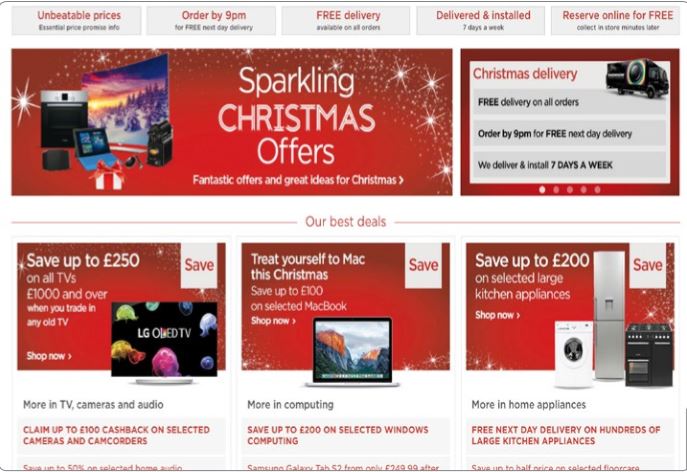 To limit these distractions, many sites go so far as to remove the usual navigation features, thus reducing the shopper's potential actions to the bare minimum, i.e. moving to the next step.
6. Accept multiple payment methods
Do you offer the right payment options to your different audiences? If you a lot of potential customers in other countries, you may need certain modes of payment (e.g. American Express for Americans, purchase on account or direct debit in Germany, checks in France, etc.).
Analyse the geographic origins of your visitors and research payment methods in each country. Other fast, universal payment methods, such as PayPal, may also appeal to visitors who are reluctant to give their credit card number to e-commerce sites that are not well known or lack legitimacy. Some visitors simply do not like entering long bank card numbers (especially on a mobile phone) or did not have quick access to their card. Make it easier for them.
And do not forget to display the list of accepted payment methods to reassure visitors to your site before they even get to the payment stage.
7. Reassure your site visitors
Not all e-commerce sites have the credibility and reputation of Amazon or other big name brands. If you are a little-known e-merchant, you must think about inspiring confidence in your potential shoppers.
Many factors come into play, but you can start by reassuring your visitors by clearly displaying on your site all the ways that you can be reached: phone numbers and e-mail addresses of contacts (sales, billing, support, etc.), physical address, etc. If you have a trusted third party, you should display the corresponding labels or seals on the pages of your purchase funnel, starting with the shopping cart page.
8. Pay attention to your calls to action
Once they get to the cart page, can visitors identify what action is expected of them within a few tenths of a second? Pay attention to the placement of the 'Proceed' or 'Continue' button and be sure it is visible above the fold without having to scroll. If necessary, duplicate the button before and after the summary list of items in the cart.
The button's visibility also depends on its contrast. Does your site's color scheme highlight this button sufficiently and does it stand out from the other interface elements on the page? If there are other clickable buttons, do you create a visual hierarchy that makes it possible to quickly identify the main button?
9. Rethink functions relating to the shopping cart
When we discussed the primary reasons for shopping cart abandonment, we mentioned that visitors sometimes use the shopping cart as a tool to put aside appealing products so they can compare them later. It is abundantly clear that they are putting it to a different use, which can make your analyses inaccurate if you focus on the shopping cart abandonment rate to optimize your conversion funnel. In reality, this behavior does not reflect a lack of interest in your products or poor ergonomics in your purchase funnel. It is better to try to isolate this type of behavior by offering features to address visitors' needs. It can only improve the accuracy of your cart abandonment analysis.
Many sites have already incorporated this phenomenon by allowing visitors to save their favorites or create a shopping list. Tracking and analyzing these features can give you a lot of information about the intentions of your visitors and how far along they are in their purchase decision. Are they here to buy or just for information?
The answer will provide you with powerful insights about your shopping cart abandonment rate and how to follow up with visitors who did not complete their transaction.
10. Think about on-site remarketing!
On-site remarketing includes all the tools that help you identify in real time the moment when visitors disengage and are about to abandon their cart or leave the site. Once you detect this intention, you can re-engage them with a personalized message based on their browsing history and the contents of their cart. You may offer an incentive to convert (e.g.: free shipping if the amount of the cart items exceeds a certain threshold, discount coupon, etc.) or simply recover their e-mail address to re-engage them later via other channels. Solutions like AB Tasty help you implement such customized reactivation scenarios in real time. They are simple and require no alterations to your page code and no involvement by your technical staff.
Interested in learning more? Read our next article on the two main kinds of remarketing techniques!
To learn more about shopping cart abandonment, download our ebook.