Having high-quality content or good products on your website is a good basis for getting in touch with potential clients. Nevertheless, there is always a risk of treating them as a homogeneous group when you should be treating them as individuals. In this article, you will find five steps that will make visitors feel special.
1. Use Personalized Communication
Target users with customized messages. Mrs. Smith doesn't like being welcomed with ''Hello, Mr. Williams'', obviously, but the individual address of a user means much more than a simple greeting.
Users want to be shown content that is relevant for them. You wouldn't show a young lady walking into your store the newest collection of ties and it should be no different in your online shop. Clumsy ''Buy me'' advertising is just as deterrent. Make your messages fit your users' needs and don't show the same old text to everyone.
How about giving the visitors of your website a chance to interact with your brand? Customers are no longer charmed by one-sided marketing messages, so it can be very effective to have them react to your content and give you feedback. Nothing makes a user feel treated more individually than letting them know their opinion is valued.
2. Have a Segmentation Strategy
In order to differentiate between various types of users and enable a personalized communication, you should segment your audience and find out which group you want to address in particular. Thanks to tools like AB Tasty, you can precisely define the user segments that you want to target by using more than 100 criteria available such as visitor behavior, purchasing behavior, traffic sources, geolocation, and device type.
With AB Tasty, automated segmentation is not only available for IT specialists but every marketer out there. This option saves you from having to manually filter your results by showing you the segments that stand out the most. In the AB Tasty reporting, segments that have interesting results will directly be displayed. For example Firefox, Chrome, a new visitor, returning visitor, PC, Internet Explorer.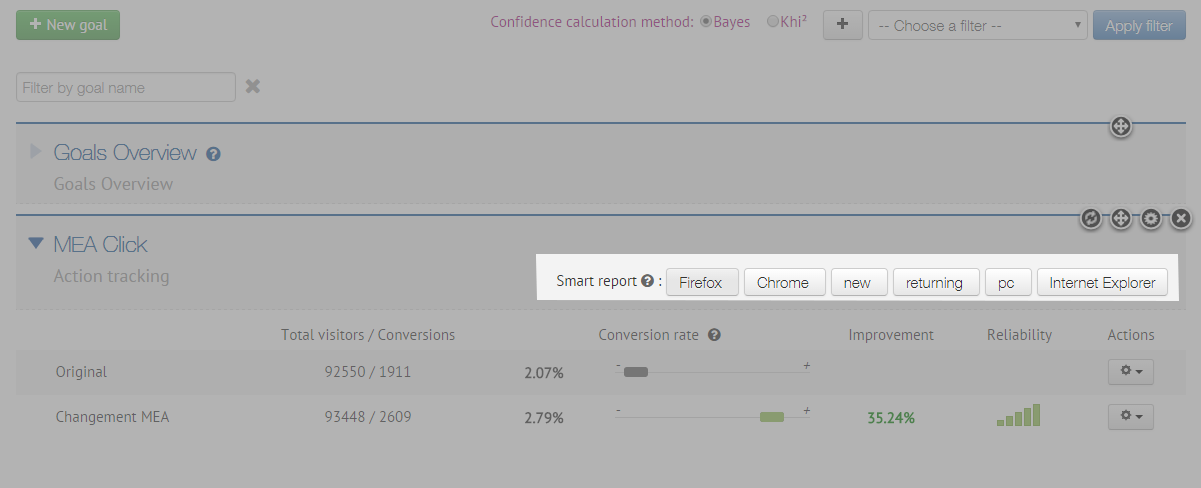 Now you can effectively target these segments from a marketing perspective.
3. Offer Relevant Content
If the content is irrelevant for the reader, it is simply bad content. Your latest summer collection is probably not relevant for those who visit your mobile site from Alaska – hands trembling from cold. Instead, why not recommend those multifunctional super gloves that you recently included in your product range? Determine the location of your site's visitors and target the right audience with the right content.
4. Pay Close Attention To Your Visitor's Device
The terminal device your visitors are using will always determine how they browse through your website. In order to speak to a user individually, the content needs to be adapted to the behavior.
Someone who spends their ten-minute subway commute (after a looong day at work) browsing your online shop probably won't make an expensive or complicated purchase there and then. Give them a chance to pause the transaction or easily save articles they are interested in.
Correspondingly, someone who is on their computer at home might have much more time to look at all the details of your products and make a definite booking. Customize the user experience by offering individual, high-quality content and avoid treating your users as a homogenous group.

5. Reward Loyal Customers
Have you successfully promoted your products and converted visitors into customers? If you want to treat them as individuals, there is one more thing to do – reward your loyal customers.
Customers come and go. There will be a lot of new customers who stop spending on your site to snap up offers elsewhere. Therefore, you should always reward faithful clients and thank them for their loyalty. Perhaps you can give them a gift or a discount once they have made a certain number of purchases or have been your clients for a certain time. Also, make sure you follow up transactions and don't go silent. Always thank customers for their purchase. Like you would if you would have met them in person!
Long-term customers should always be users that you want to address as VIP's and not as a homogeneous group.
Hello, Mrs. Smith!
Now that you have successfully addressed Mrs. Smith with personalized communication by segmenting your audience and offered her relevant content by figuring out what device she was using, you have gained a new customer! Make sure you build that customer relationship and keep her interested in what you offer.
But keep in mind that there are also Mr. Johnson, Mrs. James, Mrs. William, Mr. George… who want to be treated individually as well!