Though a lot is written about optimizing the 'add to cart' button, it's not just the actual form, color and wording of that CTA that does all the work. It would be a mistake to obsess uniquely over this one aspect of your page; there are other variables on a product page which work together to create a cohesive and memorable experience for your customers. Let's find out what those are and work on optimizing them, too.
Product Photos
67% of online shoppers think that high-quality images are "very important" to their purchase decision. BigCommerce also reports that 78% of online shoppers want products to be brought to life with images.
So yes, having high-quality photographs on your website is non-negotiable. But there's more that can be done to influence your customers and lift your 'add to cart' conversion rate.
Use photos from multiple angles and give the option to zoom. This creates an experience like when they would buy it in person.
Help them visualize using the product. For example, if you sell handbags, it's a good idea to photograph an actual person holding the merchandise.
Give them a 360 degree view, if possible. Sure, it's expensive but it's said to have a positive impact on conversions and customer satisfaction rate.
Keep it real. Show the product as is, otherwise you'll come across as a cheat which will, in turn, hurt your brand image and revenue.
Photos should match your brand's story. If you're a luxury brand, your photos should reflect that for the sake of consistency.
Here's an example from Abercrombie & Fitch's website, where customers can see a pair of jeans photographed from many angles. It reassures the buyer about the product quality and what it will look like when worn.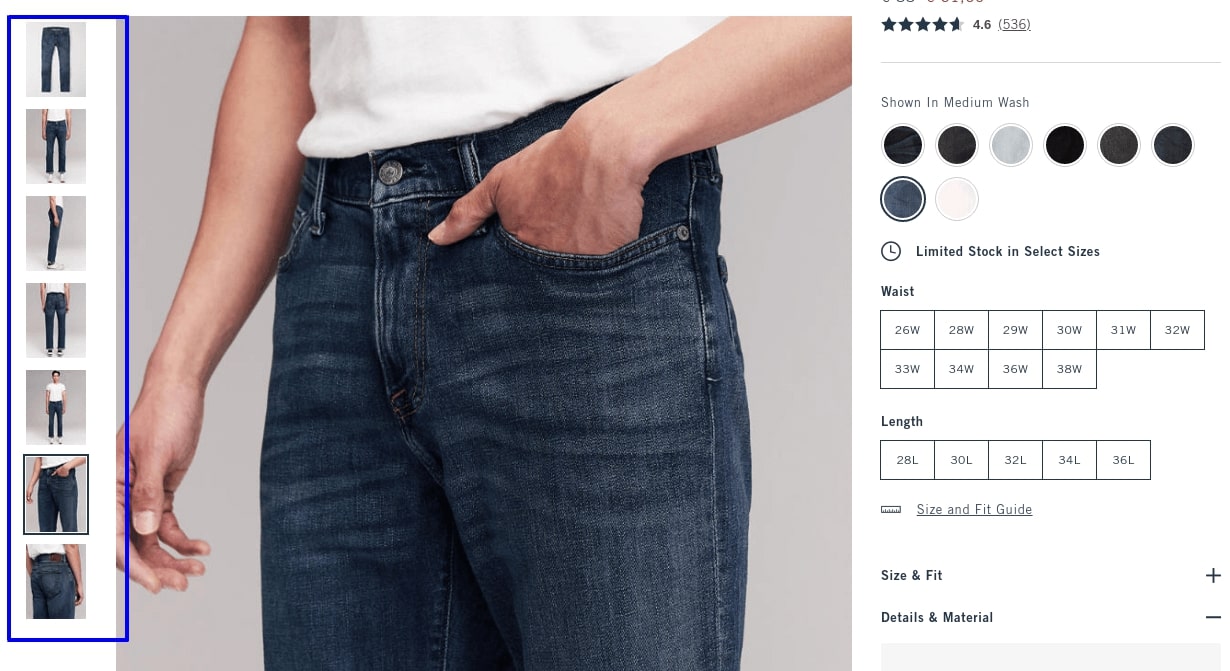 Product Description
Phenomenal photos aside, product descriptions play an equally important role in convincing customers to buy online. To come up with brilliant descriptions:
Make sure the language you use resonates with your customers and is relevant to the value offered.
Stay true to your brand personality for a unique and cohesive customer experience throughout your website.
Highlight benefits that solve your customer's problems.
Make it scannable to save time and help them make a quick decision.
Be original. Spend time writing your own copy.
Take a look at the description of a Frank Body product. It's equal parts quirky and informative, which is a telling sign of their targeted approach of hitting it off with their customer base and driving them to buy from their website.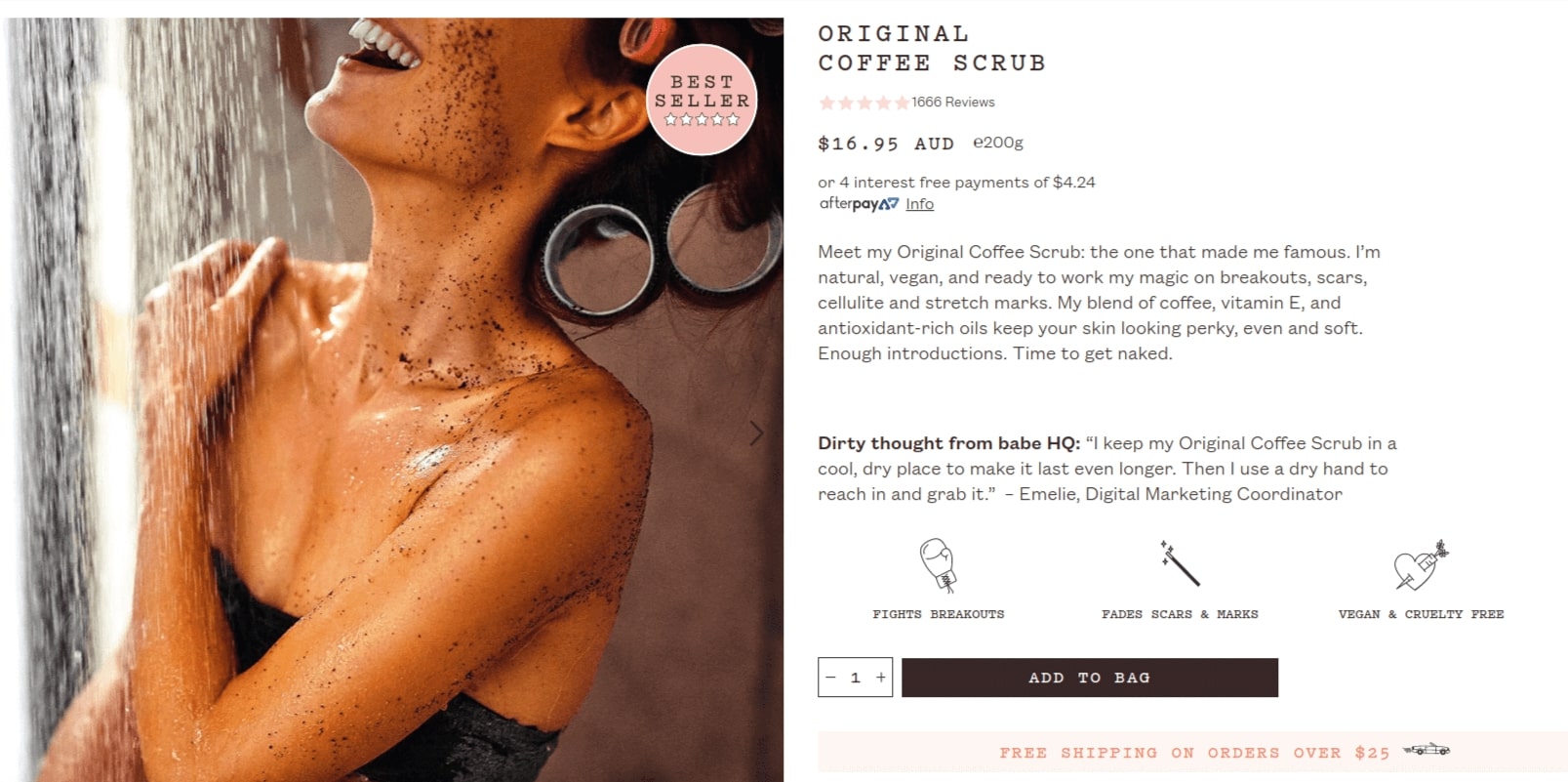 Social Proof
Nothing reassures online shoppers more than reviews and ratings from REAL people. Statistia reports that 30% of consumers agree that social proof impacts how confident they feel about their purchasing decision. Yet, only a few brands collect, let alone showcase customer feedback on their website. Don't be that brand.
Gather reviews and give people the validation they're seeking for it'll help them avoid second-guessing their decisions and get them closer to clicking 'add to cart'. Paula's Choice's placement of reviews right below the product name, for example,  persuades shoppers to trust their brand.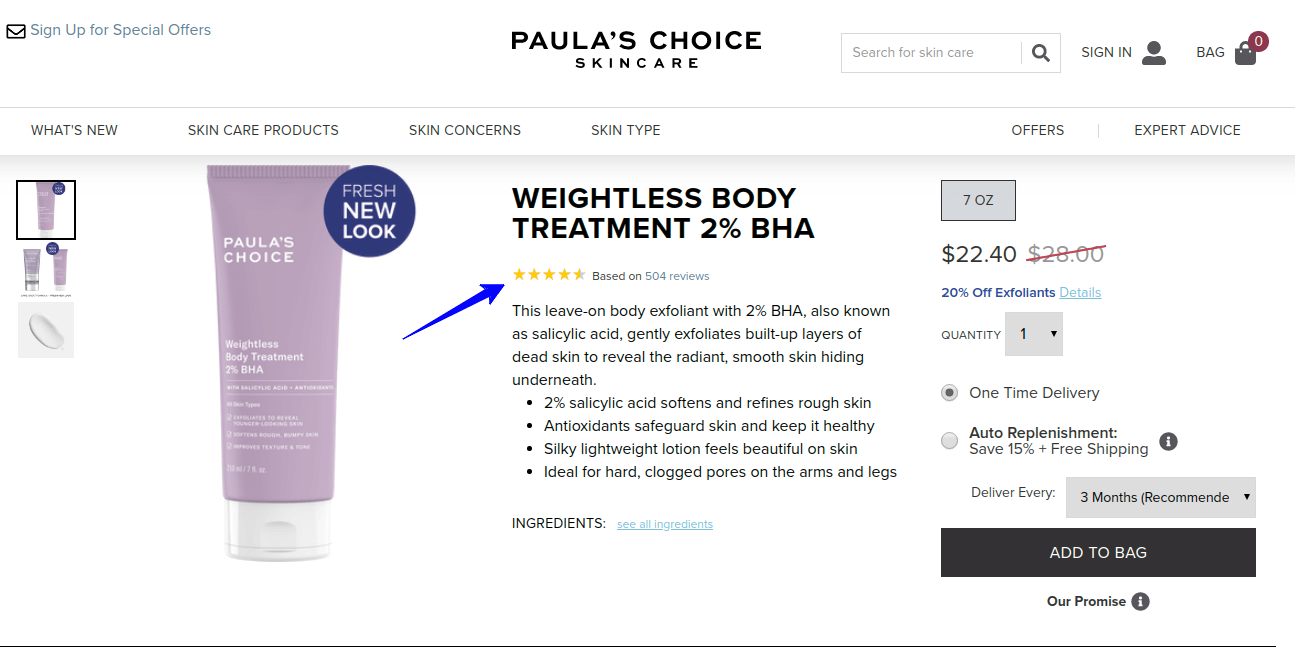 Having said that, make space for negative reviews. Data says: 53% of users track down negative reviews before making any purchase decisions. The reason why they do is clear: they want to make informed decisions. Plus, they want to see if you're a brand they can trust for not hiding negative reviews.
Shipping Expectations
Shoppers are price sensitive and absolutely hate getting surprised with hidden shipping costs during the checkout stage. In fact, it's one of the leading reasons why they abandon their carts.  And because they can still go elsewhere to buy what they're looking for, the real loss is yours.
To nip this bad habit in the bud and maintain transparency, disclose estimated or exact shipping costs based on shoppers' location. They will value you for being transparent and hit 'add to cart' immediately.
Two Thirds, for instance, valuing transparency, notify their customers about their delivery and return policy.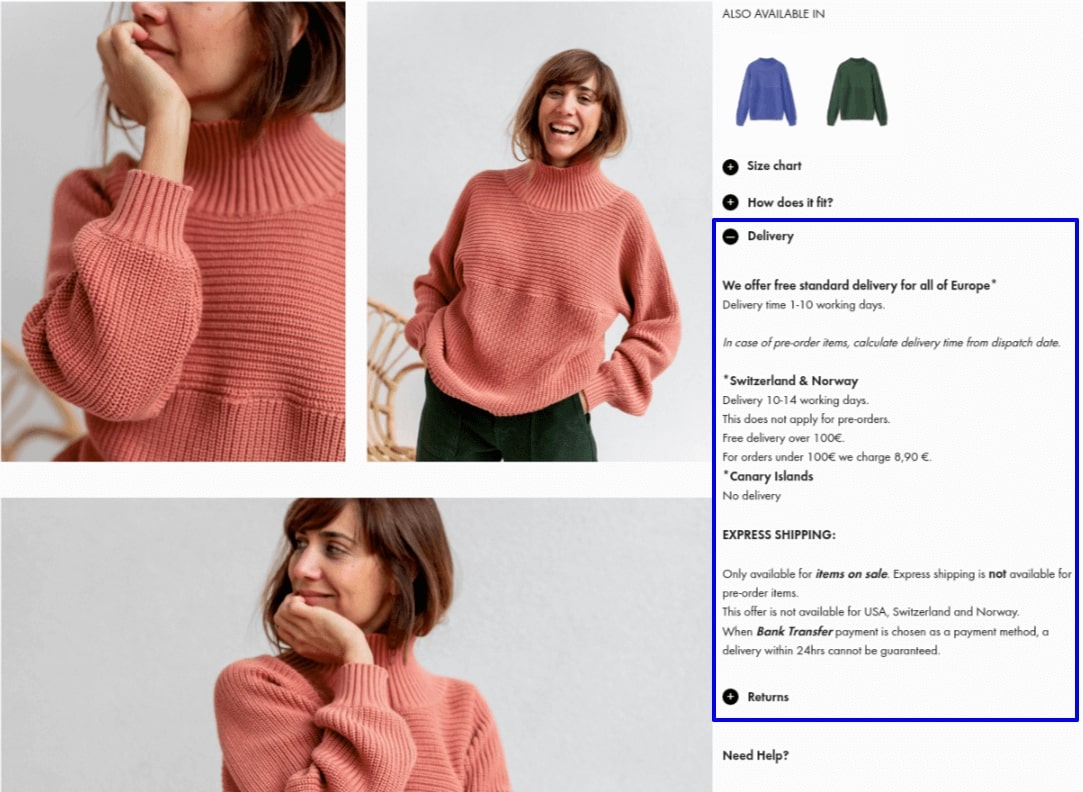 Additional tip: If you have a free shipping threshold, make sure they know about it as it can also help increase your average order value as well.
'Add to Cart' Bar
Imagine a customer going through every little detail on your product page. They're reading the reviews, watching your video, scrolling past photos, etc. Once they're through though, their excitement to buy fizzles, because either they're distracted and leave your website or they simply can't find a way to add the item to their cart.
Of course, you're right in thinking they can scroll back to top and 'look for it', but this additional step adds to their cognitive load. To tackle this, have an 'add to bag' widget on the website.
On the Estee Lauder site, for example, the product details, including images, videos, and reviews span an entire page. But the 'Add to cart' widget makes it easier for the customer to finish what they came to buy.

Live Chat
People prefer to live chat because it gives them the freedom to multitask and quickly get their questions answered. And because of how easy live chat makes their online shopping, it affects their purchase decisions.
According to a report by Kayako, 52% of consumers are likely to repurchase from a company that offers live chat support. Moreover, when you deliver a positive chat experience, it contributes to a positive word of mouth, helping you gain new customers. What's more, because it's them coming to you, you get some interesting insights on their purchase behavior which you can use to improve your conversion strategy.
Clearly, you're off the mark to think your customers only ever prefer getting on a phone with you. So, install the chat widget. To help you navigate, here are a few do's and don'ts:
Personalize every chat and steer clear of canned responses.
Don't give customers a chance to repeat themselves.
Start a chat based on their browsing behavior on your website. For example, remind them of the abandoned cart or items on their wishlist.
Offer multilingual support, if you can.
Manage chat availability instead of making false promises of 24X7 support.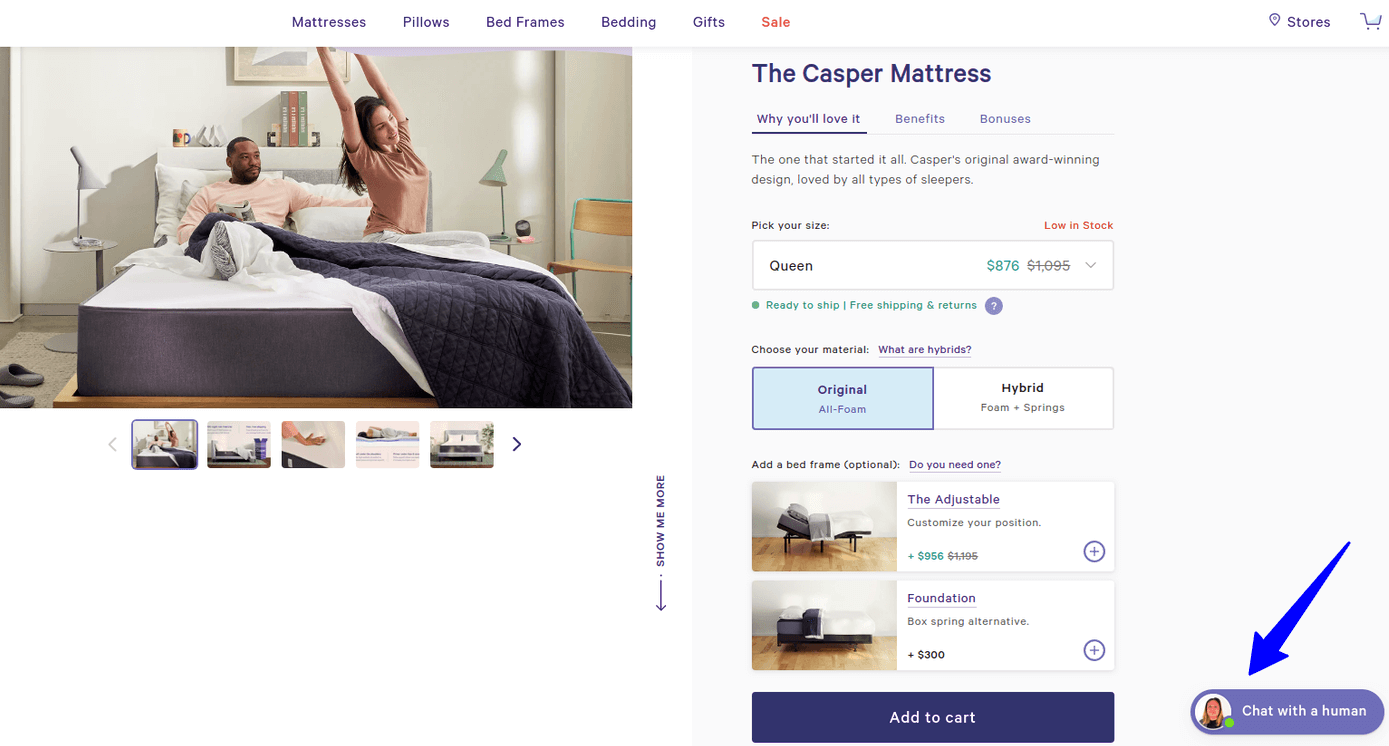 Urgency
Given the breadth of choices and competitive prices, a customer's journey from discovering products to final purchase is a long one. But instilling urgency can shorten the process.
Why does it work though? Because people have a natural tendency to ascribe high value to anything that's about to go scarce. As a result, they buy it, even when they might not have a real need for it. In short, the logic is to own something and become the few who have it.
That said, urgency alone—whether it is time-based, stock-based, or implied—doesn't work on its own. Your products must be high quality and carry enough social proof to trigger the right amount of purchase anxiety.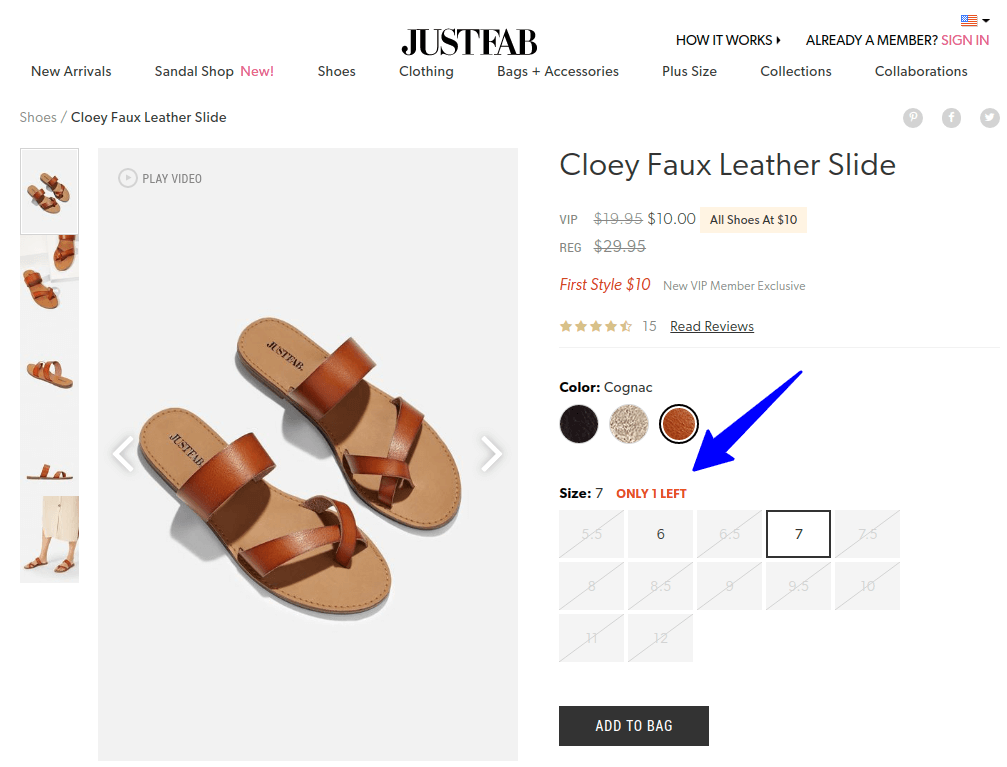 Causes
Millennials who're on the cusp of their prime spending years love to spend money on brands that are socially responsible. In fact, given a choice they don't hesitate switching brands associated with a cause. So yes, if you are doing something valuable for the world, let that be known.
Sherpa Adventure Gear is one such brand that's sustainability-driven. It creates employment opportunities for people in Nepal and  promises to educate the children there. And as a small reminder of the work they do, they briefly mention their cause on the product page for customers to see and encourage them to show their socially responsible side and buy from them.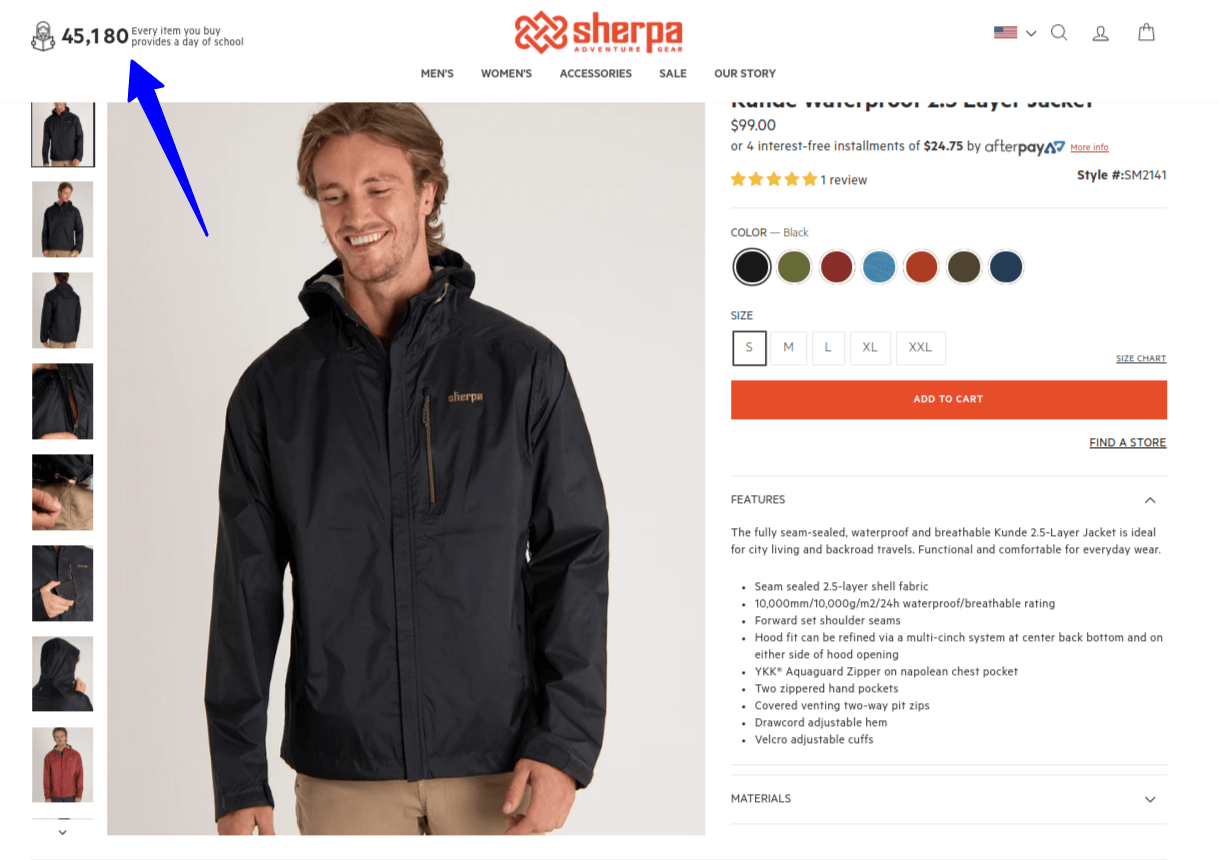 Inspired to become a similar socially responsible brand? Be sure your partnership is genuine and fits your business.
Closing Thoughts
If you've learned one lesson from this post, let that be about giving every element of your product pages equal importance. This approach will enable you to create a positive customer experience and convince buyers to click on 'add to cart'.
And while these are quite a few ways to lift this micro conversion goal, the only way to know if any of these will work is to test them. Which do you think will you implement first?