Shipping fees have become one of the quickest ways to spike cart abandonment on a checkout page. 
Call it another sign of the Amazon Effect, but consumers have seen that they don't need to sacrifice cost for immediateness when it comes to e-commerce deliveries.
So, more often than not, they won't. 
This is a trend we're seeing on a global level. In our 2018 survey of consumers in the US, UK, France, Spain, and DACH region, "free shipping" was ranked the most important factor when shopping online. In that same vein, "surprise shipping fees" was the top-cited reason for switching to a different website to search for the same product. 
Free shipping is both an incentive and, increasingly, an expectation for consumers. This means one of the biggest challenges for e-commerce brands will be offering this without sacrificing profitability.
Ways to Offer Free Shipping
Here's the thing: free shipping isn't exactly free. It's offered under certain conditions. Let's quickly highlight some of the more popular ways e-commerce brands integrate free shipping into their strategies. 
Limited-time Offer
In this instance, free shipping is used as a promotional tactic that's aligned with certain holidays, special events, sales, and so on. 
It's a promotion that's effective not only for what it's offering (free shipping) but the sense of urgency it creates—encouraging shoppers to act now or risk losing out on the deal. 
(For more on urgency and scarcity principles in marketing, check out our article here.) 
Subscription/Membership Model
One of the hooks for an Amazon Prime subscription is the staple of free two-day shipping. Now, Amazon has made this window even shorter by giving Prime Members one-day (or even same day) delivery for certain items. For many, the cost of a year-long subscription is well worth having products delivered to their door, for free, in 48 hours or less.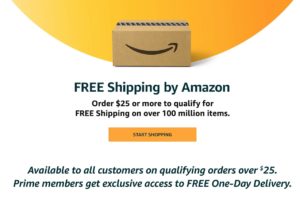 Source: Amazon
Amazon also offers non-Prime members free shipping on certain items priced at $25 or more—another type of incentive that we highlight below. 
Minimum Purchase
Offering free shipping at a certain price point is an effective way to increase visitors' basket sizes. This scenario is framed as a logical win for shoppers—why pay for shipping when you could put that money toward another item and have these products in the same amount of time (or even sooner)?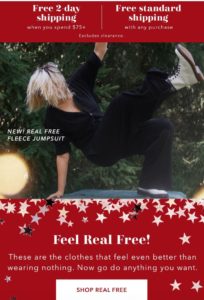 Source: Aerie
How to Optimize Free Shipping Offers
Experimentation is the key to finding the right free shipping strategy for your business. It's just a matter of determining which tests to run. We'll take you through the client-side and server-side approach, to see which method is the best fit for your team. 
Free Shipping Experiments: Client-Side
As a quick refresher: client-side testing is when variations of web pages are executed in the user's browser. Since client-side doesn't involve the back-end, it's more focused on cosmetic changes to a website's UI (e.g. adding a countdown banner, changing the layout or wording of text, etc.). 
So, in this context, a client-side approach can help you understand the most effective way to promote free shipping deals on a website. 
Here are some examples to help get you started. 
Highlight How Much More Shoppers Need to Spend To Get Free Shipping
The fashion and home decor company, La Redoute, used this tactic on its checkout page, testing two different phrases beneath the total amount owed.  
In this first Variation, the text said: "Don't forget free shipping starting at 30 euros." 
In the second Variation, the text specified the exact amount a shopper needed to spend to qualify for the deal: "Only X euros needed to receive free shipping."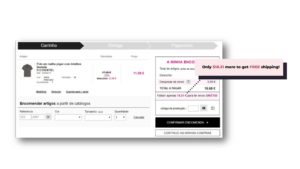 Source: 10 Tests for Retailers to Boost Conversions
For La Redoute, highlighting the specific amount users needed to spend to gain free shipping was more effective,  increasing the average order value by 4%. 
Use Promotional Banners 
Fashion retailer agnès b. used a promotional banner to highlight its free shipping offer on a user's shopping cart page. The idea was that this message would reassure shoppers, and encourage them to move forward through the funnel.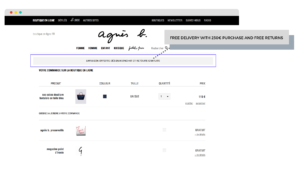 Source: 10 Tests for Retailers to Boost Conversions
Turns out, adding this promotional banner did have a significant impact on sales: transaction rates nearly doubled for shoppers that went through the purchase funnel with these messages as opposed to those that didn't. 
Pro tip: If offering a limited-time deal on free shipping, try using a promotional countdown banner to add a sense of urgency. 
Free Shipping Experiments: Server-Side
With server-side testing, variations have been coded directly onto the server, usually by developers. This means experiments aren't limited to devices with a browser—you could test emails, apps, and even IoT-connected devices—and incorporate back-end functionality. 
A server-side test can run multiple variations that offer free shipping at different price points. (Server-side is able to impact the total amount in a user's basket, while a client-side test cannot.)  This helps businesses find that goldilocks number that incentivizes users to spend more and offset the deducted delivery cost. 
The dermo-cosmetic company Dr. Pierre Ricaud did this by implementing a server-side test that offered free shipping to visitors after spending $20 or $25 to determine which price was more effective.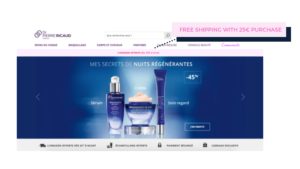 Quick note: When trying to determine the right price for offering free shipping, businesses usually calculate their Median Order Value. This serves as the baseline: free shipping should be offered above the Median Order Value to be profitable. Server-side is able to find the exact price for offering free shipping, by experimenting within this range. Shopify has an in-depth overview of calculating these thresholds here.
Free shipping for first time visitors
With a server-side test, you can target first-time visitors on your site and automatically apply free shipping to their total amount. While you can also target first-time visitors with client-side, as mentioned above, you wouldn't be able to change the amount owed without coding on the back-end. 
(A client-side alternative could be triggering a pop-up for first-time visitors that had a promotional code for free shipping. However, server-side ensures this deal couldn't be missed.)  
Free shipping on certain products
Offering free shipping on certain products can fuel various different experiments. For instance, you can offer free shipping on products based on a visitors' location (e.g. seasonal apparel, like winter jackets, bathing suits, etc.) or based on users' behavior (applying this deal to products they've viewed multiple times, etc.) 
Final Thoughts
If you're in e-commerce, you can't afford to ignore the importance of free shipping. But as we've seen in the examples above, this tactic can be implemented strategically so it doesn't put a strain on resources. 
Running experiments will help find the best solution for your business, whether that be with a client-side or server-side approach. Just remember that client-side is limited to devices with browsers (no apps, for example) and is used for surface-level UI changes. If you're looking for more depth and flexibility, server-side is your best bet (but it will require coding or at least support from your developer team ).
Interested in more content on experimentation? Check out our tech blog here. For more on client-side experiments, take a look around our customer experience blog.