"Freemium is like a Samurai sword: unless you're a master at using it, you can cut your arm off." – Rob Walling
Scary as this may sound, you're in the right place to learn what it takes to work the freemium business model in your favor.
Definition of a Freemium Business Model
A freemium business model is an extremely popular customer acquisition strategy among SaaS business owners. Think Dropbox, Spotify, Venngage, Trello, MailChimp, Buffer, Grammarly, etc. Without spending a penny subscribers can experience the product and test out basic features. 
Basically, a freemium offering helps companies not only amplify their reach and popularity (Network Effect), but also create conversion opportunities. How? By activating cognitive biases. 
Let's say you're a steadily growing small business subscribed to a freemium plan of 'product X.' Owing to free plan limitations you agree to upgrade. But there's more to this than meets the eye. You pay willingly, because thanks to the Endowment Effect, you want to avoid loss of any kind and continue owning the product you've become familiar with.
That said, not every business successfully converts prospects into paying customers. There are some inherent challenges, but more on that later. For now, let's cover the basics.
Differences Between Freemium and Free Trial
Unlike the freemium business model, the free trial plans give prospects complete or partial access to the product—free of charge, but for a limited amount of time. 
The idea is to get people to experience the product completely and eliminate doubts within a reasonable time frame. A classic example is Netflix. 
When to Opt for the Freemium Business Model
Freemium might seem like a good fit for your product, but only if:  
#1 You have a problem-solving product with a huge market
Phil Libin, CEO of Evernote once said: "The easiest way to get 1 million people paying is to get 1 billion people using." 
Certainly makes sense. For viral adoption of your product, it should have a huge market and address freemium users' pain points. This combination will generate positive word-of-mouth marketing, resulting in engaged customers and improved conversions.
#2 If your product is easy-to-use
The easier it is for users to get around, the less intervention on your part. Besides that, users should understand what they're getting for free as well as the advantages of upgrading. This essentially means you can spend more time and resources on other important aspects of your business.
#3 If your product isn't way too expensive
Consumers are price sensitive. To motivate them to upgrade from freemium to a paid plan, your product has to be within an affordable range, justifying the fee and the value you're delivering. At the same time, it shouldn't cost you a lot to support a large, non-paying user base.
What Should Your Target Conversion Rate Be? 
Generally speaking, freemium conversion rates are low and hover between 2-5%. But that's not to say that anything lower than that is bad. In fact, you're better off as long as you're consistently improving month on month.
Problem is if your conversion rates are either too low or too high. Here's why:
A low conversion rate means you're offering way too many features for free and giving prospects no reason to convert. Conversely, high conversion means your freemium offer isn't exciting which then threatens future customer acquisitions. So ideally, go after a number that's neither too low nor too high.
How to Increase Your Freemium Conversion Rate
Convinced that the freemium model is good for your business? Great. Though for it to work, understand that it doesn't deliver on its own. Put simply, freemium subscribers don't magically convert into paid users. Yeah, sorry, but someone had to burst your bubble.
So draft a solid plan to compel prospects to open their wallets and also passionately endorse you. 😉
Let's see how you can position yourself better and maximize freemium conversions.
#1 Review your freemium limitations
To let users test out your product completely and get a taste of exclusive features of the premium plan, get rid of the limited features restriction. Instead, limit the users or usage. 
On Slack, for example, there's a limit placed on the number of users, messages, and app installations. Then there's Dropbox where users are given only a certain amount of storage before they're asked to pay to upgrade.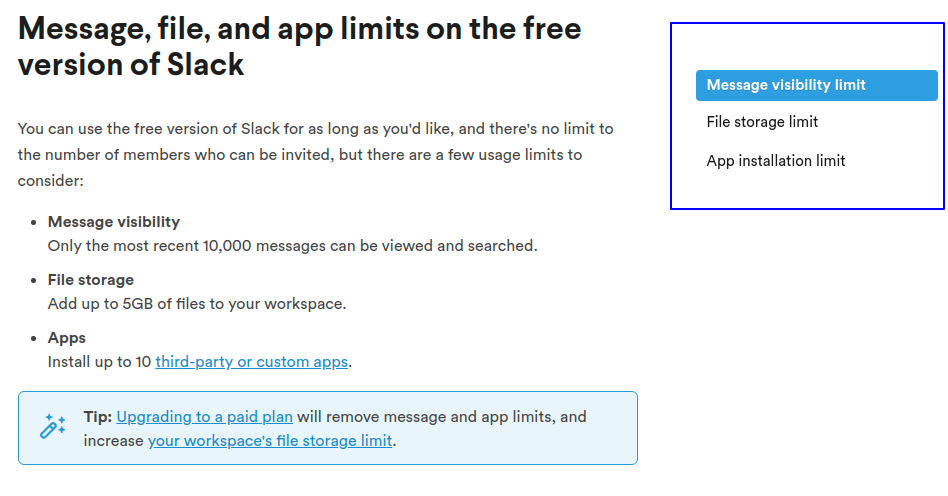 #2 Send subtle reminders
Stop bombarding freemium users with pushy sales emails and in-app pop-ups to upgrade. This 'money talk' can wait, especially if they're still new to using your product. 
On the contrary, go the subtle, non-aggressive route. Integrate your upgrade message intelligently into the product. Sure, it could take longer for users to really consider upgrading, but your subtle hints won't go unnoticed. 
Spotify does this well, allowing freemium users to skip only 6 songs every hour. The seventh time users are nudged to slow down or get premium.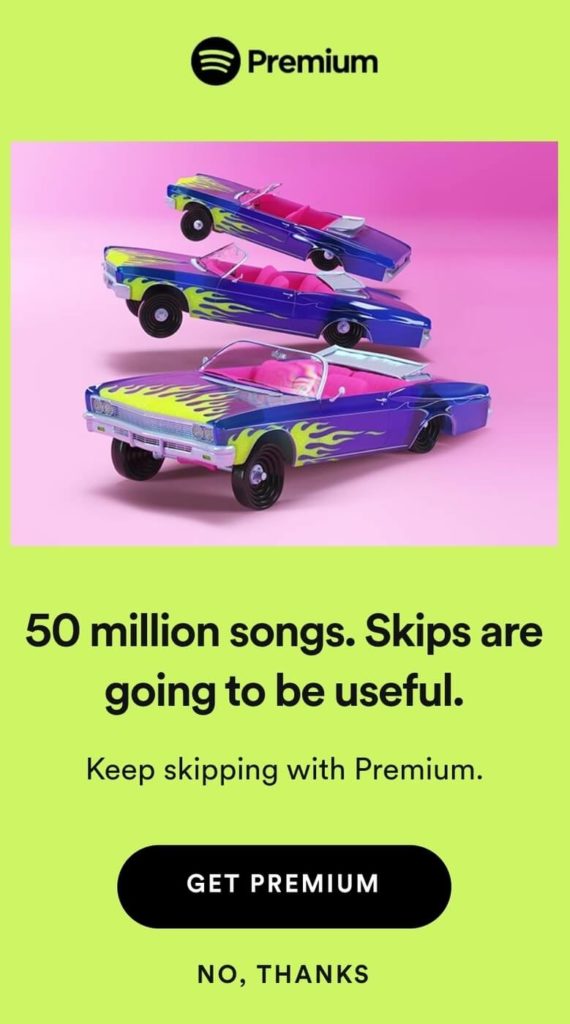 #3 Conduct thorough customer research
Products are created with users in mind. The only way yours will be noticed is if you understand who your customer is and what they want. So as step one, conduct solid customer research. Think customer interviews, email surveys, analytics, social listening, discussion forums, heatmap tools, etc. 
Finally, let your findings guide you to create and/or improve your product that immediately addresses users' problems. Not only will they engage better, but they'll also provide a plethora of insights on how to keep innovating, show value, and stay relevant. 
For instance, if you notice a consistent spike in demand for certain features, test those to statistically determine which results in maximum conversions. 
#4 Personalize freemium users' journey
When freemium users are left to their own devices they don't learn a lot about the product features. To fix this, tailor your potential customer's journey because each one of them walks a distinct conversion path and has different reasons for why they sign up. 
Using a marketing automation platform, contact them early and often so they learn how the product can add value to their professional lives. And when they complete a task, send them encouraging emails and cross-promote other useful features to help them get more work done. 
Also, personalize the journey of inactive users and stop them from churning. Trace their previous activity and motivate them to get back in action. 
Before you know it, you'll have helped them build muscle memory, a new habit of using your product. Let's say your prospect used your product to create a quiz. Congratulate them and get them to explore other offerings, such as creating a poll. 
#5 Create product/feature-focused content
Make self-learning easy. Produce a vault of content, including blog posts, videos, tutorials, and FAQs. Your efforts to educate your prospects will be appreciated and result in quick adoption of your product.
Besides, as mentioned earlier, the more they get used to using your product, the stronger the Endowment Effect and the possibility of them becoming paid users will be.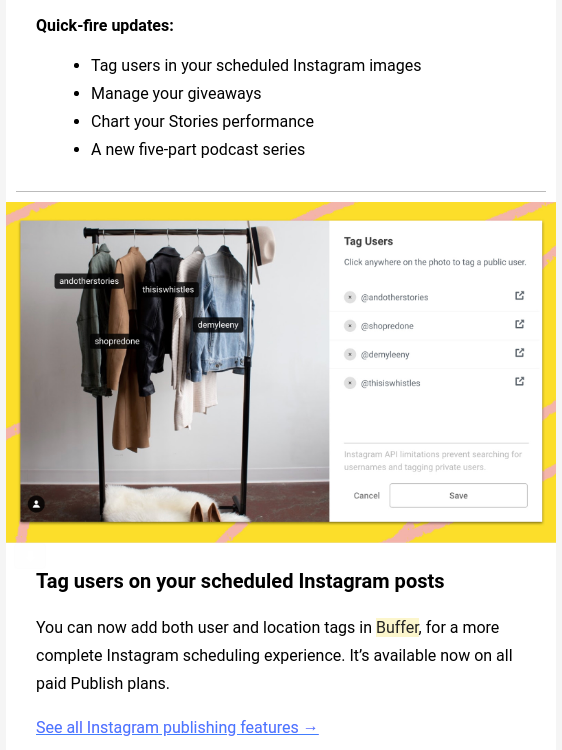 #6 Create a sense of urgency
Urgency triggers fear-of-missing-out or FOMO which makes it a powerful conversion tactic. 
One of the ways to create urgency is by giving your highly engaged users an attractive, time-limited upgrade discount. Make sure you highlight what they're going to miss if they don't go premium. It's bound to work since they know their way around the product and might want to keep using it.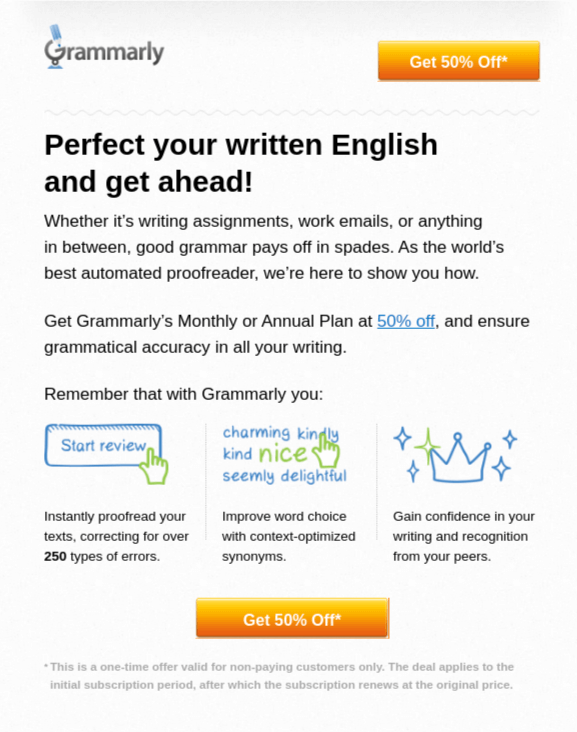 #7 Make way for friction-free payment
This one's a no-brainer. Get rid of every possible barrier on the payment page and make it easier for your customers to start using the product right away. It'll create an excellent customer experience (hopefully resulting in more referrals), reduce payment abandonment rates, and increase your revenue. 
What you can do: 
Auto-fill data you already have in your database. 
Do not kill their buzz with hidden fees.
Give multiple/preferred payment options.
Recap what's included in the paid subscription.
Mention when the renewal is due.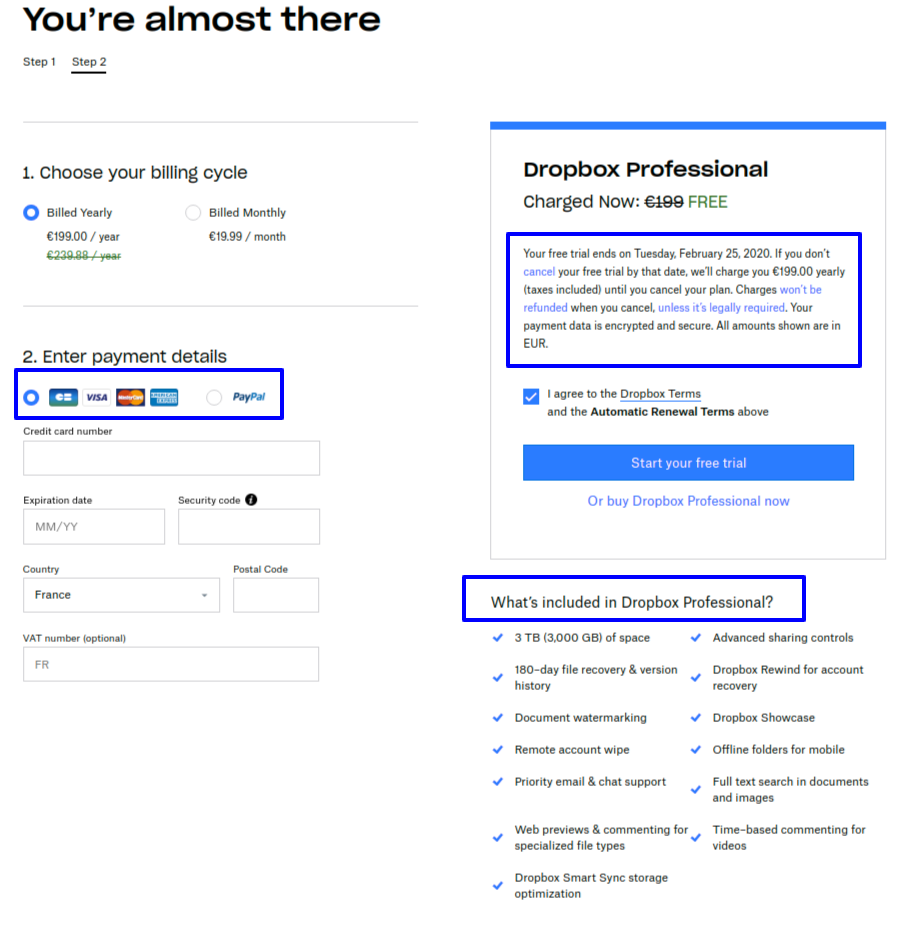 However, despite this, if you notice users step away multiple times from signing-up, reach out to them and discuss why they're hesitant in coming onboard. You'll surprise yourself with the kind of customer intelligence you might uncover.
Conclusion
Hopefully, this guide has helped you get a handle on the freemium business model. 
Now to sum it up and before you wrap your SaaS product as a freemium offering, make sure it has a huge demand, is easy-to-use, and doesn't burn a hole in either your or your customers' pockets. Aside from that, implement the best practices discussed in this post to run a sustainable business.