What's one of the most important metrics to keep track of when building your business online and watching it grow? Conversions.
In an increasingly competitive digital world, it's tough to know what works and what doesn't when it comes to conversions.
As each e-commerce site is unique, there's no "one size fits all" for setting and achieving your goals. So, whether you're just starting out, scaling up, or expanding quickly, there is a lot to understand when it comes to prioritizing, tracking and tackling your conversations in order to optimize your website and know your customers better.
In this article, we'll look into how to calculate conversion rates and discuss some helpful tracking methods and benchmarks for conversion rates. We will then provide some tips on how to increase your conversions.
How to calculate conversion rates
Before discussing the formula, let's define what we mean when we say conversion.
This is a broad term that could refer to anything from newsletter signups, buying a product or service, downloading an e-book, completing a form and so on.
Basically, a conversion occurs when a website visitor completes a desired action.
What does this mean?  To calculate a website's conversion rate, you need to know exactly what you're trying to measure. It's a matter of having clearly established business goals and being able to translate those into quantifiable website metrics.
To determine a conversion rate for your website, divide the number of goals achieved in a given time frame by the total number of visitors to your website, then multiply that number by 100.
Conversion rate = (Conversions or goals achieved / Total visitors) * 100
So if your landing page had 16,982 visitors and of those, 3,604 took the desired action, then your conversion rate is 21.22%.
Once you understand how to calculate the website conversion rate, you should think about how you can track the conversions that you receive.
How to track conversions
You can set up a system for tracking conversion rates with the help of one or a combination of the following tools:
Google Analytics and AdWords
These two tools collect large amounts of raw data. With so much data available, it's important to set filters so you can focus on specific data sets to avoid missing key insights related to your goals.
Heatmaps
These maps capture users' eye movements and clicks on your website. With this information, you can identify top-performing or weaker elements on pages to help steer your optimization strategy.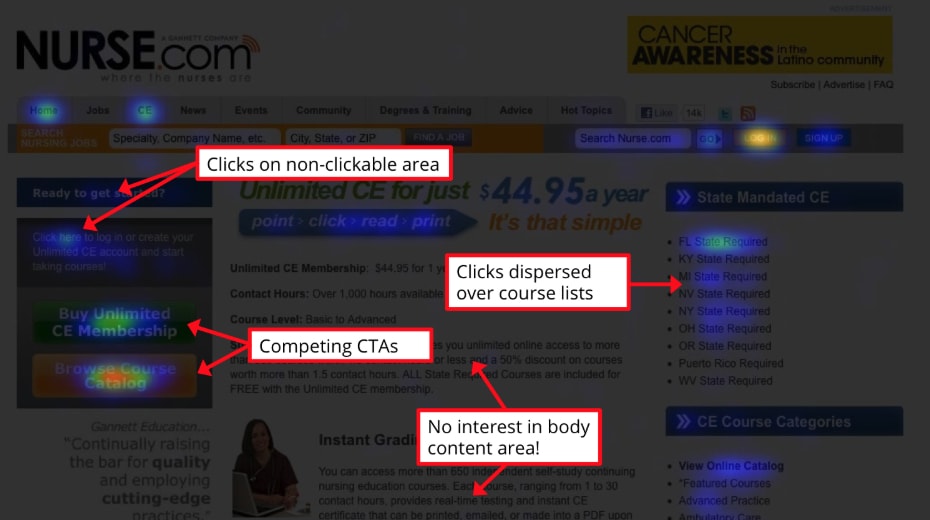 Session recording and replay tools
Replaying user sessions shed light on how visitors navigate and interact with your website on their digital customer journey. Seeing the user experience in action can help to identify bugs that were missed or understand bounce rate fluctuations at specific sections in the funnel.
Customer satisfaction surveys or Net Promoter Scores
Both customer satisfaction surveys and NPS measure how happy your customers are with your business and in what areas you can improve. Focusing on the customer experience is essential for retention and driving more conversions.
For example, OUI.sncf, France's national railway company, focused on their user behavior and noticed a low click-through rate on their ticket information page. To fix this problem and increase their client satisfaction and optimize the user experience, they used Flagship (AB Tasty's server-side platform) to run an A/B test that quickly led to a 61% increase in their conversion rate.
What's considered a good conversion rate?
Is there a benchmark for conversion rates? The best answer to this popular question is that a "good" conversion rate varies considerably from industry to industry.
As you can see in the image below, Unbounce analyzed over 44,000 landing pages across popular industries and found that each industry has a different average, with the catering and restaurant industry having the highest one.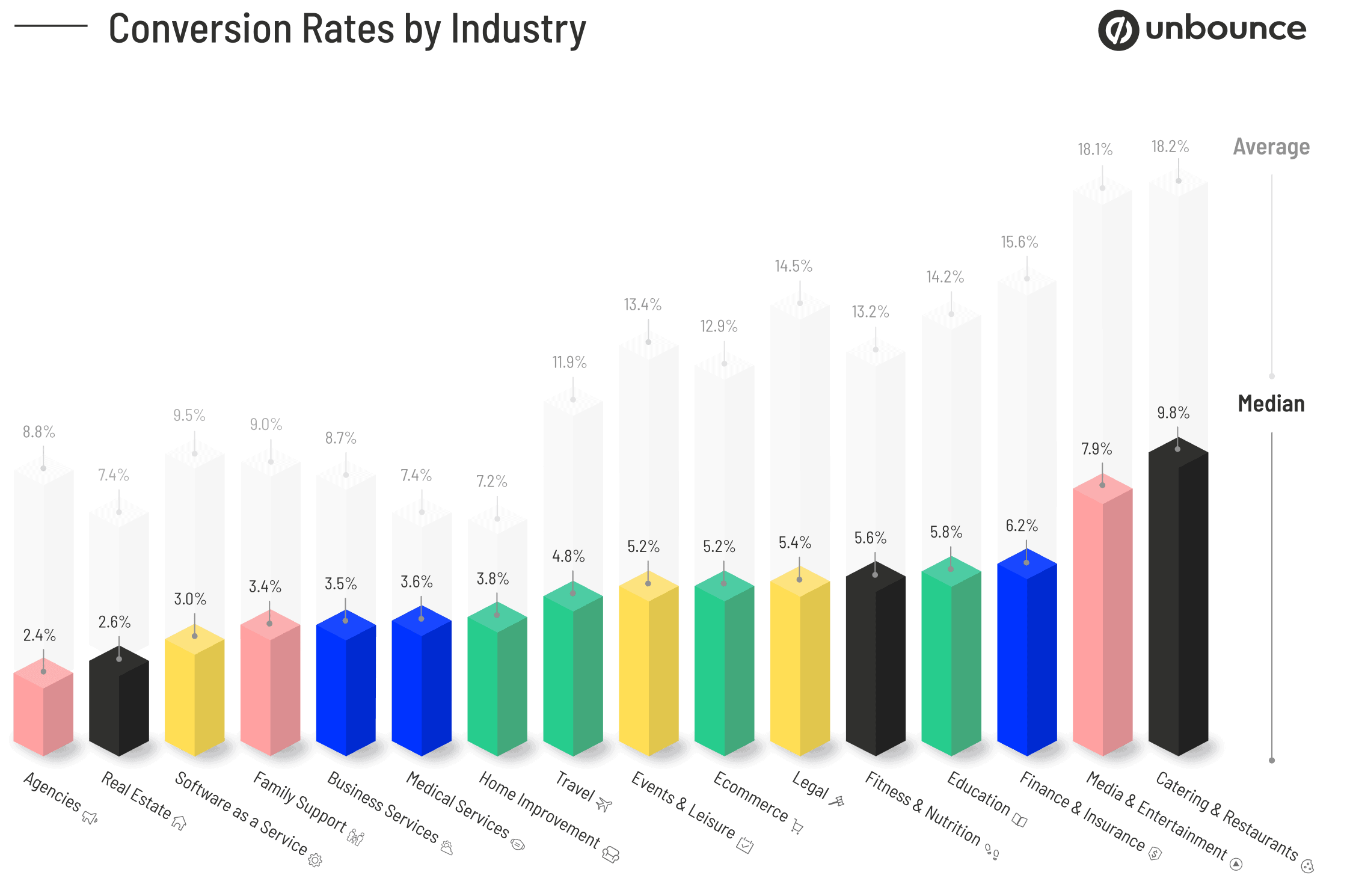 While these stats can be helpful in establishing a baseline, they shouldn't be treated as the only element of importance for your business.
Even comparing conversion rates within the same industry is not a fair measurement. Different sites are working with different traffic sources, visitor volume, brand perceptions, UX design and CTAs. It's easy to get carried away with vanity metrics, but the quality of traffic to your website really makes all the difference in your conversion rates.
So, what's the way forward?
Don't follow accepted figures blindly. Stay in the know, but remember the only thing you have to do is outperform the conversion rates you achieved last month. That's how you become better.
How can you increase conversion rates?
There are multiple tactics to boost conversion rates on your landing pages and website. Let's look at a few popular and effective methods:
A/B testing
A/B testing compares two different versions of a web page or an app to see which performs better. From a conversion point of view, it gives you room to be creative and explore new and better ways to capture leads.
To get started with A/B testing, try focusing on the main elements of the page, such as:
Headlines and copy – A headline should be convincing and directly linked to the main offer on the page. Experiment with long and short headlines, with or without subtitles. Keep the copy simple and scannable.
Value proposition – Refine and articulate your offer so it resonates with prospects. As an example, WiderFunnel helped the Sims 3 team boost their game registration and achieve a conversion rate of 128% by improving their value proposition.
Visual media – Humans are very visual. Adding images and videos can help you find out what's a hit among your customers.
Call to Action – Test the color, copy and CTA placement to see which version drives the most conversions.
Page layout – Every page must be well-designed, aesthetically appealing and functional. Work on visual hierarchy and make use of white space and colors. These take away the cognitive load for the visitor.
Want to get started on A/B testing for your website? AB Tasty is a best-in-class A/B testing tool that allows you to quickly set up tests with low code implementation of front-end or UX changes on your web pages, gather insights via an ROI dashboard and determine which route will increase your revenue.
Build trust
This idea might seem a bit basic, but it's one of the most important things you can achieve with your customers. One of the first steps to gaining trust with your visitors is by showcasing your site's security.
If you are on a website where you don't feel secure entering your payment information, are you going to complete your transaction?
Chances are, you said no. If your site doesn't appear to be trustworthy, it will cost you. Consider incorporating the following into your site:
Add security seals on checkout pages to assure customers' confidential data and information is in safe hands.
Don't ask for too much information on form fields. Ask only what's required.
Be accessible. Respond to incoming queries (the sooner the better).
After displaying that your website is trustworthy and secure, it's time to focus on your products/services and customer satisfaction. A few ways to do this include:
Add customer reviews. Studies show that nearly 95% of customers go through reviews before making a purchase. As you can see, displaying reviews makes a huge difference in gaining your visitors'  trust rather than only displaying a product description written by the manufacturer.
Publish client stories and case studies. Businesses want to see your past successes before they invest in your product or service.
Personalize
Customers are more motivated to complete a transaction while shopping online if you offer a personalized experience. According to a study done by Forbes, 66% of consumers share that coming across communication or other content that isn't personalized deters them from purchasing.
In other words, to increase conversions, you need to deliver contextually relevant offers.
Personalize customer experiences through behavioral targeting (segmenting audiences based on their online behavior). To establish behavior personas, you should collect the following metrics:
Browsing history
Type of device used
Session behavior (page views, on-site searches, etc.)
Geographic location
Purchase history
You can then use this data to:
Cross-sell and upsell products. An easy way to cross-sell is by showing customers items that are frequently purchased together. Segment's research found that 49% of consumers have purchased a product they didn't initially set out to buy after receiving a personalized recommendation.
Use dynamic content. This is called adaptive content marketing. Based on your customers' history/location, you can show content that might interest them. (For instance, fashion retailers can showcase outfits that match the weather at a user's location.)
Reengage to reduce cart abandonment. Incentivize shoppers on your checkout pages with pop-ups, reminders and so on. Create a sense of urgency by adding social proof to your checkout pages because the fear of missing out is real.
Live chats
We're constantly talking with our family and friends via messaging apps. Why not do the same for the brands we interact with?
A live chat tool can provide personalized and timely customer service. It can also boost conversions by moving potential clients into the fast lane. According to Intercom, website visitors are 82% more likely to become customers if they've chatted with you first.
Moreover, another survey found that 63% of customers are likely to return to a website that has a live chat option, increasing customer loyalty and revenue.
However, simply having a live chat tool isn't enough. Here are a few best practices to follow:
Place the tool on high-intent pages. This way, customers are likely to ask for a real-time response. For e-commerce brands, this would be on the checkout page where customers may have last-minute questions on delivery, returns, etc. For B2B companies, placing the tool on pricing pages are most likely the best option.
Use real names and faces. This gives your chatbox a human touch and makes virtual conversations more personal.
Respond quickly. The main reason people click the live chat option is that they expect immediate answers. If someone contacts you outside of office hours, use a bot to show the average time you'll take to respond or ask for their contact information so you can follow up at a later time.
Reaching your website conversion rates
Reaching your conversion rate goals starts with having clarity on your business goals. The precision of your goals will determine what metrics you track and what optimization strategies you employ.
Remember, while it's important to stay updated on your industry's conversion rate benchmark, don't fall into the trap of implementing blanket advice from experts.
Above all, use various tools and data points to understand your customers' motivations and always put their needs first. Listening to your customers is the best way to drive conversions.