Creating a value proposition is a method of clearly defining aspects of a product or service that a customer might need. It is a way of presenting inherent advantages that a competitor might not be able to offer and is therefore often referred to as a Unique Selling Point (USP).
One of the best ways to present a value proposition is with a value proposition canvas, which sets out as concisely as possible the product or service on offer and how it can meet the specific needs of the customer. It is essentially an extension of the much-used business model canvas and has become a hugely popular method of presentation in all corners of the business world.
What Is a Value Proposition?
Why should a customer use your service or buy your product rather than a competitor's? What is it that you are offering that no one else can? How can you serve a particular individual's or business's needs? These questions are at the heart of what defines value proposition. On the face of it, it's a very simple and broad concept, but what makes value propositions particularly effective is they are deceptively complex and in-depth.
Why should a customer use your service or buy your product rather than a competitor's? What is it that you are offering that no one else can? How can you serve a particular individual's or business's needs?
From the explanation above you might think that I have described simple sales techniques, but it is in the detail that the value proposition comes into its own. It is not a positioning statement that is designed to appeal to as many as possible, rather it is a specific proposition designed to meet the specific needs of a specific customer. It's as niche as possible.
For example, a business might be looking for a software package that comes with customer support packages that are more encompassing than usual due to the fact that they have little experience with a particular product. A smart value proposition would highlight their highly rated customer service team and affordable ongoing support options that their competitors are unable to provide.
Another example might be that a business offers a streamlined product that simplifies a customer's needs, or a travel service that meets low-cost and on-demand needs, such as Uber. Immediacy, convenience, simplicity, these are all the types of terms that should be at the heart of any well thought out value proposition.
Essentially, the philosophy at the heart of value propositions is uniqueness.
Essentially, the philosophy at the heart of value propositions is uniqueness. What is the unique benefit that you are providing? If you can define this simply, concisely and accurately, you have a value proposition of worth.
How To Create a Value Proposition
There are many things that should be kept in mind when creating a value proposition, but there are some basic template concepts at the heart of it. We help (Customer) to (Goal) by (Unique value proposition). Again, on the face of it, as simple as it gets, but the devil is in the detail.
We help (Customer) to (Goal) by
(Unique value proposition)
What should also be kept in mind is that value propositions need not be subtle. In fact, they can be rather blunt instruments with which to draw in new customers or clients. Once a value proposition has been defined, the next step is to hammer it home with gentle persistence. What's more, the simpler the better. Value propositions should not be loaded with jargon or complexities. They should be thought of more like a well-researched advertising jingle than a dissertation.
Research
As value propositions are highly dependent on those that are being sold a product or service to, it is essential to define who the target audience is. Rather than being everyone's friend, who is it that you should be impressing? How are you going to stand out? This requires a great deal of research, but will undoubtedly pay off in the long run. Age, demographics, marital status, even favorite TV series can all inform how a value proposition is designed.
Researching Competitors
There is little point in trying to stand out from the crowd if you have little concept of what the crowd is offering. If a larger competitor offers the same USP (Unique Selling Points), the likelihood is they are going to swallow up potential customers based on your own value propositions. This again requires some research in order to find, or at least define, new and fertile ground.
How Do You Meet A Customer's Needs?
To start with it might be best to define exactly what it is a product or service offers. This can be a broad outline to begin. From here, defining what is unique about what is on offer can be easier. Thorough customer service? How about affordability? Perhaps a simpler design than your competitors is the unique selling point? Once you have defined this, it is time to get more specific, without being too complex. If the customer service is highly rated, why? Affordability is great, but does the quality of the product match or even improve on your competitor's? Simplicity is great, but how does this improve customer satisfaction? If you can define this in as simple terms as possible, you have a highly effective value proposition.
Confounding Stereotypes
Every sector has its own negative stereotype that harms all businesses before they've even got started. Delivery services that don't turn up when agreed upon, pushy used car salesmen and fast food that is unhealthy or of poor quality – these are all examples of unthinking reactions that most people have before contemplating using a product or service.
One of the most powerful kinds of value propositions are those that go against the grain of expectations, and many a business has been formed to do just that. If your particular sector is known for a negative practice, ensuring that not only does this not apply to you but that the opposite is true can provide a concise and enticing positioning statement.
Value Proposition Canvas
A value proposition canvas is a focused way of structuring the main components of the value proposition in order to provide the most concise solutions for potential and specific customers. It is essentially a plugin of the business model canvas and is sometimes referred to as Osterwalder's business modeling value proposition canvas, which is named after one of its creators.
Value Proposition Canvas Segments
The value proposition canvas is made up of two segments, the customer segment and the value proposition itself. Each segment has three sections, the customer segment being the specific needs of the customer and the value proposition segment of three sections of corresponding solutions.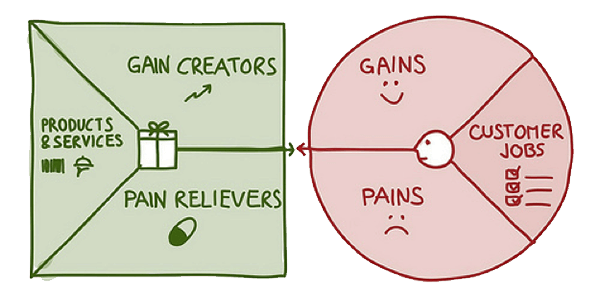 The customer segment's three sections are:
Customer jobs – these include functional, personal or even emotional factors
Customer pains – which include obstacles to desired outcomes and risks
Customer gains – typically revolving around required, expected and unexpected gains
The value proposition map on the other side of the canvas seeks to address these factors while presenting the unique solutions and unexpected gains. These are:
Products and services – which address the customer jobs section and relate to specific products and services on offer
Pain relievers – these address customer pains and include how the products and services can eliminate factors such as undesired costs or emotional negatives
Gain Creators – which are potential tangible and intangible gains, preferably those that are unique.
How To Create A Value Proposition Canvas
The first thing to consider when creating a value proposition canvas is the customer. This part is central to the entire premise. The question "Why" should play a major role in the discussion.
The temptation is to focus solely on the functional, such as how to get from A to B. While the function is important, the emotional and social also need deep consideration. Customer pains are generally more straightforward, therefore pain relievers are often easier to define.
Customer gains are a more complex element of the value proposition canvas as they can be more difficult to define. In fact, these can often only be unearthed by further questioning and creativity. In essence, these cannot be discovered without a substantial understanding of the business itself.
Once the customer segment is complete, the value proposition portion of the canvas can begin to take shape. Listing the potential jobs to be done relating to your product or service is a good place to start. This might also acknowledge brand awareness and how it relates to potential clientele. For example, standing out from the crowd might be more important than reliability and should be represented when constructing products and services section of the value proposition segment.
Once completed, the value proposition canvas should address, not just the superficial needs of the customer, but point towards various aspects they may not have even been considered. All of which must be presented in a way that suggests that you can meet these specific needs in a way that your competitors cannot. This is called a "Fit". With each part of the right side of the canvas being balanced with solutions and gains on the left. Ultimately, a value proposition canvas seeks perfect alignment.