A value proposition is a clear statement of the fundamentals that define your brand.
To create a value proposition, you need to clearly define your product or service and showcase how you are different from competitors. This is often referred to as a Unique Selling Point (USP).
So, how can you define and present your company's USP? By crafting a value proposition canvas.
A value proposition canvas is a visual display that maps out your product or service and how it can meet the specific needs of your customers.
It's essentially an extension of the frequently-used business model canvas and has become a widely popular method of presentation in all corners of the business world.
In this article, we will dive into the specifics of a value proposition, give you tips for creating your own and advice on how to develop it further with a value proposition canvas.
What is a value proposition?
At first glance, a value proposition seems like a very simple and broad concept. However, a particularly effective value proposition is exceptionally complex and loaded with details.
Here are some common questions at the heart of each value proposition:
Why should a customer use your service or buy your product over a competitor's?
What are you offering that no one else can?
How can you serve the needs of each individual customer?
A value proposition is not a positioning statement designed to appeal to as many customers as possible, rather it's very specific. To meet the specific needs of a specific customer, you need to be as niche as possible.
For example, a business might be looking for software that comes with customer support packages that are more encompassing than usual due to the fact that they have little experience with a particular product.
Suppose a software company highlights its top-rated customer service team and affordable ongoing support options that their competitors are unable to provide. In that case, it will likely attract businesses that will profit from (and be in need of) this type of support.
Let's look at another example: Uber – a travel service provider that meets low-cost and on-demand needs. Immediacy, convenience and simplicity are at the heart of their value proposition.

Think about the unique benefit that you are providing. If you can define this simply, concisely and accurately, you have a value proposition of worth to your audience.
How to create a value proposition
Now that we've defined what a value proposition is, let's move on to how you can start brainstorming to transform your thoughts and ideas into a clear statement.
Before we get too intense, start by drafting up a few phrases with this template: We help (Customer) to (Goal) by (Unique value proposition).
We should also keep in mind that value propositions don't need to be subtle. In fact, they can be rather blunt instruments used to draw in new customers or clients.
Value propositions should not be loaded with jargon or complexities. They should be thought of more like a well-researched advertising jingle than a dissertation.
Let's discuss a few points to keep in mind when developing your value proposition:
Define your target audience
Know your competition
Tell your customers how you meet their needs
Be prepared to combat stereotypes
Define your target audience
As value propositions are highly dependent on those that are being sold to, it's essential to define your target audience.
This requires a great deal of research, but will undoubtedly pay off in the long run. Age, demographics, marital status, economic status and personal interests can all inform how a value proposition is designed.
Your message needs to be clearly personalized for your audience.
Know the competition
It's hard to stand out from the crowd if you have little concept of what the crowd is offering.
If a larger competitor offers the same USP (Unique Selling Points), it's likely that they will get a hold of your potential customers since they will rely on your differences: brand size and reputation.
This requires extensive research to define new and fertile ground. You need to know your competition well – not only to be aware of your similarities but also to let your audience know how you stand out.
Tell your customer how you meet their needs
To start with, it's best to define exactly what your product or service offers. Then, you can move into what makes it unique:
Customer service?
Affordability?
A simpler design than the competitors?
Once you have defined what you will highlight, it's time to get more specific with your word choice. Remember: specificity does not mean complexity.
If the customer service is highly rated, why?
Affordability is great, but does the quality of the product match or even improve on your competitor?
Simplicity is admirable, but how does this improve customer satisfaction?
If you can define this in simple, but effective terms, you will have a highly effective value proposition.
Be prepared to combat stereotypes
Every sector has its own negative stereotype that can be harmful even before they get started.
Delivery services are known for not turning up when agreed upon, car salesmen are known for being notoriously pushy and fast food is known for being convenient but unhealthy. These are all examples of initial reactions, or cognitive biases, that most people have before using a product or service.
One of the most powerful kinds of value propositions are those that go against the grain of expectations.
If your particular sector is known for a negative practice, ensuring that your brand is above the stereotype can provide a concise and enticing positioning statement.
Value proposition canvas
A value proposition canvas is a focused way of structuring the main components of the value proposition in order to provide the most concise solutions for potential customers.
Value proposition canvas segments
The value proposition canvas is made up of two segments: the customer segment and the value proposition.
Inside each segment are three sections. The customer segment (shown below in red) has the specific needs of the customer, while the value proposition segment (shown in green) has the corresponding solutions.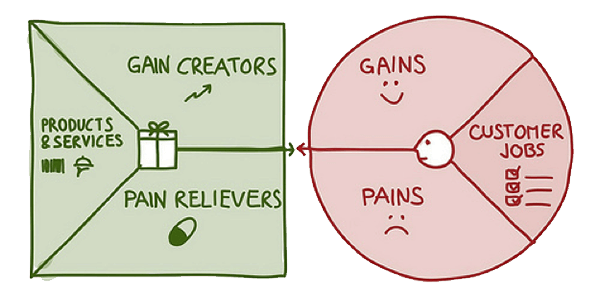 The three sections of the customer segment (red) in the value proposition canvas are:
Customer jobs – what tasks can your customer accomplish by using your product or service?
Customer pains – what problems, risks or negative experiences can the customer eliminate when using your product or service?
Customer gains – what unique benefit does the customer gain when
using your product or service?
The value proposition map (green) on the other side of the canvas seeks to address these factors while presenting unique solutions and unexpected gains.
Gain creators – this is where you detail the unique improvements and benefits that your product or service offers to your customers
Pain relievers – this is the area to address elements that eliminate a current frustration or pain point (such as undesired costs, accessibility, or negative stereotypes)
Products and services – this is the spot to list all of your products and service
How to create a value proposition canvas
Let's start with the customer segment.
The first thing to consider when creating a value proposition canvas is the customer. The customer is the central part of the entire premise. Be sure to speak carefully to your specific audience and avoid making generalizations.
Customer pains are generally more straightforward; therefore, pain relievers are often easier to define.
It's tempting to focus solely on the functional factors, such as how to get from A to B. However, while the function is important, the emotional and social aspects also need deep consideration when developing your value proposition canvas.
Customer gains are a more complex element of the value proposition canvas as they can be slightly more difficult to define. In essence, these cannot be discovered without a substantial understanding of the uniqueness of the business itself. Not only will you list what the customer will gain from your product, but also what the customer will gain by choosing you over the competition.
Now let's move on to the value proposition portion of the canvas.
Listing the potential jobs, or tasks, that customers want to accomplish with the help of your product or service is a good place to start.
Once completed, you will move on to the pain relievers and gains.
The pain relievers will specifically target the pains listed in the customer segment and should remain consistent. Meanwhile, the gain creators will show where your product or service adds value.
It's important to remember that gains aren't the opposite of pains. They are different factors that ultimately encourage consumers to adopt the product or service.
In the gains section, you will address the lesser-known desires of the customers – these are things that the customer themselves may not even be aware of. The lesser-known customer needs can be considered the "bonuses" that your brand offers potential customers.
Let's go back to Uber as an example. Uber's customers need quick, accessible and affordable transportation. These are the customer's first thoughts. In addition, their customers also need safety during their rides. Uber offers insurance during trips to their drivers and passengers to cover them in the case of an accident. Furthermore, they can provide passengers with more comfort by including driver ratings from previous passengers. Customers may not immediately think of these factors, but they address very important human needs.
After development, each part of the right side of the canvas should be balanced with solutions and gains on the left. Ultimately, a value proposition canvas seeks perfect alignment.
Finding your fit in the market
Creating a value proposition canvas is a great tool to help understand your product, where you fit in the market, how you stand against competitors and the best way to market your brand successfully.
Drawing conclusions from this canvas and analyzing your value proposition can help you improve your strategies, messaging and overall product. A unique and profound value proposition is the core of a strong business.