Imagine you're driving to buy some groceries on a warm, sunny afternoon. But strangely enough, you have a hard time finding a parking spot. You can't believe it because it's a weekday. Anyway, by the time you do find one—half an hour later—you're already in a foul mood. What happens next? You stomp into the supermarket, and on your way out take out your frustration on the person at the cash register.
Now back home, you're feeling quite embarrassed about how you behaved. All along you knew the poor employee was not to blame for the mad rush, yet you couldn't stop yourself from giving them a piece of your mind.
In any case, you can't undo all that, but do you know what set you off? Well, it's a phenomenon called Priming.
What is Priming?
Priming is a technique whereby exposure to one stimulus (delay in finding the parking space) influences our reaction to the next stimulus (interaction with the supermarket employee).
For years now, psychologists have been researching its effects on human behavior. And by far, one of the most fascinating studies was published by John Bargh. Let's give the findings a closer look.
In the first experiment, a group of participants were primed with stereotyped words related to elderly people, and the control group was given a list of neutral words. The researchers discovered that the former set walked slowly after the experiment as compared to the control group.
The second experiment revealed that participants that had been primed with words related to rudeness interrupted the experimenter on average after five minutes. Of those people who were primed with polite words, 82% never interrupted at all!
From these experiments, it's clear that we behave a certain way because we are primed to do so.
But this doesn't mean that we're being brainwashed – it's just a normal quirk of our psychology.
Priming works in mysterious ways. It's 'an implicit memory effect'. Basically, when a person is primed, information in their memory is temporarily activated, which then influences their response to the next stimulus.
Interestingly, it has a direct application in user experience and conversion optimization. You can easily influence the behavior of your website visitors, without them even noticing.
How Priming Improves UX
From the very first time someone visits your website, they score you on a range of factors. It helps them determine how they perceive the value of your website. Within seconds, they know if you're a fit, or if they should they start looking elsewhere.
Point being: If your website is primed as one that is easy-to-use, meaning if you drop subtle hints to guide them to take the desired action, they will enjoy interacting with you.
Ready to harness the power of priming and make an impact?
Follow The Website Pattern That Matches Your Industry
Going by the definition of the Familiarity principle, we tend to prefer anything that looks familiar or that we have repeated exposure to. It gives us a strange sense of comfort and security. And when the time comes to make a choice, we pick familiar over unfamiliar options. Think about why you eat in a restaurant you walk past every day to work and not one you've never heard about?
The same applies to your website visitors. They crave familiar experiences because they are used to it.
Let's say Ryan is looking to buy a pair of shoes. He has already looked at ten other websites. When he finally lands on yours, he subconsciously expects more or less similar design interaction. If he doesn't, he will assume your website is complex and leave. What a bummer!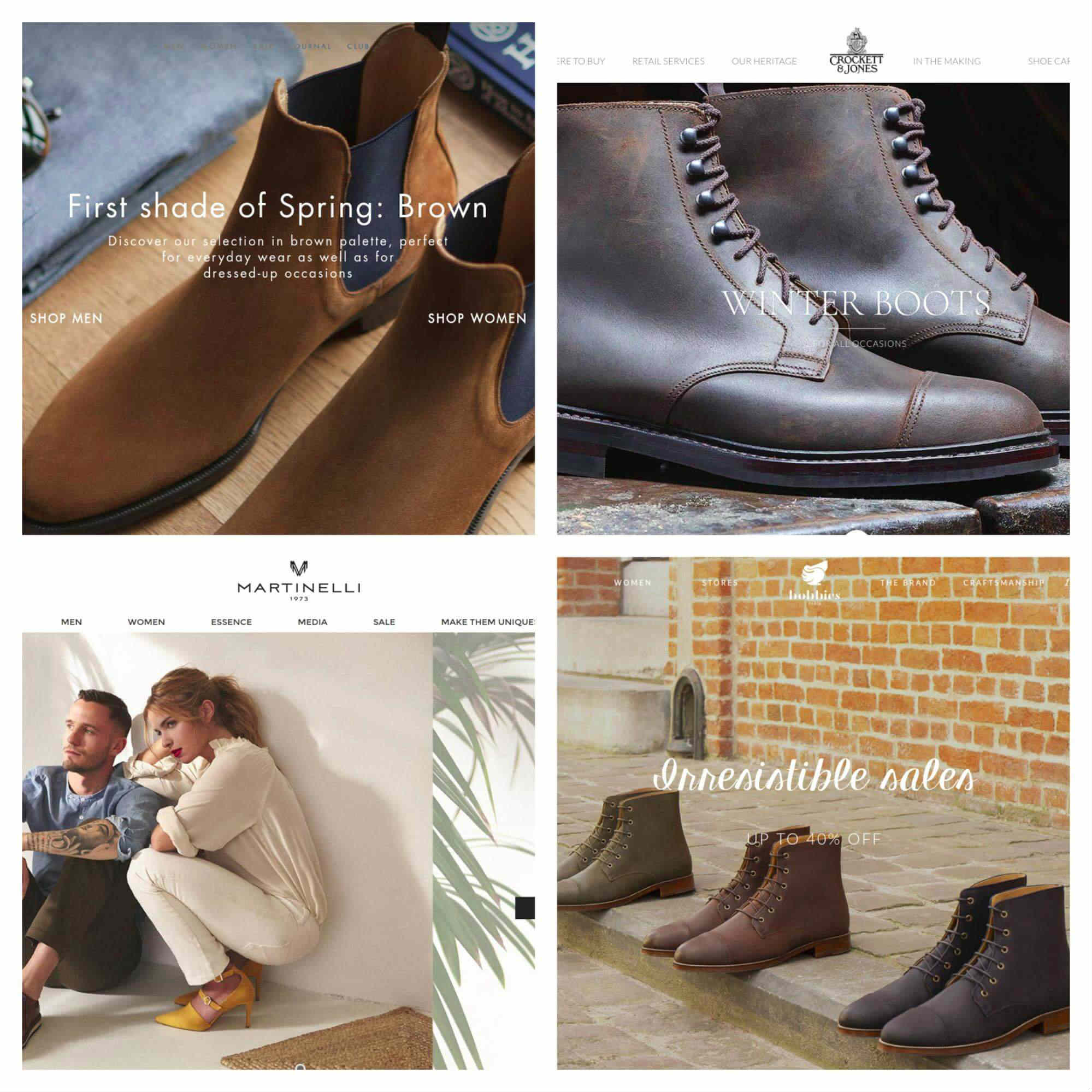 Clearly, you can't let this happen. What do you do then? You accommodate your website users' habits by following (never copying) a prototype design from your industry.  It gives you an edge to bypass their critical judgment about you. In fact, at the most basic level, you will understand their expectations, too.
With that intelligence, you will be able to reduce their cognitive load, meaning their brain will run on an auto-pilot mode, knowing what to do and where to find what they're looking for, even if it's their first visit.
Keep The Checkout Process Simple
While people are excited to shop online, when it's time to pay, they can become anxious. Thankfully, you can cast their doubts aside by playing the familiarity card we talked about earlier.
For one, do away with forced sign-ups. It's one of the top reasons that make people abandon their carts. Instead, give them the guest checkout option as most e-commerce stores do.
If you insist that your visitors create an account, wait until they finalize their order. Or at least make the process less time-consuming. ASOS, for example, asks visitors to sign up with a social media account and also gives them the freedom to not register at all.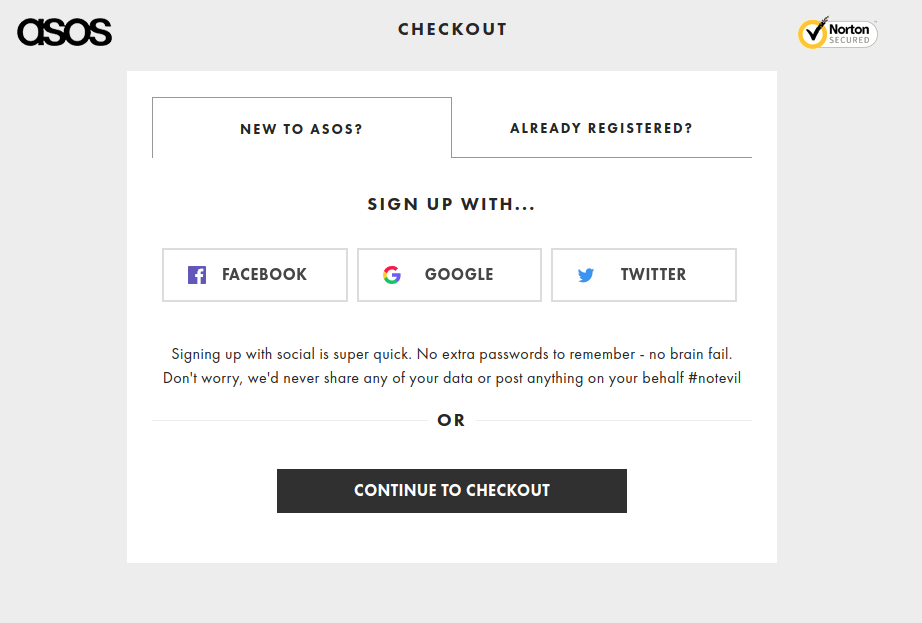 Another brilliant strategy is to use trust seals of easily recognizable and reputable brands. A study revealed that well-known logos and brands are remembered more often and make a user feel secure. Apparently, this preference and perceived sense of security stem from familiarity.

Then comes the payment method. Statistically speaking, 59% of buyers abandon a transaction if their preferred payment option isn't present. The reason? We believe anything seemingly new or unknown is risky.
So as quickly as you can, get rid of this problem by offering the most popular payment method. Bear in mind payment behavior in your target regions and countries. Plus, think of digital wallets, such as PayPal, Amazon Pay, Apple Pay, Google Wallet that allow expedited mobile checkout.
Fanatics, a retailer of officially licensed sports merchandise, improved their mobile UX with Google Wallet: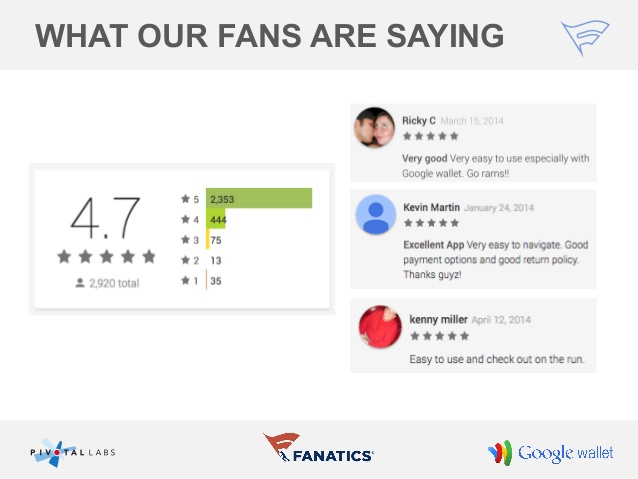 Work Your Copy And Visual Elements
Both must match the brand image you want to project. What for? To prime visitors' expectations and their overall perception of your website.
First, let's talk about copywriting. As it turns out, writing complex copy doesn't make you the most sought after writer, nor does it make your brand seem any more sophisticated. On the contrary, it widens the gap between you and the reader. All those difficult words you throw at them make you less relatable. So fix it right away.
Talk to your customers in a way they're familiar with. Open your ears to the words/phrases they use on an everyday basis. Incorporate those in your copy.  According to the HBR, it's a far better strategy than conducting a survey:
"You want to know how they think about issues and how they make decisions. You want to get inside their minds. You want to get a feel for their needs, wants and pain. You can't get that from a questionnaire."
Analyze your competitor's website for inspiration. What are some of the most frequent themes and words they use?
If you run a blog, try to make your posts scannable for better readability. Nielsen's research found that 79% of people scan web pages. Adjust to this information-foraging audience. Use header tags, bullet points, add more credibility by linking to studies and stats, etc. This will create a Halo Effect and prime them to like you because you're serving content in a format they like and are used to.
Next comes the perceived value communicated through visual elements. If your website is too cluttered, unorganized, with way too many call-to-actions competing for attention, you'll come across as a brand that lacks focus. This negative reaction lowers people's expectations and makes them leave your website. In other words, it's game over before you even get started!
What's the solution? It's an easy one: To come across as a company worth their time and attention.  Neilsen Norman Group, in one of their usability studies, found that details such as color combinations, imagery, and awards communicate sophistication and the promise of excellent service. Whereas, less compelling designs were 'judged to belong to discount brands or to organizations devoting less attention to detail.' As a result, the initial assessment primed the rest of the participants' visits: On websites that were too 'discount' for their tastes, they complete the task half-heartedly, not bothered exploring more deeply.
Takeaway For Marketers: Prime for Visitor's Expectations
You might be tempted to refresh your product, redesign your website and give it a new look and feel, but know that nothing beats the fusion of familiarity and innovation.
From the get-go, prime your audience with a second-to-none user experience. It starts with closely studying the industry prototype, creating an easy-to-use, clutter-free website, and making sure it reflects your brand personality.
Are you up for it?