It's no secret that social media has changed the way businesses conduct their marketing strategy. These platforms are excellent ways to influence potential customers, spread brand awareness, and share their expertise in their market.
Instagram particularly can be especially advantageous for businesses. Currently, over 25 million companies use Instagram, and about 200 million people visit at least one company page every day. 
Not only does Instagram have less competition, but it also maintains some of the highest audience engagement of any platform. 
Brands are more likely to succeed when more people know about them, so cultivating an online following is essential. Not only will it attract new customers through word of mouth, but it will also build brand loyalty.
For travel brands, a photo-centric platform like Instagram may be the best thing ever to happen. It's the perfect way to capitalize on visual connections that inspire and motivate people to explore new places. 
With so many people using Instagram to explore interests and find inspiration, there's a lot of opportunities for travel brands to connect with more followers. 
Here's how to get more Instagram followers for your travel brand.
Use Hashtags to Attract New Followers
Just like retail brands, travel businesses can also use hashtags to reach new users and get more Instagram followers.  
Hashtags make it easier for users to search and explore, so using the right keywords is crucial.
Websites like IconoSquare make it easier to find hashtags that will help get your company noticed in search results. 
By making an Iconosquare account and connecting your company's Instagram account, you can search the hashtag you want to use and check its relevance and popularity against other posts while suggesting other terms. 
Use a spreadsheet to keep search results organized and easy to track later on. 
Travel brands can begin by making a unique hashtag for their business included in every post. 
The next step is creating a marketing campaign with a hashtag that entices people to participate and engage with your brand. Promoting a special offer and inviting followers to use the hashtag in relevant photos and videos is one way to get your brand's hashtag noticed.
An example of an effective Instagram campaign is the #CruiseLikeANorweign from Norwegian Cruise Line. Currently, it has 37,758, all of which advertise this company and boosts its visibility across Instagram.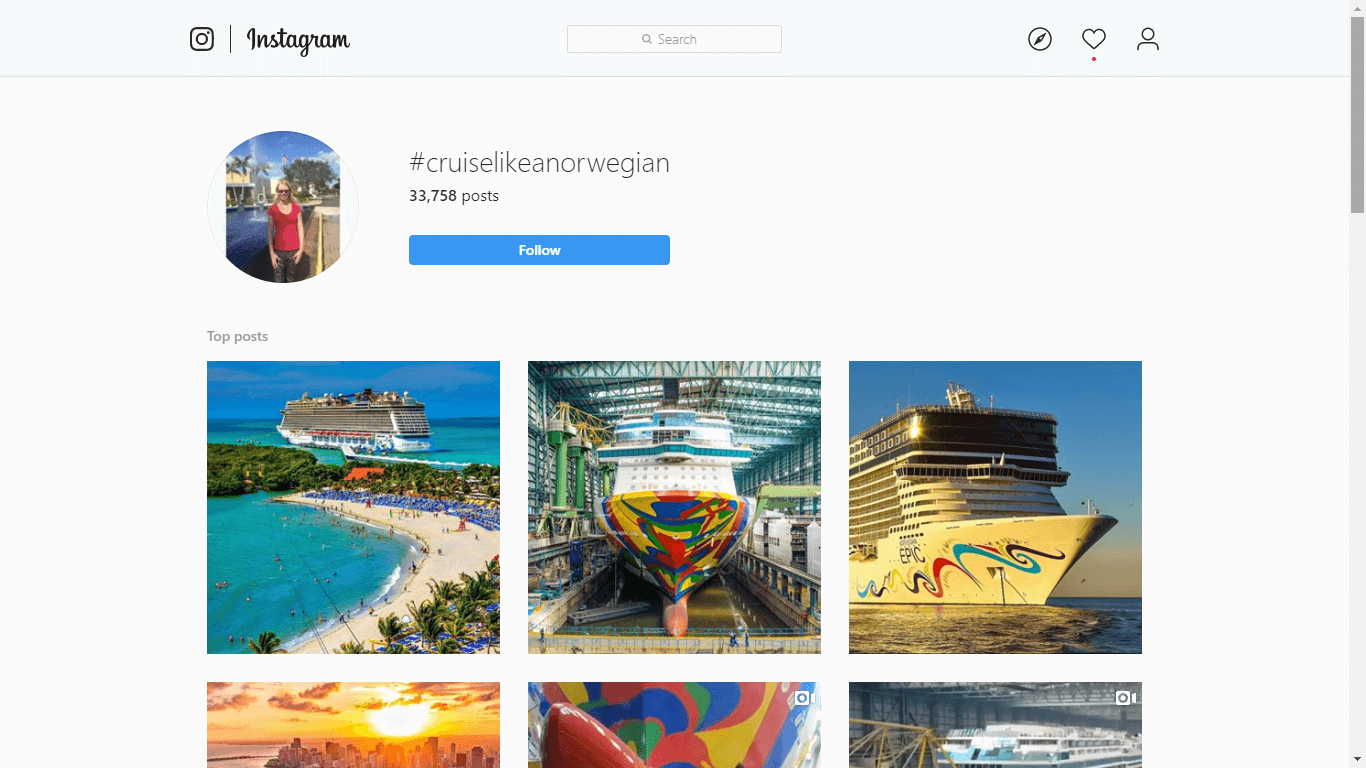 Know When and What to Post
Even if your company masters the hashtag, your brand may not appear in searches because of post timing. 
When trying to get more Instagram followers, an important step is finding social media monitoring tools that help you review post history and see what worked and what didn't.
Sites like IconoSquare have tools to break down how well older posts have done for engaging users. There, you can also optimize the best times to post down to the time of day.
Make a monthly posting calendar that includes the day, time, and week for each post. It will help keep you from publishing duplicate or similar content and track engagement for each type of post.
Scheduling posts in advance is a great way to keep your profile relevant. It makes it more likely to appear in searches, and lets followers regularly know what you can offer them. 
Also, make sure to keep the content high-quality. Followers want to see things that are new and interesting, so try to create entertaining posts.
Consider learning about storytelling as a tool for digital marketing. Doing so will help you make content that doesn't just appeal to your Instagram followers–it resonates with them. 
This type of high-quality content will get users to pay attention and eventually follow your profile.
Additionally, there are many free analytics tools for businesses, both from Instagram and other websites.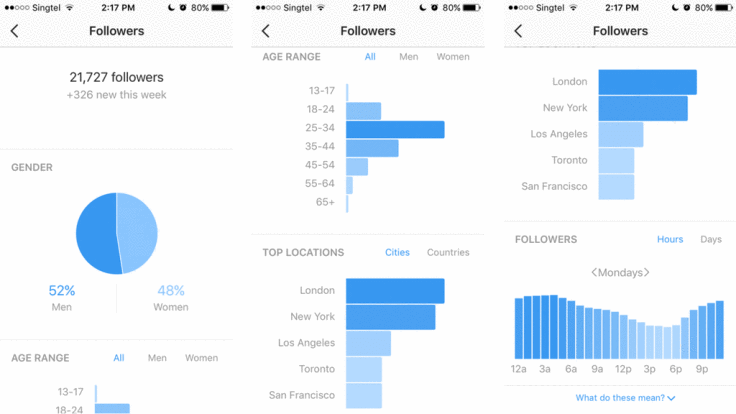 Target the Right Demographic
Many travel brands have the luxury of appealing to a broad audience. Not only do many people rely on travel companies when planning trips, but the desire to travel is something that appeals to many users.
However, forming an effective social media strategy to gain more Instagram followers still needs to appeal to the right audience. 
Your brand might get a lot of online engagement with young adults, but they might not be the ones buying your products. 
Using analytics resources is helpful for travel brands to find which users are more likely to purchase products as well as engage with posts and hashtags.
Once you identify the target audience, it will be easier to curate content that incentivizes them to look into your offers. 48% of consumers expect brands to know them, but with the right outreach strategy, it will be easy to meet that order.
Make sure to link to your company's website whenever possible to funnel users to your page. 
Follow Other Brands
If your company is still in the beginning stages and hasn't yet gained much brand awareness, mass following is one way to pull in more Instagram followers.
While this method isn't for everyone, it is one way to get the ball rolling and start building that follower count. 
Instead of blindly following other accounts, use it to your advantage by studying how other travel brands interact with their followers and what posts create the most buzz.
Taking note of travel trends and following popular influencers will help your brand stay relevant.
It's a good idea to follow smaller accounts, as they are more likely to check their notifications and follow back. Comment and connect with their posts to boost your visibility.
As you start to gain a fair number of followers, it will boost your company's credibility and encourage others to follow as well.
It also doesn't hurt to ask for more followers occasionally. Just like YouTube content creators request viewers to subscribe to their channel, travel brands can invite users to follow them, so they don't miss out on new products, offers, and more.
Use Geotags
Like hashtags, geotags highlight any Stories, photos, or videos you post by including your location. 
Geotags can be particularly beneficial for travel companies because it strengthens the visual connection that users see between the brand and the country, city, or venue they could discover with your business.
Also, using geotags allows you to contribute to that location's Story and elevate your brand to other users.  
Don't be Afraid to Self-Promote
Hashtags and geotags are two ways to make it easy for people to discover your company on Instagram. 
If you are also using other platforms, use those to raise awareness about your Instagram profile. Share a link while providing an incentive for users to click it, such as a unique offer code.
Take it to the next step by adding a link to your account in newsletters, on the company webpage, or in your email signature. 
In the same vein, Instagram for company profiles has the option for sponsored advertisements that are useful for promoting your travel brand and getting more Instagram followers.
Photo, video, carousel ads, and Stories are all effective formats for advertising and building brand visibility.
Consider reaching out to influential users who can alert their followers to your brand. Begin by making a list of accounts that are relevant to travel and following them.
Look for a large following and an email address in the profile description. These are a good indication that the influencer is willing to do sponsored posts or give your brand a shoutout.
Even paid promotions are likely to be positively received by followers if the post appears more natural and genuine. 
45% of people say they are more likely to unfollow brands that talk too much about their products, but striking the right balance with engaging content will help keep their interest.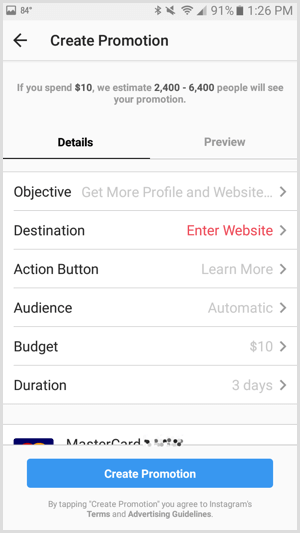 Conclusion
Photos are one of the best ways to get people excited about traveling, and Instagram is perfect for connecting users to travel companies looking to expand awareness about their brand.
There are many ways to get more Instagram followers for your travel brand.
Using the right hashtags will help your brand stay relevant and connected to the latest trends. It will also help your profile appear in more search results.
Posting at the right time will ensure that when you publish a video, photo, or Story, people will see it. No matter how much content a profile produces, posting at the wrong time means no one will see the content.
Using analytics tools to find your target demographic will help you learn which content is more relevant to users and what leads to the highest engagement with your brand.  
Following other travel brands, as well as popular influencers, will help you stay in the know when it comes to what's trending.
Geotags, like hashtags, are beneficial because they help companies become more discoverable. They are an excellent way to stay relevant and boost engagement with existing followers.