Some of the most successful marketers might appear to be magicians—pulling tricks from out of their hats to connect with their customers—but it actually doesn't work this way. There's plenty that goes on behind the scenes and multiple props are used to get into customers' minds. One such 'trick' is the survey.
Survey tools enable marketers to measure brand awareness, understand customer sentiments (think NPS), uncover a new product's hits and misses, gain insights on a future product, know where they stand against competitors, etc. It goes without saying that you might want to consider using them, too.
But given the amount of survey creation software available today, you can easily slip into choice paralysis. What adds to the difficulty of picking one is that most of them offer similar features⁠—give or take. Or they're way out of your budget. So to make the selection process less daunting for you, we've curated a list of some of the best survey tools.
Note: If you're new to creating surveys, please go through this glossary compiled by Zoho.
Table of Contents
Google form is a 100% free tool that can be used by anyone with a Google account. It's extremely user-friendly and lets anyone with little to no experience create a survey in no time. Listed below are some of their features:
Create unlimited surveys, ask unlimited questions, and receive unlimited responses.
Add images, YouTube videos, and company logo.
Set up validation checks for text fields.
Use conditional logic and branching for multiple choice and dropdown questions.
Collaborate in real-time, but with a limited number of people.
View responses automatically stored in Google Sheets.
Embed surveys in emails and websites.
Bottom line: Go for it if limited design options and the lack of deep data analysis doesn't bother you. But not if you're too picky about design customization and have a big team and a complex, in-house review process.
Typeform
What sets Typeform apart is its versatility and the focus on making surveys that are conversational and engaging. This might be the reason their average completion rate is 57%.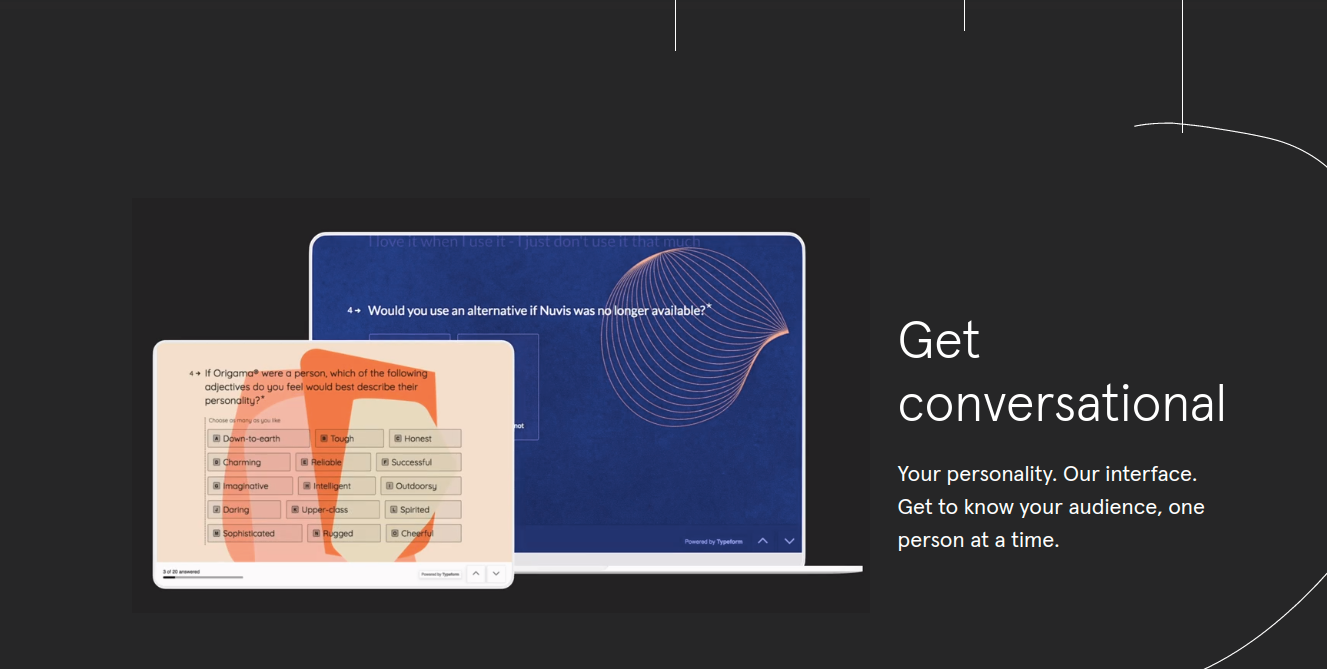 Like other survey tools, if you subscribe to their free, basic plan, you can:
Use free templates, ask 10 questions per Typeform, and collect 100 responses per month
Receive respondents' answers in an email
Export data and generate simplified reports
Benefit from 500+ integrations with Zapier
Embed on your website and blog.
With a paid account, you get the option to send respondents emails, invite team members to collaborate, remove Typeform branding, add your own code to Typeform's for conversion tracking, retargeting and site analytics, among a host of other things, which you can read about here. 
Bottom line: Given its features, you could do a lot with a free plan unless you want to gather mounds of user experience data and are concerned about branding. Whatever you choose, you'll thoroughly enjoy the data collection process.
SoGoSurvey is a robust survey platform collecting awards year after year for its great user experience that comes at an affordable price. Even their free plan has all the features of the paid Plus package, including, but not restricted to:
Customized templates and email invitations
Branching logic (restricted to three questions per survey)
Embed survey questions in an email
Surveys in 32 different languages
24X7 email support, access to user forums
Training videos and user guides
Sharing reports on social media and via email
Exporting report to Word, CSV, HTML, though not XLS.
Embedding polls on a website and link sharing on social media.
Firewall security
SSL Encryption or account session, etc.
Bottom line: Suffice it to say that the basic plan delivers value and is worth checking out. If you love the overall experience, you can upgrade to their Pro, Premium, or Enterprise plan.
98% of Fortune 500 companies use SurveyMonkey—making it one of the most popular survey tools. Some even call it one of their foundational tools, and rightly so. You can create a variety of surveys, but apart from the intuitive interface, which is common for both free and paid plans, most other features are available only after you upgrade.
For example, you can't access data collected in PDF, PPT, XLS or CVS unless you're a paid member. What else do you get under their premier individual and team plan? The following:
Choose from over 200 templates and 180+ pre-written questions by SurveyMonkey experts
Create as many surveys (even multilingual), ask as many questions and see unlimited responses
Upload logos, change fonts, font color, and font size
Save custom themes to build surveys in no time
Set view, edit, comment permissions at a granular level
Run advanced comparisons across multiple questions
Filter and compare rules to segment your data and discover hidden trends
Compare results against industry benchmarks
Conduct A/B tests and randomly segment respondents
Remove the SurveyMonkey logo and customize survey URL
Redirect respondents to your website after survey completion.
Bottom line: Survey Monkey is a sophisticated tool. Unfortunately, the free plan is extremely limited, which means if you aren't bootstrapped, then the paid plan is what'll give you a bang for your marketing buck.
Qualaroo lets companies capture valuable customer insights in the most seamless way possible. Whether it's on a website or app, their surveys use features, such as sentiment analysis, advanced targeting, and dynamic insight reporting, so that you're able to improve your product, boost conversion rates, and keep customer churn low.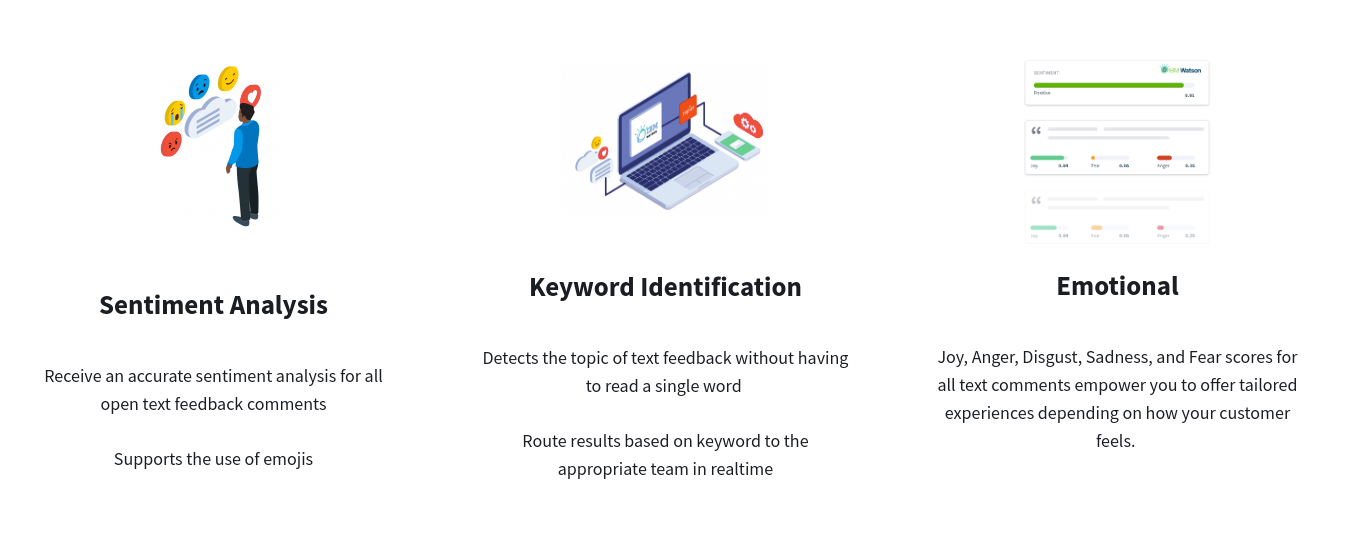 While they don't have a free plan, their Startup, Growth, and Turbo plans come with a 14-day free trial. Features that are common to each include:
In-product nudge + placement
Link Nudge
Website overlay
Lead gen form
Net Promoter Survey
Branching and skip logic
Visual customization
Behavioral, URL, and technology targeting.
Bottom line: Qualaroo stands out for⁠—in their own words⁠—going beyond the WHAT of user insights and learning the WHY behind them. Yes, it comes with a price, but with all the data you'll gather and trends you'll discover, you'll be on your way to becoming more customer-centric.
SurveyPlanet offers impressive features under the free plan. You can:
Create unlimited surveys in 20 languages, ask unlimited questions + receive unlimited responses
Access 90 pre-written surveys and basic themes
Mine basic in-app reports
Personalize surveys with opening and closing messages
Duplicate surveys
Embed surveys.
But with their paid plans that start at $20/month, you get unlimited storage access, the option to use custom themes, can get rid of Survey Planet branding, add images, export/print surveys, and so much more.
Bottom line: Their free plan is one of the best in the biz. So if it works for you, then look nowhere else.
Zoho Survey's free plan gives you access to over 200 survey templates and allows you to create unlimited surveys with a maximum of 10 questions and collect only 100 responses per form. You can randomize questions and also embed surveys in your emails, website, and share on social. The only downside⁠—like most survey tools⁠— is that although you can download a survey as a pdf, you can't download reports in XLS, CSV format, or pdf format. Upgrade if you must.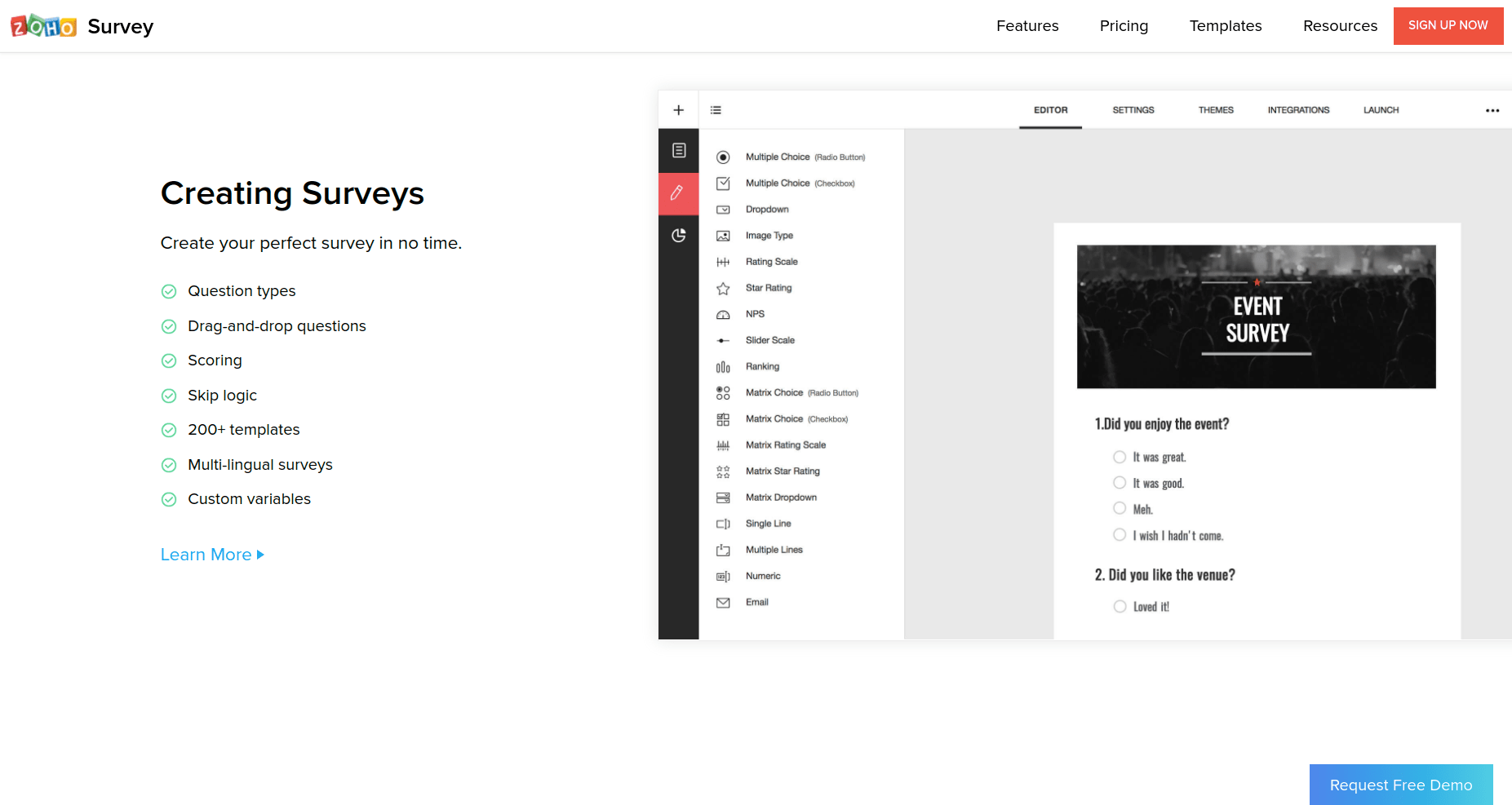 With paid plans though, comes a range of incredible features, such as, and not restricted to:
Complete survey design customization
Embed video and CTA in your questions
24 question types (NPS, rating scale, star ratings, etc.)
Skip, end page, auto-fill logic
Email distribution
Offline responses
Zoho and third-party integration
Multilingual surveys
Email distribution and notifications
Reports translation
Custom trend reports
Host survey in your own domain.
The only exception is that the pre-written questions are restricted to themes.
Bottom line: If you want to send lengthy surveys, then check out their paid plan. You'll be able to collect multiple response types in real-time as well as offline, and also be able to connect with audiences that don't speak your language.
LimeSurvey is a 100% free and open source survey software that puts an end to your search for a tool to build detailed surveys. It even has the option to host them on your own server. Best of all, it supports over 80 languages, gives you the option to choose from 30 question types, and also offers discounts to charitable organizations, universities/schools, and pupils/students.
Depending on which plan suits you, you can choose between LimeSurvey Pro or LimeSurveyCE. Check out the main differences between the two below: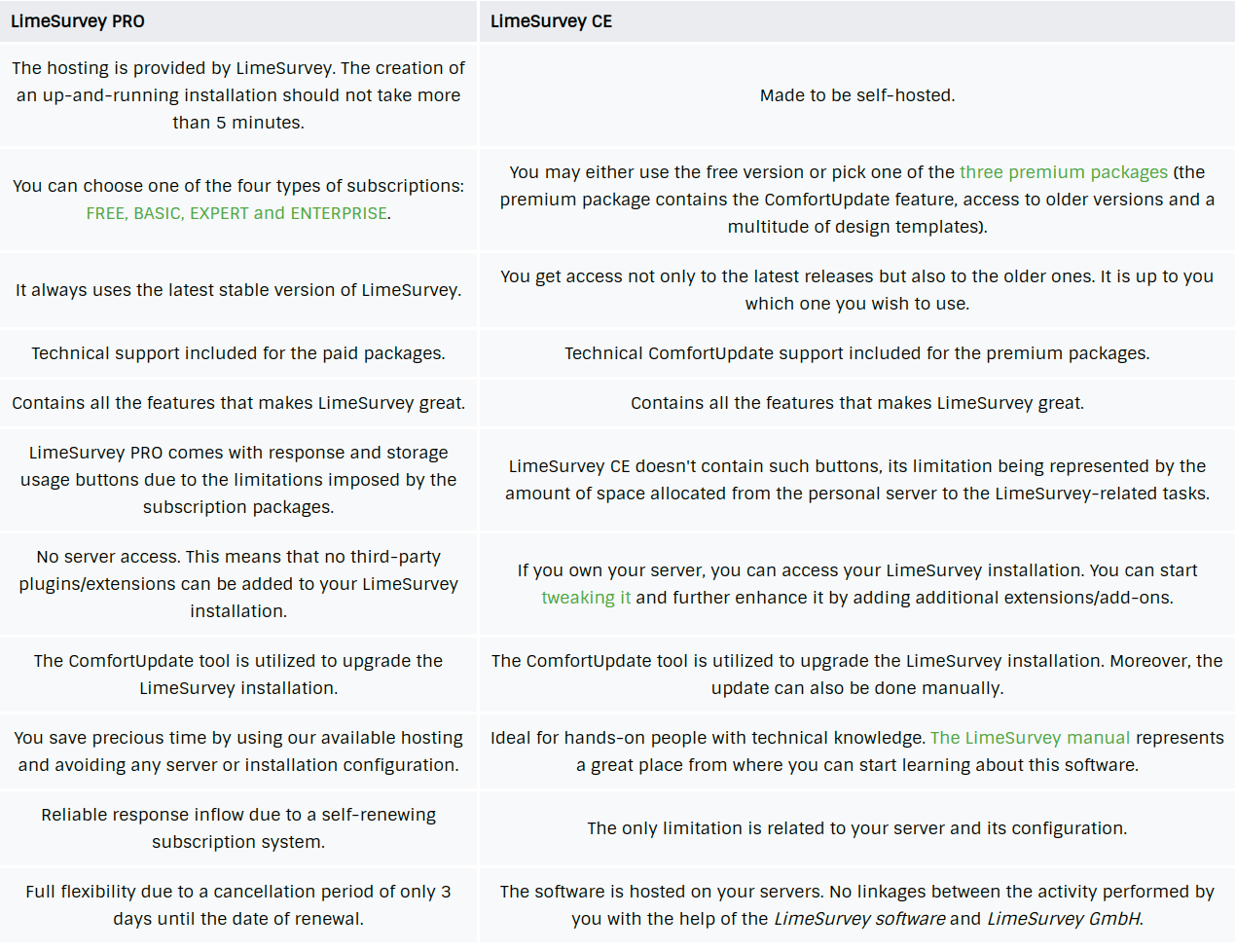 Bottom line: If you're technically competent and are looking for an extremely customizable survey creation platform, LimeSurveyPRO is a clear winner.
Conclusion
From the survey tools listed above, choose the one that best suits your budget and requirements.
For instance, if you're new to creating surveys and don't want to overwhelm yourself, start with Google Forms. If you want more interactivity, pick Typeform. Think in-depth analysis is your jam? Go for Qualroo or SurveyMonkey. Or, go for LimeSurvey if you can handle technical complexities.
Above all, ask the right questions to the right set of people to gather actionable insights.
Over to you. Have you been using these or any other survey tools? Would love to hear about your experiences.