A fully optimized website is imperative if you want to rank in the search results, attract website visitors, and generate valuable leads or revenue from sales. 
Simply put, website optimization is essential for your website to thrive. 
But what is website optimization?
Website optimization means improving all of the elements on your website used to "acquire traffic, engage visitors and then convert them into prospects or buyers using a clearly defined method which meets a number of predefined goals." (AB Tasty)
As it encompasses factors affecting both the traffic your website receives and the conversions your website generates, website optimization covers a wide range of specialties, including the following:
Search engine optimization: website content, on-page SEO, and backlinks
Technical performance optimization: speed, mobile optimization, page errors, and hosting performance
Conversion rate optimization: user demographics, bounce rate, conversion rate, and abandonment rate
Search engine optimization and conversion rate optimization are inexorably linked. Traffic without conversions is worthless.
And conversions without traffic is impossible. 
To generate traffic, you need to make sure that your website is properly optimized for SEO. 
To generate conversions, you need to make sure that any traffic that lands on your website is compelled to take action. 
Each one complements the other and they both work hand in hand to improve the performace of your website in terms of your business goals. 
Why are Website Optimization Tools Important?
With such a wide range of skills required and the growing complexity of modern websites, it's no longer possible to manually optimize websites. 
Website optimization tools automate the process of making your website more visible in search engines and make customers more likely to convert.
Tools range from website speed tests and mobile-friendly analyzers to A/B testing tools and data insights as to how you can improve your website to ensure that it's successful.
For instance, a mobile-friendly tool helps you uncover which fonts are illegible on smaller screen sizes and which page elements are not displayed fully on the screen. 
A/B testing tools allow you to compare two versions of a page against each other to determine which one performs better.
The list goes on. 
There are a wealth of tools available that can help you improve your website and generate more traffic and conversions. 
The tools allow you to see what's working and what's not — and offer recommendations to improve your processes. 
With so many tools available, which one should you use to make your website rank higher in the search engines and convert more visitors into paying customers? 
Let's find out. 
#1 PageSpeed Insights
Google's Speed Update was released in January 2018. While desktop speed was already a ranking factor, the update meant that a website's speed on mobile was also taken into account.
As well as being an SEO factor, site speed has a huge impact on a user's behavior. The slower your website loads, the more likely a user is to bounce and the less likely you are to get a conversion. 
Many studies have shown that a faster page speed means a better conversion rate, but how quickly should your website load?
Google aims for a website load speed of less than half a second and it states that two seconds is the absolute maximum for e-commerce websites. 
Studies by AI healthcare software company mPulse Mobile found that:
pages that loaded in 2.4 seconds had a 1.9% conversion rate;
at 3.3 seconds, the conversion rate was 1.5%;
at 4.2 seconds, the conversion rate was less than 1%; and
at 5.7+ seconds, the conversion rate was 0.6%.
Fortunately, Google offers a PageSpeed Insight tool which allows you to test your website load speed, as well as offering actionable recommendations. 
Enter your domain name into the search bar and hit 'Analyze.'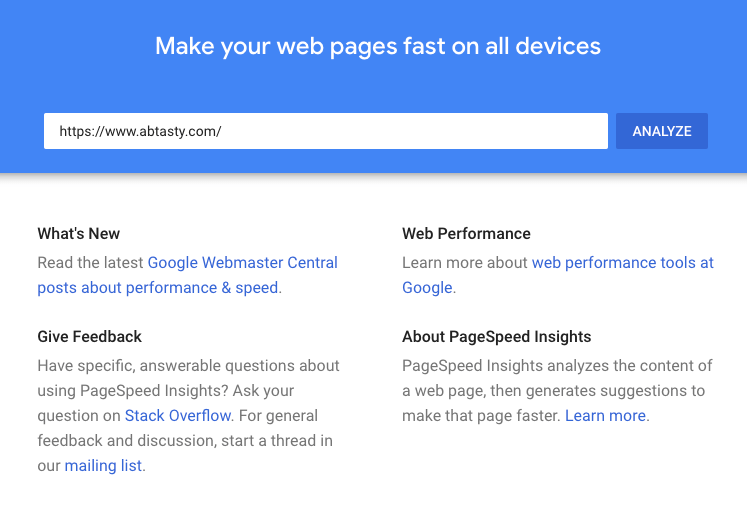 The tool allows you to analyze your website speed on mobile and desktop and provides a list of recommendations to improve your results, such as minimize main-thread work, remove unused CSS, and so on.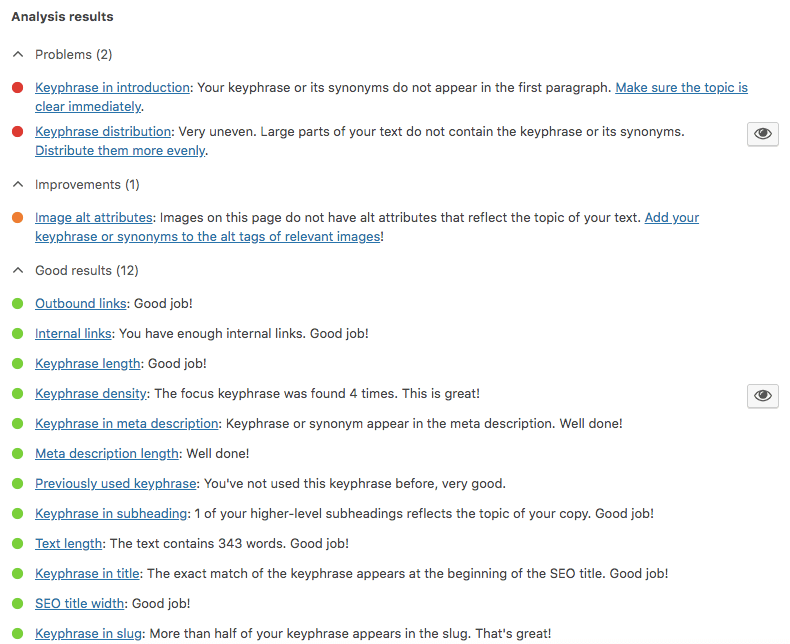 #2 Google Search Console
The Google Search Console (formerly Webmaster Tools) offers a wealth of information to optimize your website.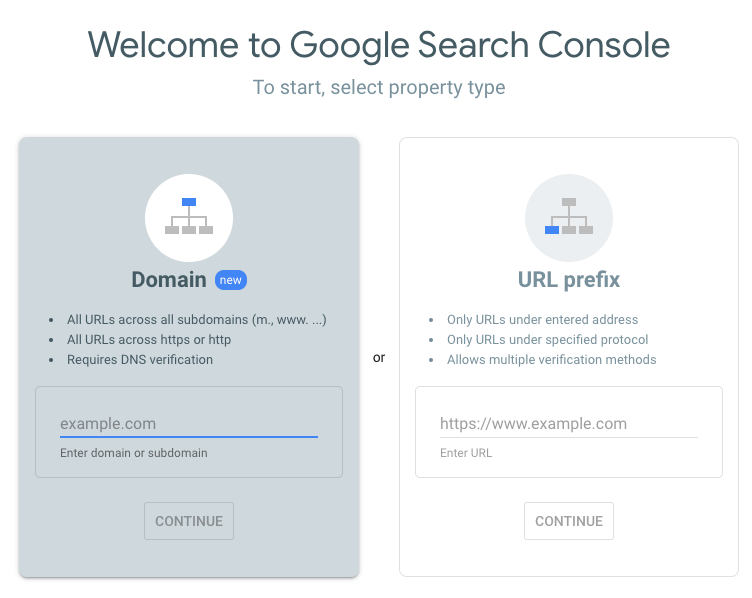 The console is a free tool to monitor how Google views your website and provides recommendations to optimize its organic presence. 
The platform shows you how many referring domains link to your website, how your website performs on mobile, your search queries, and your highest traffic pages. 
In order to set up Google Search Console, follow these simple steps:
Log in to your existing Google account
Go to Google Webmaster Tools
Click "Add property now"
Click "Add property"
Enter the URL of the website you would like to add
Choose a way to verify that you own your website: 

HTML file upload 
Domain name provider 
HTML tag
GA tracking code
GTM container snippet

If your site supports both http:// and https://, add both as separate sites 
Add each subdomain and domain (e.g. abtasty.com, blog.abtasty.com, and www.abtasty.com)
One of the most useful elements of the Search Console is its mobile usability test. It quickly checks that all pages and posts on your website are responsive, quick to load, and that the elements fit on the page and the fonts are legible on mobile screen sizes. 
Once you've analyzed your website in the Google Search Console and worked through the recommendations, make sure to hit "Validate Fix" and re-run the test. 
Once your pages are fixed, you can provide a better mobile experience for visitors and, of course, increase the chances of your pages ranking higher in search results.
#3 AB Tasty 
A/B testing is the process of experimenting with different page variations on a website to test which pages get the best results.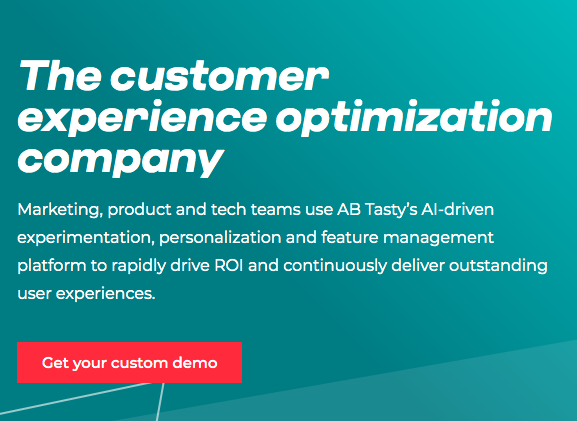 In other words, it tests which version gets the most conversions for your business, such as quote requests, appointments scheduled, more traffic, sales, and so on. 
In order to optimize your website, you need to understand what works for your audience, website, and business goals. 
This means understanding your customers' behaviors, how they interact with your website, and where in your funnel they drop off. 
AB Tasty – that's us! – allows you to understand your website visitors' behavior. (Along with a range of other CX optimization options), you can build A/B tests, split tests, multivariate tests, and funnel tests with our visual editor. 
It's also possible to conduct advanced targeting to test other criteria like website URL, location, user demographics, the weather, and more. 
Finally, it's also easy to use. Once you sign up, you can begin running tests as soon as you've installed the AB Tasty tag on your website, which you can do in minutes flat. 
#4 Yoast SEO
Yoast SEO is an easy-to-use tool for optimizing the on-page SEO on your website. It's a WordPress plugin which offers a traffic light system to ensure that you've correctly optimized your pages and posts. 
The first step is to install Yoast on your WordPress website and then activate it. Once that's complete, every time you create a new page or blog post, you will get an SEO rating of the page. 
By entering your focus keyword and synonyms, Yoast will tell you whether the page is well optimized or even over-optimized. 
The plugin also gives you the following recommendations to improve your SEO rating:
Add your keyword to your SEO title
Add your keyword to your meta description
Increase or decrease the number of times your keyword is mentioned in the text
Add internal or external links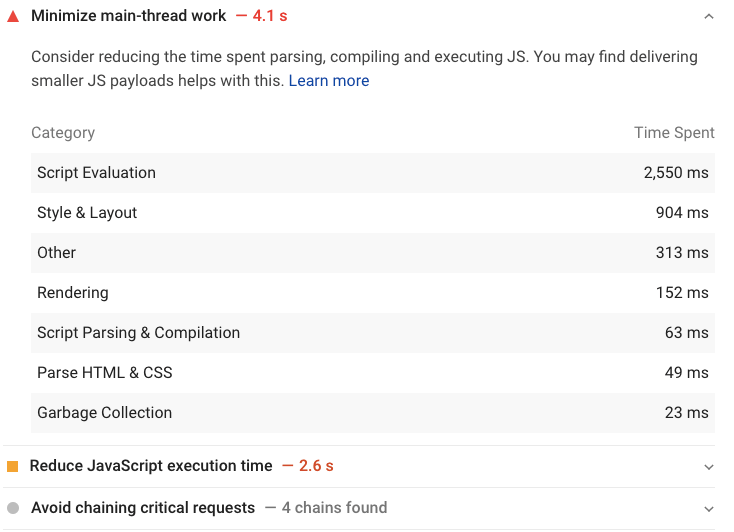 It's so simple to use and allows you to stay on top of your SEO optimization for individual pages – it's really a no-brainer.
#5 SumoMe
Conversion rate optimization is a huge part of the website optimization process. If traffic doesn't convert, then there's little point getting more traffic to your website. 
Building an email list is important for most businesses nowadays. Whether it's to generate a lead for a service or to build a list to market to at a later date, SumoMe can help. 
Use SumoMe to gather email addresses from website visitors using exit intent popups, lead magnets, discount codes, scroll boxes, CTA popups, and more. 
The paid version also offers A/B testing and data insights, but it's to a much lesser extent than a dedicated tool (like AB Tasty). 
Where SumoMe excels is by retargeting your website traffic. For example, if someone browsed your store but wasn't in a position to buy, then you could send them an email with a discount code a few days later, and that could be enough to encourage them to convert. 
Best Website Optimization Tools for 2020
If you want to attract more traffic to your website and convert it to a lead or sale, you need to optimize your website. Make sure you're working on SEO and CRO – you need both to thrive online. 
Website optimization tools make your life easier by automating many of the backend tasks. While the tools are designed to automate many of the tasks, most of them require input, so schedule a regular routine to check the tools, run reports, and make updates. 
And most importantly, use your findings to improve your website. With the help of a handful of tools, you can attract and convert more traffic than ever.