Some marketers believe that creating long-form content for the internet is a waste of time; short attention spans mean it's prone to abandonment, right? Wrong. 
Studies have shown that longer content tends to outperform short content because it delivers more value to users, which drives engagement.
Here are 4 reasons why long-form content succeeds over short-form content.
Long-form content ranks higher on search engines
A serpIQ study posted on Search Engine Land showed that the average content length of the top 10 results for a cohort of 20,000 keywords was roughly 2,000 words long.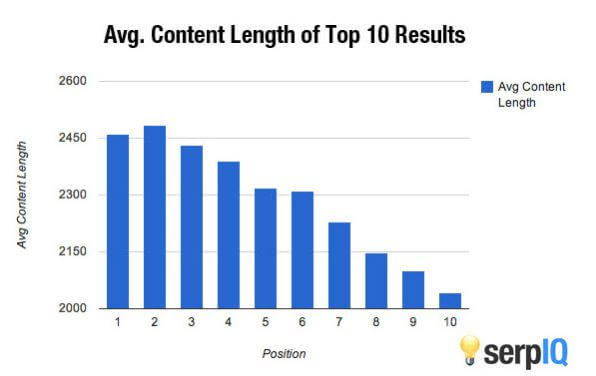 The study also noticed a correlation between content length and its ranking in SERPs.
Why? Because longer content generally means better engagement, stronger relevance, and increased dwell time. People will stay longer on pages they find useful.
Long-form content gets more social shares
People are more inclined to share content that offers a high level of expertise or insight on a topic. Long-form content is an opportunity to be regarded as an expert in your field by providing a better understanding of a subject, which can effectively drive your social shares. 
Long-form content has people stay longer on your site
Visitors will invest in long-form content if they feel there's something to be gained: a deeper understanding, competitive edge, etc. 
Not only does this result in increased engagement (and better SEO as a result), but longer dwell time will bolster your brand perception, which is one of the main pillars of content marketing.
Long-form content generates more leads
Curata conducted an experiment in which their team measured the number of leads generated per content format. It found that long-form blog posts generated an average of 7x more leads compared to short-form blog posts.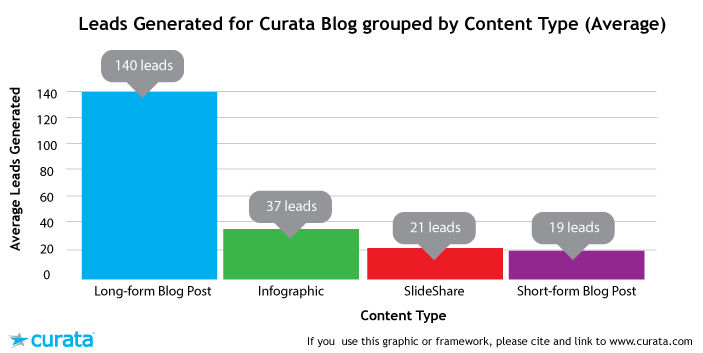 Long-form content can help establish your company as a "thought leader" in its industry. This can translate to better conversion rates and an increase in the number of leads generated, especially in B2B.
Let's go over the best practices for producing high-performing, long-form content.
Research the right keywords and topics
Creating long-form content is an investment.  Research is needed to produce high-quality videos or editorial pieces that visitors find engaging.

Because creating long-form content can be costly, marketers research topics that are relevant and on-trend to ensure their content is a success.
To discover promising topics, look to:
Your close competitors:

What are they creating? How well does it perform?

Your target audience:

What are they searching for? What problems do they face?

Your budget and constraints

:

What topics can you reasonably target?
Once you have a full grasp of your competitors, target audience, and budget constraints, you can use software to bring your keyword analysis to the next level.  
Tools to use for keyword analysis:
These tools offer insight into keyword volume, keyword trends, and keyword competition, so you can choose the best keywords for your content marketing efforts.
SEMrush and Ahrefs are SEO tools that highlight backlinking opportunities and disclose useful metrics on your competitors (like organic traffic and website structure)—so you can optimize your content while keeping a pulse on "who's doing what" in your industry. 
Last but not least, you'll need a social analysis tool. This is where BuzzSumo comes in.
BuzzSumo will help you determine the type of content that works best for your industry based on the number of shares, retweets and so on. This can help you identify key influencers in your field, which is a serious weapon for maximizing content amplification.
Study your competitors and learn from them
Your competitors are likely creating high-quality, long-form content already—but this shouldn't be a deterrent. In fact,  analyzing your competition can offer key insights to help you build a strategic content calendar.
Consider the following when studying your competition:
Content format
Content length
Social media channel
Number of backlinks
Number of shares
Ranks in SERPs
Create an engaging reading experience
To keep customers invested in your content, you need to create an engaging reading experience.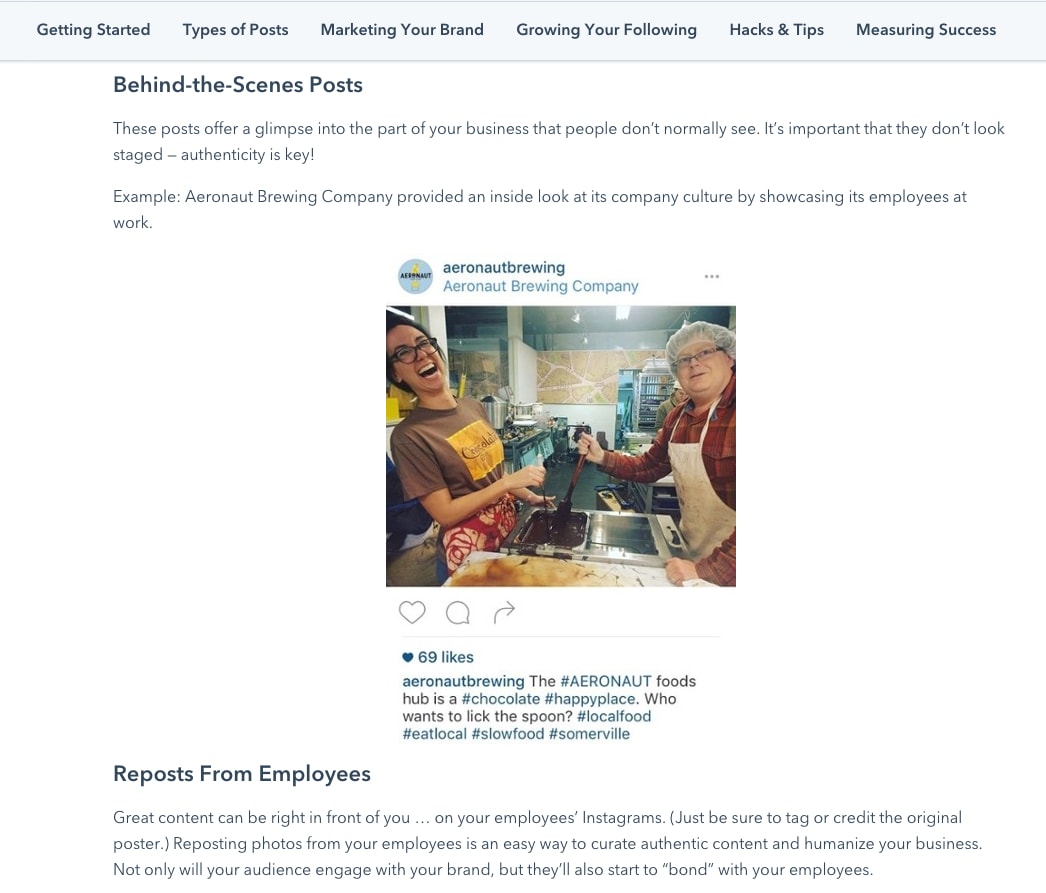 Here's how:
Don't write big, overwhelming, paragraphs

Experiment with "list-based" or "why-based" posts

Experiment with videos or Q&A formats

Use visuals whenever relevant

Check your grammar before publishing

Use bullet points to summarize your ideas

Structure your post with clear headlines

Offer relevant content and CTAs
Remember, you should never create content based on random assumptions. Dedicate time to planning your editorial calendar and be strategic when choosing topics to cover.
Do it yourself, or hire the right people
Outsourcing written content has become a popular option. Content Marketing Institute estimates that 47% of B2B (and 49% of B2C) marketers outsource their content creation.
If you decide to hire agencies or freelancers to craft your content, bear in mind that high-quality writers and video producers can come at a high cost. You'll have to budget accordingly, but it may be worth it. The content that you create is tied to your brand image: posting low-quality content can be a detriment to your reputation.
Optimize for search engines
According to SimilarWeb, organic search accounted for 95% of all web traffic in 2016. Meaning, your content must be easily found on search engines to succeed.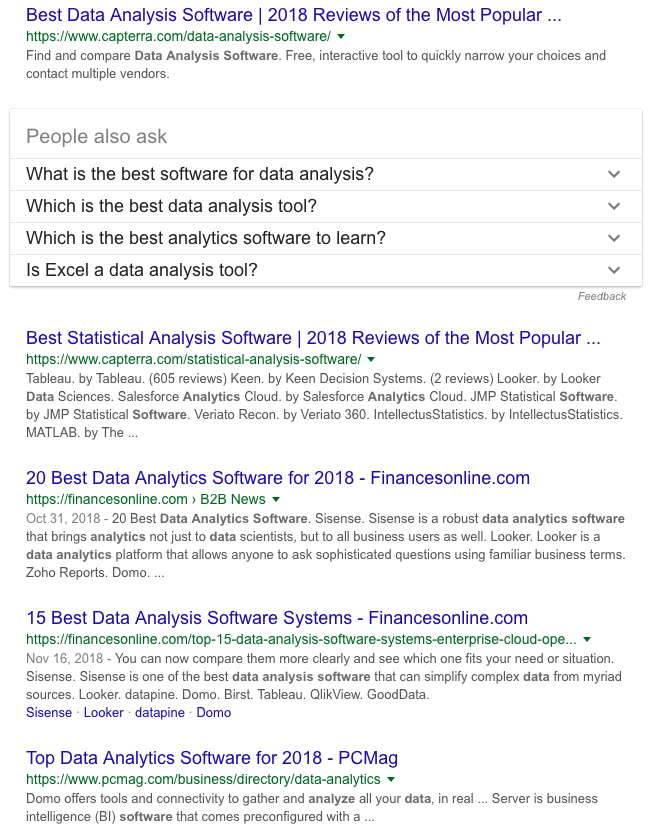 There are several well-known tactics that can help your content have better indexing on search engines, which we've briefly highlighted below: 
Include main keywords in your titles, meta descriptions, and <h1>, <h2> and <h3> tags

Don't write for machines, write for humans

Mention and link to authoritative sources

Always use a clear structure in your content

Link to other resources and relevant pages
Use gated and non-gated content
Gated content is when visitors must give their contact information to access content (e.g. ebooks, videos, or white papers), whereas non-gated content is openly accessible (e.g. blog posts). 
Both gated and non-gated content come with their own set of pros and cons.
Gated content will generate more qualified leads but it requires extensive nurturing campaigns to convert leads into customers.
Non-gated content will drive more traffic and more social shares. However, it will have a lesser impact on your lead generation efforts.
But before you spend too much time belaboring which is the better choice, remember: you should be producing both.
You'll be able to attract more visitors by using your non-gated content while collecting qualified contact information using your gated content.
Gear non-gated content toward the top of your funnel, and focus gated content on your middle-to-bottom funnel efforts. 
Promote your content to the right people
Promoting your content is critical to your content marketing success, but this doesn't mean just blasting it to thousands of people.
A successful content marketing campaign means that you've managed to promote the right content, to the right people, at the right time.
Think of your content as a product; it should meet customers' expectations and address their needs in a meaningful way. 
Depending on your industry and whether you're working in B2B or B2C, your content amplification efforts should focus on different channels.
Monitor the results and keep improving
As with any marketing campaign, you need to carefully monitor the results of your content creation efforts to calculate ROI.
To do so, your long-form content should have defined goals that can be quantified, measured, and improved upon. You should track your SEO performance to see if your long-form content brings in new visitors. This is a strong indication that your content is working.
How to win the long-form content game
If you want your long-form content to work, remember that you're writing to humans— not robots. Try to provide as much value as possible while creating a compelling reading experience. That's the key to success.
Did you like this article? Feel free to share and check out our other in-depth articles on website optimization.