Chatbots are an innovative new way for brands to directly communicate with a web visitor, as soon as they land on a website. Designed to engage with all web visitors whilst offering help, chatbots tend to start the conversion with an automated message, intending to offer assistance and ensure each visitor has the best possible experience when browsing on a website.
This new approach to improving customer service and general experience stems from the evolving consumer world where more people than ever choose to browse, purchase and book online, leaving behind the more traditional helpline numbers and dedicated customer service emails. Chatbots enable a business to quickly engage and communicate with a visitor, fixing any issues they may have, addressing complaints and looking to solve their problem quickly, with minimal effort. In fact, they have taken on so much recently, that a survey conducted by Oracle indicated that over 80% of e-commerce businesses in the US want to be using chatbots by 2020 – that is a huge indication that businesses love the idea of an instant line of communication with their web visitors.
So, how can you adopt the 'live chat' approach and instantly improve your e-commerce site? We look at some of the best uses of chatbots by some of the world's biggest brands, diving into how to really maximize on their potential when it comes to generating leads, as well as nurturing your existing customer base. But first, let's look at some of the top reasons why you should consider adopting chatbots to improve your e-commerce website:
6 Reasons Why You Should Use A Chatbot
It Revolutionizes Your Customer Service
This may be an obvious one to some, but having an instant chatbot readily available to speak directly to your web visitors will improve their customer service experience when engaging with your brand. Whilst they may not immediately need help from your virtual customer service rep, your web visitors are safe in the knowledge that reaching out to contact you is as easy as one click. Your customer service will also be available to your web visitors 24/7.  No matter when they have a question, you will be able to bring an answer, albeit automated!
Brings Your Company Up To Date With Modern Marketing Tactics
Using chatbots and AI technology to significantly improve your customer service and online brand presence will introduce your brand to modern marketing tactics, giving you an advantage over competitors who haven't made this leap. With consumers becoming increasingly difficult to reach, companies need to focus on more innovative ways to reach potential leads, and chatbots are so widely recognized and used by consumers everywhere, they're a great way to keep your brand up to date, not just with industry changes, but with evolving shopping and consumer behavior, too.
Convenient, Time Saving
An obvious perk of using a chatbot on your site is also the convenience of being able to directly communicate with your web visitor, without needing to redirect them elsewhere. It also saves a lot of time – both your brands' and theirs – as your customer service team can quickly address any issue or question a web visitor may have, cutting out the need for a helpline number or even responding to customer service emails. Not only would you be improving the customer service element to your brand by using a chatbot on your e-commerce website, but you'll be saving additional costs for things like phone lines and extra staff.
Creates Great Lead Opportunities
By opening a line of conversation with a web visitor who may not have ever engaged with your brand before, there is greater opportunity for them to become a warm lead, perhaps even leaving their details or subscribing to your email communications. Using a chatbot on your e-commerce site, even with an automated message, could be the difference between encouraging someone to convert and leaving a visitor to bounce off your site for good. Engagement is key for converting visitors into customers and chatbot technology does this seamlessly.
Increased Use Of Voice Assistants 
Voice assistants or virtual assistants are one of the most popular new pieces of technology with tech giants Google and Amazon creating their own voice assistants specifically for the home. Consumers are changing the way they search, shop and buy things online and chatbot technology fits into this new approach to search that consumers are using. Home assistants offer a quick, convenient response to voice search, and chatbots serve a similar purpose on sites that people may be unfamiliar with – they can answer questions and offer advice almost instantly!
Easy To Use And Develop
Lastly, if you're afraid of the time it might take to develop the technology to use a chatbot on your own e-commerce website – don't be! Compared to the time it may take to develop an application to run on your site, creating a smart chatbot takes significantly less time, meaning this new adoption for your brand could happen much quicker than you thought. Chatbots are also easy to use from a consumer point of view, often taking the same or similar format as the widely recognized instant messaging or Facebook Messenger-type look. Not only are consumers growing confident in using and interacting with chatbots during a purchasing journey, but the technology is also easy to include on most e-commerce platforms, making it a no-brainer for your website.
Great Examples of E-Commerce Brands Using Chatbots In The Wild
Now we've covered reasons you should be using chatbots, let's have a look at some of the e-commerce sites that are using this technology to help improve their overall digital experience:
Lego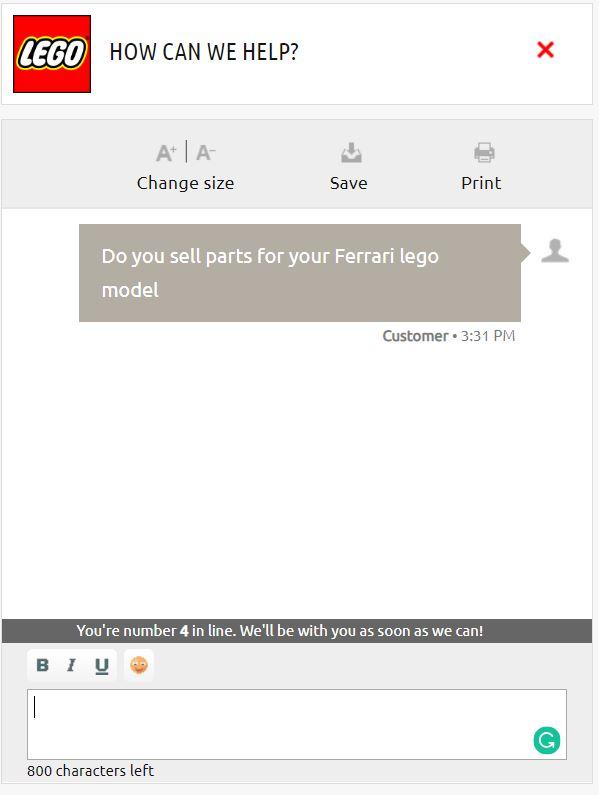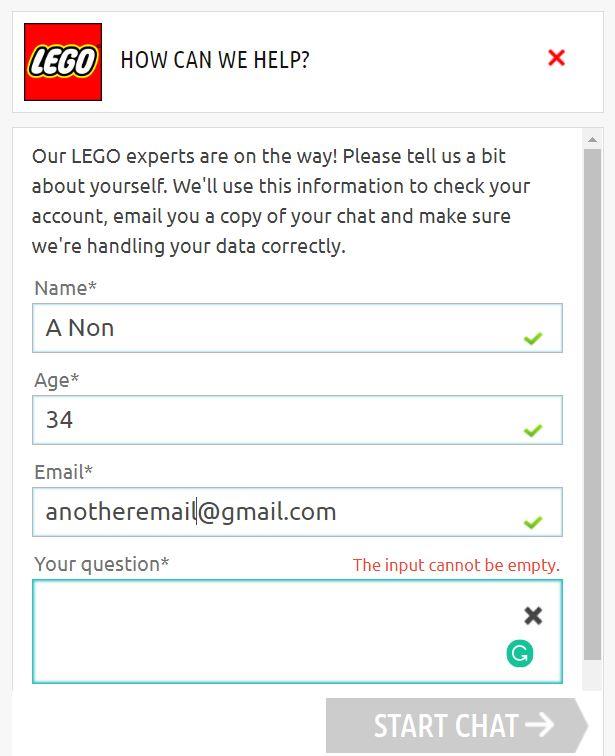 Lego offers chatbot assistance on its website to help visitors make the right decisions when it comes to picking their next Lego item. Not only can they answer general questions, but their chatbot also makes suggestions to users on what products to look for, based on asking a few questions (eg. age, interests, etc.)
H&M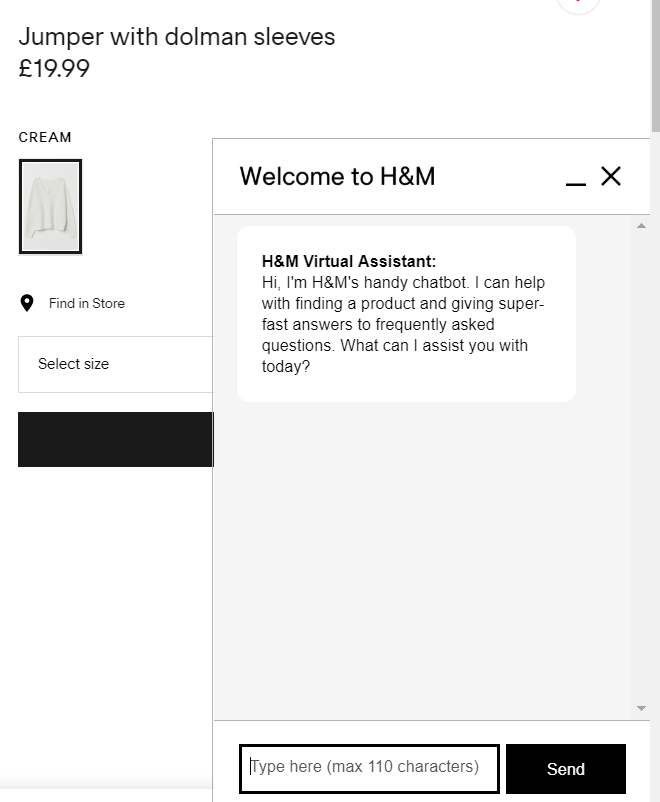 European clothing company H&M are also revolutionizing the way shoppers use their website by offering chat assistance. Helping their online customers through their purchasing journey, H&M is cleverly able to upsell other items by building outfits and 'capsule looks' for visitors looking for help when browsing their site – a very clever approach from this retail giant!
Conclusion
If you're looking to save time regarding your customer service whilst also creating a cost-efficient approach to reaching out to both new and existing customers on your e-commerce site, chatbots are a good choice. Not only is it a great way for your brand to keep up with the times when it comes to marketing and engaging with your consumers, chatbots are continuing to grow in popularity, making them an investment not to miss out on.
With the increasing pressures on brands in the digital space, make sure you're ahead of the competition when it comes to providing next-level convenience and efficient customer service that we, as consumers, are starting to expect from big brands. Why not trial and even A/B test chatbot technology on your website and let us know how it has revolutionized your customer service and lead generation?