You never get a second chance to make a first impression. In fact, it takes a tenth of a second for people to make instant assumptions about a stranger. This year's dmexco visitors won't grant you more time than that either.
You invest a lot of money into a trade show. You put a lot of effort into a landing page. This makes it all the more annoying to see high bounce rates when what you actually want to see are engaged users on your event page.
The good news is: you don't have to reinvent the wheel in order to increase conversion rates on your landing page. dmexco is coming up, so here are a few worthy tips that can easily be implemented even 3 weeks before the event.
Why you need a landing page for your event marketing
Let's hope you already know the answer to this question. If not, here's an event marketing crash course for you: an event landing page is a simple landing page that is specifically designed for an event. On this page you promote your trade show exhibit. You want to make your exhibit as interesting as possible so that people will either stop by your booth or get in touch otherwise. Ideally, users make an appointment request in advance. A landing page, in sum, is essential to a powerful event marketing strategy.
Unfortunately, for many marketers, a landing page is nothing more than one of many tasks on their neverending event to-do list, although it should be seen as the priority.Trade fairs, no matter the size of your booth, are one of the most cost-intensive marketing actions. Therefore, your event marketing should help your team get as much out of it as possible. Your event landing page will definitely have an impact. Good or bad, that's up to you.
Why do users bounce?
Most visitors leave your event page before further considering any of your content. In fact, this is a well-known phenomenon for most marketers. A 0% bounce rate is the goal, otherwise you wouldn't be reading this, right? But it is also highly unlikely. Has there ever been a landing page like that? If you've heard of one, let us know!
Anyway, if your event page is performing remarkably poor, maybe worse than in previous years, the cause is usually obvious. High bounce rates often relate to plain errors: a poor design or bad typos scare users off (Remember, it's all about first impressions!) For your landing page, choose a simple design, a good layout, an appropriate font and size and leave enough space between all elements. Bad contrasts can be overwhelming as well, but not in a good way. Also, the page shouldn't take too long to load. Page loading time is obviously an important part of any landing page's UX, but will also decrease the Google Quality Score of your ads. As a result, click prices will increase and adwords will have a bad placing. There are numerous tools for you to check your site's loading time, such as PageSpeed Insights. You can also have you colleagues check your event page on different gadges and browsers.
Check your landing page for errors like the above and debug them as soon as possible. Even better? Don't make any of these mistakes in the first place. Again, a powerful event landing page is a key element in your company's event marketing strategy and won't hurt your online presence. A bad event communication, on the other hand, sure can.
Optimization tips that boost event landing page conversions
Beyond the "event landing page for dummies" course we just had, there are many less obvious aspects that can be improved and will bring more visitors to your booth. Here we go.
Key message. Your landing page should have a clear key message. Ideally, this message not only relates to your product, but to the/your event motto as well. In order to do so, check if any headlines can be improved. When you are already using an optimization tool like AB Tasty, you can A/B test minor changes or different variations of the entire page. Either way, it will deliver valuable results and insights. Plus it's pretty fun. Why not start an A/B testing campaign on your next event page or on your dmexco 2018 landing page?
A landing page is simply a place to publish a simple message (…) Don't try to do too much. – David Peerman Scott, The New Rules of Marketing & PR
Less is more. Too much information is a weakness on most event pages. Reduce the amount of text and adapt your site's layout and design to the amount of content given. Small changes can make a big difference. For example, bullet points and bold print can highlight the most important aspects and make your page easier for visitors to read.
Stand out. Don't create just another landing page. Please note: dmexco visitors are bombarded with landing pages before the event. They all want you to come to their booth. Our advice: don't reinvent the wheel. Start a powerful landing page with something special: A countdown banner can be an eye catcher. A great hero shot will attract attention. A catchy slogan or theme will also do the job. Have you ever heard of the AIDA tool? The acronym stands for: Attention, Interest, Desire, Action. It comes in handy for ensuring your landing page grabs attention. You need to take your audience through these four steps. Be creative.
Trust. It's something that a lot of pages are missing. More that 900 companies will be exhibiting at dmexco but not every exhibitor is well known, especially smaller brands and start ups. This is why building trust on a landing page can improve conversion rates. Client testimonials or references can boost your reliability and make people want to come speak to you at the event.
Do you have what I want? Why should I get it from you?" – Tim Ash, Landing Page Optimization: The Definitive Guide to Testing and Tuning for Conversions
This is what we offer. A strong value proposition that is communicated in an appealing way will increase people's trust in your product or service. Be careful with forms: Asking for too much information can be counterproductive in terms of brand trust as well.
Relevance and context. A landing page has to fit into the context it is appearing. Sounds obvious, but a lot of great landing pages appear in a bad context and that keeps them from getting the conversions they deserve. Make sure your landing page keeps the promise a google ad makes. What makes a context suitable as well, is a good mobile responsive design. We are living in a 'mobile first' world and more than half of your dmexco site's traffic is browing on a mobile gadget. Make sure it's responsive and has an appealing layout on mobile screens.
A/B Testing of Landing Pages
We already said it, but since it's the one thing you need to get right for a highly effective digital success, we'll say it again: A/B testing will improve your event page's conversion rates. Your next event is coming up and an A/B testing campaign should be part of the preparations. You can test different variations of headlines, paragraphs, layouts etc and most importantly CTAs. On the basis of different factors such as bounce rate, conversion rate and click rate, you will see which variation performs the best. This will in enable you to be the most successful with your landing page before every event. Don't forget: Your competitors are working on the best way to improve their event promotions as well. Stay ahead of game. Learn more about how to A/B test your landing page.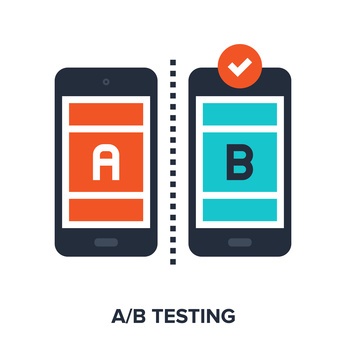 Sum up
As you've seen, there are numerous things that can be improved on a landing page. Here's an overview of all aspects mentioned above, including some last minute optimizations that can be adapted right away, so you can improve your dmexco landing page even when there's only three weeks left.
Avoid or remove bad mistakes such as bad design and typos.
Speed is a killer. Decrease your site's load time on order to improve UX and SEO.
Landing pages should have a clear key message that fit your overall trade fair message.
Your site's wealth of information should be appropriate. Highlight the most important parts by using bullet points and bold print.
"I'm not like other landing pages" – Include eyecatchers.
Trust is decisive. Include a strong (and reliable) value proposition and references, if necessary.
Relevance and context is important. There is no getting around this.
We hope you have a successful trade fair. Hopefully you will be more than busy with visitors asking about your product. But if you do manage to spare a minute, we would be happy to meet you at our booth in Hall 6, A031.