It's easy to assume that homepages are the most important landing page on a website because it's the first impression that customers have of the brand. However, for e-commerce businesses, product pages are in fact the most essential landing pages to get right. That's because product pages are where direct sales are driven.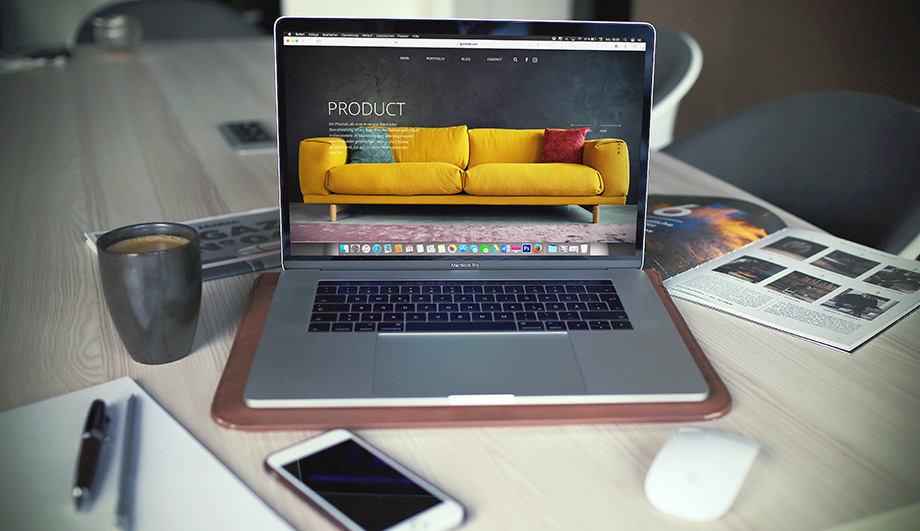 The purchase of goods and services online has steadily increased over the years. Ease and convenience, saving money, and free shipping are some of the main reasons people choose to buy online rather than in brick and mortar stores. It's estimated that in 2021 there were more than 2.14 billion online shoppers globally. After the arrival of COVID-19, this has become even more true. It's evident that for traditional and online businesses alike, creating great product pages for websites is a major key to succeeding in today's digital economy.
In this article, we'll cover the importance of product pages, what elements make a great product page and how to optimize them, as well as break down a few examples of successful product pages to inspire your own. Let's get started!
Why are product pages so important?
Like its name suggests, product pages are designed to convey important details about a specific product with descriptive text and relevant photos or videos, and to provide an easy way for a customer to purchase that product instantly online. On many sites, users can also read reviews, see related products, and save items to a wishlist from a product page.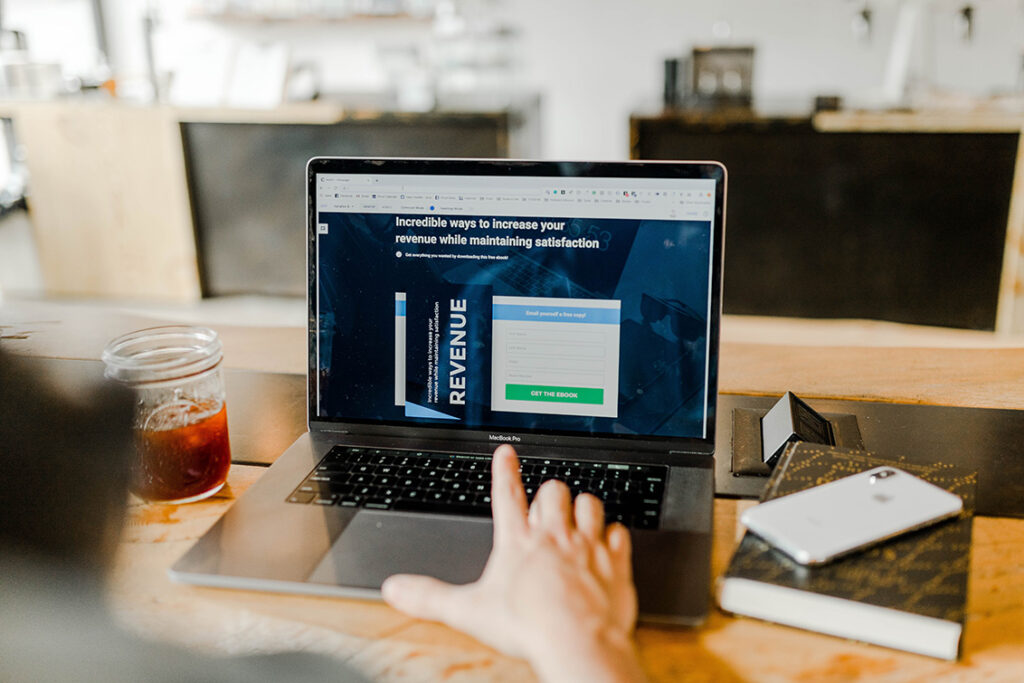 Depending on whether your e-commerce product pages are well executed or not, they have the potential to make or break your online store's sales. It's not only about the layout, content, or functionality of your web page, as all three elements — UI (user interface), UX (user experience), and IxD (interaction design) — greatly affect interaction cost, defined as "the sum of mental and physical efforts that users must exert to reach their goals." The amount of time and effort your customers have to invest to navigate your website directly influences conversion rates and sales performance … and, consequently, your business's bottom line.
Getting tons of prospects to land on your homepage may seem like guaranteed success, but it's just one of several steps in a unique customer journey. Rather than driving more traffic to your website's homepage, increase your conversion rate by guiding your audiences to land on specific product pages instead.
What makes a great product page?
A great e-commerce product page increases conversion rates while significantly reducing cart abandonment. Ideally, the customer journey will involve your customers browsing your products, seeing related suggested products, adding to cart, and checking out.
A strong product page also lowers your website bounce rate (the rate at which people enter then leave your site without visiting a second page). That's because great product pages keep customers browsing longer, encourage them to visit other pages of the website, and finally make quicker purchases with less hesitation.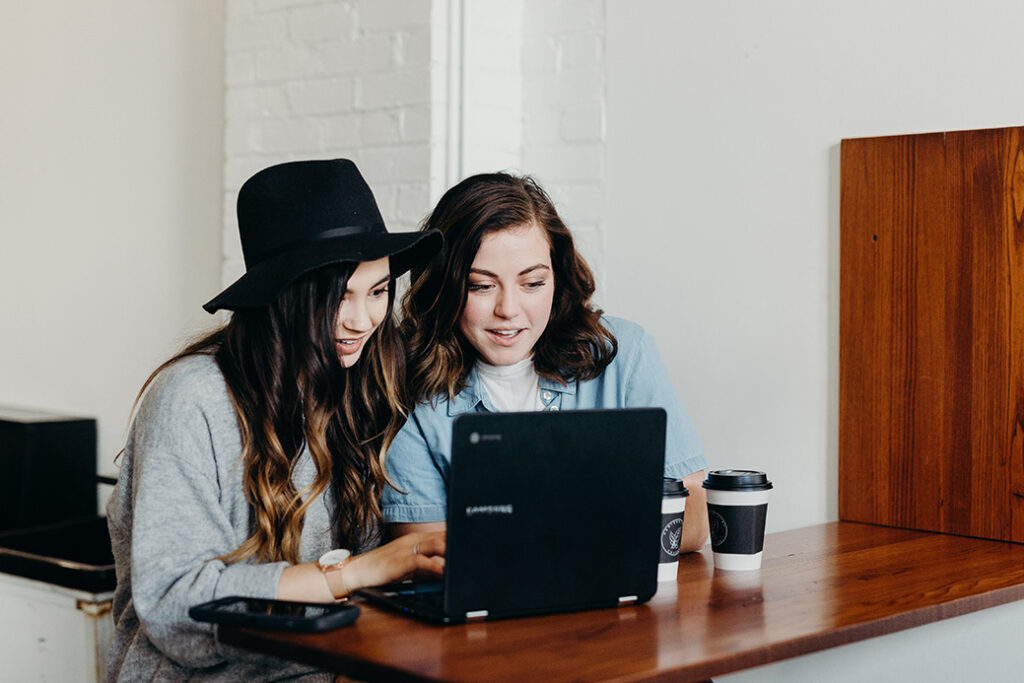 In a perfect world, customers would make purchases during their first website visit every time. But in reality, a more realistic goal is to encourage your customers to complete their purchases as quickly as possible, with amazing user experiences and promotional incentives. Essentially, you want customers to come back to your site as quickly as possible to finalize the purchase if they've abandoned their cart or browsed specific products.
In order to achieve this goal, you need to ensure your product page design and customer experience are the best they can be. We've highlighted several essential elements in a high-performing product page:
Eye-catching visuals. High-quality photos and videos that accurately represent the product work the best. Provide visuals from different angles to give a complete view of the product, similar to how a shopper could observe the product in a real store. It's also a great idea to have some "product demo" photos or videos to demonstrate the product in use.
Well-written and informative product description. In addition to obvious details like product purpose, materials/ingredients, and sizing, an increasing number of customers want to know how and where the products they buy are produced and sourced. Depending on your industry and brand, creative copywriting or storytelling can greatly enhance descriptions. Always write unique copy and never copy/paste from other sites — the latter is guaranteed to result in your site getting penalized by search engines.
Easy and obvious call-to-action. It'd be a wasted opportunity for prospects to land on an engaging product page … only to leave because they couldn't figure out what to do. Prevent this mishap and increase conversions by always having a clear and easy-to-execute CTA on your product pages, whether that's "Buy Now", "View More", or "Add to Cart".
Positive social proof. Social proof — which can come in the form of customer ratings, reviews, and comments, to name a few — builds customer trust in your brand's credibility. More than half of online shoppers read at least four product reviews before making a purchase decision, and a whopping 92% of consumers are more likely to trust non-paid recommendations than any other type of advertising. Real, authentic reviews matter — don't try to cheat with fake reviews, because getting caught could cause irreversible damage to your brand's reputation.
Relevant product suggestions. Cross-selling and upselling are effective ways to increase your business's AOV (average order value). Cross-selling recommends complementary or related products to those that your prospect is browsing. Upselling recommends a relevant product that is slightly more expensive than the one they're already eyeing, sometimes with an exclusive discount incentive. These practices both encourage greater purchase totals, while maintaining high customer satisfaction.
Accessible resources & quick customer help. Did you know 80% of smartphone users are more likely to purchase from companies whose mobile sites or apps help them easily find answers to their questions? Providing a short FAQ section on the product page or linking to a knowledge base can empower customers to resolve issues on their own without having to go through lengthy customer service waiting times. If your business does provide live customer support, try to provide the quickest option possible to avoid customer frustration (for example, emails or chat support can be used to help multiple customers at one time, unlike phone calls).
Next, we'll go into more detail on how some elements can be optimized with best practices to improve product page performance even further.
Best practices for designing and optimizing product pages
There are so many ways to make your product page stand out from the competition. Many strategies focus on improving the customer journey by creating easy, intuitive, and memorable user experiences.
Oftentimes, there are also opportunities to improve not only the content of your product page design, but also the overall functionality and navigation of your e-commerce website. Here are a few best practices to implement into your own product page strategy:
Define your buyer personas. Before you jump into launching your e-commerce store, take the time to map out your customer avatars. Identifying your target audiences in advance helps you know what specific features and benefits to highlight when promoting your products. Understanding your customers' needs, goals, and values is crucial to knowing how to provide them with targeted solutions.
Format descriptions with bullet points. Writing in-depth product descriptions is great, but you also want to make sure the format of your text is easy to skim through. Most online shoppers won't take the time to read bulky text paragraphs if they're just browsing. Grab and maintain your audiences' attention on your product pages by using easy-to-read bullet points to list important details and key benefits — like what we've done in this list.
Strengthen product page UX. A good rule of thumb for optimizing user experiences is to consistently experiment with new strategies to identify opportunities and points for improvement. Using a digital experience optimization solution like AB Tasty, you can A/B test nearly any aspect of your product pages, directly editing content and formats with the intuitive visual editor. It's always better to experiment with website variations on a smaller scale, so you can test the viability of your theory first, before investing in permanent changes or hard code edits to your website.
---
AB Tasty Case Studies: E-commerce Product Page Optimization

Discover how these e-commerce brands increased their product page performance using AB Tasty's visual editor:
---
Make sure your product pages are mobile-friendly. High bounce rates often occur in websites that aren't designed for use across different devices. More than 50% of all internet traffic is now mobile, meaning e-commerce websites that aren't mobile-friendly today are likely to fail. It may sound extreme, but with 54% of total e-commerce sales expected to come from mobile devices in 2021 — it's to be taken seriously.
Feature best-sellers prominently. This works particularly well with new and indecisive shoppers. Best-selling items are another form of social proof that gives customers boosted confidence and trust that the featured product is approved and well-rated by others like themselves. It cuts down the time needed for more research or shopping around, because the best choice has been recommended to them, effectively speeding up the customer journey to check out. Read about how Melvin & Hamilton increased their revenue by 34% when they moved recommended products up to the top of their product page.
Optimize product page SEO. Increase your site's search engine rankings by doing extensive keyword research. You want to identify what terms (both short-tail and long-tail) your target audiences would use when they're searching for products that your e-commerce shop offers. Include these relevant keywords in your product pages' titles, descriptions, and image alt text, to increase your site's discoverability.
Three product page examples and why they work well
Below we've curated a few great e-commerce product page examples and highlighted which elements work especially well in each for your reference and inspiration.
1. DHappyMakers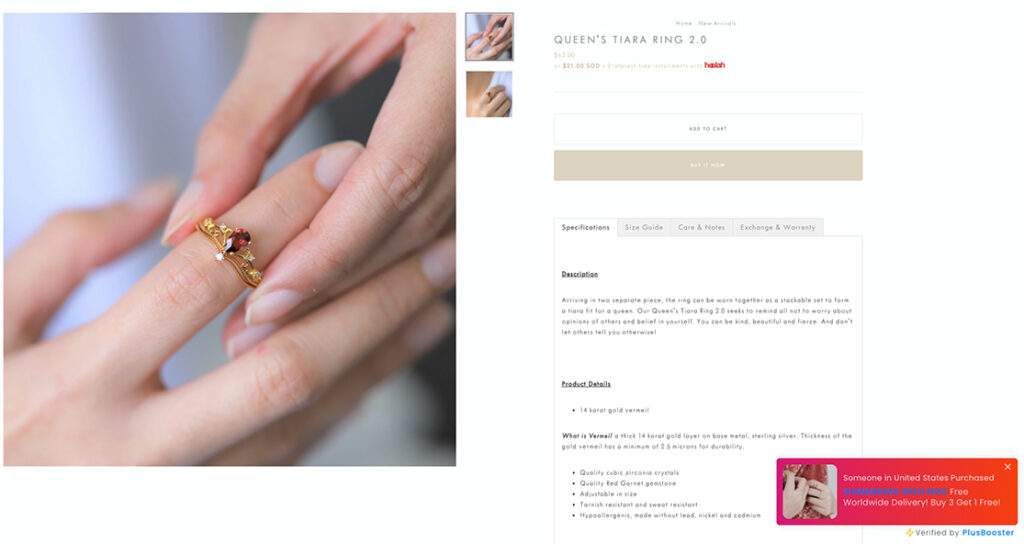 Why it works:
This product page's in-depth product description is comprehensive and categorized across four separate tabs along with bullet points, making it crystal clear where to find each type of information. The product is jewelry and the product page does a good job of answering common buyer concerns and questions upfront: detailing the exact materials, how to care for the product, and their exchange/warranty policy. The product page also displays a pop-up in real-time whenever someone buys a specific product, which includes a reminder of incentives like free shipping, and creates a sense of urgency to complete their purchase quicker.
2. Benefit Cosmetics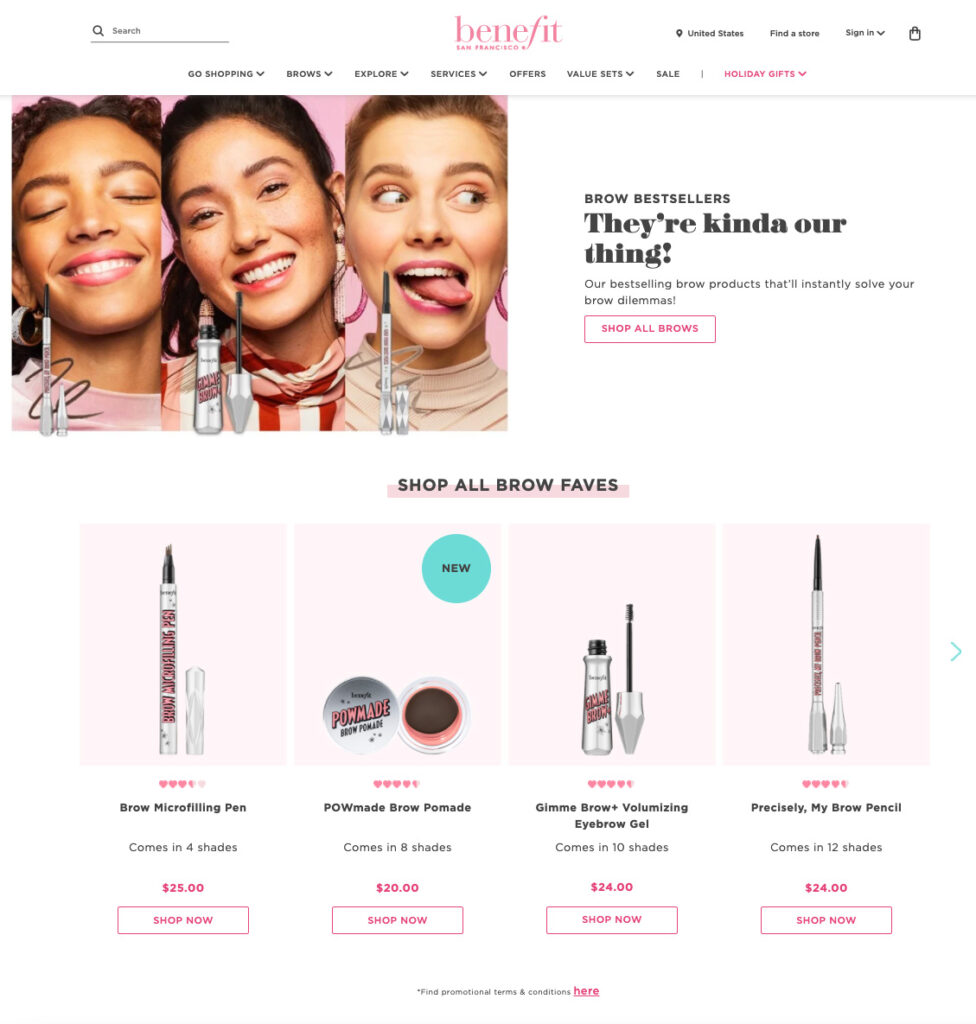 Why it works:
Benefit's product pages feature fun, colorful and engaging designs, and create a customer experience that has been well-tailored to their target demographic — women who love cosmetics. Their product page features many of the essential elements we've mentioned: a section featuring best-sellers, clear CTAs, social proof (product ratings), and a note about different colors available for each product.
3. H&M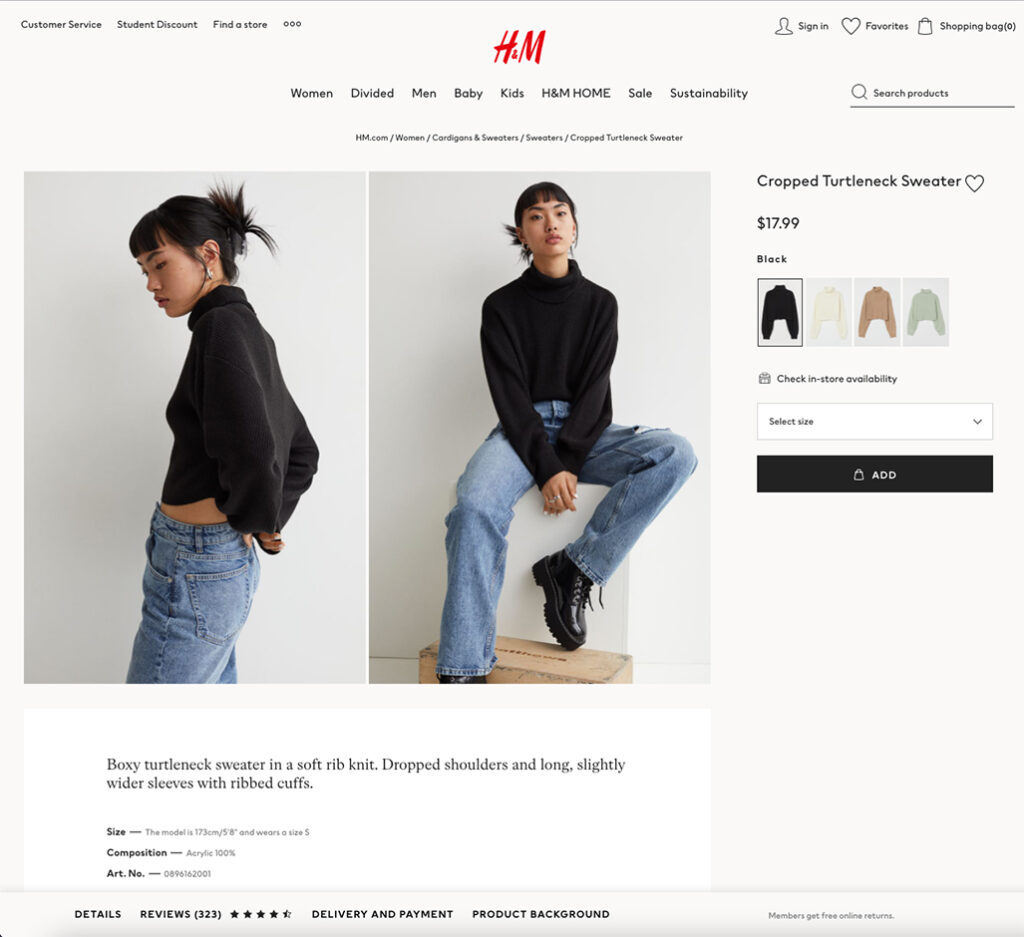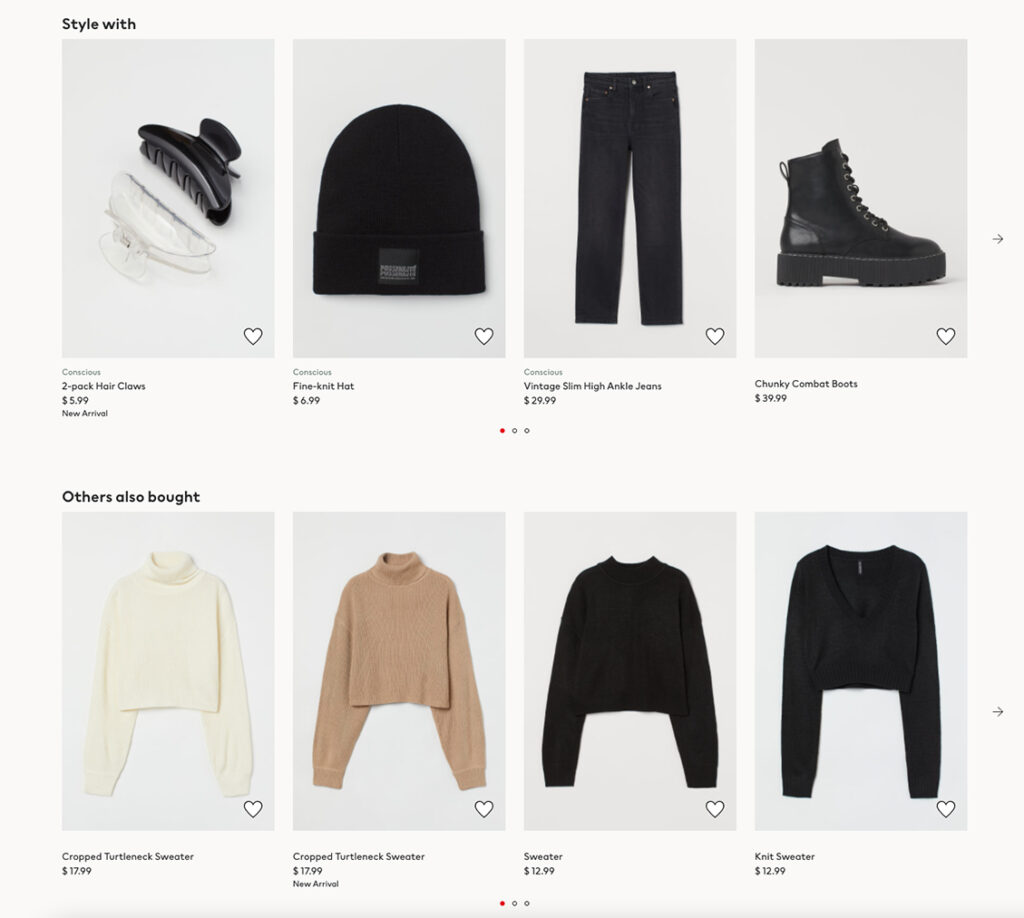 Why it works:
Although H&M's product pages appear quite minimalist, they incorporate subtle social proof strategies across the page in several ways. In addition to the classic buyer reviews, they use a social proof scale for product sizing, which increases buyers' trust that the product will fit correctly — a common concern for online clothing shoppers. H&M cross-sells by recommending related products to complete the outfit, as well as items that "Others also bought" (more social proof!) with this product. Lastly, their product pages are 100% responsive across devices and screen sizes, creating a seamless customer browsing experience on most platforms.
Take your customer experiences to the next level
It's clear that product page optimization is a key component of running any successful e-commerce business. As hundreds of millions of consumers continue to turn to online shopping for their everyday needs around the world, now's the time to make sure your e-commerce sites include all the essential elements and best practices we've listed in this article. If you're ready to test new variations on your website, give AB Tasty's powerful experimentation tool a try on your next campaign.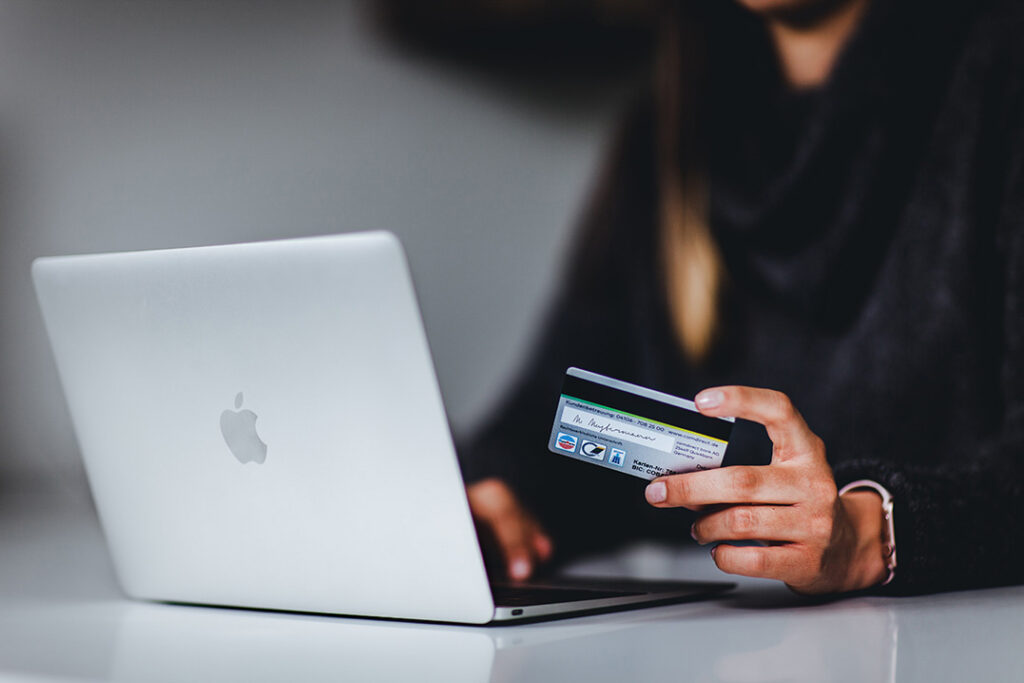 Want to learn more about optimizing customer experiences for high-performing e-commerce sites? Download our complete e-book here: "Elevating the Digital Customer Experience". It's packed with actionable insights and expert strategies for taking your online business to the next level.