A recent study by Orbis Research projects that the global cosmetics market will reach 805.61 billion dollars by 2023.
That's a huge potential for beauty brands to tap into.
It also begs the question – by 2023, what will shoppers expect these brands to deliver? What does the future of the digital customer experience look like?
What's Working Today
To figure out what might work tomorrow, it's best to start with what's working well today.
To that end, here are a few of our most successful tests from our clients in the cosmetics industry.
Freebies
Many of the brands we work with have experienced big gains through better showcasing freebies – whether it's a complimentary gift, free shipping or a discount.
Let's take the iconic beauty brand, Sephora. They ran a test on their Portuguese website in which they added a progress bar to their basket pages and pop-ins, indicating how much more a shopper would need to spend before getting free shipping. This little nudge definitely motivated their audience! Average order value shot up by 8%, with 16% more clicks to 'Continue to Purchase'.
This jives well with one of our recent studies on e-commerce personalization, that found that free shipping was absolutely essential to the online shopping experience.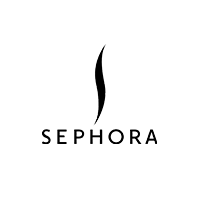 Kiehl's ran a similar test on their French site, with equally impressive results. By adding a progress bar showing how much more a shopper needed to spend to get a free gift, they increased revenue by 31%.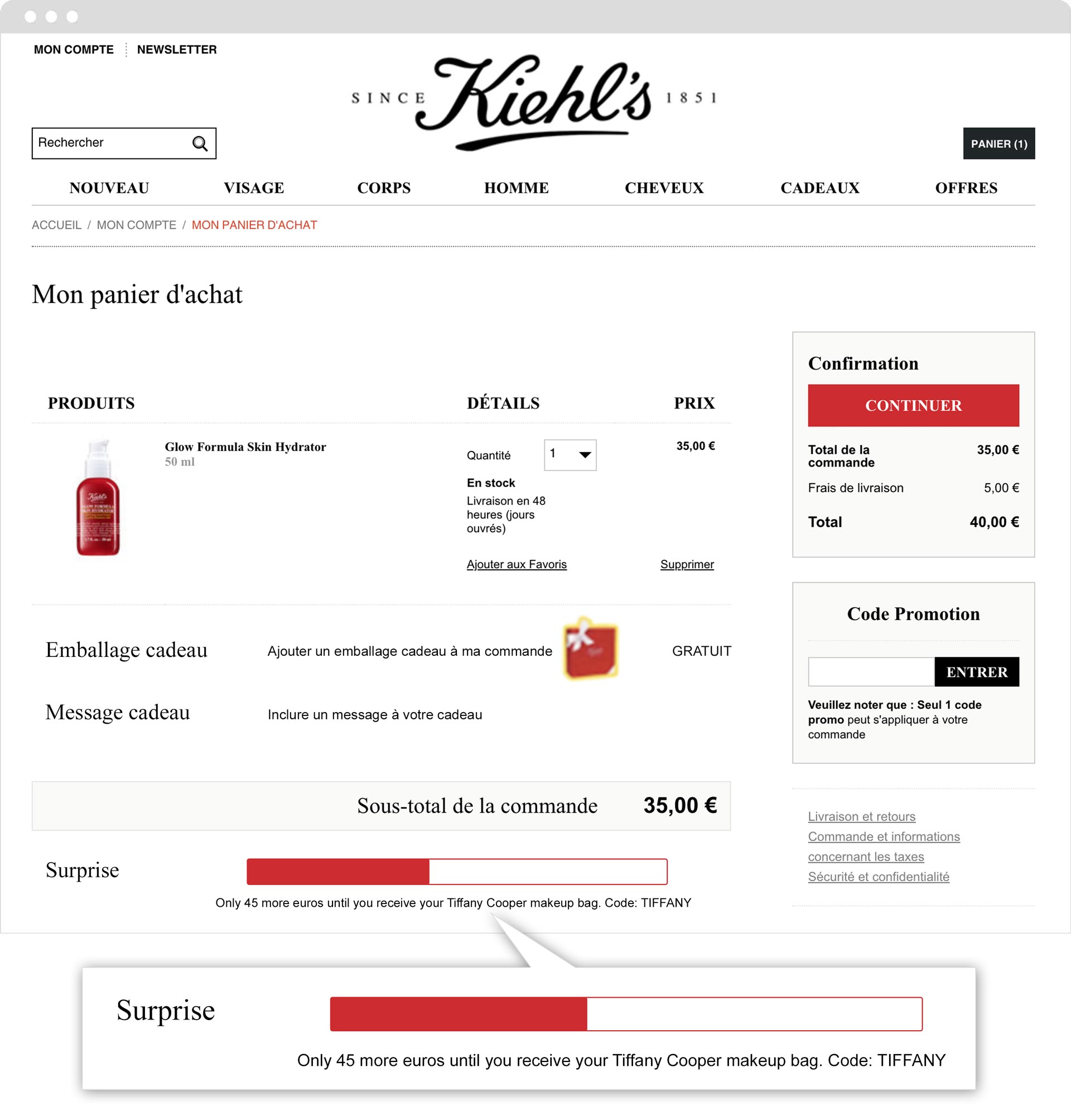 Still not convinced? Check out this example from Urban Decay. By simply pushing a banner on their basket pages showing how much more shoppers needed to spend before getting a discount, they increased their revenue by 7% during the duration of the test.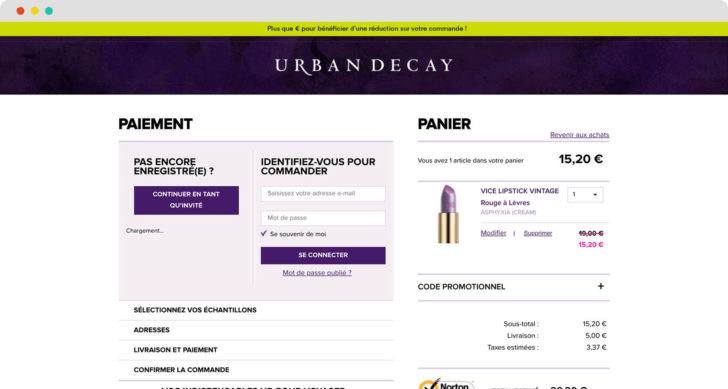 Social Proof
Along with gifts, discounts and free shipping, the use of social proof messaging is especially powerful when it comes to cosmetics. After all, there's a big element of 'following the herd' when it comes to beauty products. If 100 other people bought this mascara in the past hour, it couldn't possibly be clumpy! If 130 people are looking at this bright red lipstick, it must be flattering. 
NYX Professional Makeup put this idea to the test – and doubled their transactions.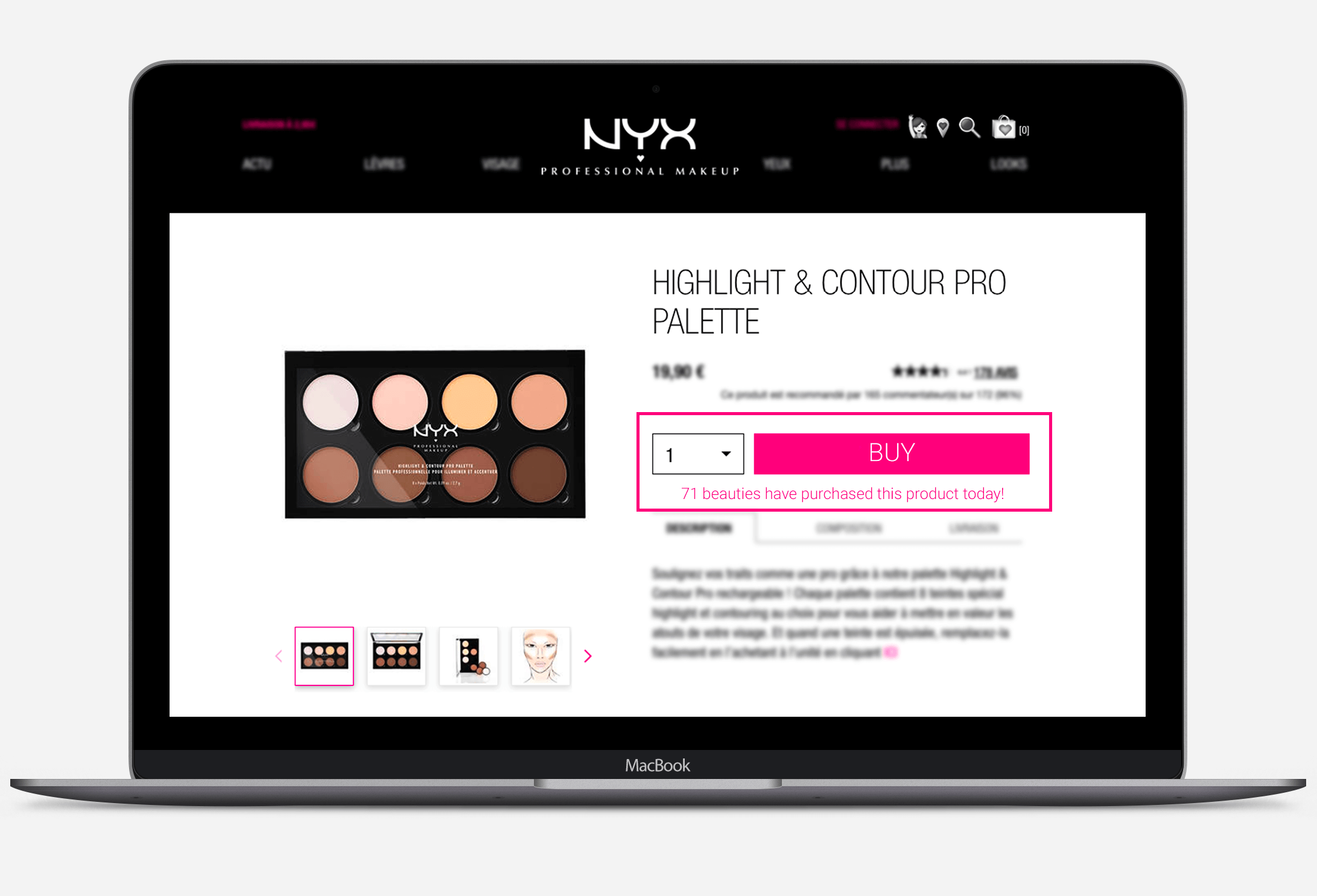 Emerging Trends
Virtual Try-Ons
The flip side of the 'social proof' coin is the idea of personalization. Yes, consumers want to be 'in vogue', and knowing what their peers are shopping for can stimulate trends and reassure browsers. But beauty products are also extremely personal items. They tap into our feeling of being unique, of our desire to express ourselves. Of the thousands of shades of red lipstick, shoppers want to find the one that will look the best on them.
Virtual try-ons – the ability to use AR technology to simulate what a particular cosmetic will look like on you – is a fast-emerging trend that addresses this need.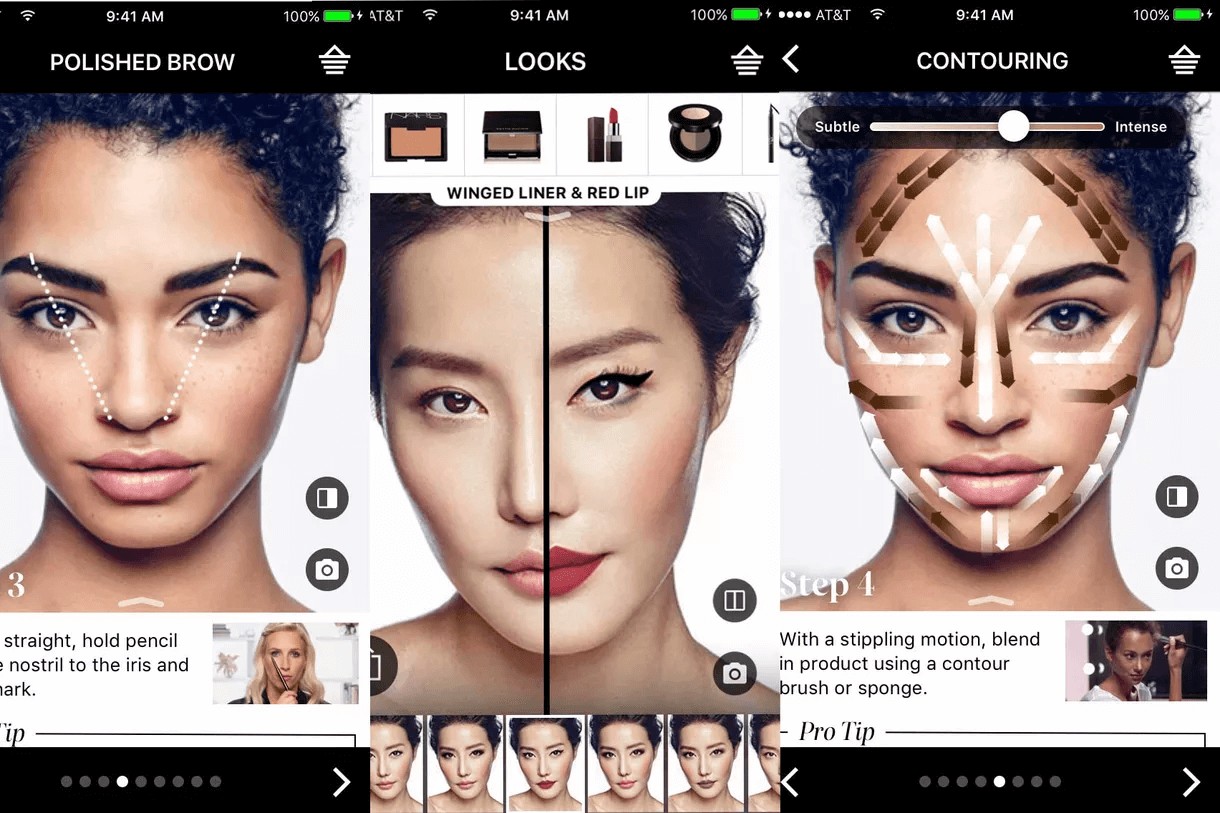 The allure of a virtual try-on is multifaceted: not only can you experiment with looks at home or on the go, you don't have to bother with endless cotton balls and makeup remover, like when you actually try them on physically in a store. 
YouTube is currently experimenting with their own AR beauty try-on capability:
"Called AR Beauty Try-On, the feature is designed to be used in a split-screen experience while YouTube viewers watch the makeup tutorial. When available, the YouTube makeup review or tutorial video plays at the top of the screen, with a stream from your own front-facing camera below. Here, a YouTube viewer could access a palate of colors — like new lipstick shades, for example — and tap to apply them to their own face while the video plays above." TechCrunch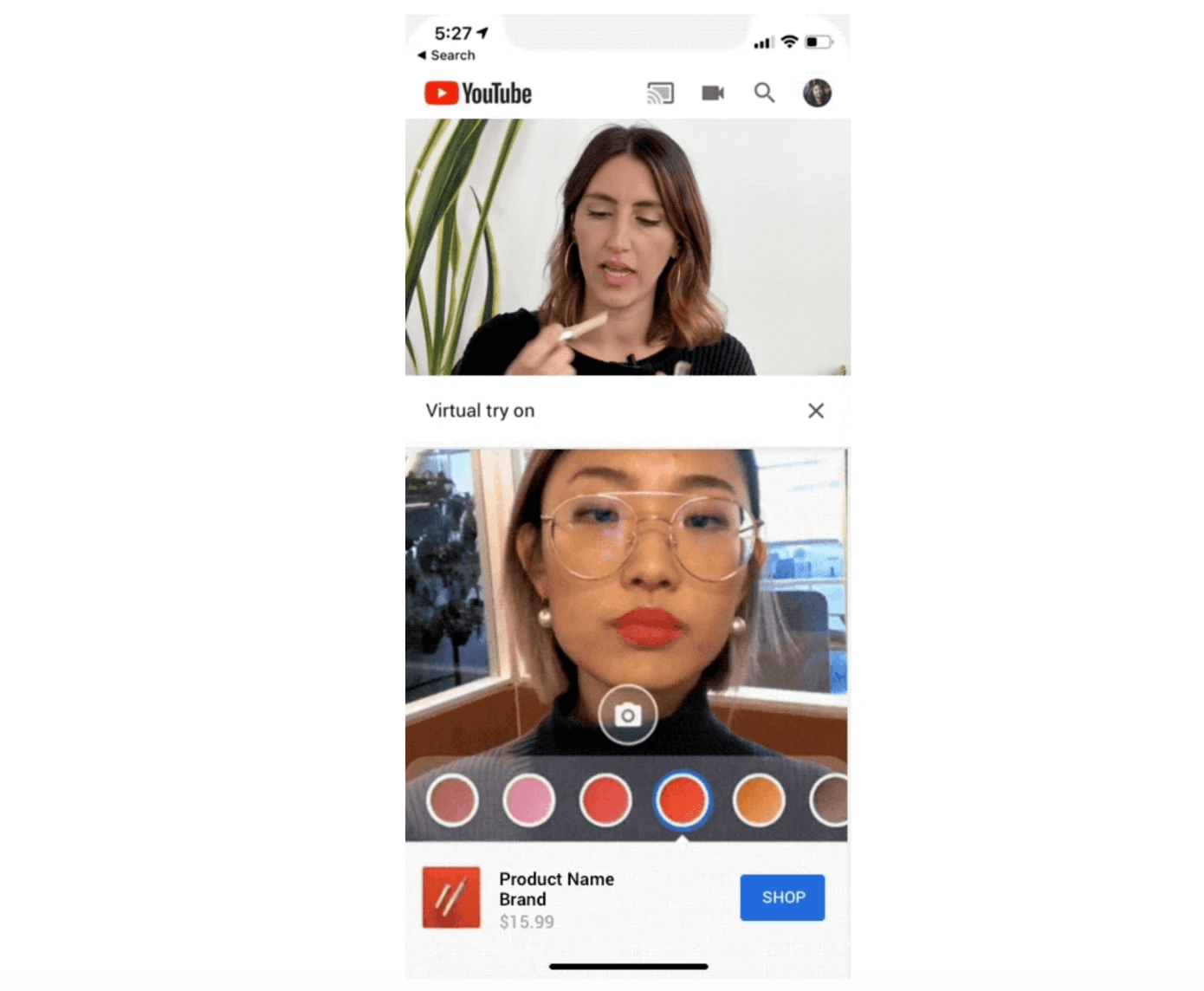 Virtual try-ons continue to blur the lines between the physical and digital, in-store and online customer experiences, offering more flexibility, personalization and 'on-demand' experiences for consumers.
Beauty Tech
"According to Jean-Paul Agon, president and CEO of L'Oréal, the impact of new technologies, AI and the consumer experience will be stronger within the beauty industry than in any other consumer sector." Peclers Paris
Many beauty brands already harness the notion of 'science' to legitimize and empower their products. Now, they're going a step further to innovate technology that addresses their customers' pain points.
Neutrogena, for example, showcased their 'Mask ID' at this year's CES event. After you scan your facial skin in order to have an in-depth understanding of your skin type, Neutrogena then sends you your hyper-personalized mask.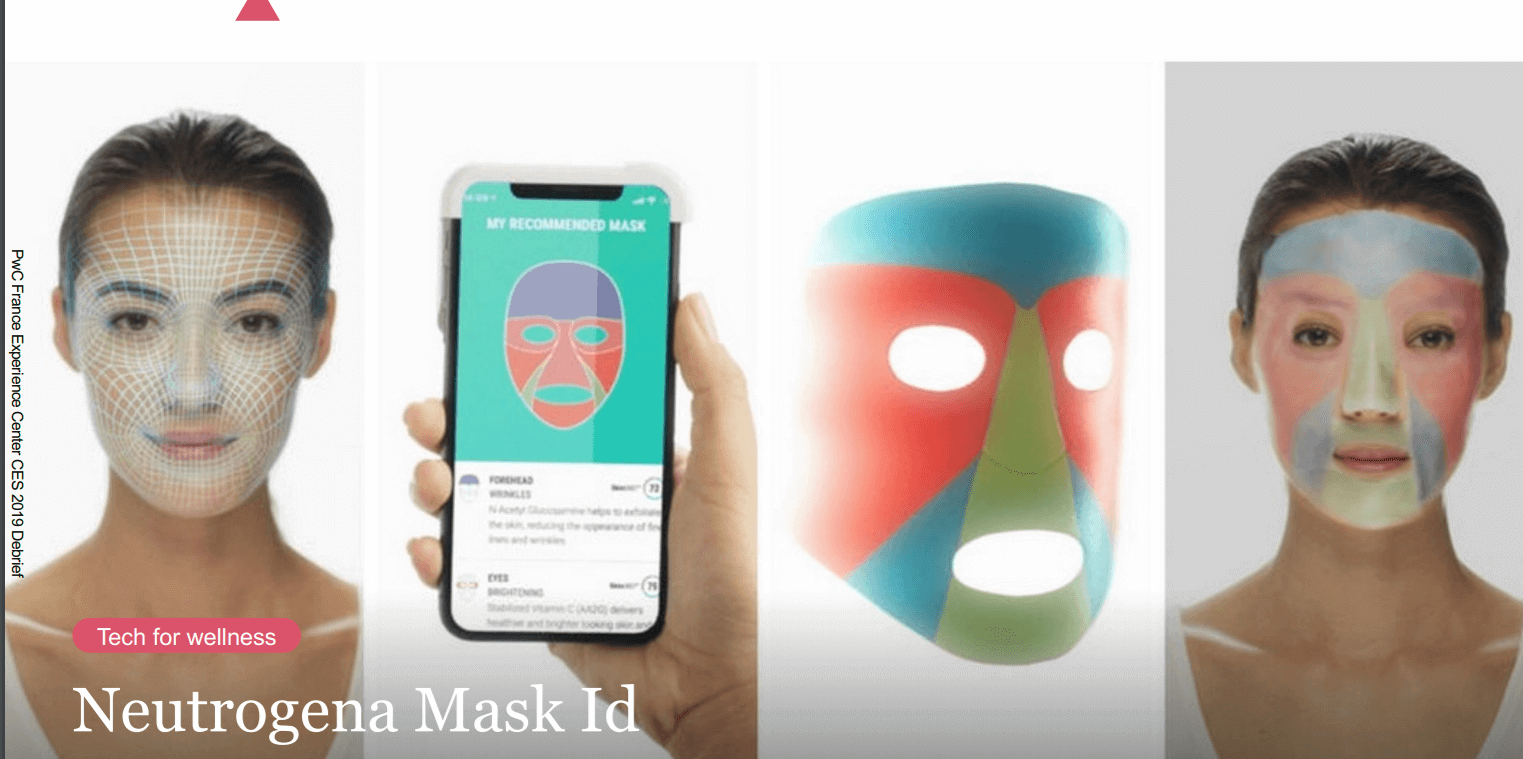 CareOS even taps into the realm of fairytale with their smart (magic?) mirror. The aim? "Help people meet their personal health and wellness goals, experiment with new products and practices."
Takeaway
The cosmetics industry is booming, and is only slated to grow. Beauty brands are already improving the customer experience – and business results – through freebies, social proof messaging and other tried-and-true tactics. For these brands, the future of customer experience will be based on even more novel ways to personalize the user experience, harness emerging technology and blur the lines between physical and digital experiences.
Want more tips and experimentation ideas? Download our beauty book based on our client success stories.