The combined use of AB Tasty and a tag management solution offers fresh opportunities to test your optimization scenarios, including the most complex, by simplifying as much as possible the targeting of your tests based on numerous criteria linked to your offer and/or the profiles of your users.
In most cases, the targeting of your A/B tests is done by URL. This criterion, associated with operators proposed by AB Tasty (contains, corresponds exactly, regular expression, etc.) allows you to target your tests in 90% of cases. But what if, for example, you rewrite the URL and none of your pages share a common URL format? And what should you do if you wish to test pages sharing a common attribute that does not appear in the URL? In such circumstances, the most effective solution is to use a TMS (Tag Management System or tag manager) and one of its components: the data layer, which extends your targeting opportunities to a whole new universe of criteria that involve not only your pages but also your audience segments.
What are the advantages of a TMS?
A TMS is a tool that allows you to easily manage the tags of your various technical service providers (e.g. web analytics, tracking conversions, etc.). Instead of manually deploying your tags on your website with the disadvantages that this entails (period of implementation by your technical team, the risk of regression, etc.), you install only one tag, called a container, that will manage to trigger all the other tags centrally. These solutions offer intuitive interfaces, using drag and drop, allowing you to configure these tags and define the trigger rules. There are numerous benefits:
Autonomy of business teams
Reduction of deployment costs
Better governance of tag-based solutions
Ability to manage tags outside the traditional trigger cycles of websites
Improvement in site performance
Automatic archiving of actions performed
The market includes several solutions, some of which are free and some of which cost money. Paid solutions offer enhanced functionality dedicated to sites whose needs are more advanced. These functionalities include:
Very well-stocked tag libraries (usually several hundred tags) and a configuration that does not require any technical skill
Specific coaching and dedicated support
Service guarantees (SLA)
Better integration of different marketing solutions with advanced rules engines enabling tag multiplication
An advanced security and confidentiality management policy
AB Tasty and the professional tag management solutions are aimed at users with similar profiles and share a common ambition: to propose an agile solution, dedicated to marketing teams, allowing them to become autonomous, and enabling them to make gains in terms of timeliness and efficiency. Using a tag management solution, such as the French Commanders Act, offers in particular many benefits for the establishment of your tests, as we shall see.
Leverage your TMS to conduct your tests
A simplified implementation
The initial synergy with a solution such as Tag Commander lies in the deployment of the AB Tasty tag. Our tag is referenced, for example, in the library of more than 400 tags proposed by this system. It, therefore, takes only a few moments to activate this tag and its setup only requires your AB Tasty client ID. If you use an alternative solution like Google Tag Manager (GTM), the implementation is just as simple: you just need to create a customized HTML tag and attach our tag to it. You can also use your TMS to deploy the e-commerce version of our tag on your conversion pages. You can then use the information in the order (e.g. purchase amount) as a performance indicator. You may like to measure the turnover of each variation and financial benefit for each of them.
Possibilities of leveraged tests
When implementing a professional tag management solution, a consultant helped you to define a tagging plan that included a data layer. This data layer is the cornerstone of a tag management system and one of the components AB Tasty can use to target your tests. A data layer is called a Universal Data Object (UDO), written in JavaScript. It is simply a set of JavaScript variables that shape the page and describe the attributes, for example:
the type of page (e.g.: home page, product pages, search results pages, etc)
the category or categories to which the product belongs (e.g. category 1, subcategory 1.1, etc.)
other information relating to the product (its price, its availability, its discounted price, etc.)
and many more…
These attributes can also qualify your users, for example:
is the user logged in?
to what client segment does he/she belong?
socio-demographic data
any other data from your CRM
Since AB Tasty is able to read any JavaScript variables — they are accessible on the client browser side — you can use all those provided in the data layer to target your tests. The optimization scenarios are then multiplied. Here are some potential scenarios:
test a message only on the product pages that are not in stock or belonging to a specific category
run a test on the basket summary page or any step of the checkout if the amount in the basket exceeds a certain sum
test the template of your search results pages when your internal engine returns no result…
In order to set up this kind of targeting, you use the criterion of targeting by code referring to the names of the variables defined in the tagging plan provided by your tag management solution. Here is an example, based on the data layer of the Tag Commander:

In this example, the test targets the basket page of the e-retailer with a first URL criterion. A second criterion limits the test to basket pages for an amount less than EUR 50, using the variable here named tc_vars["order_amount_ati_without_sf"]  which contains the information of the amount in the basket. Google Tag Manager has a similar data layer system that allows you to do the same. The syntax for accessing information will just be different, example: dataLayer["variable_name"]); dataLayer is the default variable name created by Google Tag Manager.
For example, the e-retailer Conrad.fr recently conducted a campaign to customize its conversion tunnel with AB Tasty only for users for whom the basket amount was less than a certain amount. For these users, Conrad.fr showed an incentive to transcend this level (surprise gift from an EUR 50 purchase).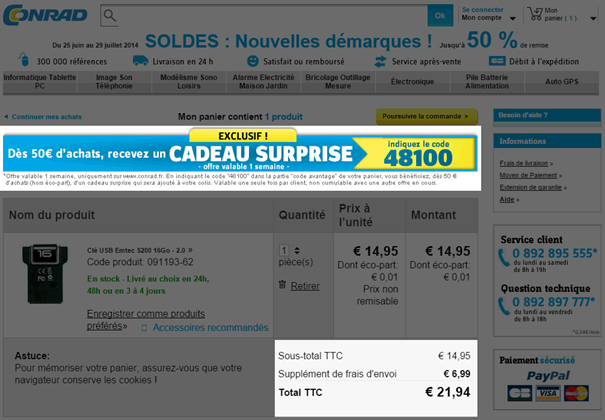 The Conrad.fr marketing team was itself able to add the promotional banner in the AB Tasty WYSIWYG editor and to configure the scenario for basket pages less than EUR 50 thanks to the existing data layer, without having recourse to its technical teams. The flexibility that provided it with the combined use of AB Tasty and its tag manager was imperative in conducting this time-restricted promotional operation and confirmed the benefit of using these solutions to gain autonomy and increase the speed of execution.