It's fair to say that customer experience is an important focus for any company: it drives growth while nurturing current clients and encouraging retention.  Customer experience in the digital sphere, often referred to as CX, is equally important and focuses on the experience a customer has when they interact with a brand online. 
In the ever-evolving digital world, many industries have had to change their approach to customer experience to stay relevant and avoid being left behind by technology. The real estate industry is a prime example of a sector that relies heavily on providing an excellent customer experience, as they are responsible for some of the biggest purchases of their customers' lives. 
We gathered 10 examples of real estate landing pages that are nailing the customer experience online and highlighted the key features that are helping these brands stand out. 
1. Savills: Be Aesthetically Pleasing
When it comes to selling homes, imagery is everything. (The same can be said for landing pages, in general, as we made the case for in our previous article on hero images).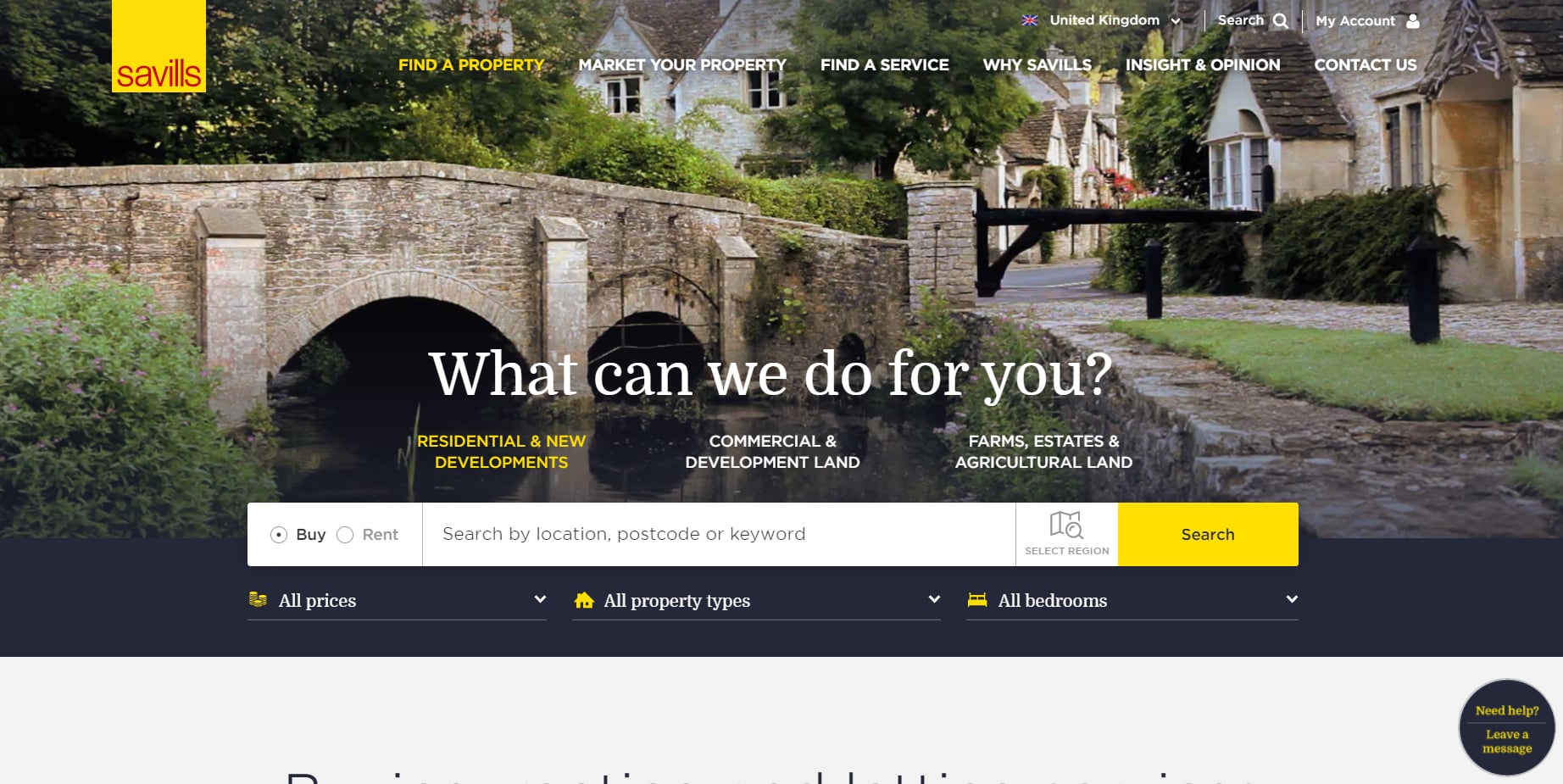 Premium real estate company, Savills (based in the UK), applies this rule with the high-quality, eye-catching, visuals prominently displayed on its homepage. The image shows a picturesque neighborhood with beautiful homes and scenery, hinting at the types of homes Savills has listed. 
The navigation bar is also clear and instructional, without hidden menus or obscure headers that could confuse and frustrate visitors.  This is an excellent example of a real estate landing page that's aesthetically pleasing, on brand, and functional.
2. RubyHome: Nail Local SEO 
RubyHome has done a great job at labeling each location as an individual page, which maximizes their chances of appearing in local search results.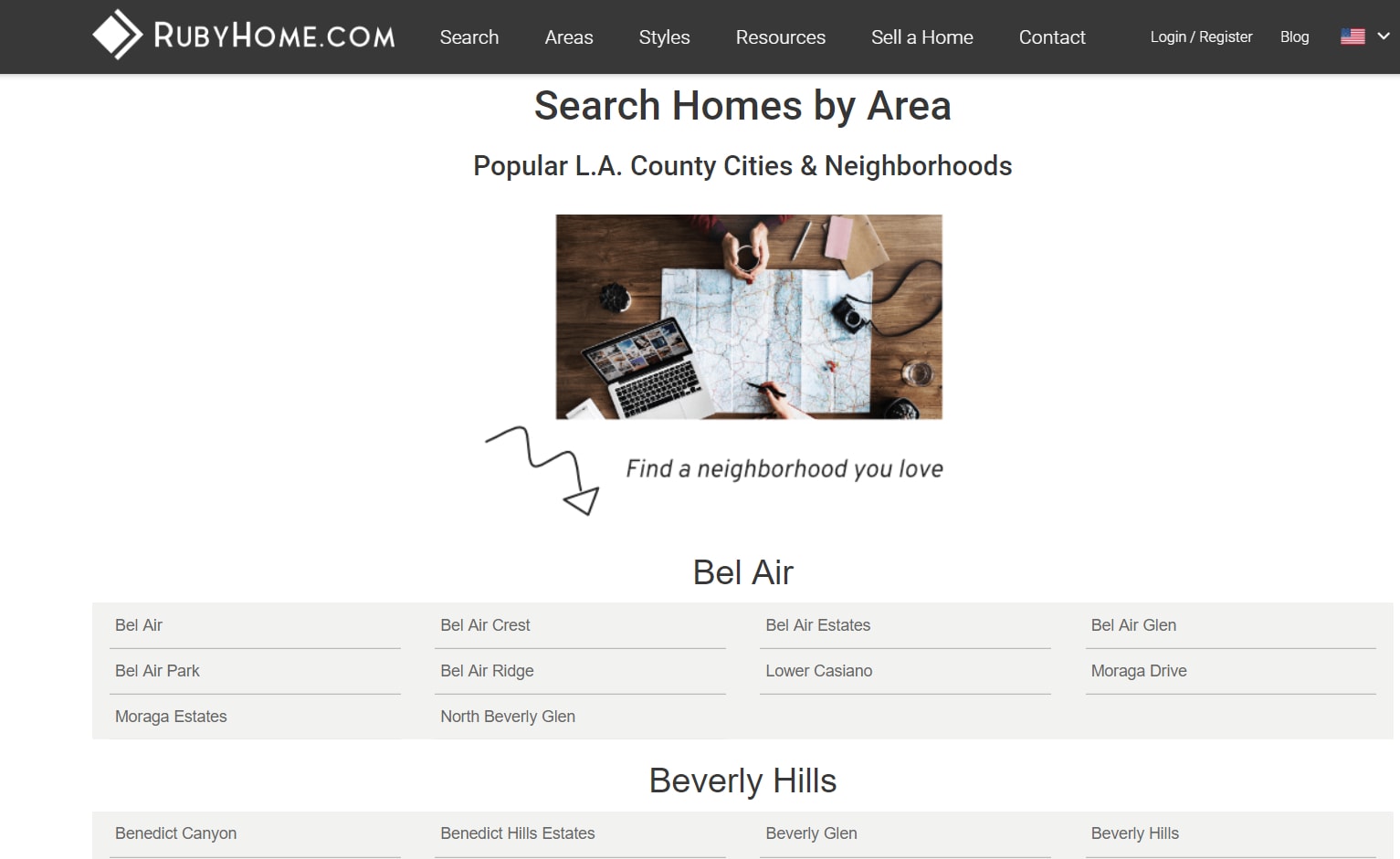 Applying local SEO is important for any real estate website, as their prime customers will be using location-centric searches to find their next home. With more people than ever using mobile phones to search, focusing on local SEO is vital for gaining the exposure needed to be front of mind.
Having landing pages for each town, with clear metadata mark-ups, is the key to any successful real estate website nailing their local SEO strategy.
3. Richardson & Wrench: Have a Strong Call to Action
Providing a clear, concise call to action is a great way to ensure an easy and enjoyable experience on a website. The Richardson & Wrench homepage is a great example of how a clear banner can offer users a multitude of options to make navigation quick and easy. The banner is supplemented with helpful icons and this menu lends itself really well on mobile. 

A simple and thorough navigation bar reduces visitor frustration, which in turn reduces bounce rate and helps to deliver a superior user experience. 
4. Keller Williams Realty: Offer Helpful Information 
While this "buyers" landing page from Keller Williams may have a rather small call to action, it breaks down key topics about buying a new home to provide visitors with helpful criteria for making an informed decision.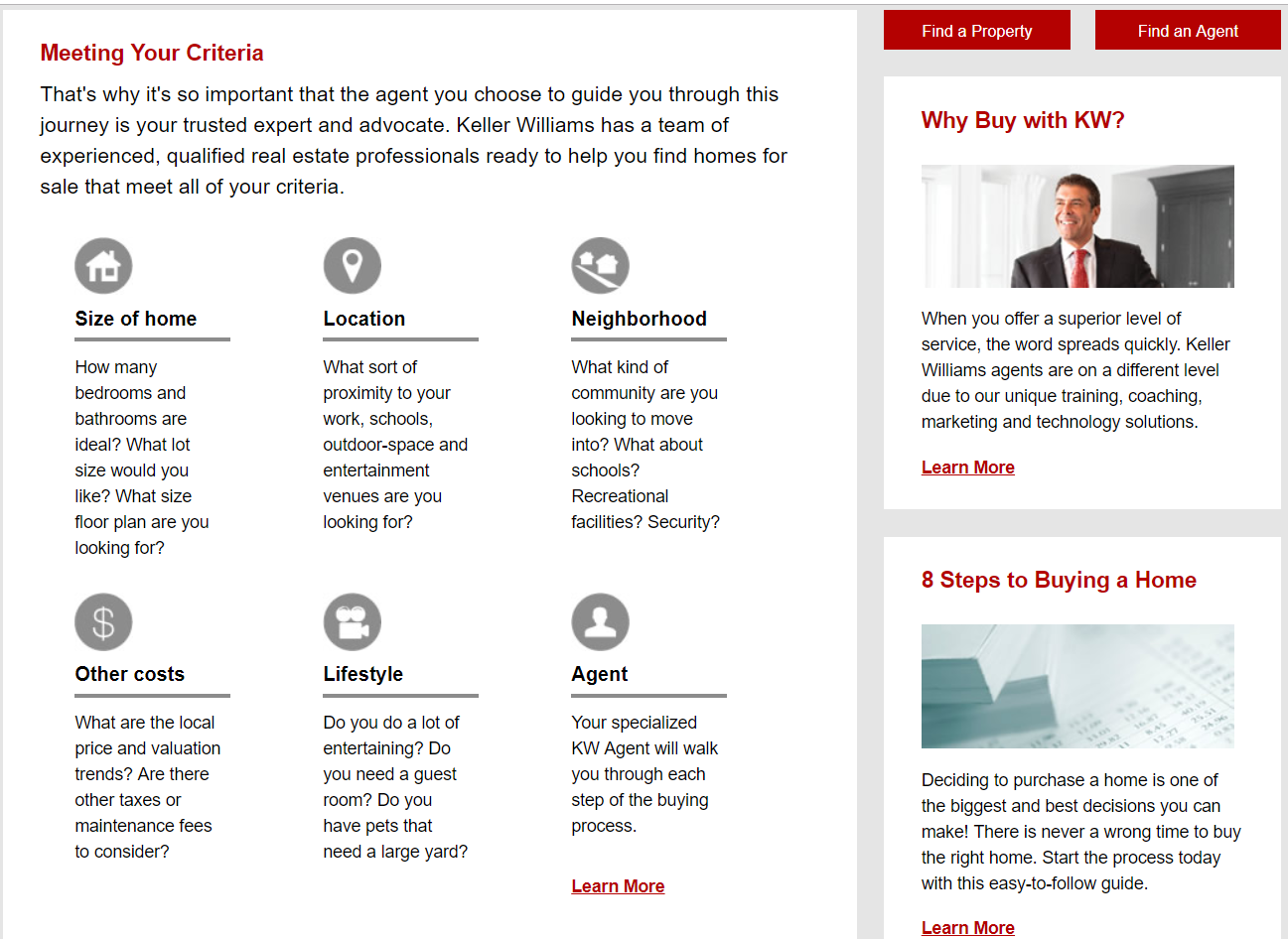 The page hs recognizable iconography and leads to further reading about how to list a home on the market, and other topics relevant to those looking to (or considering) moving. The team at Keller Williams have a clear understanding of the information home-buyers are looking for, and created this page as a great resource for prospects and clients. 
5. Foxtons: Answer Long-tail Queries With Quality Content
Using a landing page to answer direct queries people are searching (e.g. 'tips to sell your property quickly') provides a solid customer experience for potential customers and curious readers alike.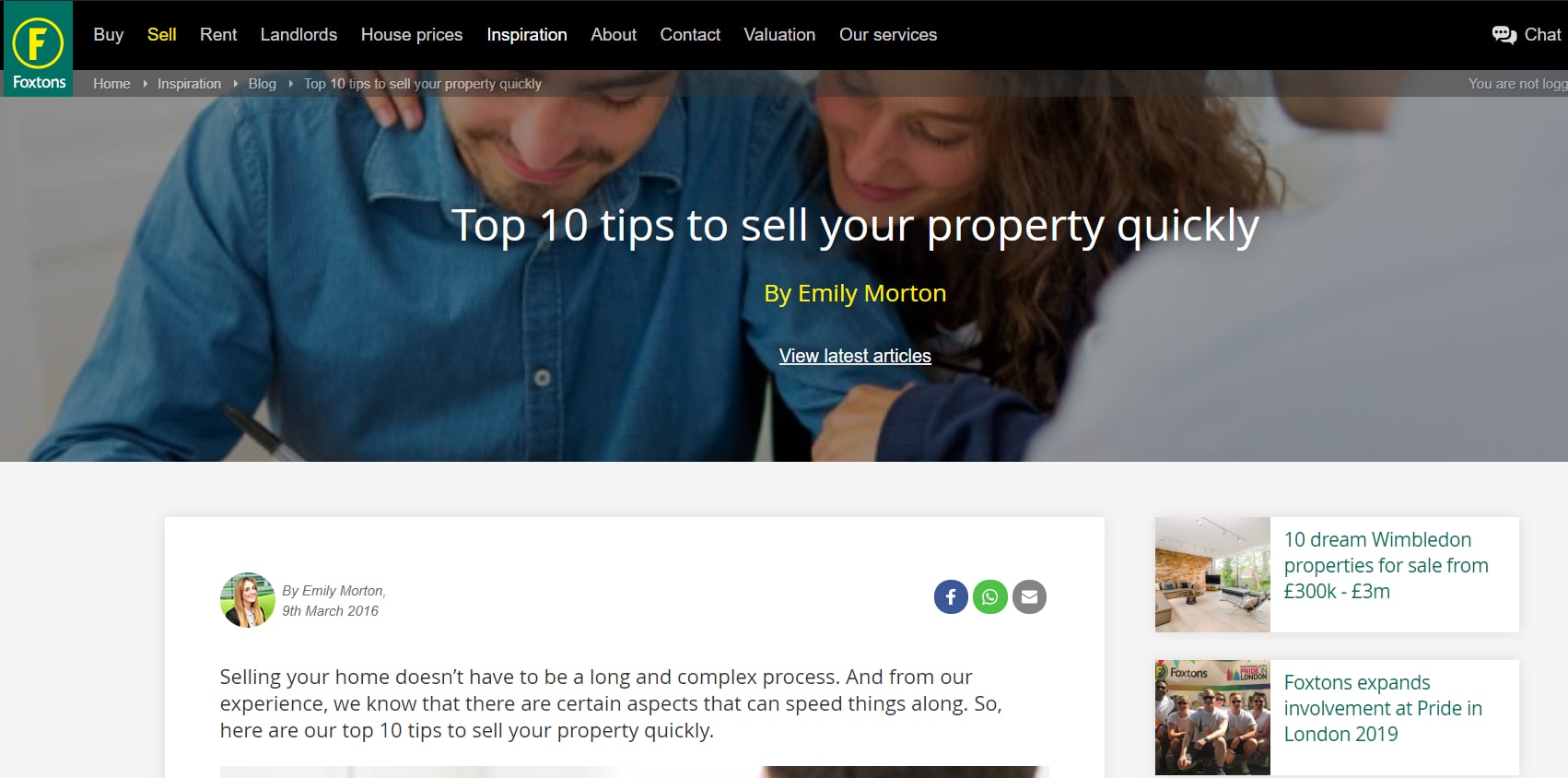 Foxtons provides a simple but informative list of tips to help people who are thinking about selling their home. 
6. Marsden Real Estate: Share Testimonials
When it comes to instilling confidence in potential customers, realtors need to focus on gathering reviews. The Marsden Real Estate website has a great example of a testimonial landing page (shown below) to show the success they've had with clients in the past.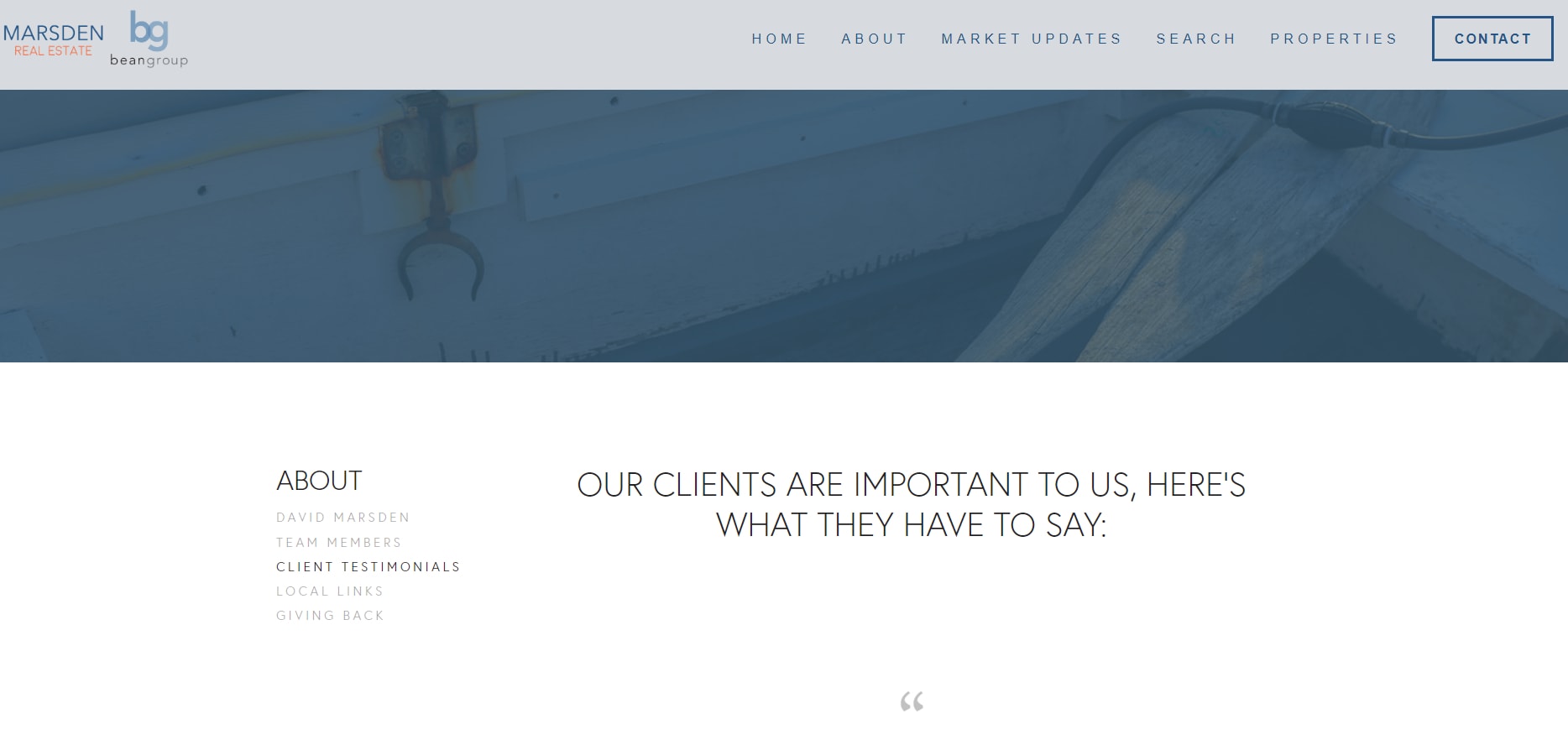 Testimonials or review pages are the perfect way to build confidence and reassure people that they can rely on this company to handle the more complicated elements of moving or renting a property. 
7. Barfoot & Thompson: Be Transparency About Fees
Being transparent with the costs is a rare feature, with few real estate companies choosing to be upfront about fees in an initial meeting. This is where the digital landscape can really help real estate agents, like Barfoot&Thompson, be transparent and honest about fees upfront.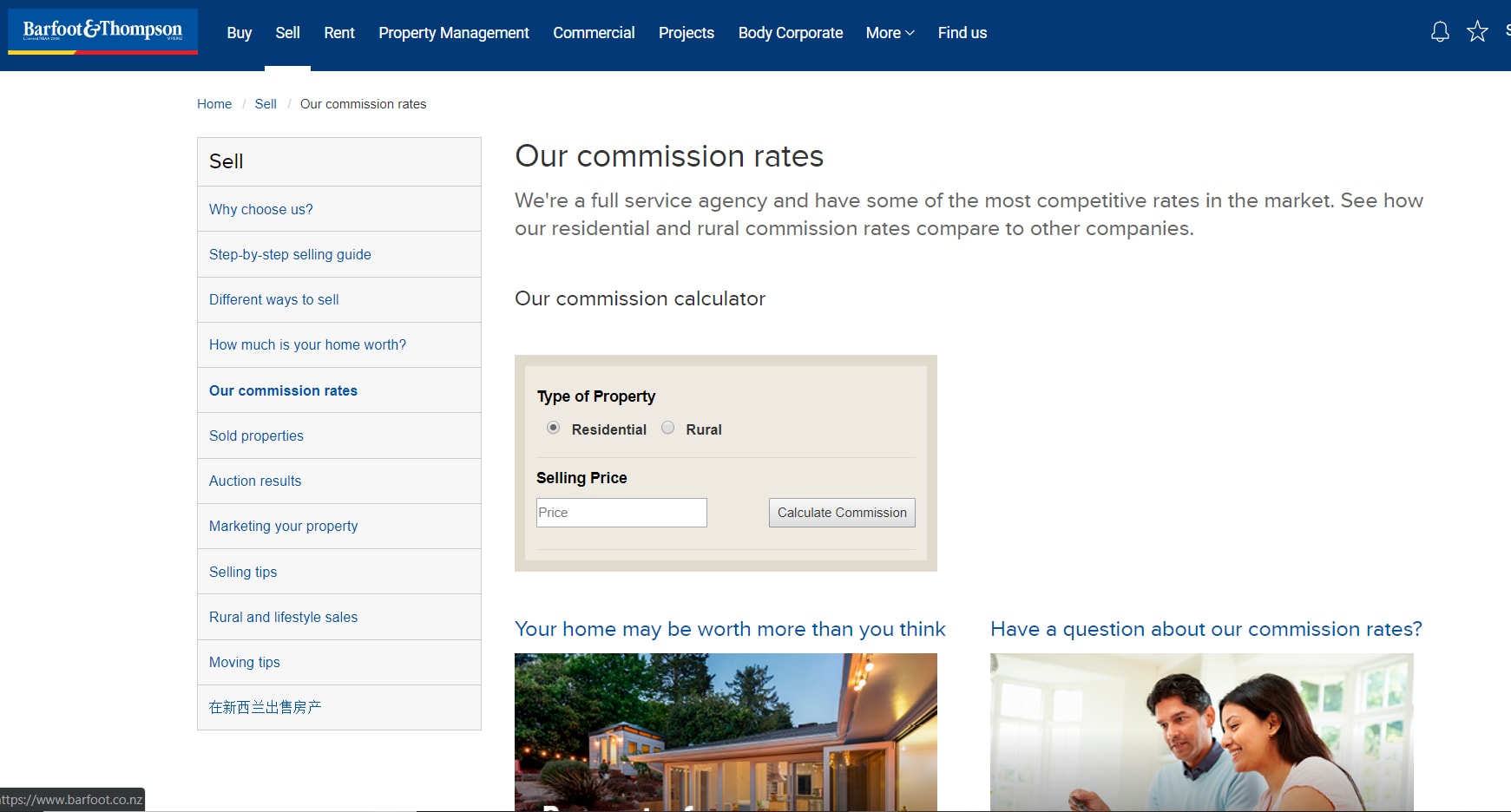 By offering up this information on an easy-to-use commission calculator landing page, Barfoot willingly gives their customers a tool to help understand costs that may be involved and generally appear to be offering customers a no-obligation, honest experience when it comes to realtor pricing.
8. RiverCity Real Estate: Be Easy To Contact
It may seem obvious to say,  but easy to contact is essential for any business, and especially in real estate. RiverCity Real Estate Group lays out exactly how to contact their office, and managing broker, listing several options on the landing page shown below.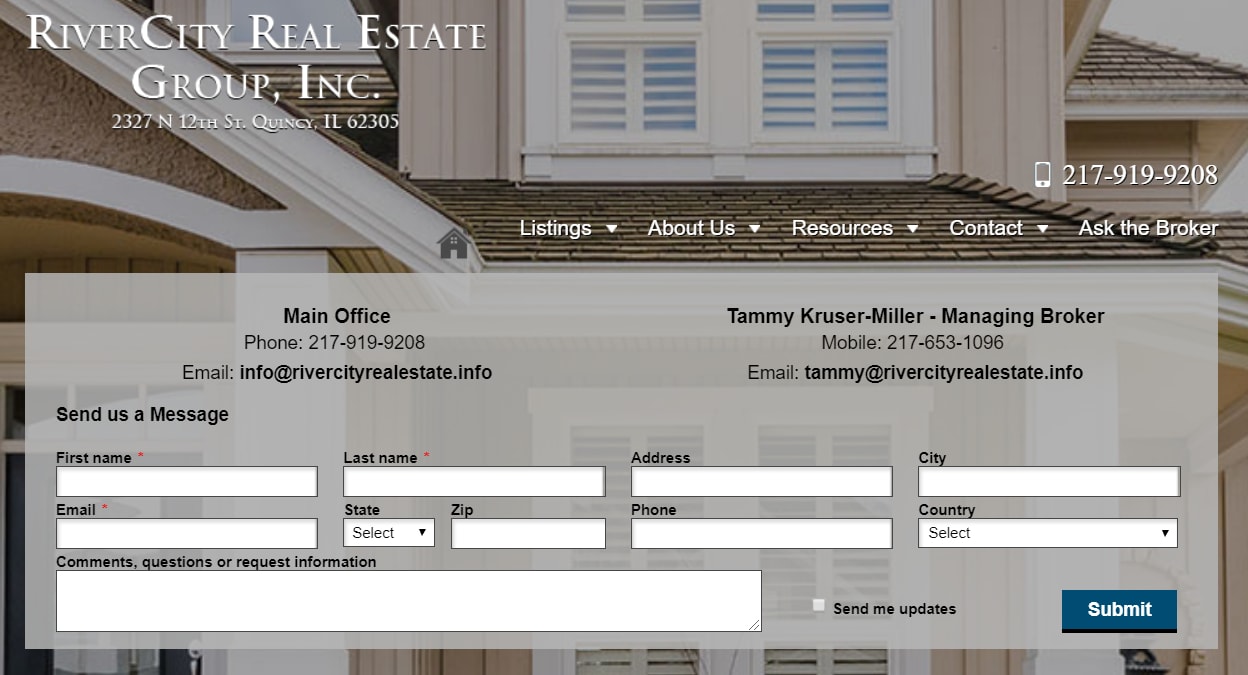 People selling (or searching for) a home want to feel that they can easily access a real estate agent and have their questions answered quickly. The form embedded on the page increases the likelihood of engagement without having visitors leave the site, and the numerous options imply agents are readily available to talk on whatever channel is most comfortable for prospective clients.
9. Michael Graham: Provide Quality Content
While imagery is important on landing pages, many real estate agencies overlook the importance of having content as well. 

Quality content can be the difference between someone engaging further with your brand, or simply bouncing off the page. Take the Michael Graham buyers page above, which introduces the types of properties they specialize in as well as the counties their branches work within. This is a great bit of detail for any user who may just want to browse homes in a certain area, delivering an experience that offers more context than simply listing available properties.
10. Zillow: How Much Is My House Worth
One of the most universally searched phrases, according to Google Trends, is: how much is my house worth. Zillow smartly jumps on the opportunity to provide a resource for users by answering this commonly asked question on its landing page.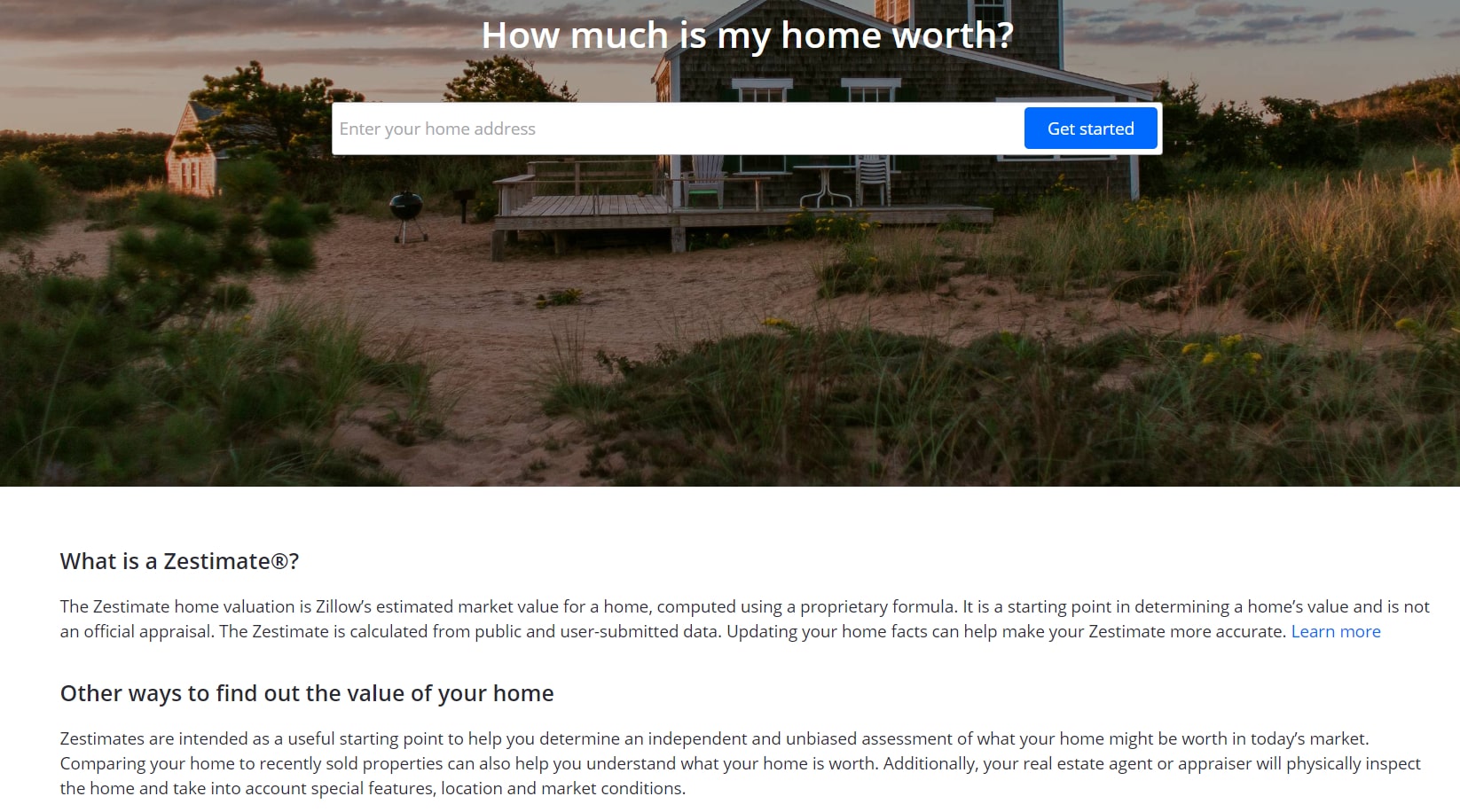 It's a simple yet effective landing page with just one purpose, offering precise information on a popular topic, and ensuring visitors don't need to look anywhere else.  A very good example of a simple-yet-effective landing page.
Closing Thoughts
While there are many other examples of real estate landing pages that demonstrate a clear understanding of the customer experience, the ones listed above were a few that executed their intentions clearly, simply, and effectively. The 10 takeaways we gained from these examples can be applied across most industries, but particularly for retail, speak to the key factors prospective buyers (or movers) are looking for.