Here you are. You have taken the plunge and decided to create your own site using WordPress. Even better, you want to create a landing page to attract visitors and convert them into leads or buyers.
How to create a WordPress landing page?
When creating a WordPress landing page, you have several options:
You can use a "Builder" like Divi, Beaver or Elementor. It is a solution that is easy to understand, and you are in charge of creating the design.
You can use a "Plugin" available on WordPress; plugins allow you to create pages fairly quickly but are limited in terms of functionality.
You can use your WordPress theme; this is the solution we'll cover today.
A theme is a ready-to-use design; in our case, these are landing pages that have already been designed. You just customize the design of your choice with your company's colors and logo. See other great examples of landing page design.
One of the major strengths of WordPress is the variety of themes available to you. There are thousands of templates, some of which are real bestsellers. They are:
Recognized by the sector
Frequently updated
Easy to use
Attractive and effective
But which WordPress theme should you choose? Before giving you our selection, we would like to draw your attention to the elements that define a good landing page.
The magic recipe of a landing page that converts
Optimized for speed
Clear, concise titles
A good breakdown of text
A coherent color scheme
One or more elements of "social proof"
One or more relevant and visible calls to action
Uses attractive videos and images
Showcases a form or CTAs well
These eight elements ensure a landing page is effective, and it is important to keep them in mind when choosing your theme. Have a look at our 2019 landing page optimization guide.
Now that you have a better idea of what makes a "good" landing page, here is our selection.
10 WordPress landing pages templates to use right now
STRATUS
Stratus is a WordPress theme designed for SaaS companies, app developers or those presenting a technology product. You edit it using a "drag and drop" system which makes using and customizing your WordPress landing page easy and intuitive.
It is complete and powerful, and it meets all the criteria of a "good landing page" and contains:
40 widgets for you to personalize
20 page templates
An infinite number of possible designs
Another interesting characteristic of Stratus: its versatility. Stratus is easy to customize and already contains several types of landing pages to suit your core business: SaaS, technology products, or mobile applications.
An example of "E-commerce shop" design: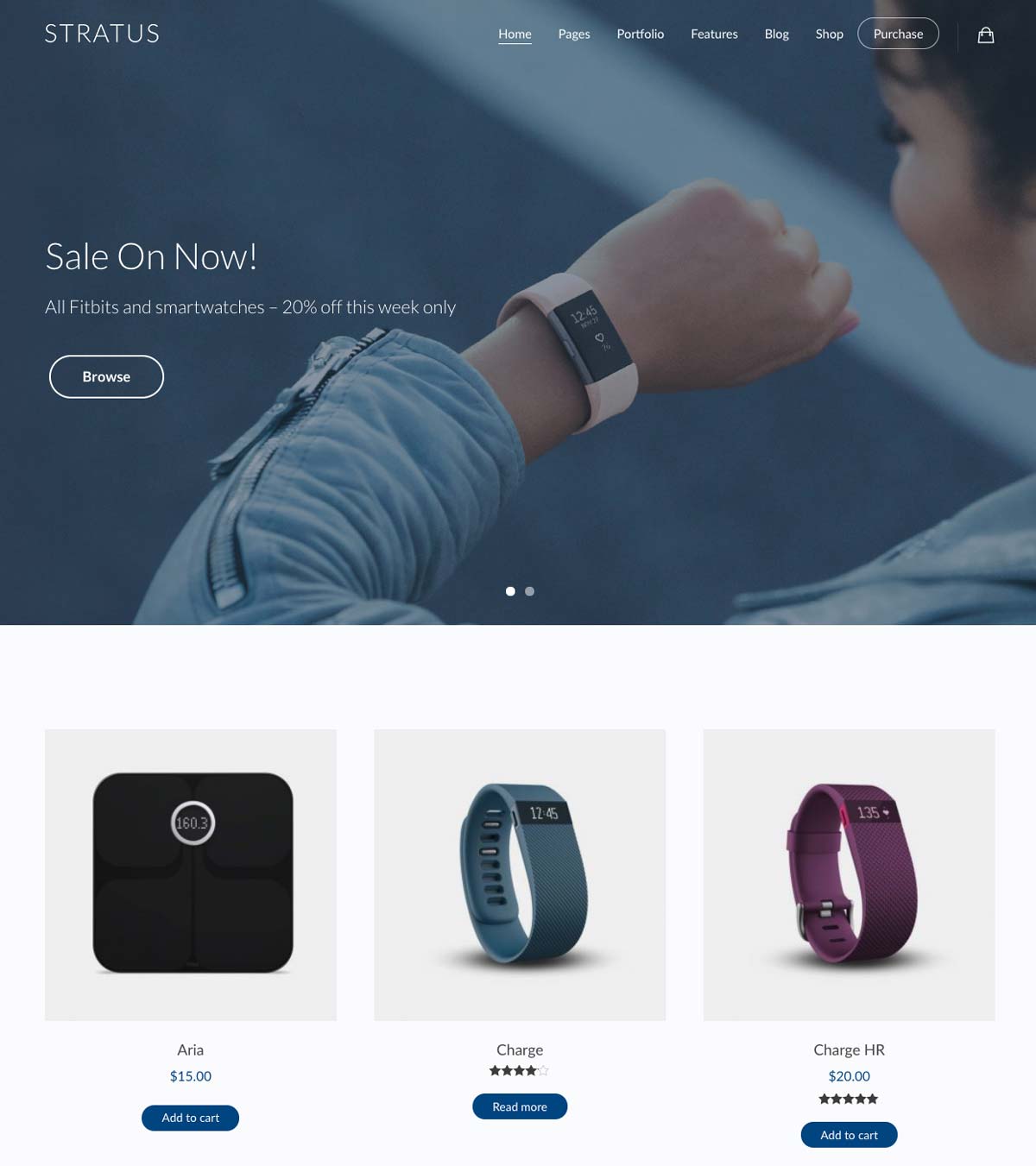 An example of "SaaS" design: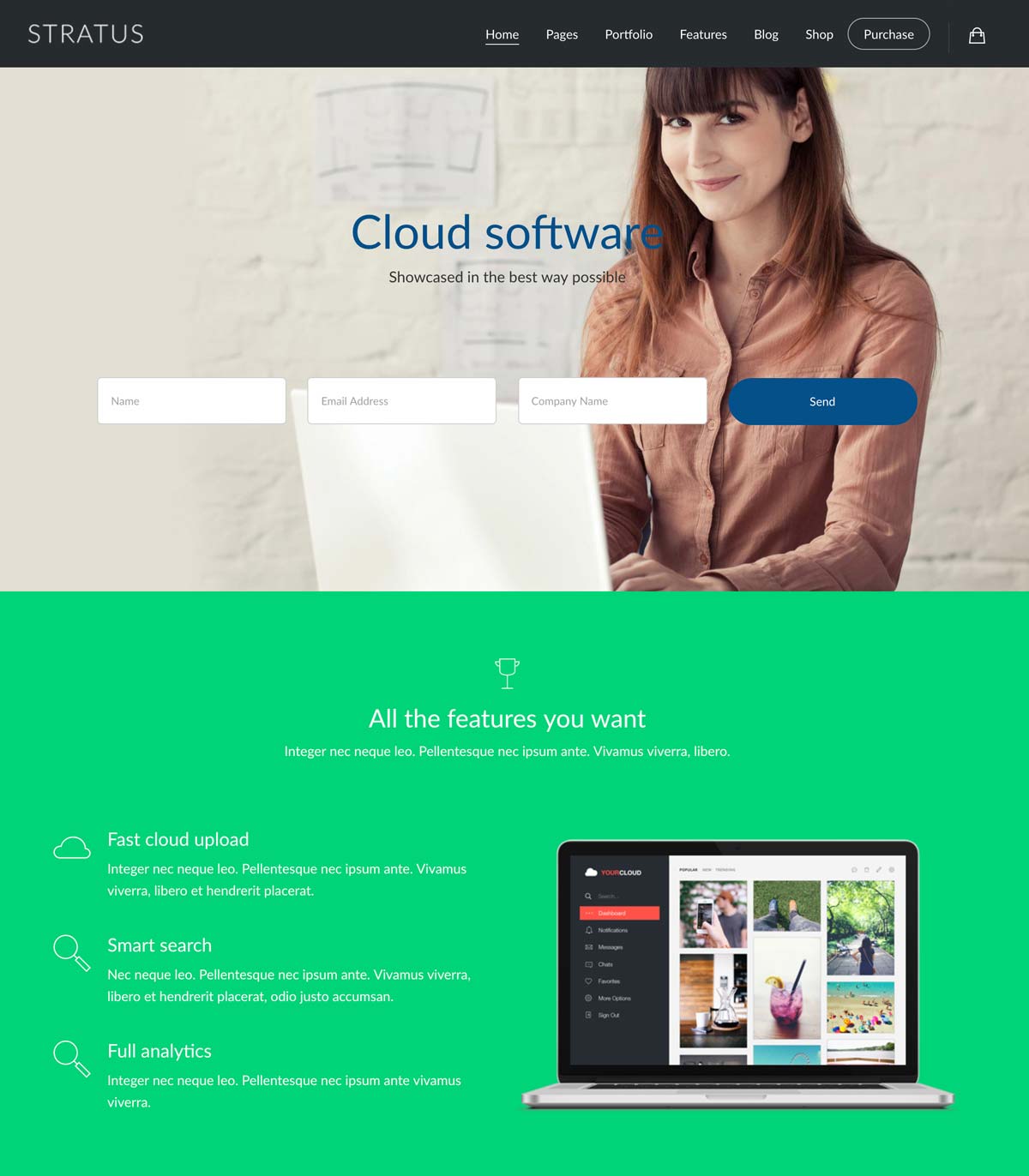 An example of "Mobile application" design: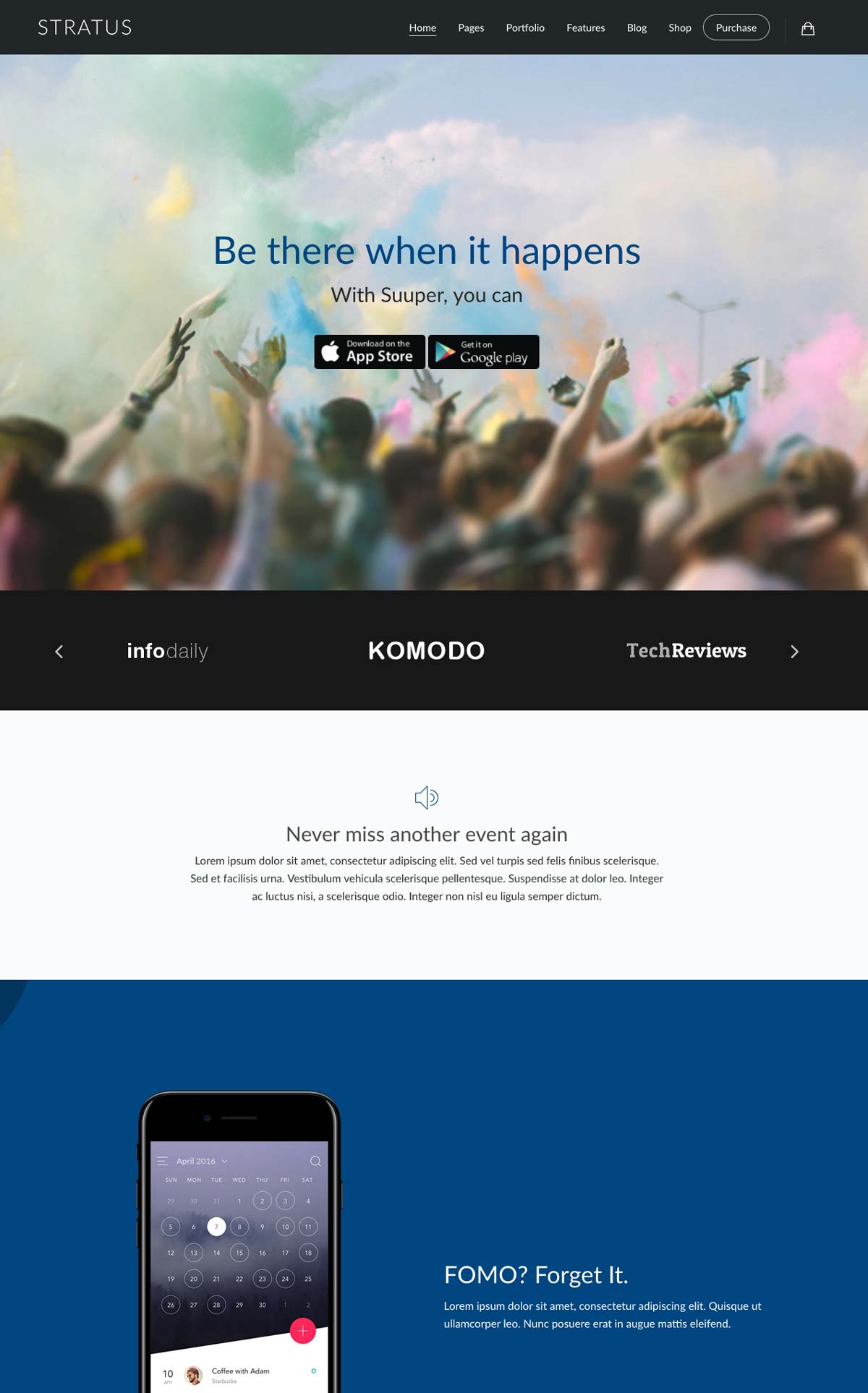 FLATSOME
Flatsome is a WordPress E-Commerce template. This is a WooCommerce theme (which is a free e-commerce plugin for WordPress).
Flatsome is complete and intuitive and is the Swiss knife of WordPress E-commerce.
Frequently updated, it is a bestseller that has registered more than 60,000 sales since its creation: it has a community and a strong reputation among users of WooCommerce.
100% responsive, it uses an intuitive and fast-to-implement builder page that does not require programming skills.
Like for Stratus, the builder works using a "drag and drop" interface which makes the template easy to use.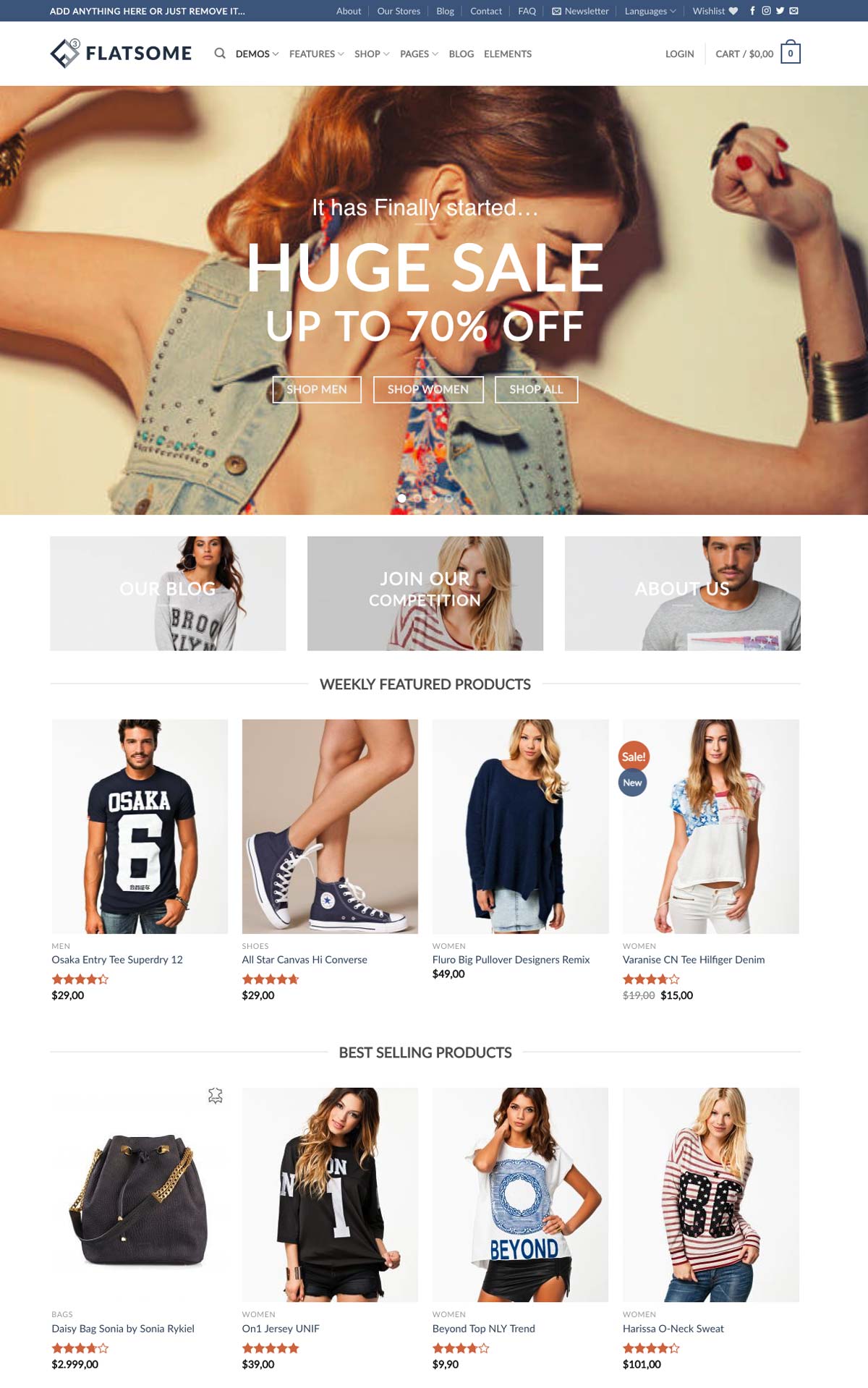 The template includes nice parallax effects, countdowns, and fields to subscribe to a newsletter; these are great assets to start an e-commerce site.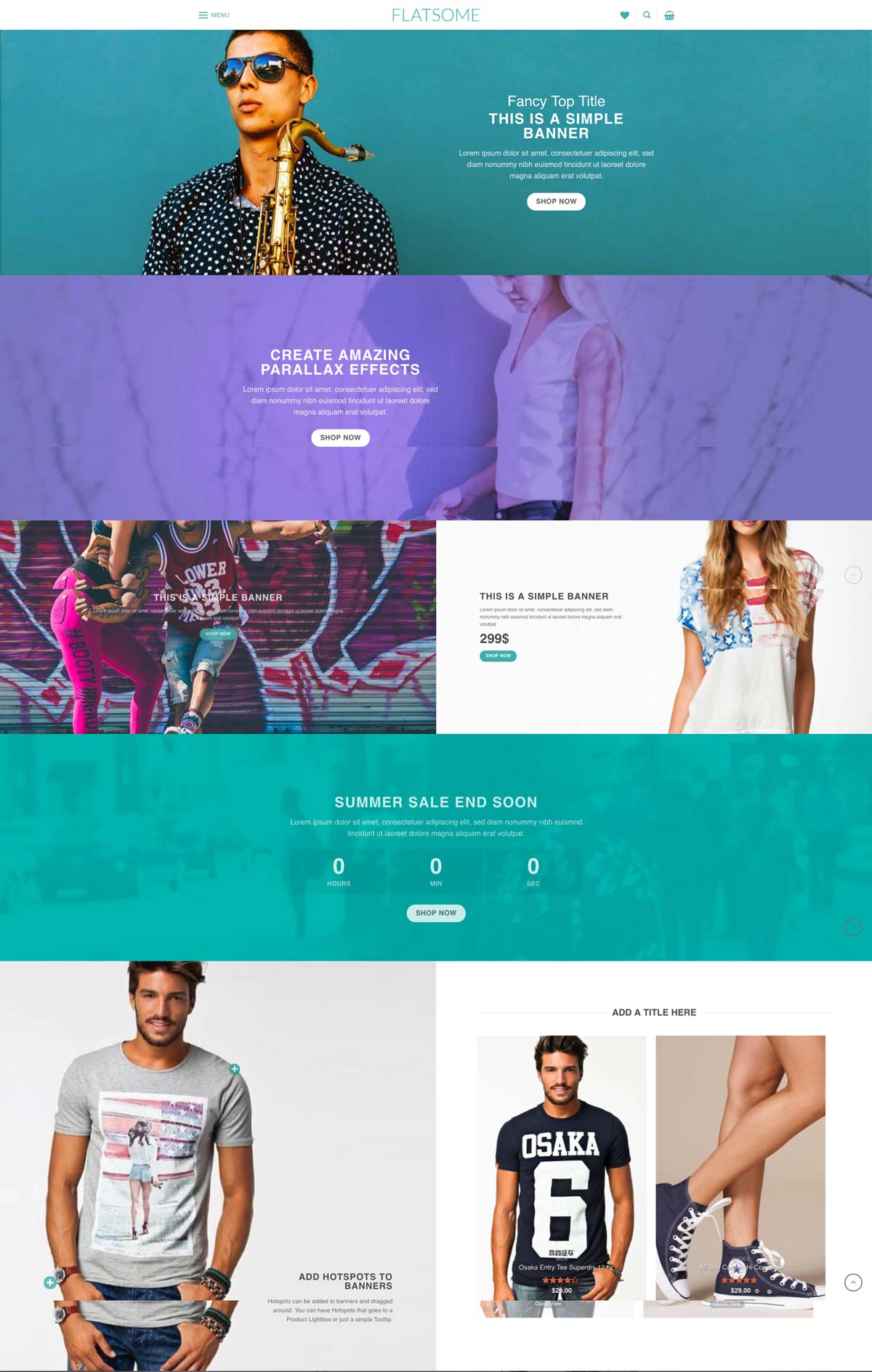 UNCODE
Uncode is a perfect WordPress template for agencies, freelancers, creatives, and all companies/people who want to present a project, an idea, or a portfolio.
Its impressive library of ready-to-use items makes it a must-have in the industry: Uncode easily adapts to your custom design to create a truly unique site.
Perfect for sites that want to host media, Uncode is designed to embed content from Facebook, Instagram, YouTube, SoundCloud, Spotify, and more.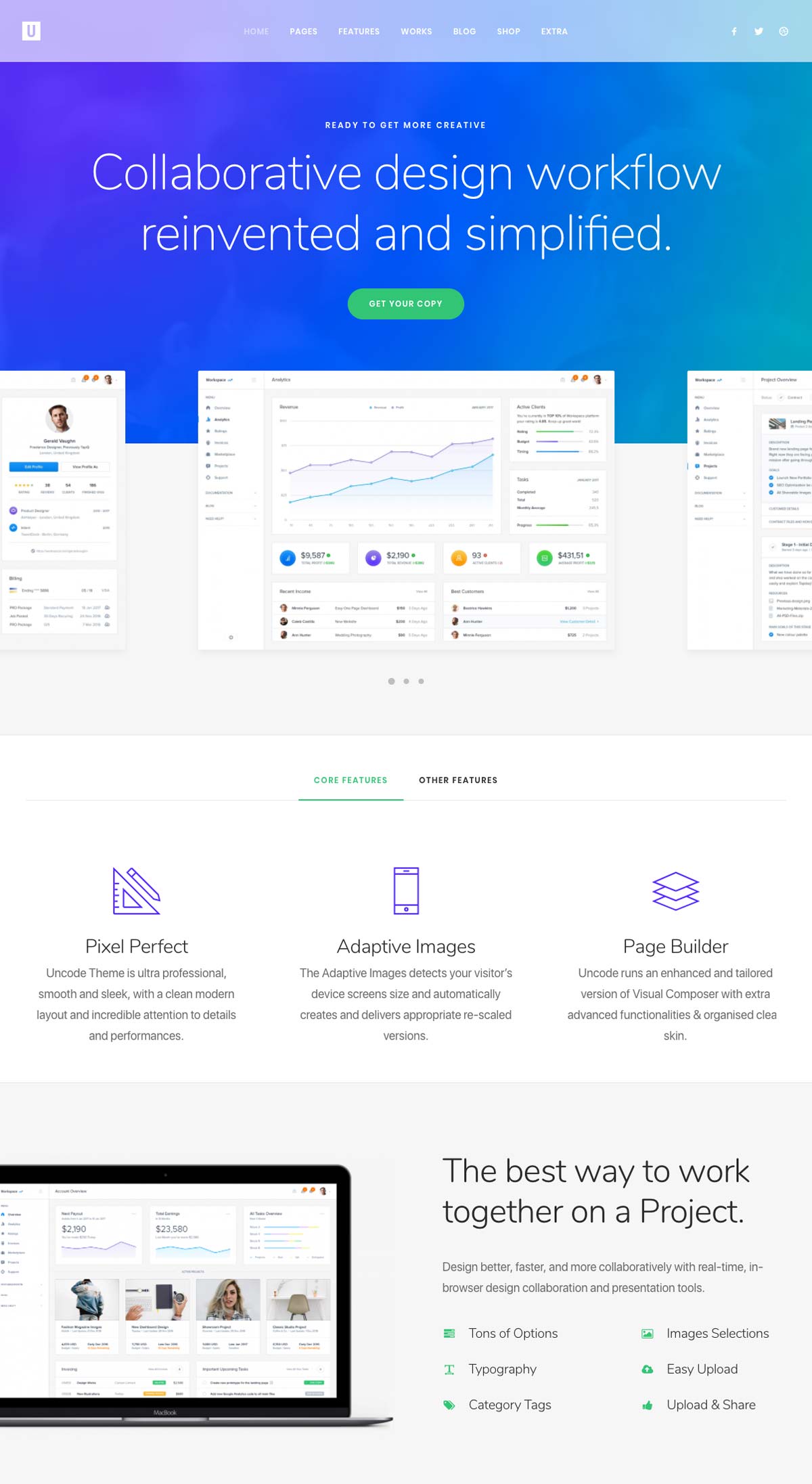 Something really nice with Uncode: the design is refined and well thought out.
The color schemes are well chosen, and the blocks are in harmony with each other; we can also see that the calls to action stand out from the rest of the page.
In summary: Uncode is a very good base to start your WordPress landing page.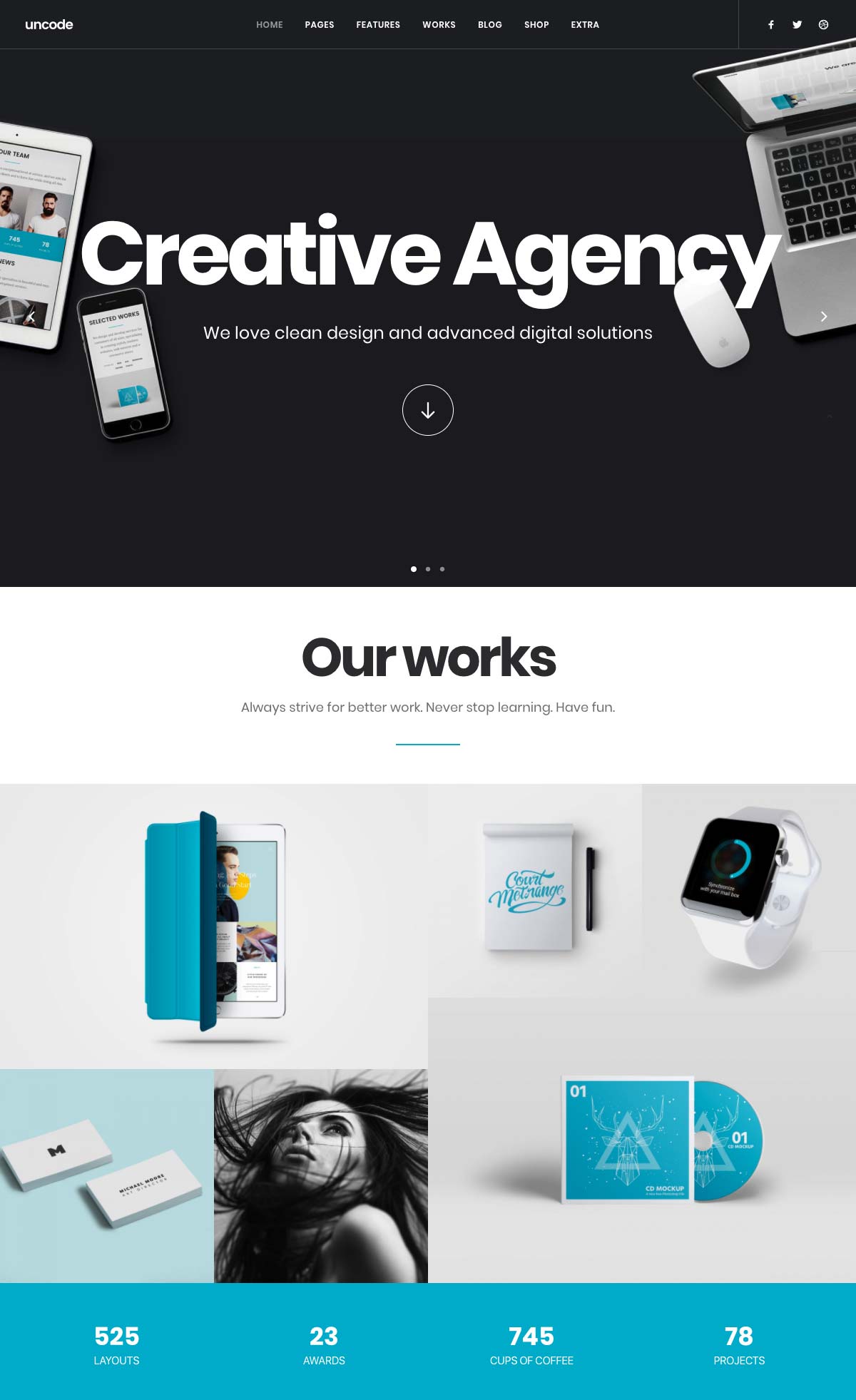 WP RESIDENCE REAL ESTATE
Who said that real estate companies couldn't have a landing page? In any case, this WordPress template is the ultimate weapon for all agencies or players in real estate.
Designed to present real estate agencies or independent actors, this theme also allows visitors to submit their properties online for a flat fee, a subscription, or for free: perfect for adding to your listings!
To make your task even easier, 12 ready-to-use demos are available in the pack; you can create your agency's website in just a few minutes.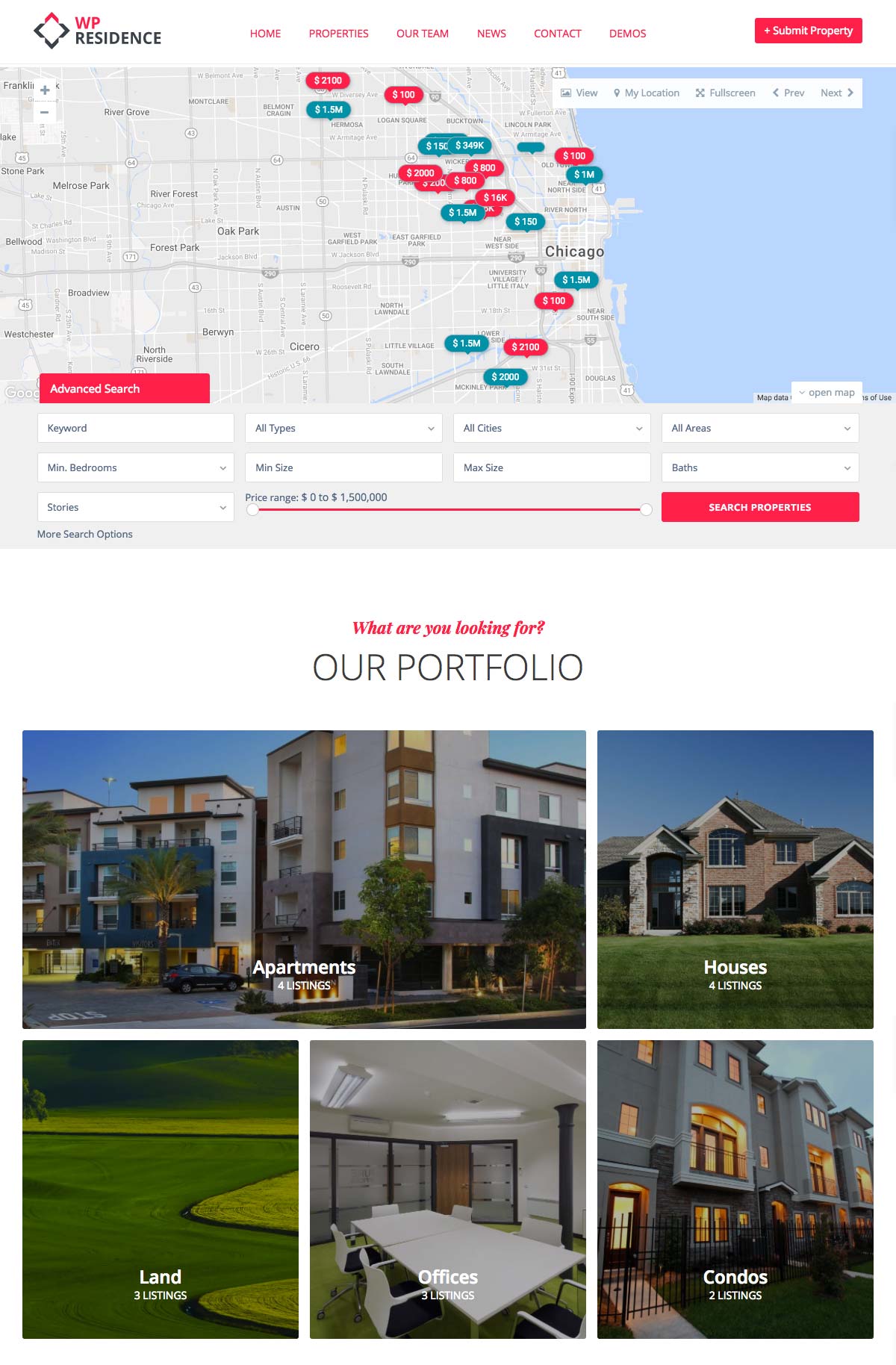 A map is included in the basic template, which is a real plus for real estate agencies. You can easily show where the property for sale or rent is located. Your users will love it!
We can also see the "grid" layout for property listings that add clarity. The (easily customizable) color scheme highlights real estate well.
The template can include a blog and a newsletter subscription module: a must-have to develop your audience and engage with relevant news.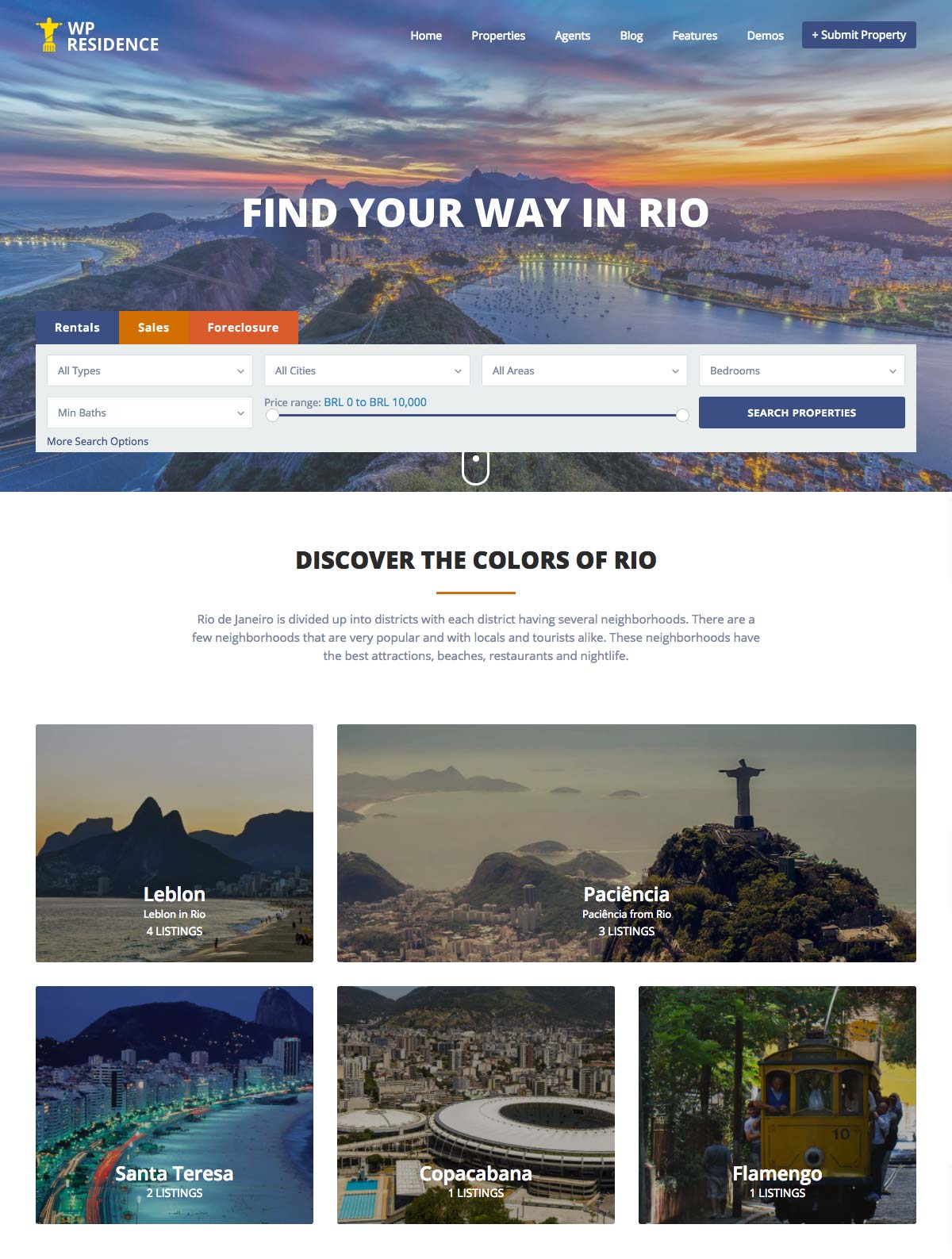 On this version of the "Rio" template, we love the extensive search bar with a price slider: it makes browsing easier and lets you display relevant results to visitors.
Similarly, the ability to filter property listings as the visitor desires lets the site display results adapted to each visitor faster.
It's a must-have for real estate businesses!
To learn more, read our article about the best real estate landing pages for user experience.
EDUCATION WORDPRESS THEME
Increasingly popular, e-learning is gaining a prominent place in the world of e-commerce. Accessible and often cheap, internet users love online video courses. However, the resources needed to create an e-learning site sometimes turned entrepreneurs off. That's over!
Education WP is an ultra-comprehensive template that lets you create your online course website quickly and without programming.
The template contains several themes adapted to the different types of education players:
Elementary/Middle/High Schools
Universities
E-learning
Training centers
Childcare centers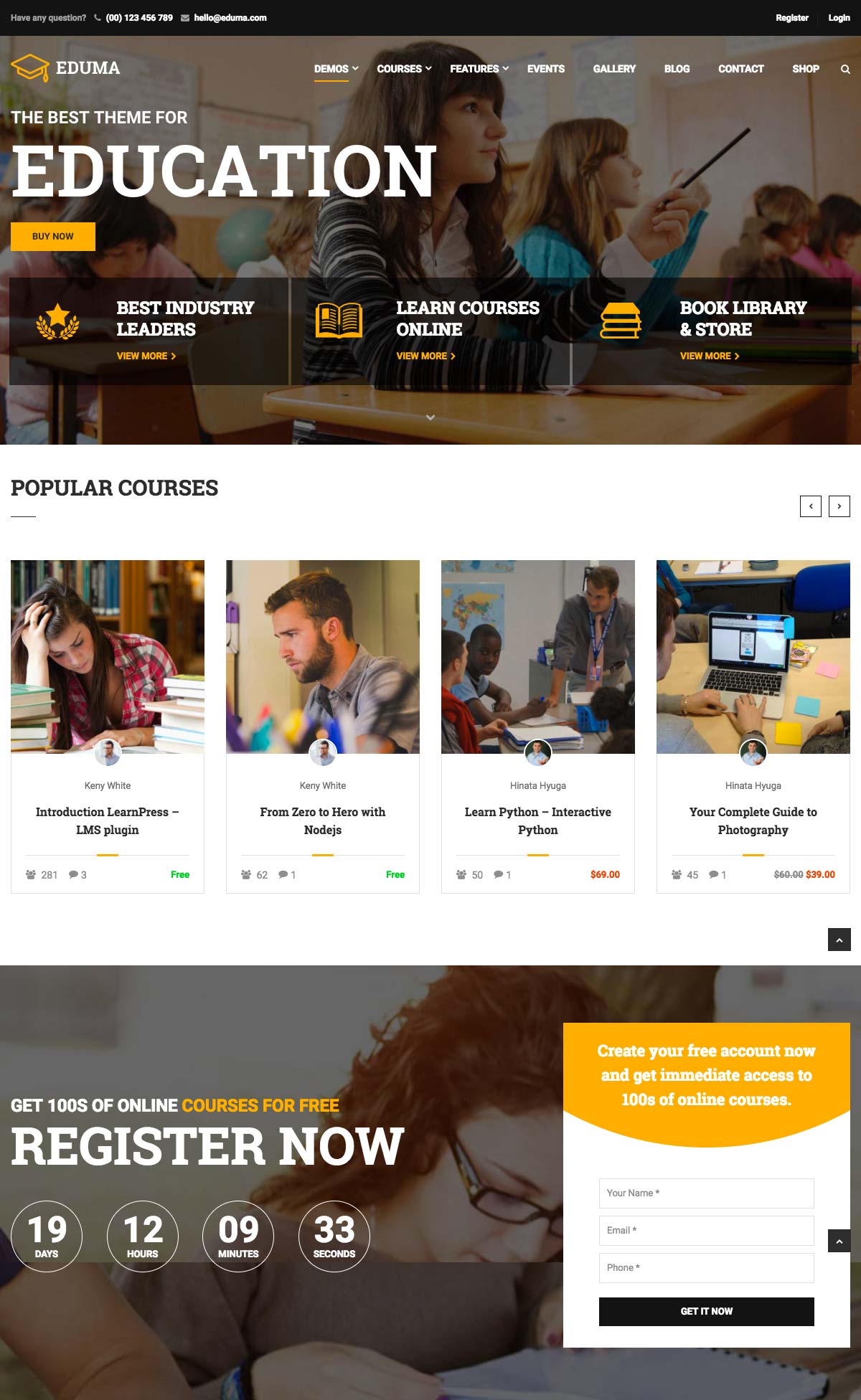 Using the same "drag and drop" concept as Stratus & Flatsome, the Education WP builder is intuitive and easy to use.
The template is 100% responsive, optimized for SEO and UX, and contains 10 pre-loaded themes ready to use.
Since it is a market bestseller, the template is updated very often and has community support.
ROSA
Rosa is a WordPress landing page template specially designed for restaurants.
Visually very refined, it also contains many useful features such as booking modules, calendars, and a module to show your menu.
Revolutionary and easy to use, the template is 100% responsive and mobile-friendly.
One interesting feature of this theme is an online order module for food delivery: a must-have!
It is also optimized for SEO and includes parallax effects.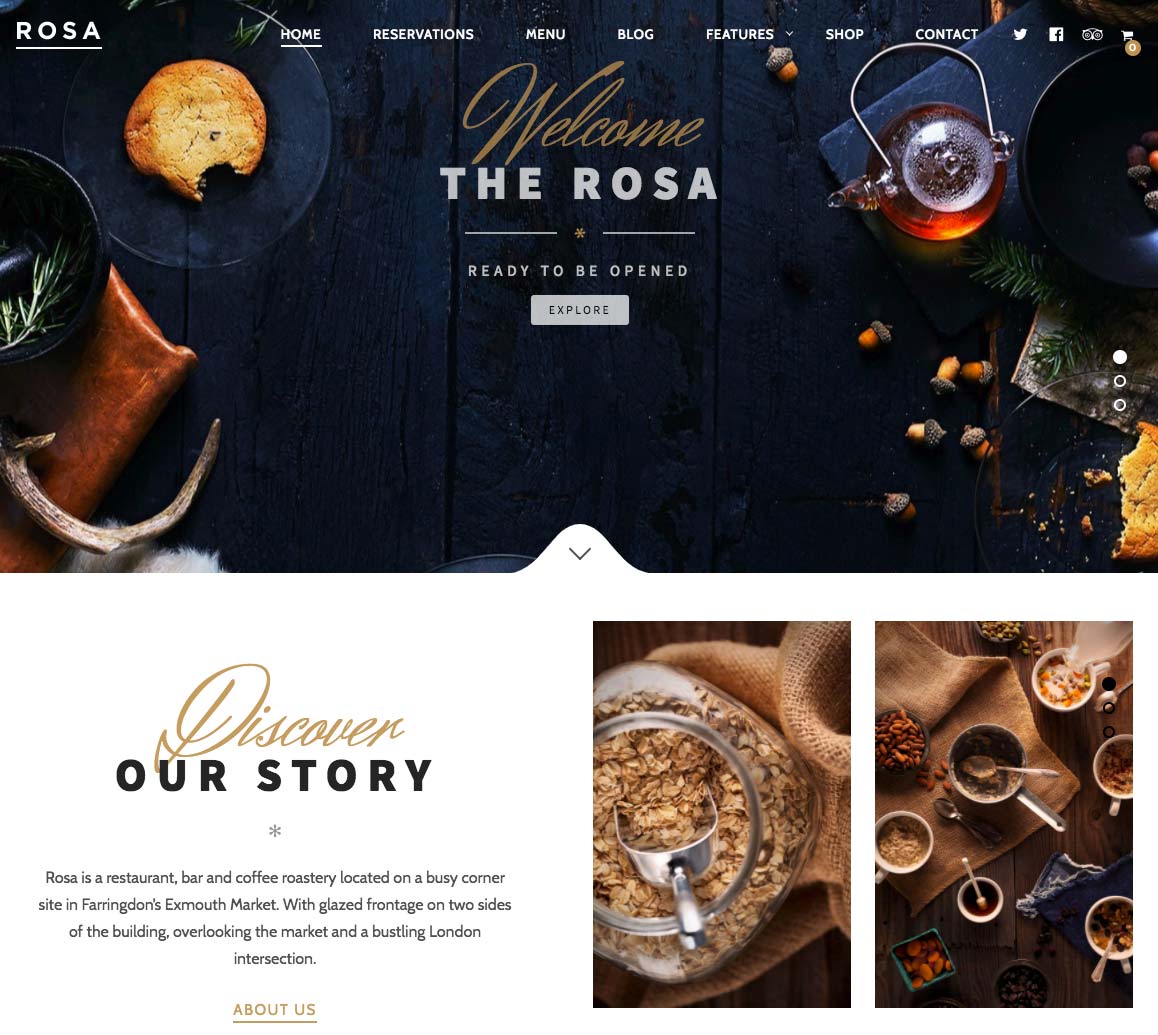 Easy to customize, the template has also been designed to be easily translated with the addition of specific files.
NEWSPAPER
NewsPaper is an easy-to-use WordPress template that lets you create an infinite number of landing pages.
This theme is not specific to a particular field of activity, but it is particularly suitable for media companies.
100% responsive and optimized for SEO, NewsPaper also works using "drag and drop"; it does not require any programming knowledge.
NewsPaper is easy to customize with your color scheme and logo; it's a great base to start building your WordPress landing page.
It contains customizable widgets that are adapted to media companies: social networks, advertising sites, weather modules, etc.
The template is ready to use and offers dozens of color schemes and a variety of styles from the start to apply to your new site.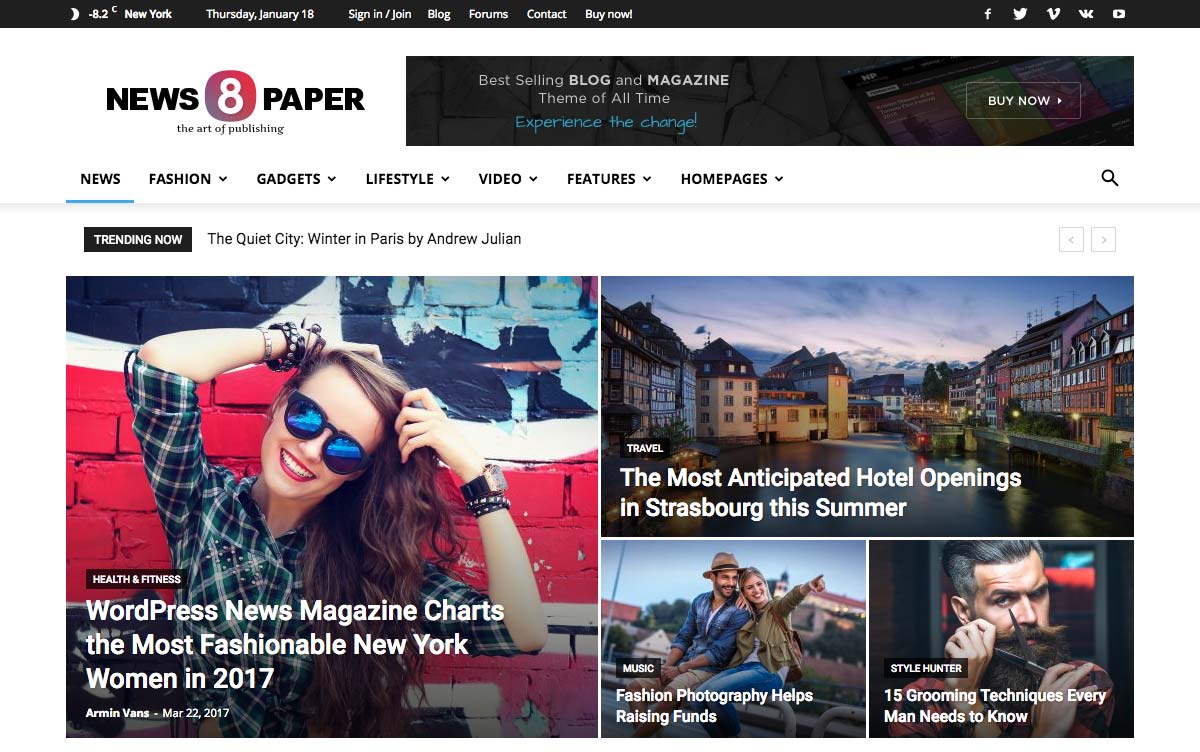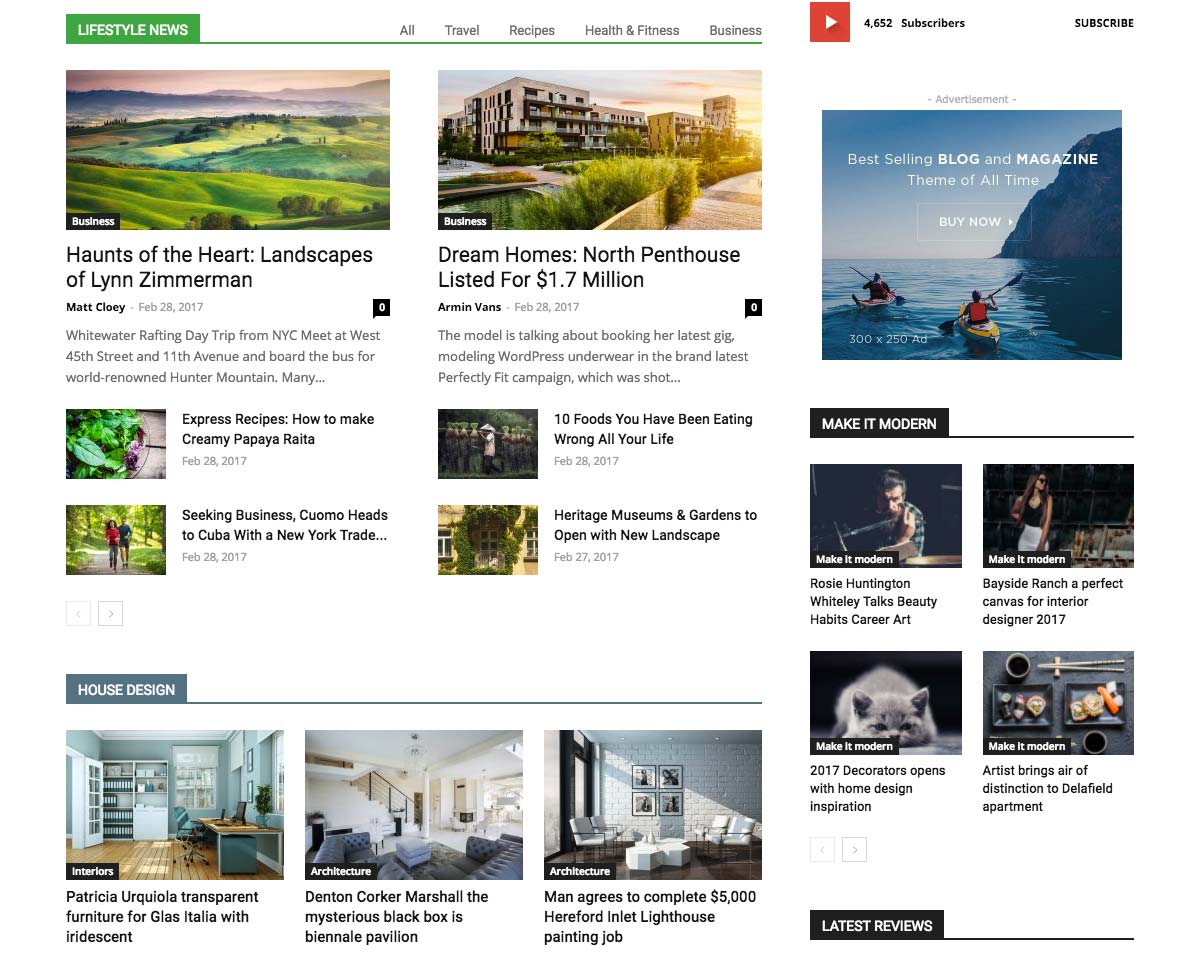 In general, we appreciate the studied use of different colors to highlight categories.
The right column is used to the full and can show advertisements, which is essential for a media site.
Overall, navigation is clear and uncluttered: the various elements are well highlighted and the arrangement in the form of "tables" is pleasant.
THE « 7 »
We could put it in 7th place in this selection, but that might have been confusing!
"The 7" is a fully complete WordPress template. It's so complete that you can do almost anything with it.
This is a very successful general template that lets you showcase your business easily, no matter its sector of activity.
Here are some suggestions for industries that might use "The 7":
Corporations, big businesses
All sorts of agencies
All kinds of e-commerce sites
Small and medium businesses
Schools, education institutions
Events
Building and construction
Hair salons and small shops
etc.
Here are two possible uses (among dozens) of "The 7":
An example of "Corporate" design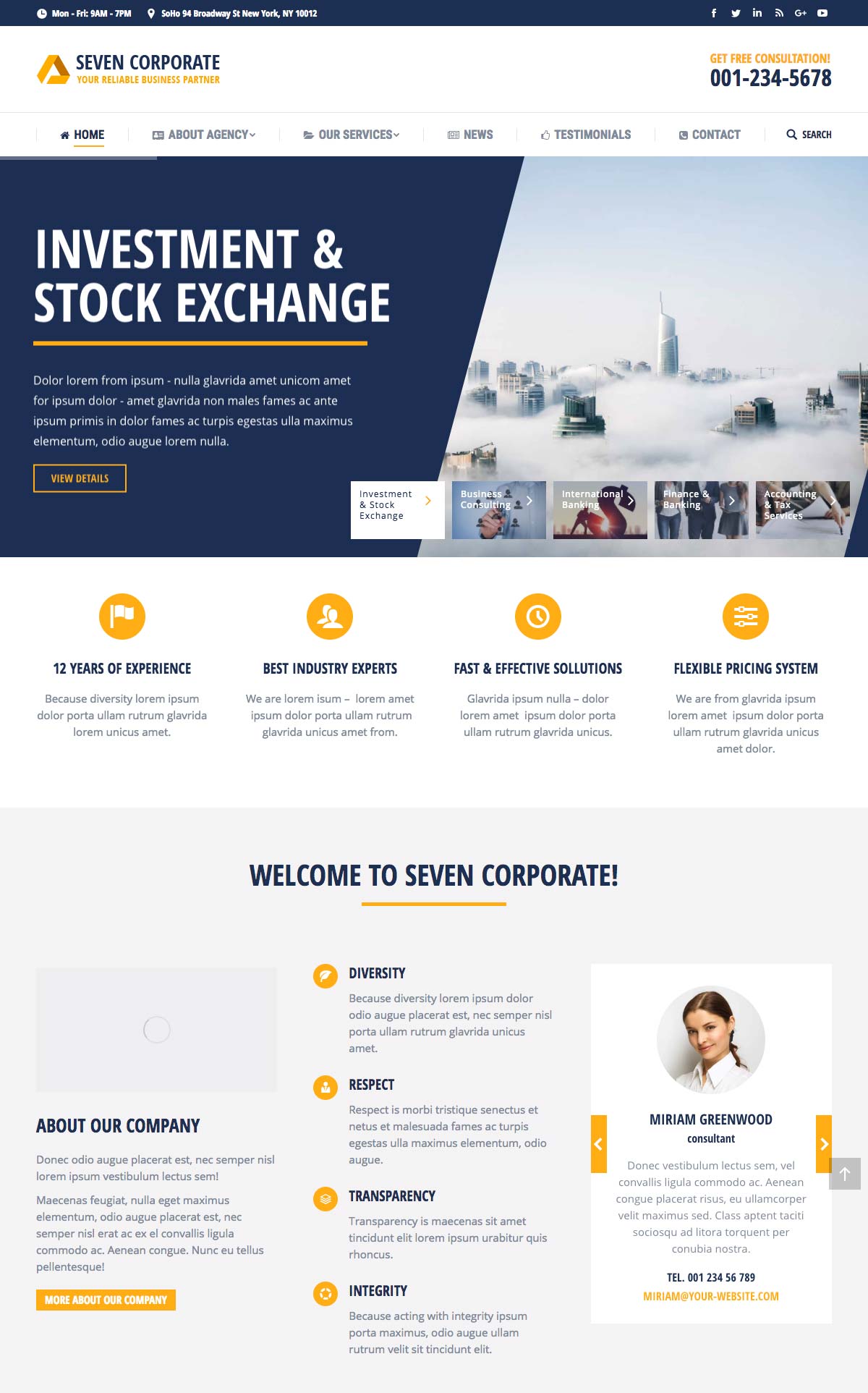 An example of "Building company" design: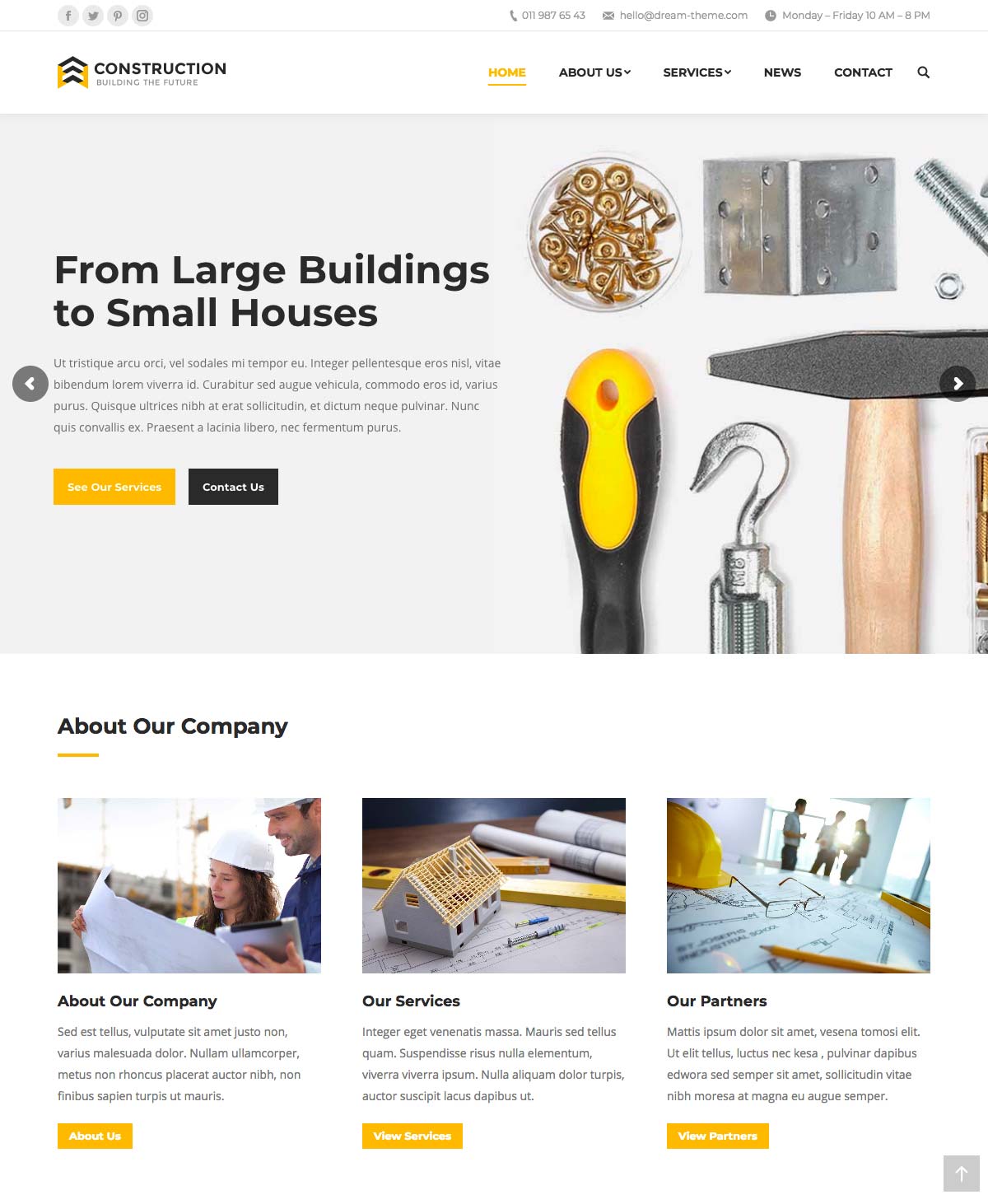 XSTORE
Xstore is a high-performance e-commerce landing page template for WooCommerce, suitable for a large number of activities.
It has a variety of themes with very lively and attractive colors.
Completely responsive, Xstore is a tool to put in the hands of every SMB that wants to embark on e-commerce or renovate their site.
The special feature of Xstore is its large library of ready-to-use "blinds": a total of more than 70 online stores are at your disposal to create the shop of your dreams.
A bestseller in its category, Xstore offers online documentation and videos, which is a major advantage compared to other templates that do not provide documentation to help you build your site.
Among other things, here are some areas of activity for which Xstore is particularly suitable for creating your future e-shop:
Restaurants
Mobile applications
Spa/Health/Fitness
Hair salons /Barbershops/Small businesses
Fashion, retail, and accessories
Lingerie, sporting goods, technology products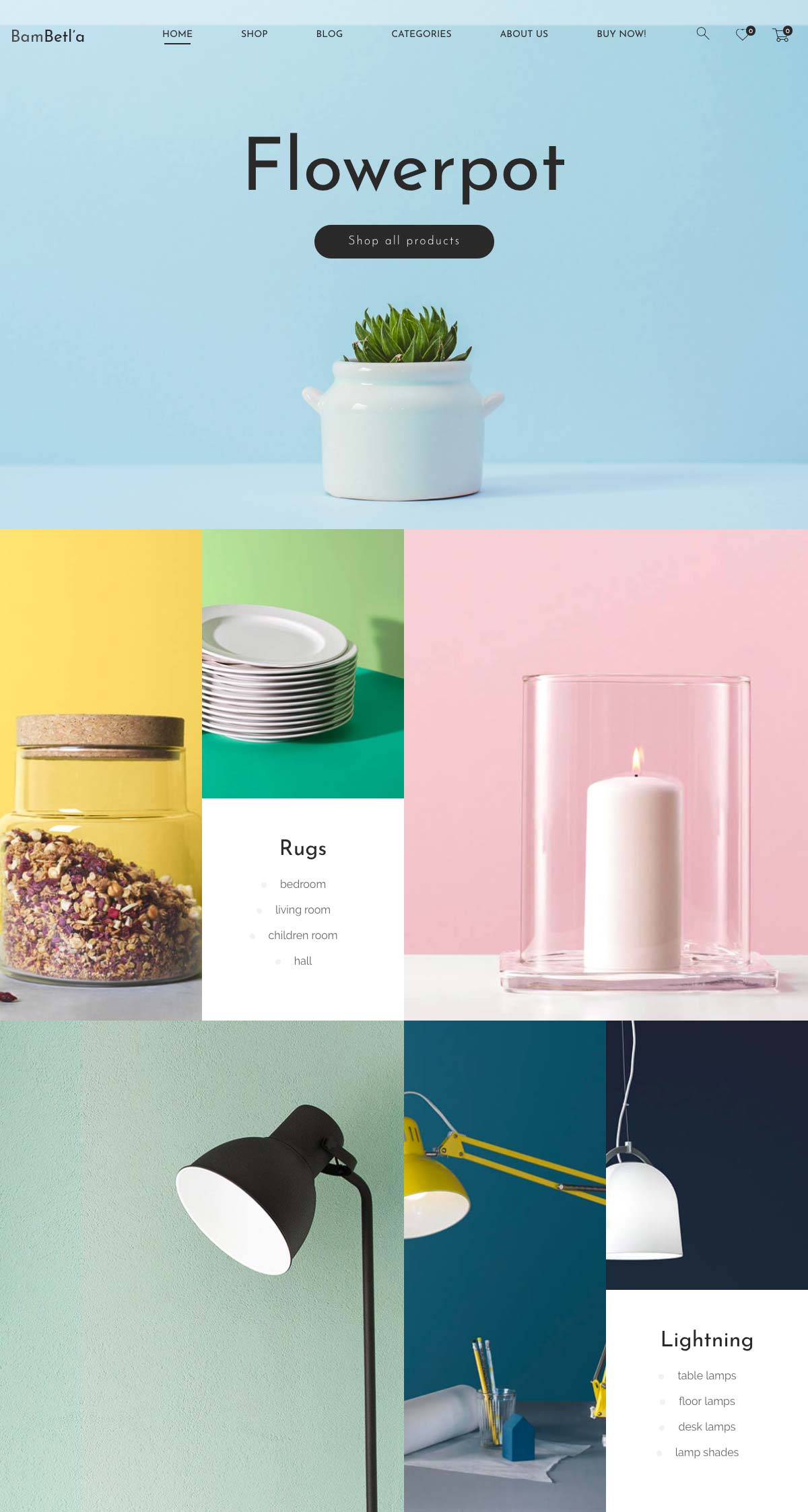 On Xstore, we especially appreciate the attention paid to the design of buttons, forms, and icons that are particularly refined.
The general impression is very qualitative and very impressive: the fields are well positioned, and the site architecture is well thought out.
Overall, Xstore is an excellent base for an e-commerce site.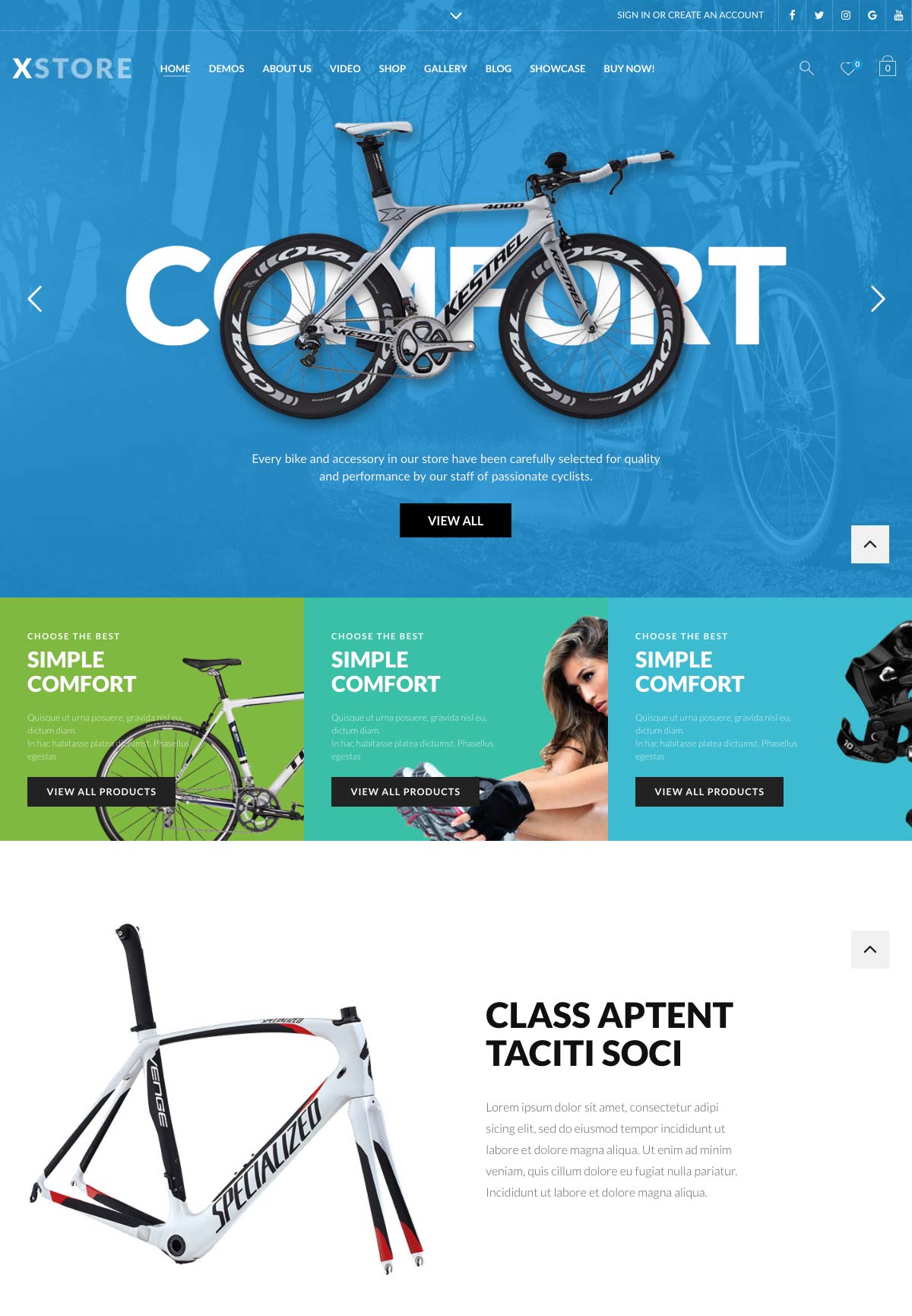 MEDICAL PRESS
Medical Press is a WordPress landing page template designed for companies, professionals, and clinics in the healthcare sector.
It offers several styles variations (header, body, footer) as well as several types of forms: handy to customize them to fit with your organization's image.
The template is responsive and compatible with e-commerce; you can use it to present your activities, book appointments, and sell medical devices or services.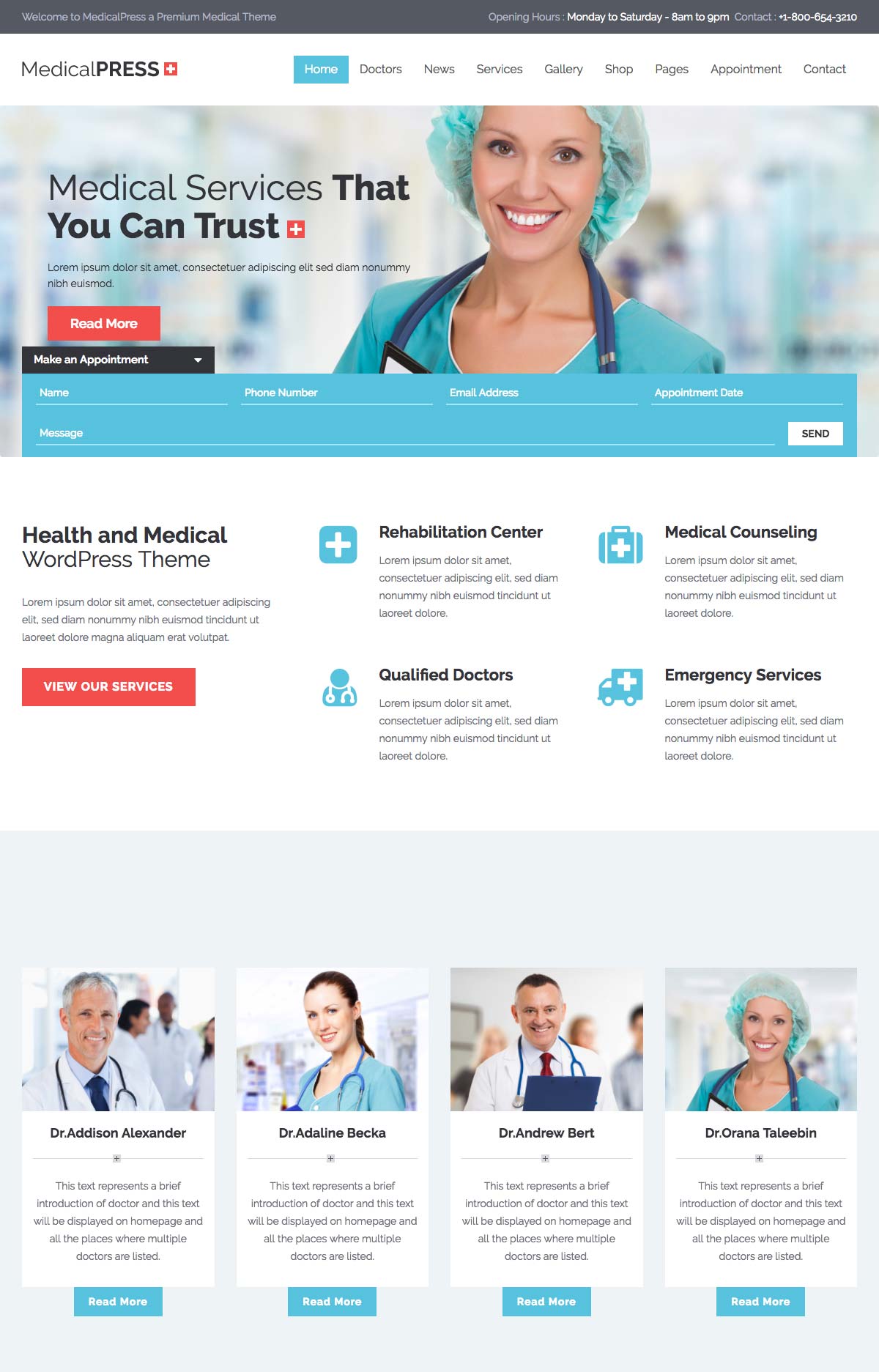 On the whole, Medical Press is a very good theme. We particularly like the choice of colors and buttons and the ability to include blocks for presenting practitioners and services.
The template also contains (written) documentation, which is practical for editing page content.
Discover our A/B testing tool and personalization solutions and boost your performance!