Do you have one or more landing pages online, but their performance is not necessarily up to your expectations? Are you wondering how you could generate more sales? We may have the solution for you.
Optimizing your landing page can increase your traffic and conversion rate significantly.
A better conversion rate will bring you more leads and, therefore, more customers; you will increase your ROI without having to pay to attract more visitors.
To help you increase your sales and optimize your landing page, here are 20 tips to put in place right now on your website.
To make it easier to understand, we have broken down this guide into 4 chapters:
Optimizing your design
Working on your marketing
Betting on trust
Improving your SEO
Taking these four topics into account will help you identify the changes you need to implement on your site and increase your conversion rate.
Right now, if you are wondering what a landing page is, we suggest you read our article on the definition of an effective landing page.
Optimizing your landing page's design
Your landing pages' design determines how visually attractive your site is. This may seem obvious, but many e-commerce sites neglect some crucial aspects when designing their landing page.
If you lack inspiration, here are some examples of landing page design that may inspire you or examples of WordPress templates if you use that CMS.
To improve your design, here are some tips.
1. Harmonize your theme's colors
BMany sites use a color palette with too many colors for no good reason.
As a result, the elements of your design are poorly highlighted because the colors have no hierarchy.
By standardizing the color palette, you use, you'll be able to highlight more important elements such as the call to action, contact forms or add-to-cart buttons.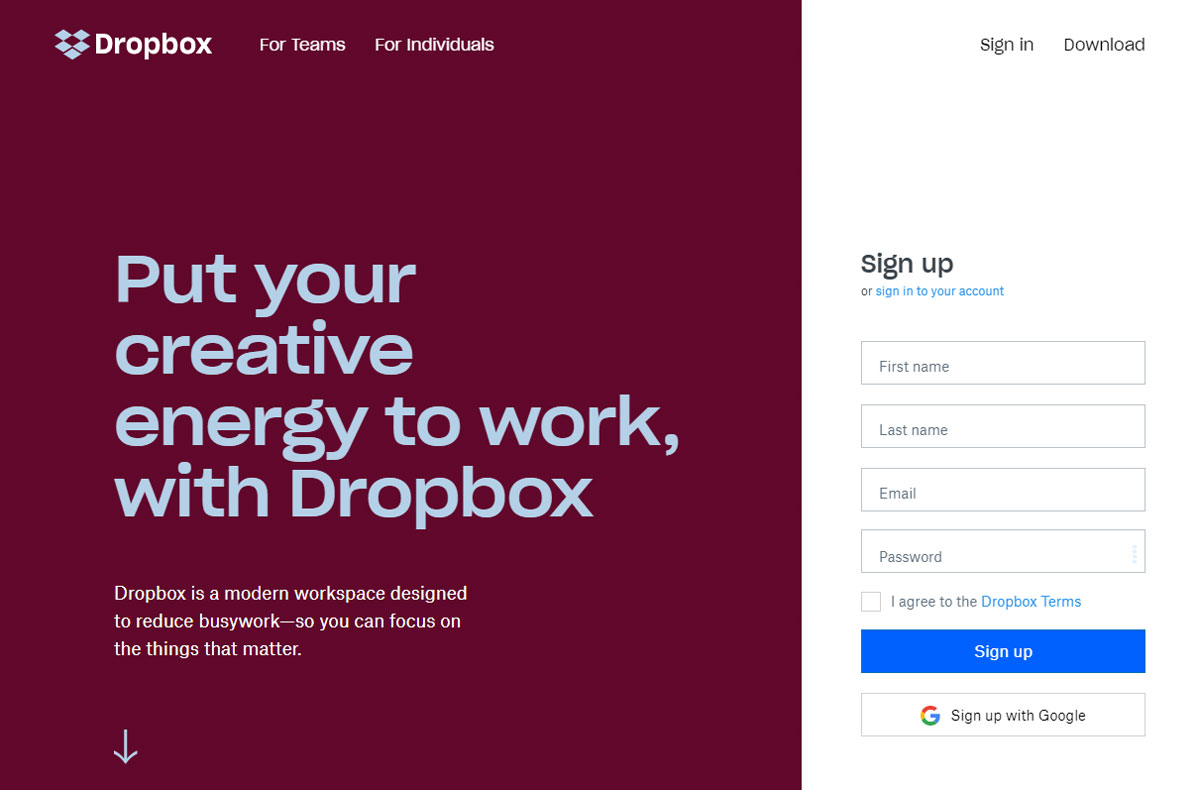 On Dropbox, the design focuses on two colors: the text pops out, and the form on the right is highlighted well.
2. Refine your headlines
Headlines are crucial to your landing pages' success.
Your assignment is to make sure your value proposition is stated as clearly and explicitly as possible.
Don't rush writing your headlines (and, if necessary, hire a copywriter) because they tell your visitors what your products' or services' added value is.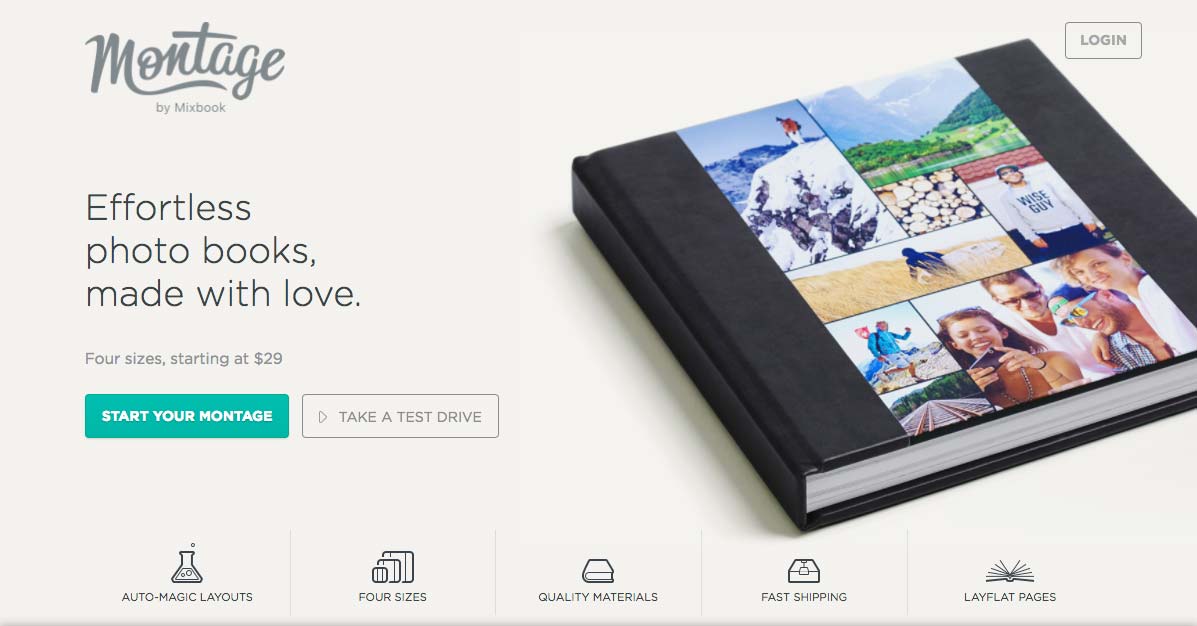 In just six words, Montage conveys a strong sales message to visitors: effortless photo books, made with love.
3. Make browsing easier
A complicated landing page with too many buttons and outbound links decreases your flow of potential new customers: make it simple and effective while focusing the page on a specific message. Do not overload it with information, images or links that risk driving away a good number of visitors.
4. Use images and videos
According to Kissmetrics, using videos for your products can increase the chances they will be added to carts by 65%-80%: missing this opportunity would be a shame!
By adding relevant visual elements, visitors can see themselves using your products and services.
5.Monitor your fold
The elements "above the fold" are those that appear on your visitors' screens without them having to scroll.
Generally, we see that few visitors bother scrolling; therefore, it is vital that you put a lot of work into the portion above the fold to "capture" a maximum number of visitors as quickly as possible.
To guarantee a maximum number of conversions, it is important to display your call to action, your main headline, and possibly some "benefits" at this level.
6. Play on symmetry and use lists
The human brain likes symmetry: it associates it with straightness and the normal functioning of things.
Knowing this, you can structure your landing page so that it is pleasant to browse by playing on contrasts, symmetry, and clever use of colors.
To showcase your selling points, begin with human psychology: we tend to "scan" a text quickly when we arrive on a page. Therefore, there is no point in writing large, indecipherable paragraphs of text. Use clarity!
For lists, you can use:
Bullet points
Hyphens
Arrows
Numbers
7. Refine mobile user experience
It is well-known that Google heavily penalizes non-responsive websites. So, make sure your content displays well and quickly on all available platforms.
You can use these two Google tools to test responsive design and speed:
Google's Mobile-Friendly Test
Google PageSpeed
Work on your marketing to optimize your landing page
Whatever effort you put into traffic acquisition, it will be for naught if you do not optimize the marketing aspects of your landing page.
The goal is always the same: to convert the maximum of visitors (from all acquisition channels) into leads or customers in order to increase your sales.
8. Refine your value proposition
The value proposition is all of your competitive advantages that determine:
What you offer visitors
Why they should turn to you rather than someone else
When you are working on your landing page, you should keep the following in mind:
What products/services are you offering?
At what prices and under what conditions?
What makes you stand out from the competition?
What benefits do your customers get from your offer?
Why should visitors trust you?
By working on these five aspects, you should be able to develop an attractive and relevant value proposition.
9. Get to know your visitors
Many sites think they know their customers. But how many really know their visitors?
For this, you can use Google Analytics; Google's tool gives you an overview of your visitors' demographics. It's a good way to understand your visitors better.
Knowing your visitors is important; your marketing offer depends on it.
You don't write your offers in the same way if you are addressing:
Young people
Seniors
B2B clients
B2C customers
Similarly, your visitor types (and there can be several) will influence the resources you provide: interactive videos, educational content, an informational e-book, etc.
10. Work on your calls to action
A call to action is a design element that differs from the rest of your landing page.
Its goal is to be as clear, visible, and impactful as possible to lead a maximum number of visitors to complete an action.
In a few words, the essence of a good call to action:
Visible
Impactful
Useful
Well placed
We recommend reading our dedicated article to find out how to write effective calls to action.
11. Create a feeling of urgency
By creating a feeling of urgency, for example with limited offers, you can push visitors into making a quick decision. Here are a few phrases to include to create a feeling of urgency:
"Just 5 days left before the sale ends"
"Get 25% off until April 17!"
"Offer limited to the 50 first signups"
By creating a limit (in time, in items, etc.) you encourage your visitors to act now
12. Perform A/B tests on your landing pages
A/B testing is a tool to compare two versions of the same page. By performing A/B tests on your landing page, you can measure the effectiveness of the changes you implement, increasing your conversion rate. It's like magic!
A/B testing allows you to distinguish "what works" from "what does not work" on your visitors directly in a real situation. Here are two essential resources:
Use reassurance elements to optimize your landing page
Trust on the Internet works like trust in "real" life: we tend to believe only what we see with our own eyes. On the Internet, it can be difficult to convey trust to a complete stranger who visits our site.
However, there are many ways to showcase your benefits, your customers, and your products and services while inspiring a sense of trust in your visitors.
13. Include customer testimonials
Showing real customer testimonials on your site can convey a positive message to your visitors: "This could be you."
By putting forward testimonials, case studies, and interviews that are as detailed as possible, you will create a feeling of trust.

On the Fiverr website, customer testimonials scroll in a slider that fills all available space: see the importance that the site give it!
Here are a few tips for successful customer testimonials:
Don't use fake testimonials
If possible, add the first and last names and photos
Use videos and customer interviews
Be transparent and give details
Let customers express themselves
14. Show your team
Do you have a great team of talented experts in their field? Tell us about it!
Numerous studies have shown the positive influence of smiling (and sincere) faces on the behavior of Internet users.
In addition, talking about your team is also a chance for you to tell a story about your company and your business.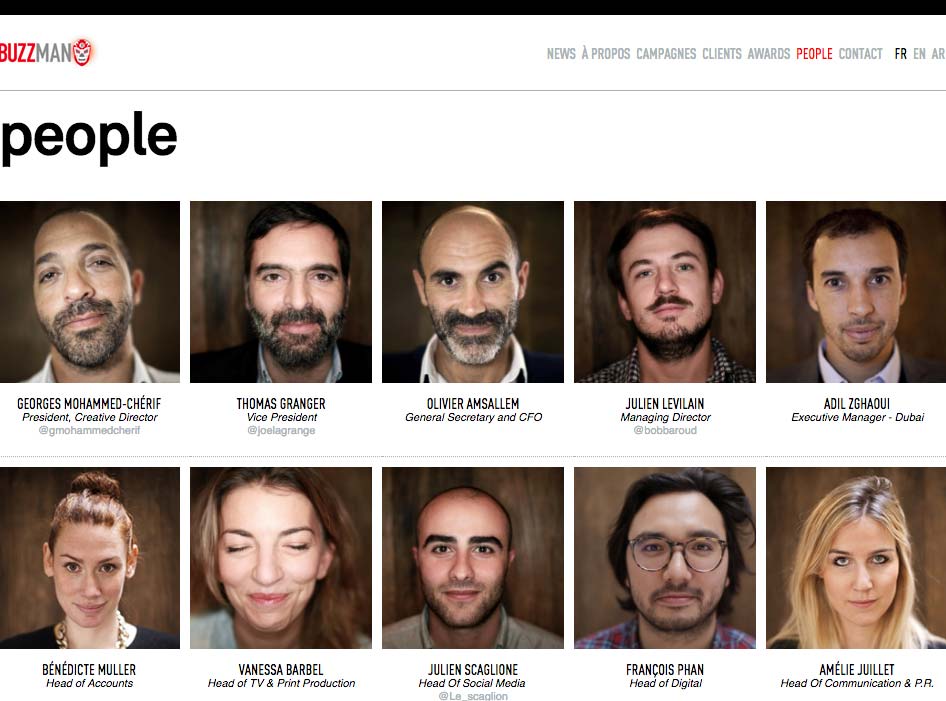 On the BuzzMan agency website, the whole team is presented on the "People" page. It's an original way of becoming familiar with the company and seeing the "faces" behind the service.
15. Be accessible and transparent
Let's face it, a site where you cannot find their address does not inspire confidence. Similarly, a sales site with no return policy will cause potential customers to flee.
To increase your visitors' trust, try to be as transparent as possible:
Show your contact details (address, email address, telephone number)
Be reachable by email and telephone
Respond to visitors' questions
To go further, you can also implement an online "chat" to reply to visitors instantaneously.
16. Don't underestimate the value of informations
Many sites have long forms, sometimes going as far as asking for the visitor's mailing address and mobile number at the first point of contact.
If you are concerned, know that the longer your form, the more you lose potential leads, so try to keep its length to a minimum.
In general, visitors do not appreciate being asked for all their personal information. Ask for the minimum amount of information so you can contact your leads without appearing intrusive.
Improve your SEO to increase traffic and conversion
SEO (Search Engine Optimization) refers to the set of methods and techniques put in place to improve your search ranking on Google. Although the subject is very large, here are some tips to implement on your landing page.
17. Look after your title tags and meta-descriptions
The page's title (as identified by the title tag) is one of the first elements your visitors see when your site appears in a Google search.
Therefore, it is important to follow a few rules to increase the clickthrough rate and attract qualified visitors:
Be precise in what your page "offers"
Stay within the 55-60 character limit for your title
Don't write in ALL CAPS
Show your site's name in the title
Write a unique title for each page
The same tips apply to meta-descriptions except for the character limit: the optimal number of characters is 150-160.
In general, remember to include your main keywords in your titles and meta-descriptions: this allows Google to index your pages in relation to the keywords you are targeting.
Note: be careful not to stuff your title and meta tags with keywords: it has no use for users and Google may even penalize you for it.
18. Point your content to your landing page
A page's authority is long and difficult to build: it is determined by many factors including the number and quality of the links that point to it.
If you produce content related to your landing page, make sure to "link" your content to your landing page: this internal linking has a positive effect on SEO.
19. Optimize your site's load times
There are two main reasons to optimize your site so that items are displayed faster:
Your visitors will love it
Google will love it
The reasoning is simple: the longer your landing page takes to load, the more you will lose valuable visitors.
For Google's SEO algorithm, a well-optimized page is a good page to index, so you have every interest in making the changes needed to improve your site's loading speed.
To improve the speed of your website, you can use a tool like GT Metrix.
20. Use Google Images
Google Images is often ignored by many e-sellers: this is a monumental mistake!
Many visitors could find your landing page through an image search: it's up to you to make sure that they can!
For this, keep these two tips in mind:
Do not use photos found randomly on the internet: this makes you less credible and will not let your landing page be found in Google Images.
Fill in your image's "ALT" attribute: the alt attribute lets you give a description of your photos to Google, so you can index them on Google while making sure they point to your site.
Did you like this article? We would love to talk about it with you. If you are looking to increase your performance and improve your conversions, see what AB Tasty can do for you.