You, like me, like my colleagues, are probably working from home. In fact, as of March 24, 20% of the world's population is effectively not leaving their residence except for essential activities.
This is an unprecedented societal shift, and from a purely business perspective, it's already affecting buyer journeys, customer expectations and brands' abilities to meet them.
Anybody who works in marketing, sales, and product development is facing similar challenges – we're all in the same boat.
While not wishing to minimize in any way the human impact of this pandemic, we wanted to share some tips for smoothing out the customer journey in this novel context.
Optimize the Mobile Experience
You may have intuited this, but all of this 'at home time' is pushing smartphone usage way up – especially among the younger generation. A Global Web Index report, which collected data between March 16 and 20 from 13 countries, bore this out: 
"70% globally say they are spending more time on their smartphone, climbing above 80% for Gen Z." 
Digging into the data reveals some differences based on age, gender and location, but the overall trend is prominent.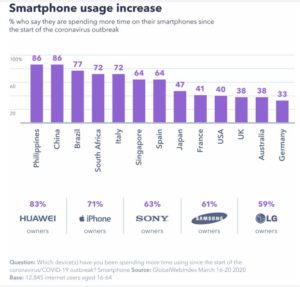 Source: Coronavirus: insights from our multi-national study
So, if you have a web presence, you're going to want to make your smartphone customer experience as smooth as possible. We have lots of tips on how to improve the mobile experience on our site, but a few to start off with:
Scrupulously consider the position of your most important CTAs – are they within 'the thumb zone' on mobile?
Consider using stick-to-scroll for important elements, like the search bar, 'add to basket' CTAs, etc.
Consider slimming down any bulky header images or removing non-essential content out of the prime real estate zones.
CSR and Value-Driven Brands
Embracing Corporate Social Responsibility and showing the 'purpose' behind your brand is key in any context, let alone a global pandemic. Now, a company's values are being put in sharp relief.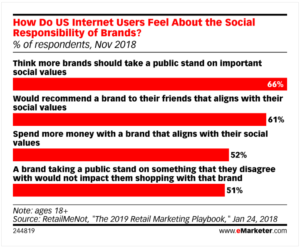 In recent years, consumers are putting more and more weight behind CSR when it comes to purchase decisions. Source: eMarketer.com
The same Global Web Index study cited above found that,
"Globally, people are most in favor of brands responding to the outbreak by providing flexible payment terms (83%), offering free services (81%), closing non-essential stores (79%) and helping to produce essential supplies (67%). All of these score significantly more than the 37% who think they should carry on advertising as normal."
These are going to be challenging times for many consumers. Proving your business can have a positive impact on society – whether it's rerouting production to fabricate hand gel, creating dedicated store hours for the elderly or setting up relief funds for employees in need – is not only the right thing to do, it's investing in a positive brand image in the long term.
Focus on Social Media to Build Engagement
Whether your company was particularly active on social media before or whether you have a community manager or not, now is the time to bring your community of followers together.
Especially if your business isn't able to run as usual, engaging on social media is an excellent way to keep your brand top of mind, and to still deliver value to your customers – albeit it in a new way!
Restaurants sharing recipes, gym apps asking users to share their daily routine, even catering companies sharing 'color by number cheese board' drawing activities….creativity is the name of the game here. We all want to feel a sense of togetherness, and simply asking your followers how they're doing, what they miss  or to share tips can go a long way.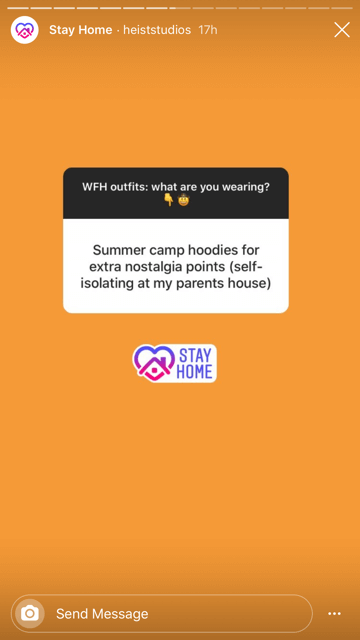 Tights company Heist engages with their followers in the 'stay home' context.
Social networks are investing in fighting the pandemic as well, with Instagram's 'stay home' story sticker and multiple trending hashtags like #workfromhome and #stayhome.  You can even create your own hashtag challenge, like we did here at AB Tasty, or like design company Canva did with #stopthespread.
Change Up Your Subscription Model
User behavior and motivations have drastically changed over the last few weeks. Depending on your business set up and offer, this could be a good opportunity to get a new set of users to see the value of your app.
The popular fitness app FitBit, for example, is pushing an extended free trial of their premium model. And it makes sense! Much of their user base is now stuck at home, and probably much more conscious of the number of steps they take in a day, their exercise routine and general health and wellness. 
By rethinking their freemium to premium set up, they're potentially able to elevate an entire new subset of users to seeing the true value of their app.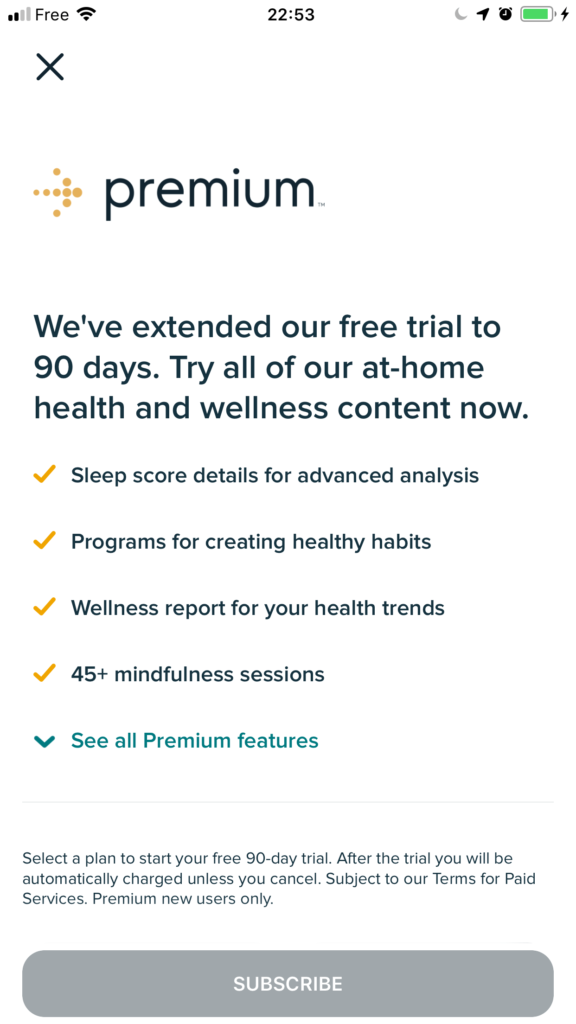 And in these new circumstances, user motivations have also shifted. French app Emprunte Mon Toutou matches dog owners with dog lovers in their neighborhood that can help them out by walking their dog when their owner is busy or on vacation, for example.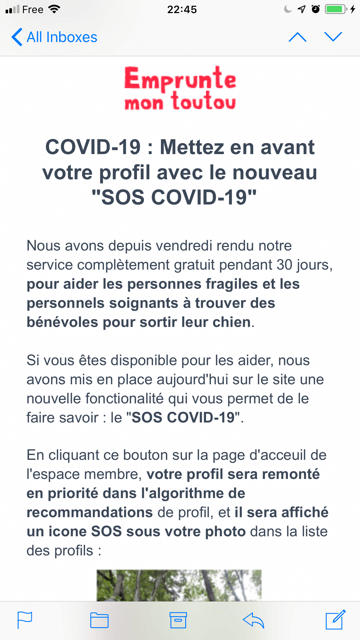 In light of the Covid-19 pandemic, the company decided to make their premium service totally free for 30 days, so that they can more easily find people to help the vulnerable and elderly walk their dogs, since they probably don't wish to leave their homes in this situation. Not only is this action proving the ethical and value-driven nature of the brand, it's also getting a large number of their user base to the 'aha' moment of seeing its true value.
Reassure and Inform Your Customers
Probably the most important part of managing the customer experience during this time is to be sure you communicate clearly and quickly. Modified hours, updates to delivery policy, a new way to reach customer service…it's important customers feel connected and like they know what's going on.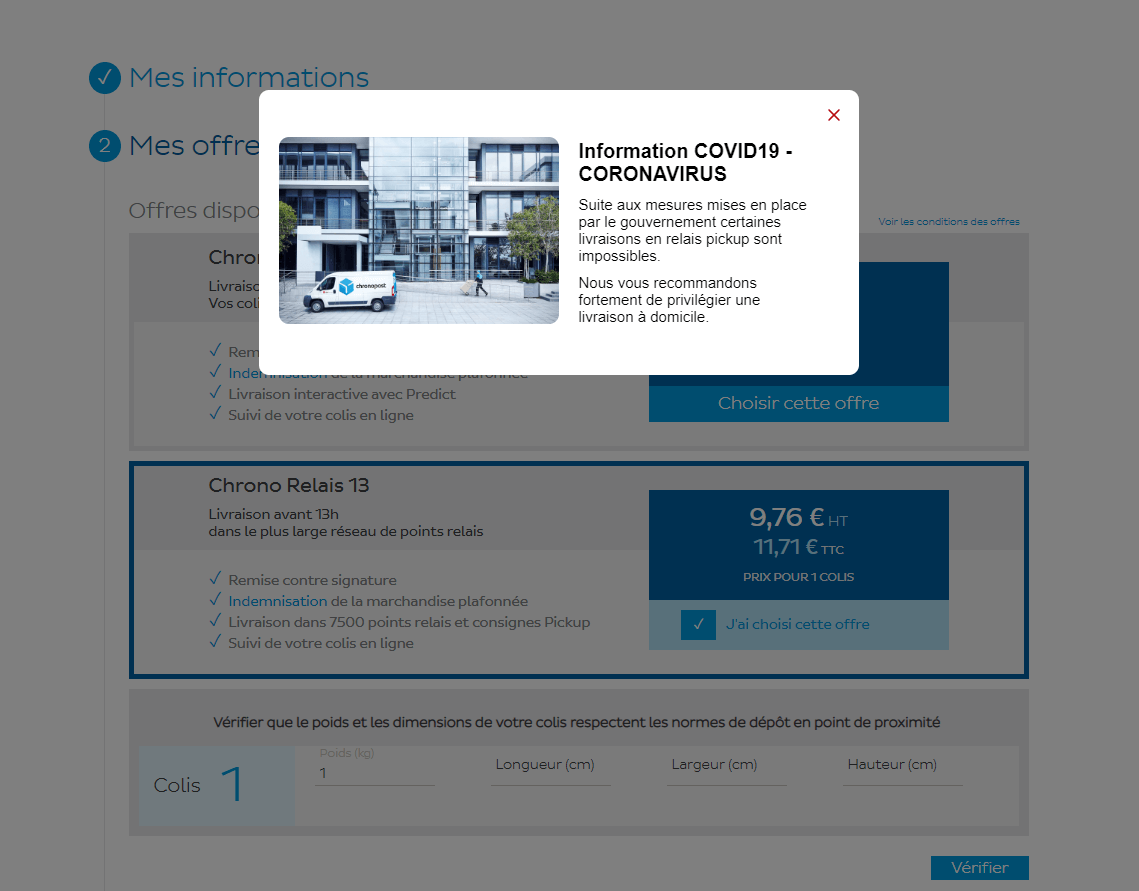 Delivery company Chronopost adds this text to their interstitial: COVID19 – CORONAVIRUS Information: Following the measures put in place by the government, some pick-up point delivery services will be impossible. We strongly recommend that you choose home delivery.
We've got a few tips on how to easily put in place these kinds of messages if you're an AB Tasty client – pop-ins, banners, interstitials and video modals are easy ways to inform and reassure your clients. If you have any questions, your Customer Success Manager can point you in the right direction.
Takeaway
There should be no doubt about it – during the Covid-19 crisis, health, safety and loved ones come first. After these aspects are assured, we, as marketers, sales and product people, can focus on how this pandemic is changing our work lives. 
The situation is fluid, and surely consumer behavior will be evolving day by day. Let's keep sharing ideas, swapping best practices and keeping up with each other to manage the customer experience in these unprecedented times!