Editor's note: This is a guest post by Rick Riddle.
By 2015, 65% of American adults owned a smartphone. And most people are never more than three feet away from their phones. And by the end of 2015, Internet use by mobile devices surpassed that of PCs. Obviously, businesses have a lot of money to make if they can engage and convert those mobile audiences. Obviously, online marketing strategies and tactics must be designed specifically for mobile customers, probably the most important factors being speed, seamless experiences, and removal of any barriers which may cause frustration for the user. With that in mind, here are seven actionable strategies that you can implement quickly – and A/B test!
Cross-Device and Platform Targeting
Cross-device and cross-platform shopping has become the new "normal." This means two things:
Mobile users may "shop" on their mobile devices. They may complete a purchase, however, later on their PC's, either at work or at home. Making certain that you are tracking what your customers are looking at or perhaps have put in their carts without checking out, means that, when they access your site from a PC later, their previous behavior is there and ready for them to continue.
A recent Mobile Audience Insights Report showed that 54% of mobile device users shopped on their mobile devices, but that 45% then completed their purchases in-store. It is therefore critical that you use geo-location while your audience shops via mobile to let them know where they can find what they want in the closest vicinity. Office Depot does a great job of this.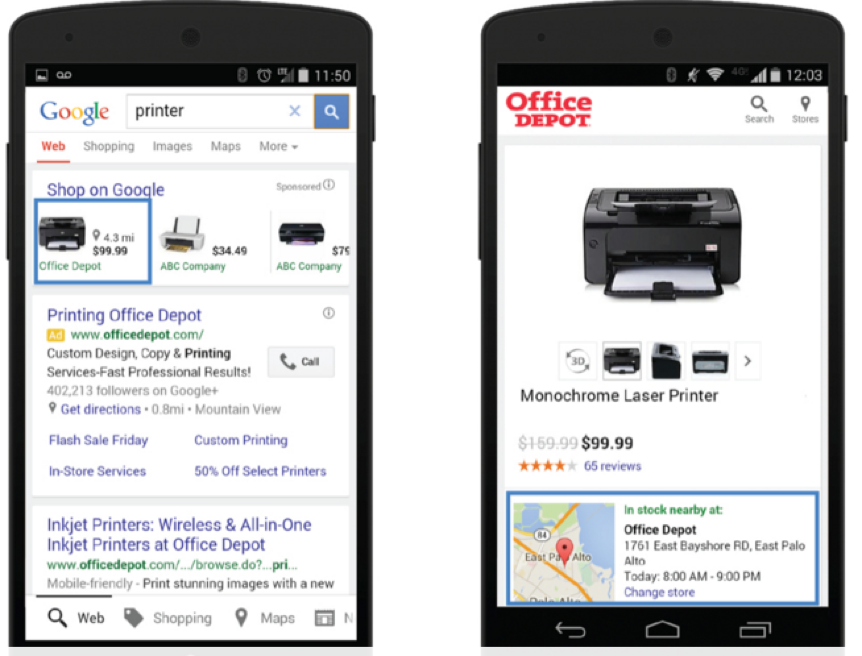 Use Push Notifications
52% of mobile device users enable push messaging. This can be set up for a segment of your target audience or even at the individual user level.
If you have a mobile app, then users who have downloaded it can receive their push notifications through it. Uber has been doing this for a while now, with geo-targeted messaging. Users download the app and enable push notifications. When prices surge or drop, they are notified and can then decide what they want to do – make a reservation or wait.
For companies that do not have a mobile app, this can still be accomplished through SMS or text messaging, to notify of sales, events, coupons, etc.
Increase Use of Video
Video is one of the best content marketing strategies for mobile devices –actually for all devices. The reason for this is pretty clear. People are more engaged and have a better experience when information is provided in visuals as opposed to text. Businesses that can provide explainer, DIY, and product demonstration videos will have a far more captive audience – in fact, a video is likely to have 10X more viewers than a piece of marketing content that has text and perhaps a couple of other types of visuals. Consider the size of the screen of a tablet or phone. It is obvious that a video gives a far better user experience.
Go Local if Your Business is Local
More than half of all searches done on mobile devices have a local purpose. Users are looking for a type of restaurant within their locale; they are looking for the closest Kohl's or theatre that is showing a movie they want to see.  They are also looking for deals, coupons, etc. But, here is the best part. 61% of those searches result in a purchase conversion.
The more you can optimize searches for a locale, the better will be the macro conversions you want.
Simplify Mobile Payments
While a lot of mobile payments involve bill paying through individuals' bank accounts or through payer accounts, the ability for users to purchase products and checkout via their mobile devices is becoming critical. If mobile users have to enter all of their payment and shipping information to your site by hand, they will probably decide to defer that purchase for a later time when they can get to their laptop. Why? Because it is cumbersome to enter all of that information via mobile.
Your job is to make it seamless and easy and thus increase conversions. Mobile payment mechanisms, such as in-app payments, P2P funds transfers, POS or QR code payments etc. will be the credit cards of the future. The faster you can implement these new payment processes, the better.
Less is More
If a responsive mobile design is simply a smaller version of the PC-designed website, then a business cannot expect a great response from mobile users. They have come to your site for a very specific reason – window shop, a way to contact you, where you are located, etc. Do not distract mobile visitors with long stories about your company. Use short video clips to present the value and benefits you offer; use visuals to present your products or services; use CTA's that are easily found and prominent so that conversions are easy and adapt content to the demographics of your audience.
Frictionless Experience
Above all, make everything smooth. Make sure your site or app loads very quickly (2 seconds, tops), requires a minimum amount of scrolling (and scrolling is far better than separate pages to have to link to) and minimize links. Whatever promotion or coupon, etc. you want your user to see should be first, on the first fold. All of your design elements should be tested, and your entire site or app tested any time an element is changed or added. You will also need to complete some comprehensive A/B and multivariate testing to continually improve user experience relative to your design elements.
Engaging mobile users is a continually evolving initiative. Several years ago, for example, there was none of the easy checkout and payment procedures that mobile users have today. Nor were there the personalization capabilities that businesses have today. It will be critical for content marketers to stay "current" on the newest technology that will continue to streamline and improve mobile user experiences.
About the author: Rick Riddle is a successful blogger whose articles aim to help readers with content management, self-development, and entrepreneurship. Connect with Rick on Twitter and LinkedIn.