Editor's note: This a guest post by Clarissa Amaral who is responsible for conversion optimization at Paymill.
Ever since the introduction of smartphones, mobile shopping has become a trend. A Google Shoppers study shows that 79% of smartphone owners are smartphone shoppers, and another study from Comscore highlights there are more global users on mobile than on desktop.
Nowadays, having a mobile-friendly checkout experience is key to success and it will only become increasingly more important for online businesses to create a secure and user-friendly experience for mobile shoppers, taking advantage of all the benefits a mobile device has to offer.
Here you'll find six tips you can incorporate into your mobile checkout, especially if you're looking to boost your mobile checkout conversion rate.
1. Leverage Mobile UI Elements
If you are building a checkout process optimized for mobile you should only feature mobile UI elements. A good mobile UI is key for a smooth checkout process. One great example of mobile checkout optimization is Petco's numeric keyboard checkout. The company provides a full numerical keyboard so users can easily tap into their payment information.
You might want to check out some free UI elements, which could very well inspire you to build a smooth mobile UI checkout experience.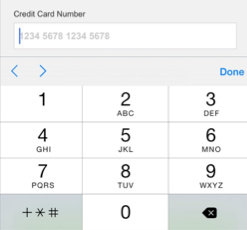 2. Provide guest checkout
An option to check out as a guest should be standard practice across all mobile checkout processes. A user is less likely to complete an order if they have to go through the process of creating a new account.
One major retailer saw the number of customers purchasing go up by 45% by including one explanation sentence informing merchants that they do not need to create an account to make purchases on their site. This is a trick already being used by large US retailers such as Walmart in order to provide a quick checkout experience for mobile purchases.
In fact, 8 out of 10 top US retailers offer the opportunity for mobile guest checkout. So, if you don't want to lose out on potential sales you should provide the option for a guest checkout.
3. Display a checkout progress bar
Progress bars are extremely important for an optimized checkout experience. A NielsenWire study surveying 5,000 US mobile users shows that 60% of smartphone users are shopping on the go.
Users definitely don't want to be caught up in a lengthy mobile checkout process while shopping on a mobile device. Progress bars are in place to let users know how long the process will take, providing a clear estimation that the checkout process will be indeed brief.
4. Provide Reassurance on Security throughout the checkout process
A survey from Statista with more than 18 000 sources shows that 17% of consumers who dropped out of a purchase mentioned that they were concerned about payment security.
Additionally, another study shows that the conversion rate of turning visitors of zamberg.com into customers increased by 11% after using Comodo secure logos. Topshop has successfully introduced a Comodo Secure badge on their mobile checkout process. This badge is in fact displayed throughout the entire checkout process.

5. Provide multiple payment methods
Having multiple payment methods makes it more assessable for your customers to pay online. After all, one cannot assume all online shoppers have a credit card.
A survey conducted by YouGov, an Internet market research firm, found that 50% of British online shoppers would cancel their purchase if their preferred method of payment were not available at checkout. In addition, over 40% of participants said they would feel more comfortable purchasing from a retailer online who offers multiple payment methods.
Lastly, online shops experienced a 10% increase in shopping cart completion when a digital wallet payment option was available.
Credit & debit card payments combined with a digital wallet like PayPal allow online merchants to cover the majority of transactions. At the end of the day: the more payment methods you have available, the higher the chances your customers will be able to pay on your online store.
6. Provide one tap checkout
Mobile users are in constant search for the more convenient checkout process. You can manage to increase mobile conversion rate by making future purchases easier for your returning customers.
The key for a one tap checkout is to be able to securely store your customer payment data for the next mobile purchase via a token.
Tokenization allows customers to log in and be ready to pay within one tap, making mobile shopping a much more convenient experience.
CONCLUSION
Using the conversion techniques mentioned above can definitely help to boost sales by increasing your conversion rate but once integrated, these components should be A/B tested. A conversion method that might work for one company might not work for another company in a different industry. We would be happy to hear the results of your tests in the comments below.
About the author Clarissa is responsible for conversion optimization at Paymill, an online payments provider for European merchants. Based in Germany, Paymill allows merchants to accept PayPal, credit and debit card payments worldwide directly on websites and mobile applications.