In today's intensely competitive digital marketing environment, capturing the attention of your audience is not an easy task. Every inbox is bombarded with sales pitches, and, with voluntary opt-ins used as a gateway to content access, fewer marketing emails make the cut. Getting your potential customer to open your email is hard; inspiring them to convert is even harder.
Email is still one of the most effective marketing tools. A Fluent marketing survey aimed at millennials found promotional emails were the most effective digital advertising medium at influencing purchase decisions; more than 2 in 3 (68%) respondents said that promotional emails impacted their purchase decisions at least on a few occasions.
Writing an email that converts is part art, part psychology, and part trend. There is no magic bullet, no sure-fire formula to guarantee success. The content itself is important, but not the only consideration. That said, here's everything you need to know about writing successful marketing emails.
Clearly Define Your Objective
The first essential step to your marketing campaign is to define the purpose of your email. You want recipients to do one thing, and one thing only. Too many choices is confusing and leads to lower click  throughs. Whatever your objective, give them one clear destination that leads to a dedicated landing page supporting the email. When you know exactly what you want them to do, you can write email copy that delivers.
Know Your Audience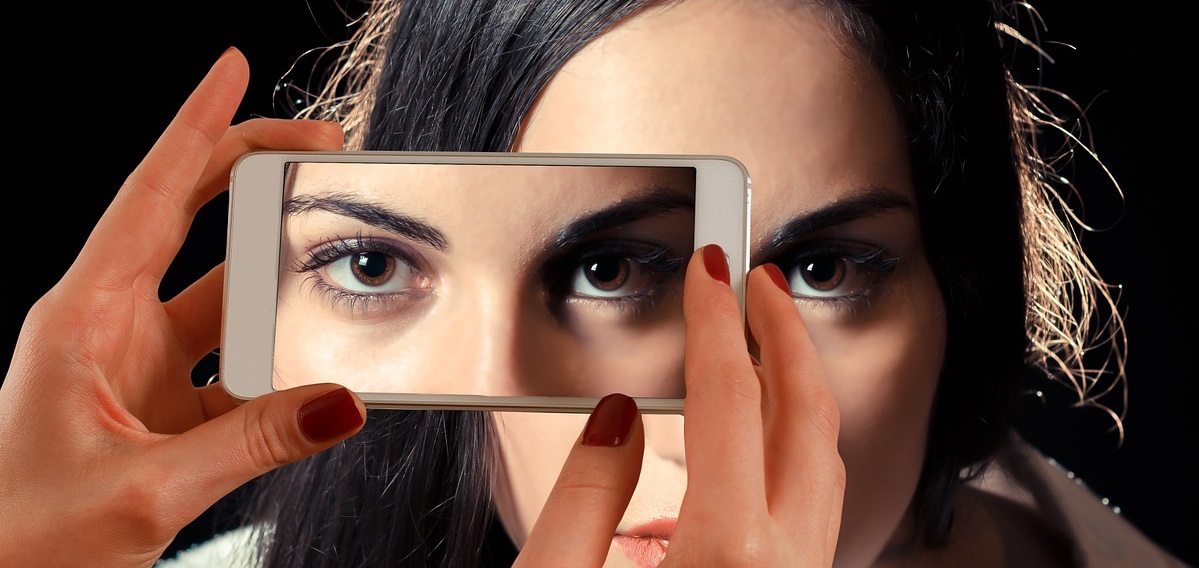 One of the most important considerations to successful email marketing is list segmentation. The more targeted your emails are, the better they will convert. Data is your most valuable asset today, if you know how to use it.
Marketing to a segmented list dramatically increases your click through rate. Segmentation criteria can be defined by your industry and campaign objectives. Common criteria includes:
Demographics
Past purchases
Past email opens
Source of lead/email opt-in
Defined interests
Site activity/cart abandonment
Social media cues/life events
Welcome to new opt-ins
Carefully Craft Your Subject Line
This may be the most important part of your email marketing campaign. With all the emails consumers receive every day, how do  they choose which to open, which to ignore, and which to mark as spam? The subject line tells them everything they need to know to make a decision.
Email opens are the first hurdle to conversion. A 2018 benchmarking study by Mailchimp noted that average open rates for all marketing emails across industries is 20.81%. Think about that. Almost 80% of marketing emails are never opened.
What makes people open emails? An intriguing subject line.
Subject lines need to be clear and concise, while still intriguing enough to grab their attention and encourage the reader to open your email. You'll need to clearly convey what the email is about and who it is from, without scaring off potential customers. Here are 10 tips for creating subject lines that grab reader attention and get opens:
Keep it short. At least half of all emails are opened on mobile devices, which means you often have as little as 38 characters to earn that open. And that means you must convey the gist of your message in the first 5 or 6 words or the reason to open your email is lost. What can you say in 38 characters? You might be surprised!
Make it personal – and powerful. Capture their attention by opening with the name of the recipient to make a personal connection. Campaign Monitor's study on power words found that using your recipient's name as the first word in your subject line increases open rates by 14.68%. The next most effective word choice used at the beginning or end was "Invitation" for a 9.45% boost at the beginning, or 7.69% at the end.
Other high-performing power words that sparked engagement included:
Introducing – 7.36% at the beginning
We – 5.87% at the beginning
A – 4.09% at the beginning
Your/You/You! – 4.07% at the beginning, 6.20% at the end
The subject line and the email itself will earn a lot more opens and click throughs if it's about them and not about you.
Use numbers. The human eye is drawn to numbers so this is an effective way of getting your email header noticed quickly. Impact statements like "50% off" or "3 Days Only!" Are great attention grabbers, and story headlines with numbers earn more clicks. Examples: "10 ways to increase productivity" or "30 cutest short hairstyles for summer."
Add immediacy. FOMO – that dreaded fear of missing out – is a great incentive. Even if they aren't in the market for what you're selling, they will be intrigued enough to open your email for a short-term sale.
Limit caps and exclamation points. All caps is annoying. Capitalizing each word is less irritating if your subject like reads like a title. If it's a chatty sentence, sentence capitalization is more friendly.
Add intrigue with a question. The best questions are open ended, and the answers inspire thought provoking feedback, rather than simple "yes" or "no" answers. "What's on your bucket list?" "What's new in education?
Add emojis. Warning: this tip has a limited lifespan. While few companies are using emojis now, it's becoming more popular. Watch your email list. When it's dominated by emoji-filled subject lines, use of emojis will be completely ineffective. For now, the pop of color from judicious use of emojis really makes your subject line stand out.
Make your subject line relevant. Consider your subject line a teaser for the value inside the email. While "Now that I have your attention, here's something completely different" click bait might work once or twice, in the long run, you're far more likely to tick off recipients and land in the spam folder. Glossing up your offer is fine, as long as you deliver what your subject line promises.
Continue the message. The first line of your email, called the preheader, will show on larger format displays. Much like the subheader on an article, it can be used to add information and give your subject line the extra impact to encourage an open.
Putting it all together: Here are some real-life examples of subject lines with punch.

And avoid going overboard with a concept. Here's a screen shot of an email subject line from Joss & Main, a furniture retailer, as displayed on an iPhone. Colorful, yes. Compelling, no.

Write Compelling Copy
At this point, all the elements of success are in place. You're sending a targeted email to an interested audience. The next step is to engage, and this is where you get creative. While the styles are a bit different for retailers, donation seekers, and service providers, there are some general guidelines that work in every situation.
Align your subject line, content, and landing page. Your email body should contain exactly what your header promised, and when users click through, they should go directly to a specialized, focused landing page or squeeze page where they can fulfill the CTA. Few things can kill a sale better than seeing an item you want to buy right this minute, and clicking through to a home page where you have to search for the item you were interested. And finding the item is sold out can be the kiss of death.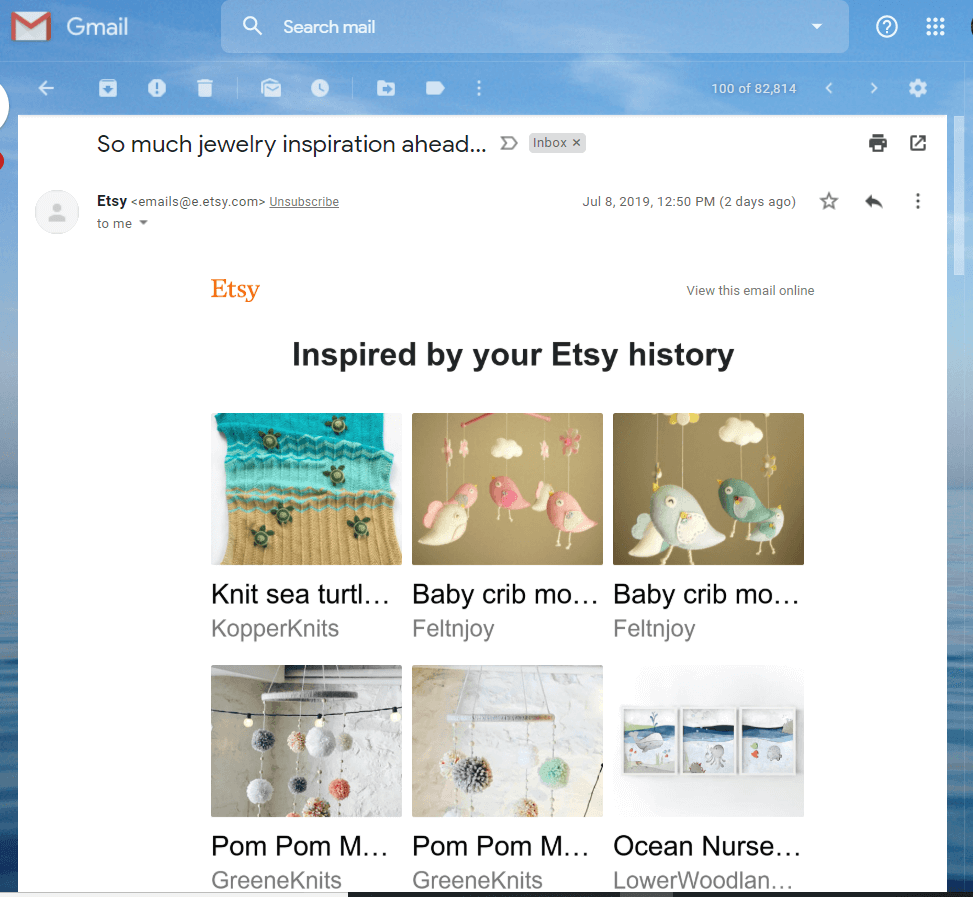 Etsy is one of my favorite web destinations, but the jewelry promised by this subject line is a little confusing. The above-the-fold email copy is personal, and still wrong.
Get emotional. If you aren't a retailer and can't entice your email list with to-die-for shoes or food porn, try an emotional appeal. Psychological advertising that appeals to positive emotions performs twice as well as rational content. Big brands use emotional marketing all the time. How many times have we seen storytelling ads built around family, friends, body image, pets, or personal growth?
Not so long ago, many razor companies advised a close shave because it would attract more ladies, or please the partner you have. In response to the winds of societal change, Gillette's new ad campaign inspires men to be better people. The controversial ads depict fathers and sons in a positive light, but one designed to spark strong emotions – positive in some, anger in others who, for unfathomable reasons, feel attacked or affronted. One ad in the campaign features shaving lessons, with a loving dad teaching a transgender son the proper technique. Yes, it sparked outrage. It was one of the most talked about ads this year, and yet it never aired on television. Shared on Facebook only, it was an immediate viral hit.
Your words can also convey emotion through story. Use strong imagery to describe the benefits your readers will enjoy if they only click your call-to-action button. However, by all means, avoid hyperbole. Only promise what you can deliver, and always deliver on your promises.
Check out this story painted by Copyhackers. If I act before tomorrow night, I can enroll in a program that will help me be the writer I want to be. I've been a professional writer for over a decade and have already achieved all of these things, and this was still powerful enough to earn my attention and conversion. Yep. I signed up. For the free trial, anyway.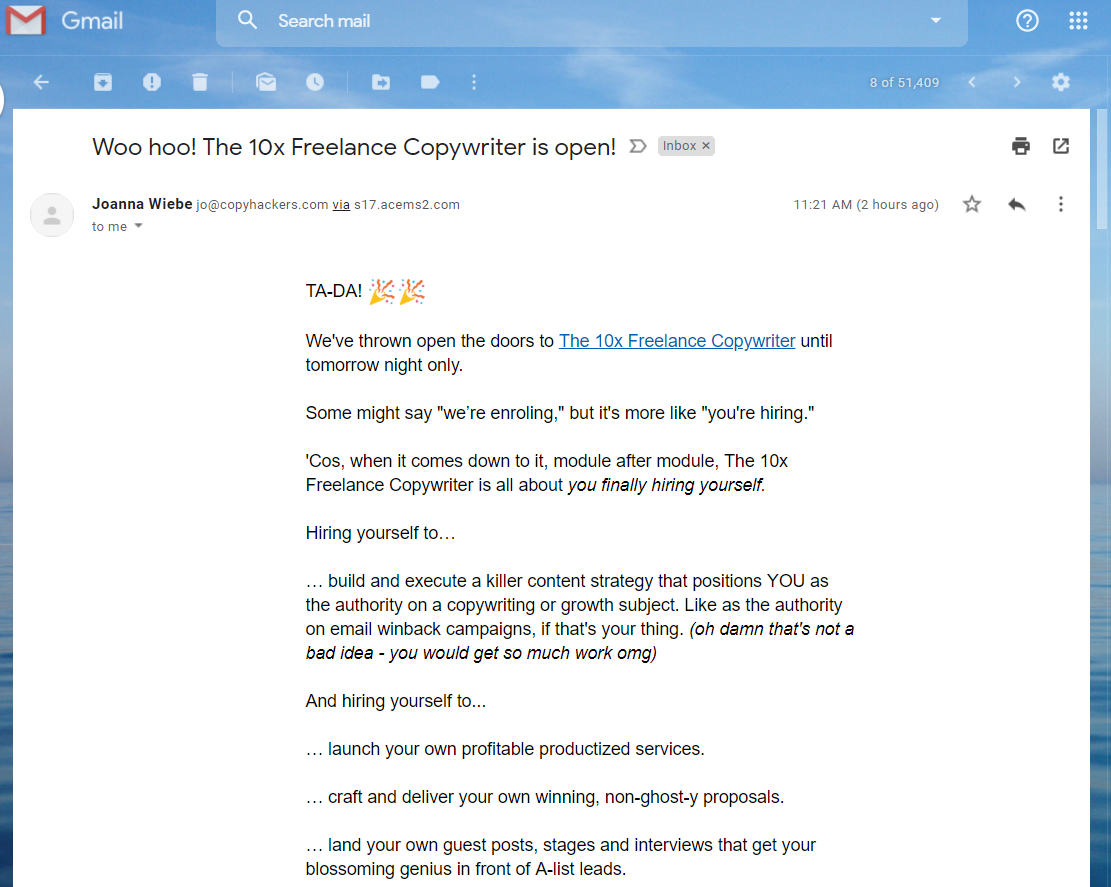 Unsurprisingly, they also nailed the landing page. It's consistent in tone and voice, and repeats the message. Note how the unmistakable call to action stands out.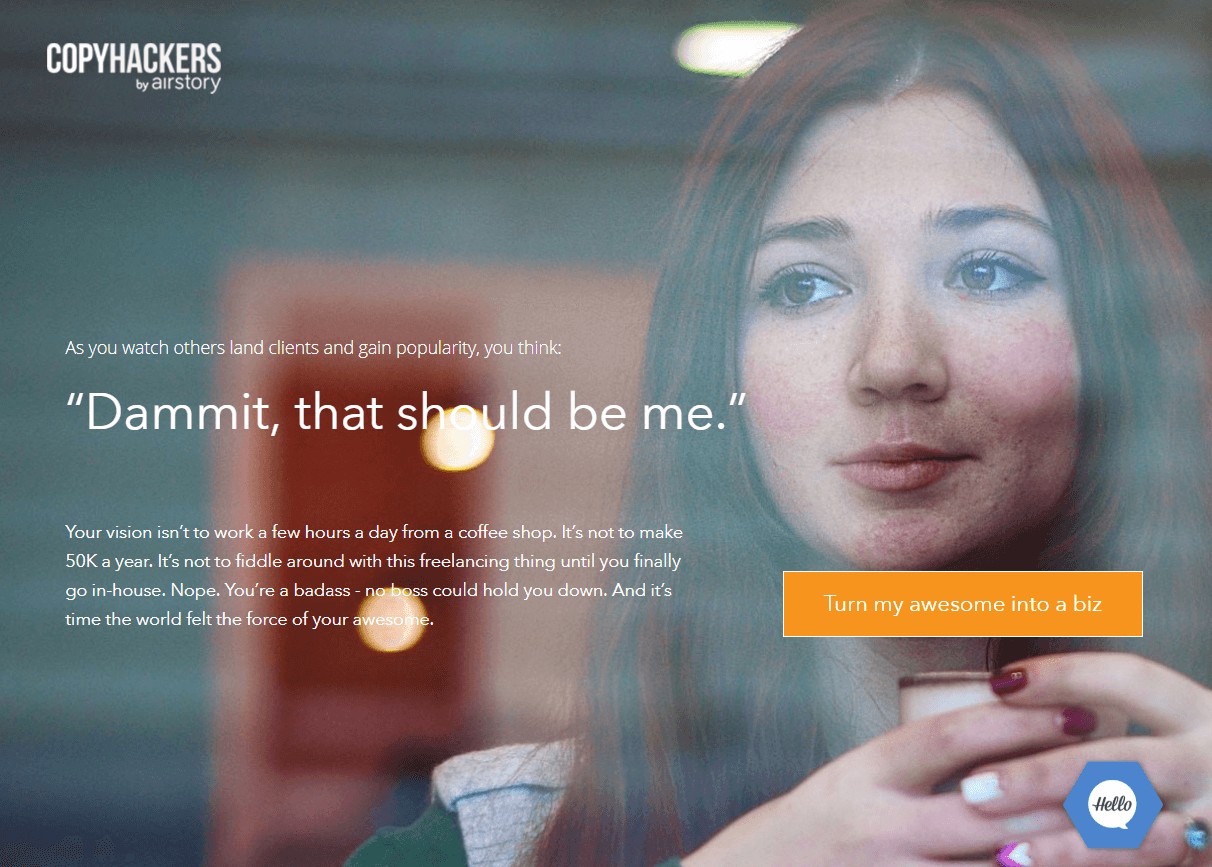 Add color. Psychological appeal does not stop with words and video. Color has a major impact. Help drive your point home with carefully chosen accents. Learn more about it from Color psychology in Marketing: The Ultimate Guide by Visme. Though the guide talks about brand identity, you can use the same concepts to choose your photos, add frames, callouts, bullets, or determine the color of your CTA button.
Make it scannable. Dense blocks of text are hard to read, especially on a mobile device. Keep your sentences short, focused, and interesting, and put plenty of white space between lines. Make sure your main idea is fully expressed above the fold so they don't have to scroll far to find the point of your email. In other words: Your email can be long, but deliver the goods in the first few sentences.
Finish with a strong call to action. Give your audience a clear call to action with a single, well-defined objective:
Limited time offer. Sign up now!
Giant holiday blowout ends 12/24 – Click here to shop the sale!
Act now to help clean up the ocean – before it's too late!
Effective email marketing campaigns have a singular focus. You want them to do one thing and one thing only. If your text is long, you can put your CTA in different places on the page, and even word it differently or make it look different. Just don't include CTAs for other events, products, or even links to your home page. Keep your email copy and CTAs tightly focused for less confusion and more conversion.
A/B Testing
Even if you think you've put together a successful marketing email, A/B testing can help you refine your copy. Tweak the wording, the colors, and the arrangement and send to small test audiences to see what works best. You might be surprised to see big responses from very small changes!
Making it Work
Successful email marketing campaigns may not be rocket science, but writing copy that converts can be tricky. Using these tips can significantly boost your conversion rate. Remember to speak directly to your audience using the language they best respond to, deliver the value you promise, and hitch a ride on the emotional roller coaster. Let us know how well it works for your next email marketing campaign!