If you ask most e-commerce marketers how to optimize your website to generate more conversions, they'll tell you to focus on your homepage or product detail pages. While that answer is technically correct, there is a potential goldmine for clicks that even the most seasoned marketers overlook: Your product listing pages.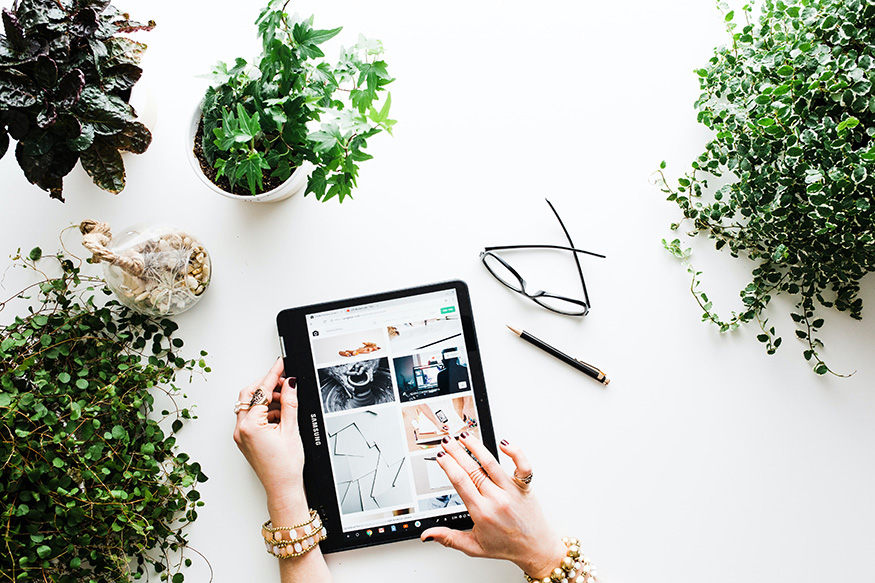 While these pages are often used as a catalog for your products and services, they can offer much more than an opportunity to optimize the customer experience. Since visitors browsing your product listing pages are already engaged with your online store and are likely ready to make a purchase, they just need one final push to convert.
In this article, we'll show you everything you need to know to optimize your product listing pages. These are the topics we'll cover:
What are product listing pages?
Product listing pages (sometimes called PLPs or category landing pages) are pages on a website that display products based on a selected category; they may also be based on applied search filters. They lead visitors to product detail pages where they can find more information on the items they're interested in or even add said items to their cart.
One of the main drivers for optimizing your product listing pages is the opportunity they present for optimizing your user experience, as they can be tailored to shoppers with different user intent. On the one hand, we have buyers who visit a website knowing exactly what they are looking for and want to view the items that are most relevant to their search or intent (e.g. a user looking for a mountain bike doesn't want to view road bikes). On the other hand, other visitors simply love browsing and use your PLPs to sift through the list of products that suits their preferences.
Of course, your product listing pages are not only about navigation and UX. They do much more. With a well-optimized PLP, you'll be able to boost your SEO, increase user engagement and improve your conversion rate!
Key elements of a product listing page
Creating an effective product listing page starts with the basics. Designing your pages in an optimal way, with all the relevant elements, will increase the odds of shoppers finding the products they are looking for and making a purchase. Here's what you should make sure to include in your product listing pages:
Title
Remember that Google will only display the first 25, 50, or 64 characters of your title, so make sure your structure is optimized accordingly. For example, if you are selling cell phones, you might want to structure your titles according to make, model, memory size, and color so that shoppers can see the most important information upfront.
Description
The product description and title have a big impact on your SEO and product discoverability. Make sure that your descriptions are thorough and contain all the relevant keywords that will help you rank higher.
Category name
Make sure that each product is placed in the most relevant category to both orient your shoppers and help them discover similar products. Breadcrumbs can display the parent category/subcategories so that users can jump back and forth between product listing pages with ease.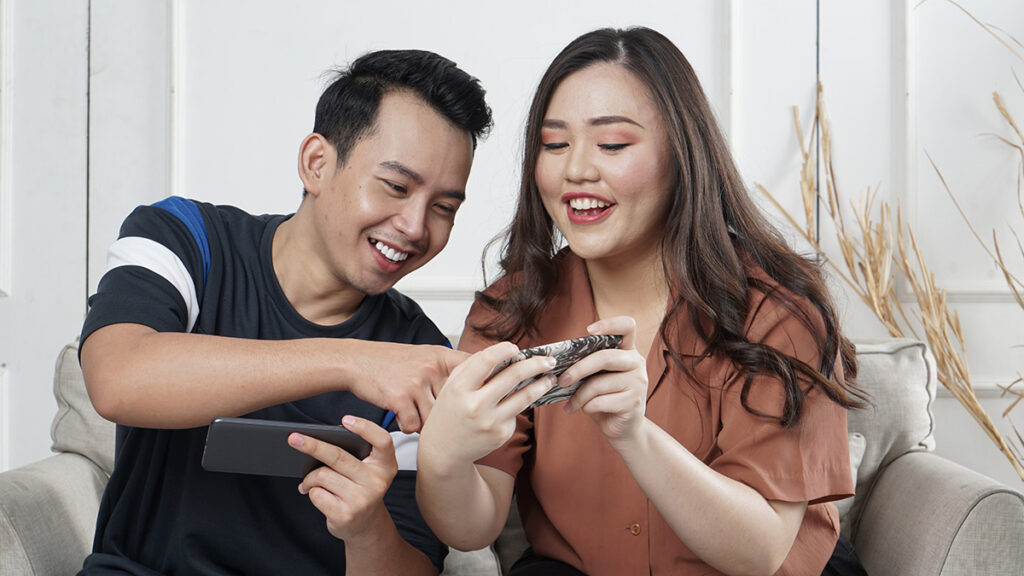 Imagery
People process visual information faster than anything else, and your product images will be the first thing a customer sees. As Hanna Andersson has proven, keeping all images simple, clear, and harmonized will work wonders for your results. Use high-quality photos and be consistent (for example, use the same color background for every image). If you use various backgrounds, colors, and sizes, your customers will be distracted.
Price
Make sure that your pricing is competitive. Do your research and benchmark your prices against your competitors and make amendments. Highlight any other elements that make your pricing more competitive, like free shipping or buy-one-get-one-free offers.
CTAs
Call to action buttons (also known as CTAs) are items that use imperative wording to nudge your users towards the action you want them to take, like "Add to cart now!" or "Save to Wishlist" if a product is unavailable. It's important to create an effective CTA by following design best practices and carefully testing different variations of your call to action's copy, location and colors.
Make sure that your button is visible against the background and all the other elements on the page. This not only draws the visitor's eye to the call to action but shows them that the button is clickable. It's important that your button looks like a button, even if you want to adopt a more minimalistic design for your website.
Next, make sure that your call to action conveys urgency. Using phrases like "Sign up now,"  "Hurry" or "Don't delay" encourages your users to not only act, but to act fast. It's also a good idea to utilize first-person copy so that the visitor feels more connected to the CTA.
Filter menu
This menu displays the filtering options available to refine searches by attributes, like pricing, color, style, availability, size, and more. This will help your customers find what they are looking for easily.
Sorting menu
The sorting menu presents different options for organizing products using a dropdown menu, including "Price: Low to High," "Newest," or "Rating: High to Low."
10 best practices for creating and optimizing product listing pages
Now that you know how to design your product listing pages, let's get into how to optimize them for the best results:
1. Use headers or banners
Headers can reinforce your branding, so use the space on the top of your page to create a great-looking banner that engages and informs without adding clutter. Pick high-quality hero images that can enhance the customer journey, and add <H1> tags for indexing.
ㅤ
2. Optimize your product listing display
Your product listing display has a significant impact on the way your customers interact with the products. The most common choices are a grid or list view:
Grid views allow customers to browse and compare products next to each other. This is a good option if your site is picture-heavy and doesn't require a lot of description outside the product titles.
List views require a little more scrolling but can display more product information than a grid. This makes it easy for shoppers to compare product attributes, like dimensions or features.
Some sites let customers toggle between a list or grid view, depending on their preferences.
ㅤ
3. Add persuasion triggers
Persuasion triggers create a sense of urgency or scarcity. You most often see this on hotel booking sites or the sales section of a fashion store (e.g.: "Only 1 item left at this price!" or "Selling out fast!"). These labels trigger visitors' fear of missing out and push them to take action, so be sure to add them to your images to nudge them into making a purchase.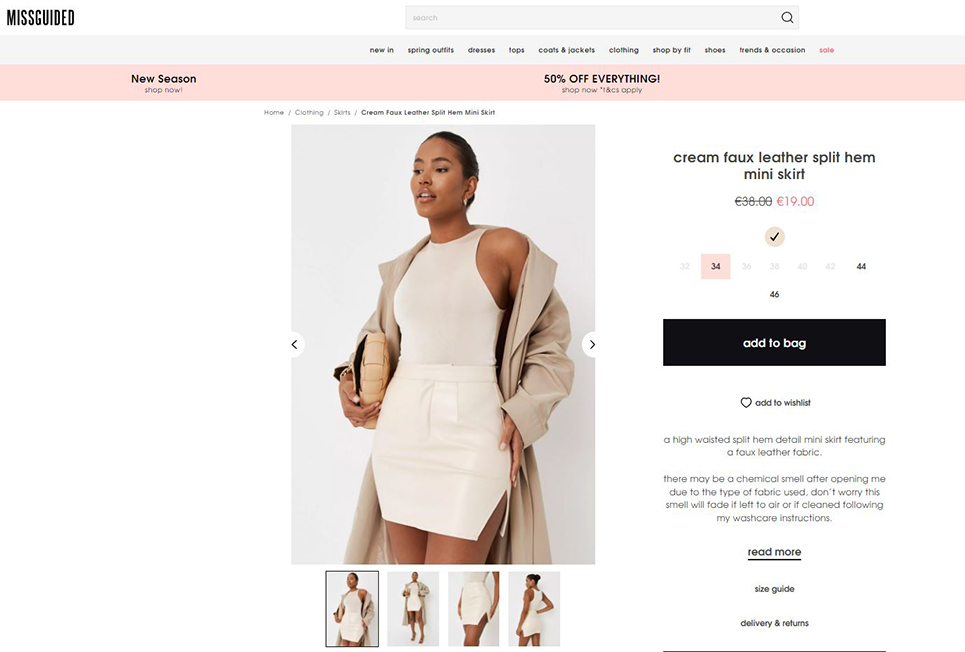 ㅤ
4. Personalize the shopping experience
Personalization can dramatically increase conversions, boost engagement and help shoppers discover relevant products by sorting them according to their individual preferences. Personalization has also been known to reduce bounce rates by 20-30% and increase customer loyalty.
One thing you can do to personalize the experience for your visitors is to display complementary products that they might be interested in. For example, customers shopping for a new bedspread might also be interested in buying pillowcases or sheets, so steer them in that direction.
ㅤ
5. Use recommendations
If someone is already browsing your product listing page, the chances are that they already have the intent of making a purchase. This is the best time to make suggestions and cross-sell or upsell your products:
Some customers suffer from decision fatigue when they are presented with too many options. Gently recommend popular products, others within the same category and with the same tags, or similar (but slightly pricier) alternatives.
Show customers recommended products that might be relevant to the one they are viewing. For example, clients that are interested in a technical product would appreciate a "People who purchased this product also purchased" section that shows the accessories that go along with it.
Present seasonal bestsellers to add specificity and relevance, which could lead to more clicks and conversions. We tend to think that other people's actions are the correct ones, so if a product is tagged as "trending," it gains additional legitimacy that could push a customer to make a decision.
ㅤ
6. Optimize navigation
Your navigation has to be tailored to help prospective customers find what they are looking for as easily as possible with as little friction as possible. There are a few tips and tricks you can try, including:
Put your best-selling items front and center: We've already touched on the fact that customers like knowing what items others are buying. The most popular options are often seen as the safest ones to buy. Throw in some social proof messages like user ratings to really drive the point home.
Site speed is a crucial factor for UX: Make sure that your site loads quickly on both desktop and mobile devices to ensure that customers have an enjoyable experience.
Ensure that your navigation bar is fixed to the top of the page and organizes your products in a logical fashion.
ㅤ
7. Include the right information
Only display information on your product listing pages that will help customers choose items that they'd like to buy. This can include star ratings and reviews, discounts, color and size options, stock availability, bestsellers, and thorough but short descriptions.
ㅤ
8. Optimize your SEO
If well-optimized and run, your product listing pages can have conversion rates of up to 11.45% because they are keyword-rich and heavily linked to. Make sure that you follow the basic principles of SEO when building your product listing pages, including:
Optimizing your title tags
Using unique and original product and meta descriptions
Linking to internal pages
Using image alt attributes and rich snippets
ㅤ
9. Use quick add-to-cart buttons
Not all products require lengthy deliberation and consideration before making a purchase, especially for returning customers or others purchasing fast-moving goods like groceries. Create quick add-to-cart buttons that make it easier to speed through the checkout process. You should also implement add-to-wishlist buttons for more complex or expensive items to maximize conversions.
ㅤ
10. Use clear and concise CTAs
Call to action buttons can have a massive impact on your conversions. When Dutch watch brand Cluse noticed that their product listing pages had high bounce rates (and that clicks to the product display pages were low), they turned to AB Tasty to find a solution. Cluse set up a simple test to see whether changing their CTA's location and color would improve the results. The team's hypothesis was correct, and the site saw a 2.39% increase in the click-through rate to the product display page and a 1.12% uplift in transactions during the three-week test.
Examples of effective product listing pages
ASOS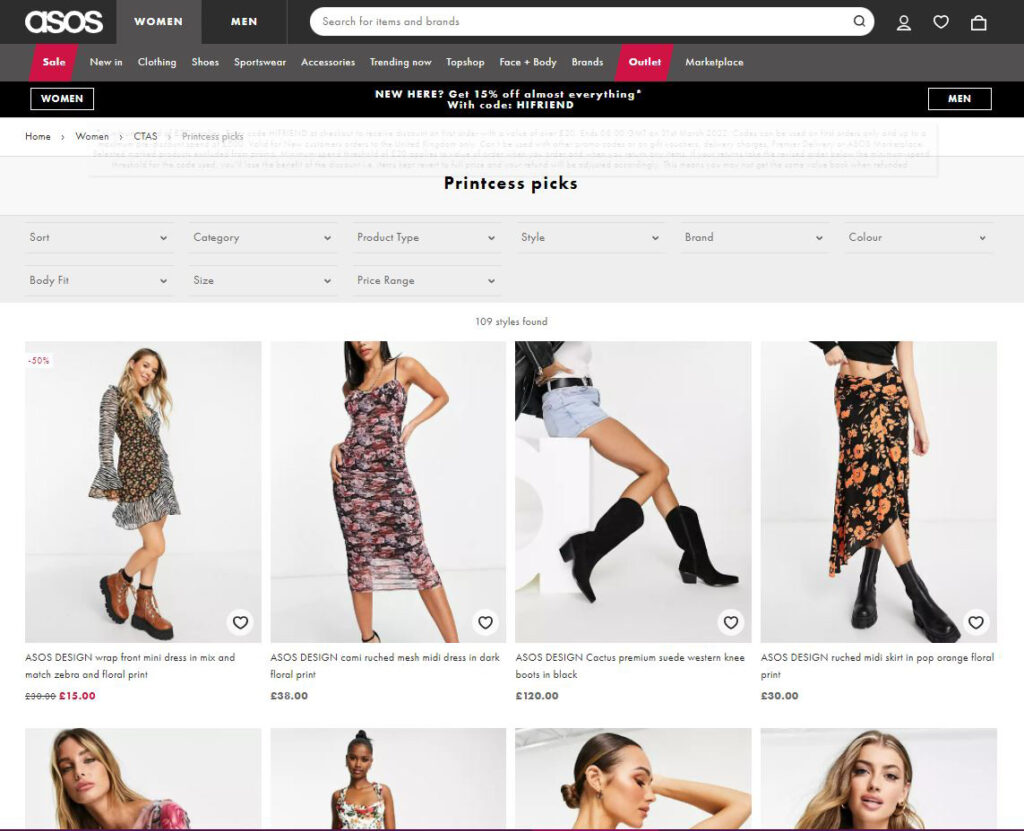 The clothing retailer's product listing pages are categorized by trends and style. They use extremely simple copy and appealing photographs to convince shoppers to make a purchase. Users can add items to their wishlist or cart directly from the product listing page and check out using the simple navigation banner.
Everlane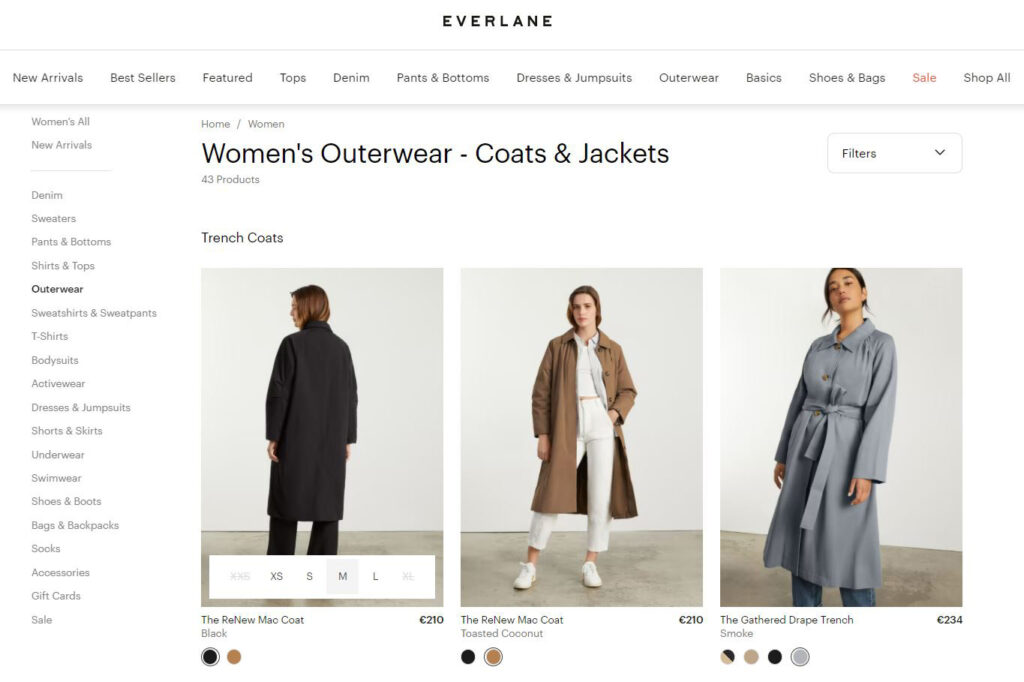 Everlane uses a number of features from the best practice guidebook, including adding product size options as an overlay in the image, easy navigation using the grid view and sidebar, and quick add-to-cart buttons.
Walmart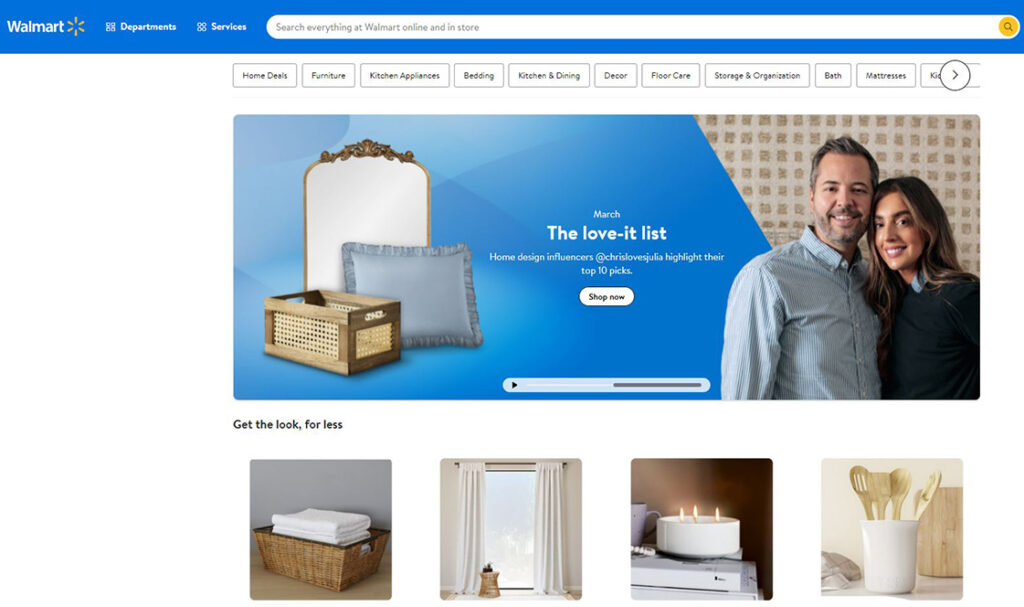 Walmart puts bestsellers on top of their product listing pages, along with engaging headers that feature collections by influencers like Sofia Vergara and Kim Kardashian. They also use quick add-to-cart buttons to make it easier to shop. The copy is clear and concise, and users are able to comfortably scroll through galleries of attractive images. Returning users are greeted with a warm, personalized message.
Conclusion
Product listing pages can be conversion machines. When they're properly optimized, they're key for delivering an exceptional customer experience, help you rise to the top of search engine results, and increase basket size.
Whether you're a seasoned seller or are venturing into the world of e-commerce for the first time, it may seem overwhelming to hit all the right notes – and find the best ideas to take your product listing pages to the next level!
If you're looking for some guidance on how to drive customer loyalty, user engagement, and conversions, draw inspiration from the first-ever digital experimentation model that maps out how to combine optimization and innovation to achieve digital experience mastery.