What is a landing page?
A landing page is a web page on which visitors "arrive" or "land" for a specific purpose, which may be to collect their information or to convert to a specific action such as a purchase, subscribing to a service or product or filling out a contact form.
The purpose of a landing page is to convert visitors or to collect information in exchange for something in order to then be able to use this data for marketing or sales purposes.
Imagine running a business that sells home decor items online. You have an e-commerce site that offers a selection of candles suitable for all occasions.
For Christmas, you decide to put holiday-themed candles on sale because you know from experience that your customers are fond of these products.
So you create a Facebook Ad to promote your scented Christmas candles.
Problem: if your ad redirects your visitors directly to your homepage, how will they get to the candles you are promoting? How many visitors will leave your site even before seeing the candles in question?
That's the beauty of a landing page: you create a page specifically designed to present your Christmas candles to visitors to maximize conversion into buyers.
Landing page categories
When you embark on designing your perfect landing page, you can intuitively choose between two types of landing page depending on your objectives and your business model. Both types are important and widely used by online businesses.
1. The "Click-Through" Landing Page
"Click-through" landing pages are pages designed specifically to serve as "intermediaries" before a decisive step such as adding a product to your shopping cart, subscribing to a something, or selling a service.
Very useful, they are used to "warm up" visitors to the page to qualify them as much as possible before converting them into a customer.
They can be used in e-commerce to qualify visitors before suggesting adding a product to their cart to reduce the abandon rate.
In the service or SaaS sectors, too often companies tend to "land" their visitors directly on the membership form page: this is an error that repels many potential buyers. By creating an intermediate landing page that provides additional information and good selling points, you are exponentially increasing your chances of converting your visitor into a customer.
The "Lead Generation" Landing Page
A lead generation landing page serves to gather information from potential customers, called "leads" or "prospects".
Naturally, it contains a form (e-mail, name, telephone number are the typical fields) preceded by a sales pitch or a striking value proposition.
Another essential aspect of this landing page, the consideration is a service or a product that you offer to your visitors in exchange for their information.
On the Buffer website, you can access free content in the form of e-books in exchange for your email address. The idea of this landing page is to collect email addresses of "leads" and then try to convert them into customers.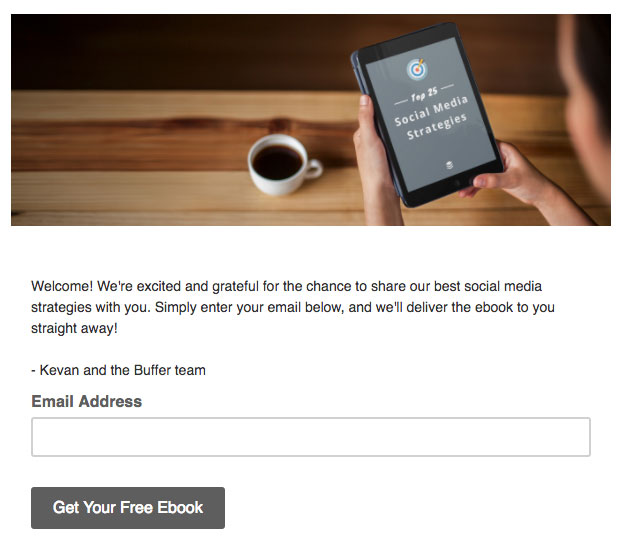 What are the characteristics of a perfect landing page?
When we talk about landing pages, we need to understand that not all web pages are landing pages.
A perfect landing page has several well-defined specific characteristics that set it apart from a simple web page or a blog post, for example.
A value proposition
The value proposition is what your landing page offers in terms of value in exchange for information, resources, or a purchase. It is simply a matter of clearly explaining your offer's benefits and added value. You can also offer something in exchange (white paper, free trial, etc.) to help visitors convert.
On Pandadoc's site, the value proposition is clearly explained, and the site offers the choice between a demonstration or a free trial.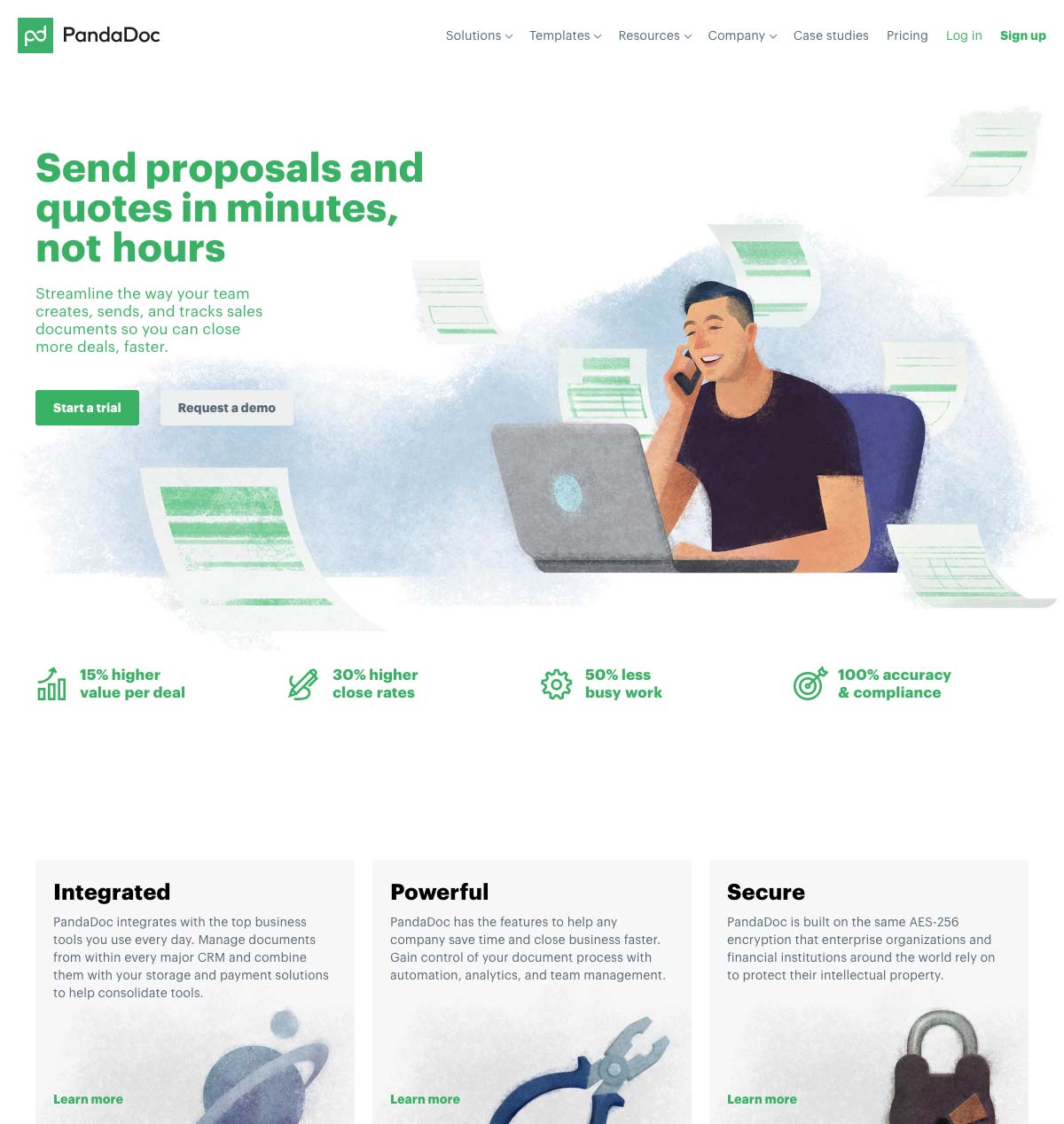 Straight to the point
Remember, time is money. Your visitors won't make any effort, so, when a potential customer arrives on your landing page, you only have 3 seconds to attract their attention. So think clear streamlined and easy to read!
Here are the questions your perfect landing page should answer for visitors almost immediately:
Why did I come here?
How do I get whatever it is that I came here for?
Why should I feel good about answering this call to action?
If your landing page contains too much surplus wording, distracting images, loads slowly or is formatted in a way that is difficult to read, people will leave. Here are a few things you should avoid.
Large blocks of text with little white spaces
Using more than one or two relevant images
Trying to sell an additional unrelated offer
Limited navigation
You have attracted visitors to the page where you want them to take action; do not let them escape! Limit the number of possible "exits" from the page and center navigation around completing the task you want them to perform: filling in a form, describing a service, subscribing to a product or service, etc.
On Envato, which offers PowerPoint templates via a monthly subscription, the landing page is built like a lead wire that "blocks" the visitor in the landing page.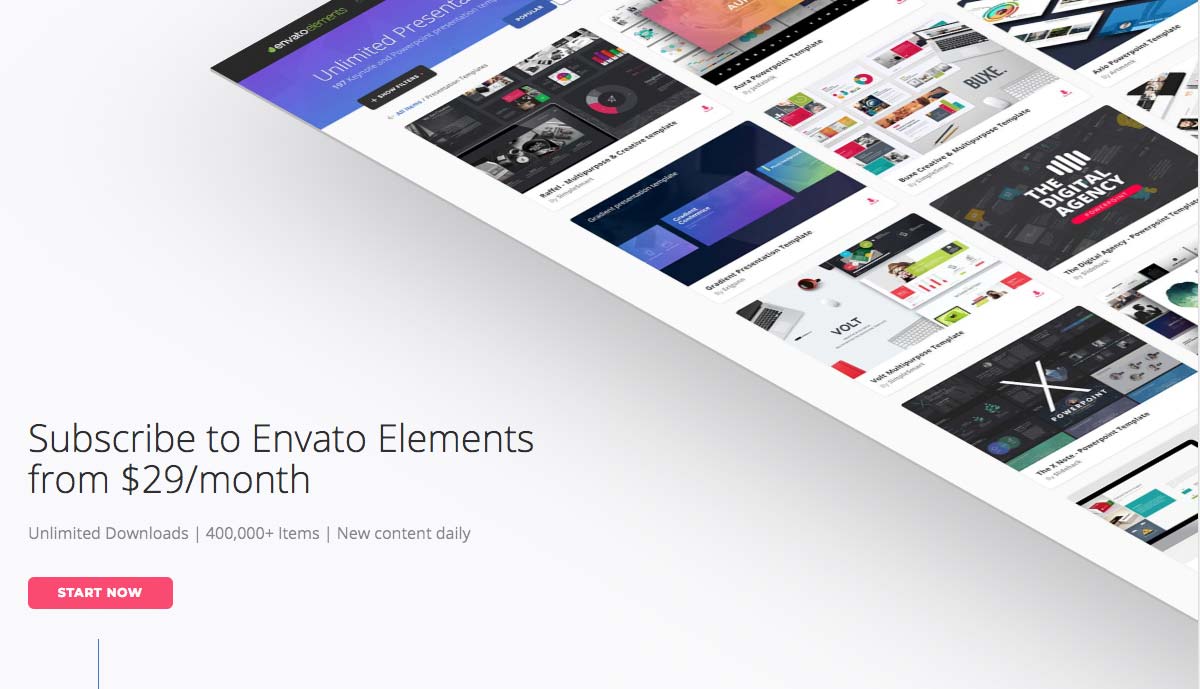 A relevant call to action
It may seem like a minor thing, but there have been multiple businesses who have lost conversions simply due to the fact that their call to action button wasn't optimized. In some cases, location is the issue.
By highlighting a visible and well thought-out button or form, you naturally increase your chances of getting your visitors to perform the action you want. There are several parameters to take into account in creating an effective call to action that converts. If you want to know more, check out our article dedicated to call-to-action writing that makes you want to click.
When you look at the formatting of your landing page and read the content on your landing page, consider the points at which you might be ready to take action. Some logical places might be:
At the very beginning: This will make the Call to action button the first thing that visitors see
At the very end: This is very common in web design. As a result this may be where many people will recognize your call to action
Right before or right after a compelling point in your content
Above or below a video or image
To the left or right of your content
A floating call to action button that is visible regardless of scrolling
In addition to placement, wording, colors, and font are very important. Because there are so many varying factors, it is difficult to come up with a recommendation that works perfectly across the board. This is why many content marketers use A/B testing to create the CTA button that works best for them. You'll probably need to experiment to find your sweet spot.
Sharing options
If it fits your value proposition, highlight ready-made sharing options. For example, you have created a guide for real estate professionals; make it easy to share!
Social proof
Nothing works as well as proof by example and recommendations. This is especially true for landing pages. If the specific product or service that you are offering has received positive comments on social media or consumer, review websites, consider adding a few of those to your landing page.
By having your customers talk about their satisfaction, you provoke an unconscious reaction in the visitor: mimicry. Your social proof can appear in a variety of forms as long as it remains relevant: customer testimonials, customer case studies, user number graphs, etc.
As far as placement goes, many web designers opt to include those either in vertical format to the left of the main portion of the landing page, or horizontally as part of the header or footer. In order to maximize trust, consider making these comments clickable so that readers can see them at their original location. Honesty is the best way to build trust.
On the homepage of the banking start-up Revolut, a paragraph is dedicated to the "service" rendered to users to make it clear that if more than one million people have already benefited from it, you can too.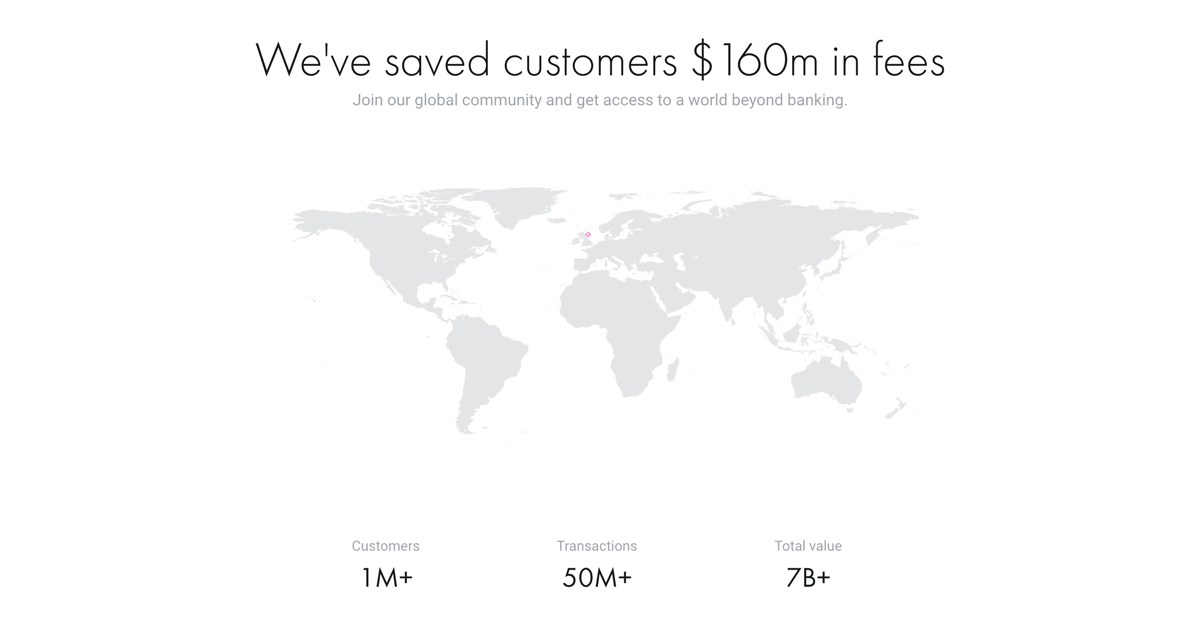 Forms
If you create a landing page in order to gather information in order to turn your cold visitors into "leads", then it is essential to add a form ("lead form") to your landing page.
A good form must:
Attract visitors' attention (attractiveness)
Stand out from the rest of the page (visibility)
Not be too complicated or personal (simplicity)
Have a limited number of fields to fill in (quickness)
Leadformly has a landing page that converts more than 30% of visitors into prospects through its forms. And for a good reason: they are specialized in forms themselves!
Thanks to a simple, visual form, the process of transforming a visitor into a lead is done naturally in 3 steps: efficient and fast.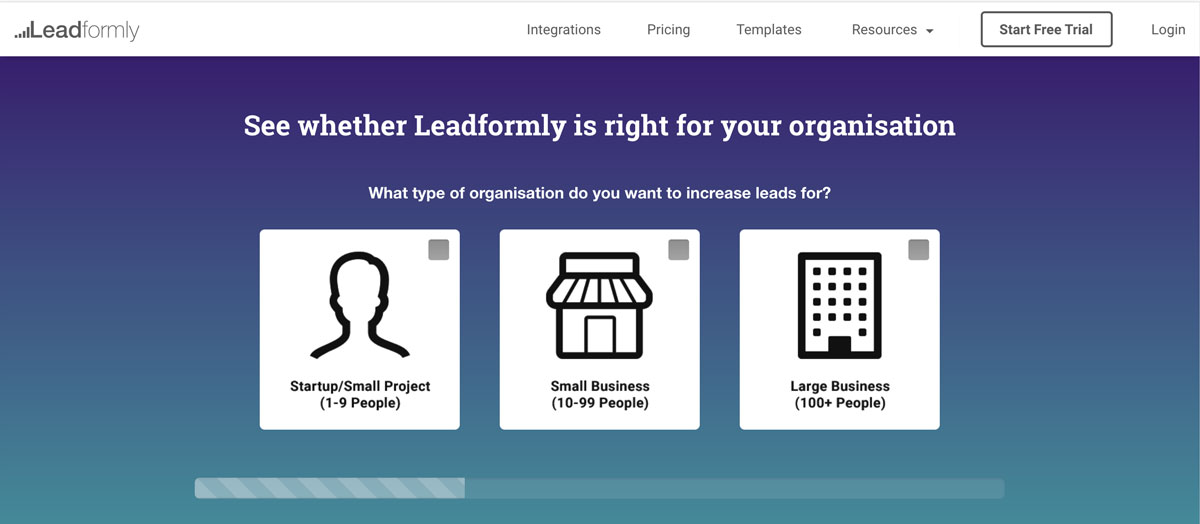 Continuous optimization
Because nothing replaces experience, A/B test your landing page. By doing regular tests, you will identify friction points and greatly improve your conversion rate. A/B tests allow you to compare two versions of the same landing page simultaneously and identify which elements are working and which ones are holding you back.
Conclusion
Your efforts and advertising dollars are wasted if your landing pages fail to convert. This is why it is so important to adhere to these tips to ensure that customers are more likely to convert. Here are some great points to take away.
Improve and maintain trust
Be absolutely clear and consistent
Deliver on what you promised
Make it easy to convert
If you do all of these things, chances are excellent that you will begin seeing a boost in the performance of your landing pages.
If you are looking for an easy way to build your landing pages, have a look at our selection of landing page creators. Finally, if you are looking for inspiration to build your first landing page, you can take inspiration from these landing page designs or browse our selection of WordPress landing page templates.