In 2019, the "traffic at any cost" era is over. The digital marketing challenge is now very much to acquire qualified leads and visitors to maximize the conversion of visitors into sales (or prospects).
To do that, for several years digital marketers have been using the "landing page" concept.
Definition: a landing page is a website page specially designed to target a particular type of visitor according to specific demographic, interests and buying behavior criteria. It aims to attract leads as effectively as possible (in B2B and B2C modes) and to maximize the conversion of visitors into buyers.
As the name suggests, it's a page where your prospects and visitors land: its role after that is to convert them into customers using a series of best practices which we covered in two special articles:
While there has been plenty of discussion of what a landing page should contain or how to design such a page, it's rarer to find resources on how to build one as effectively as possible at low cost.
Don't worry, there are lots of landing page builders that walk you through creating your landing page from A to Z.
What is a landing page creator?
Landing page creators generally take the form of a SaaS (Software as a Service) tool enabling you to build and customize all the components of your landing page online.
Rather than asking a developer to design and set up a webpage, the idea is that you create your landing pages yourself using a tool you can use to design and publish web pages even if you have no in-depth programming knowledge.
Landing page creator thus saves you lots of time and crucially offer lots of templates on which you can base your future page.
Here's how a landing page builder essentially works:
Select a template
Customize it
Add features
Publish it
The aim of this kind of tool is therefore to create landing pages which you can add to your digital marketing campaigns in order to tailor them to your target audiences.
Here is a practical example:
Imagine you represent a business which markets mobile apps to other businesses.
You know your customers usually break down into three sectors:
Finance
Tourism
You currently only have a single website (and a single home page) to which you direct all your visitors and prospects.
Problem: you don't know how to speak to these three targets at the same time because they each have different issues and needs.
Solution: you use a landing page generator to create three different, customized pages to target your three audiences: tourism, finance, and property businesses.
Result: your conversion rates improve because you direct qualified visitors and prospects to the landing page built specifically to answer their questions. You get more leads and improve their conversion.
You're now surely thinking that a landing page creator could save you time and money and enable you to better qualify your leads in advance.
But there's still a problem: which builder should you choose?
It's true there are so many online landing page builders and it's hard to choose between them before trying them out for yourself.
To save you time and direct you to the tool that suits you best, AB Tasty has selected 7 landing page creators which we think are the best performers on the market in 2018.
To create our analysis, we considered a set of 4 criteria in relation to each tool.
Getting to grips with the builder
This is all about making the page publisher easy to use. Some solutions require more knowledge and practice than others, and we think it's a good idea to let you know.
Pricing and subscriptions
Not all tools are of equal value or sell for the same price: we present the prices of these solutions, which often ask you to commit to a monthly or annual subscription.
Range of features
When you build your landing page, you want to have the option to customize it as you see fit. We consider the customization options and the features these services offer.
Choice of templates
We're not all graphic designers: lots of entrepreneurs need inspiration in order to create their pages, and there's no shame in that! We present you with the choice of templates each builder offers and how much they cost.
Note: our selection of landing page builders is not a ranking. In our opinion, the 5 softwares presented each have strengths and weaknesses and might be aimed at different user profiles.
The 7 best landing page builders in 2018
1. Unbounce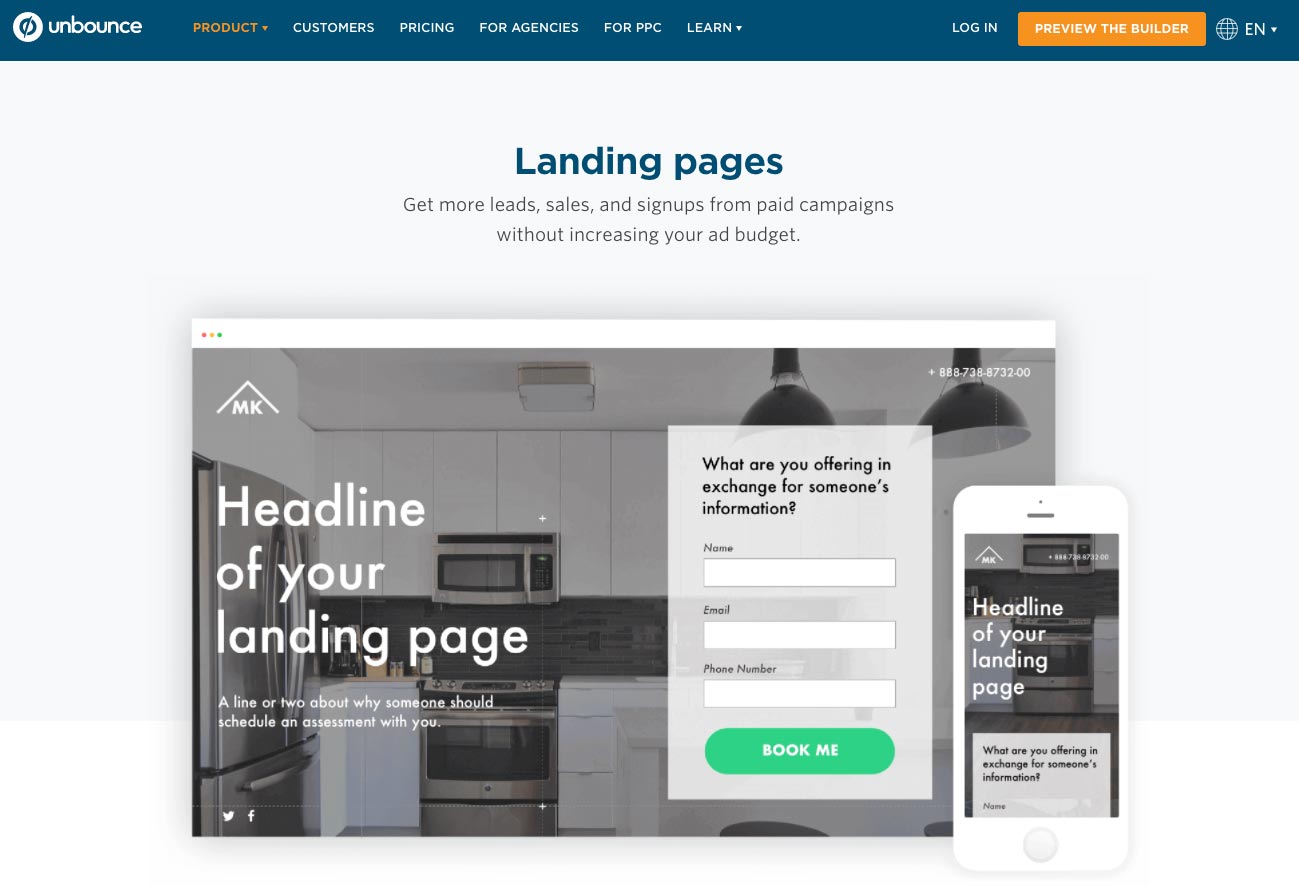 This is definitely one of the most comprehensive landing page builders. Unbounce is a leader in the sector. Its ultra-comprehensive service is aimed at experienced programmers looking to save time and at entrepreneurs who want to build one or more 100% customized landing pages quickly.
Getting to grips with the builder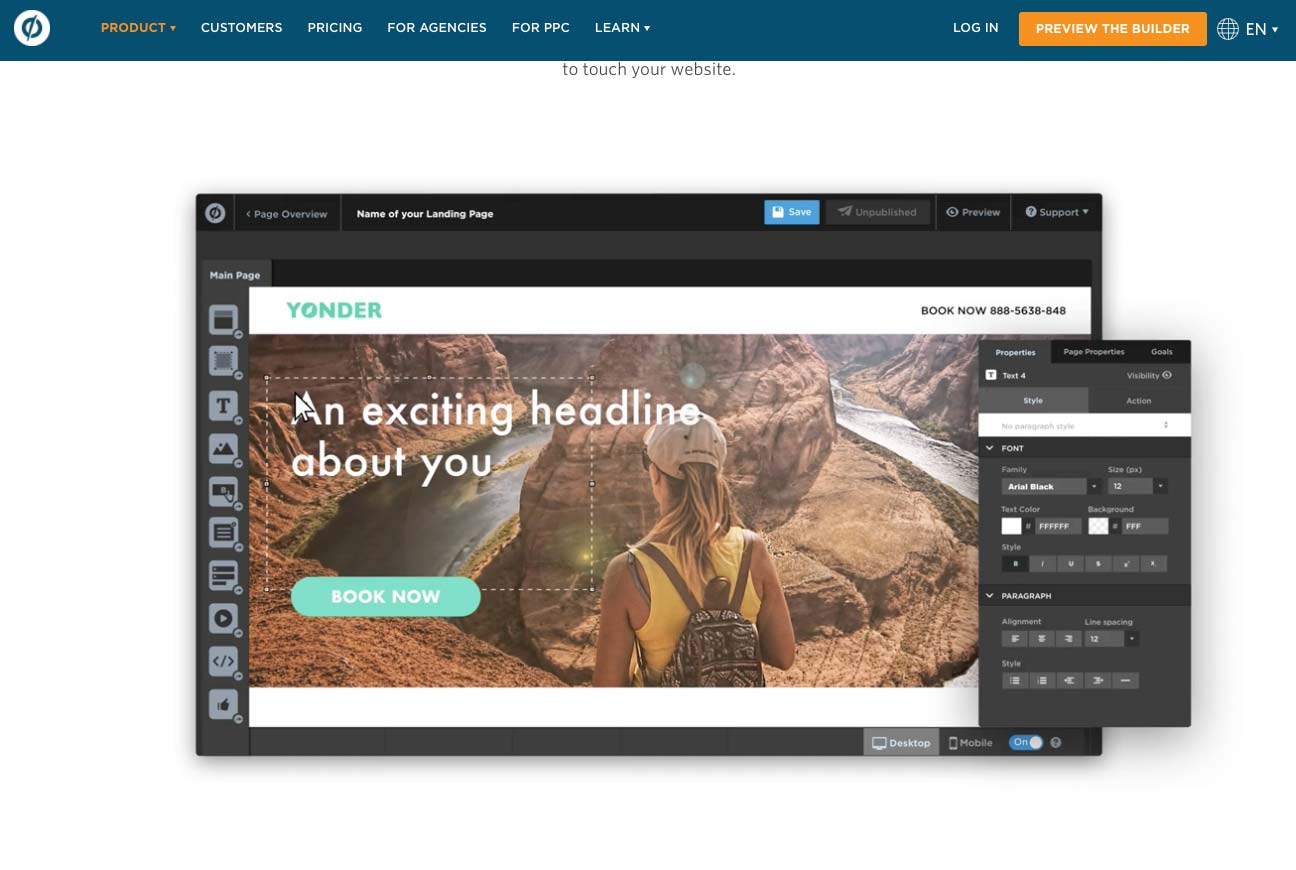 The Unbounce publisher uses a drag-and-drop interface. It's one of the most comprehensive publishers you'll find on the market and includes numerous advanced features for adding contact options and customizing your page. You also get the option to add your own HTML-CSS if you need it.
Range of features
Unbounce is, without a doubt, one of the most comprehensive tools on the market. The landing page creator focuses on optimizing conversion with the addition of pop-ups, sticky bars and lots of options for creating visually attractive forms.
Unbounce fits seamlessly with WordPress so you can publish your pages in a matter of minutes. We also like the completely responsive design and parallax options, the chance to add background video, and the many widgets you can choose from.
Unbounce incorporates a simple A/B Testing feature into its landing page tool, so you can cover the basic principles of A/B Testing in your marketing campaigns.
We also like the way it integrates with Google Adwords and the CRMs: Salesforce, Zapier, Marketo, Hubspot, etc.
Choice of templates
Unbounce offers a gallery of 125 responsive templates suited to a whole range of business sectors.
Unbounce also provides access to the Themeforest gallery containing 200 additional Unbounce templates, most available for around €20.
Pricing and subscriptions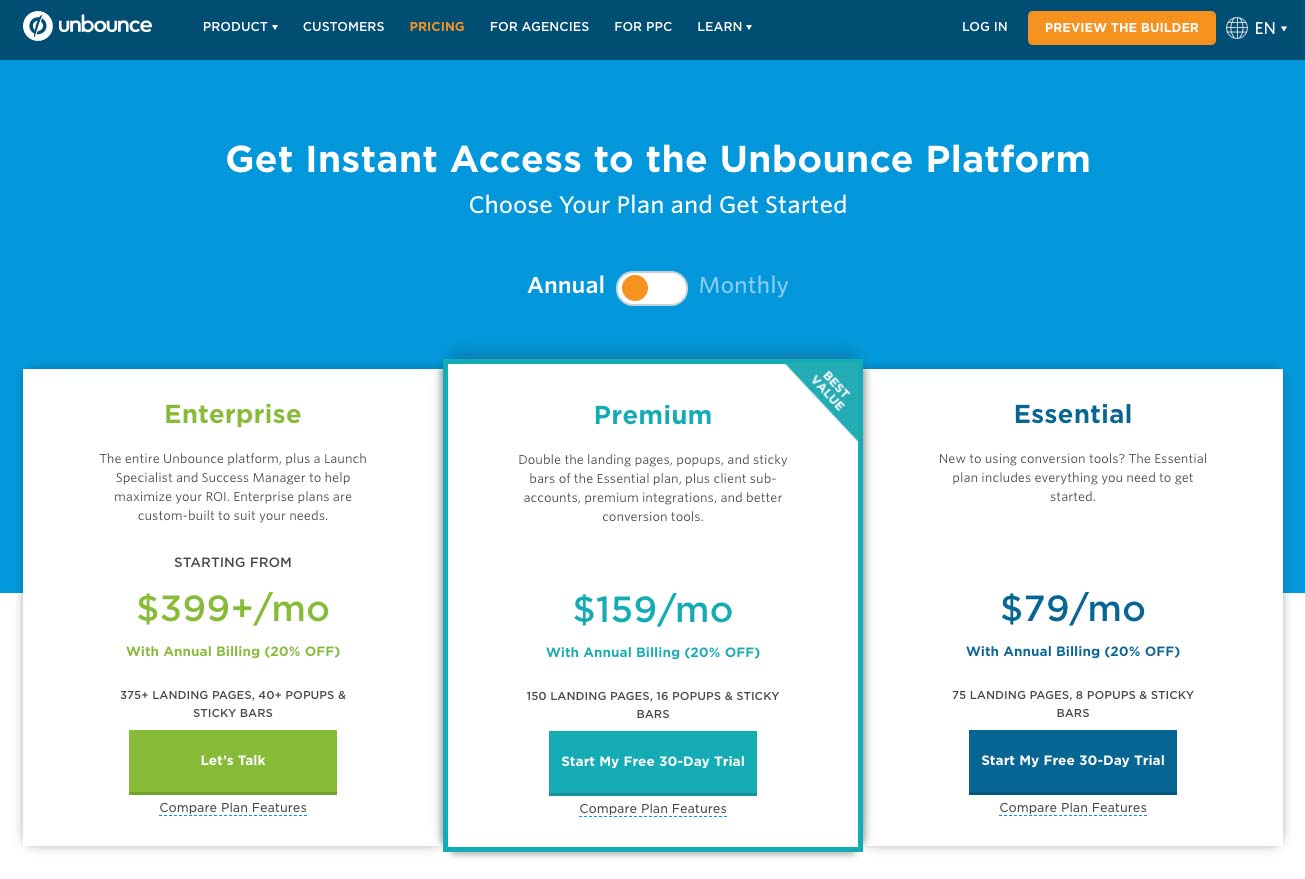 Unbounce has 3 different monthly subscription packages (with a discount for purchases billed one year in arrears) so that you can adapt your needs to your budget from $79/month.
Across the 3 subscriptions, it is basically the number of landing pages and pop-ups that you can create which varies. For agencies, the opportunity to create client sub-accounts is only available with the Premium and Enterprise packages.
Although Unbounce is one of the most expensive solutions on the market, it still offers very good value for money.
2. LeadPages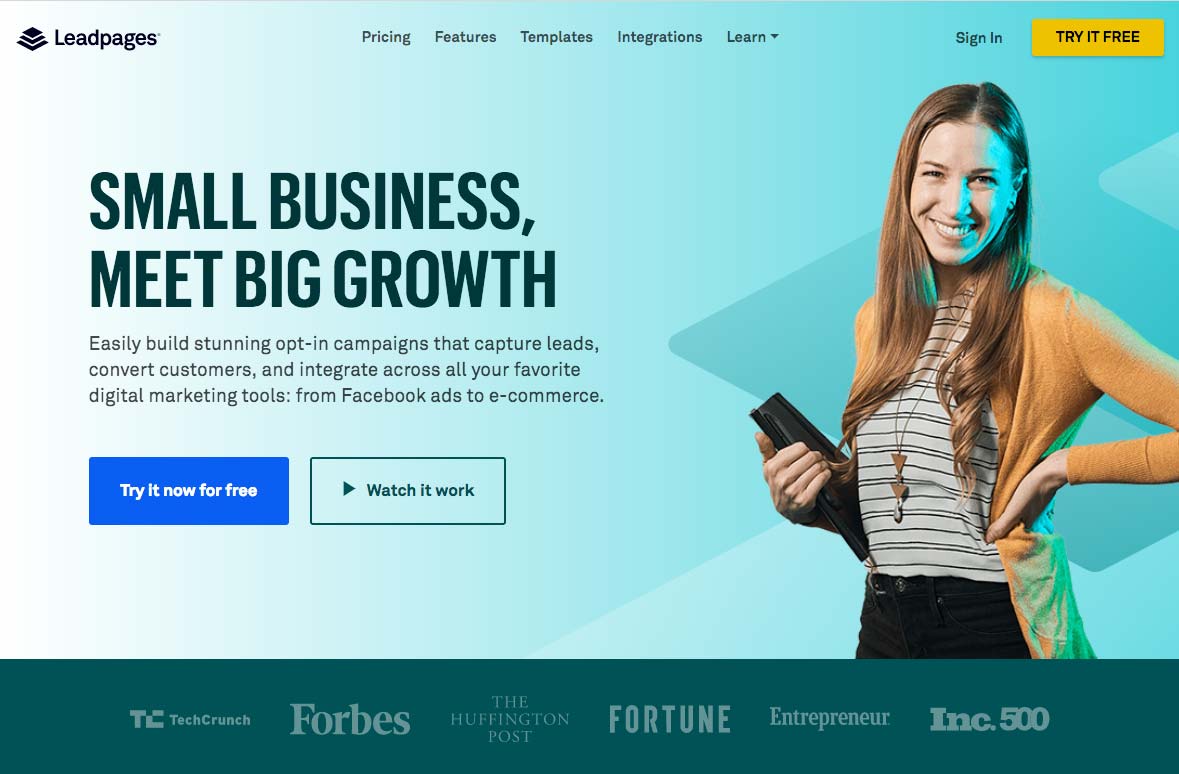 LeadPages is a solution in great demand among creators of landing pages for good reason: it's one of the most affordable landing page tools on the market yet still offers plenty of features and a wide range of templates entrepreneurs can base their pages on.
Getting to grips with the publishing tool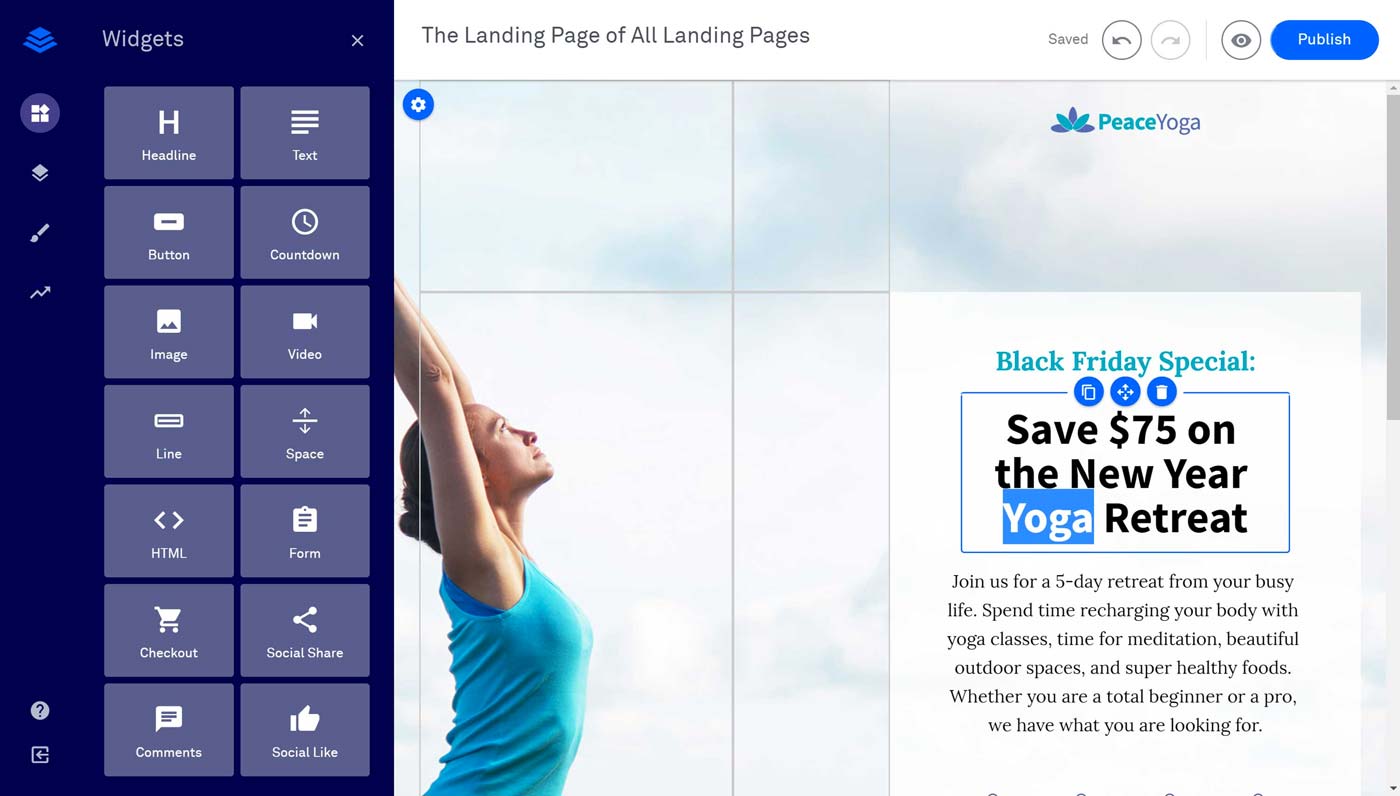 The LeadPages builder is clear and intuitive: it's an easy tool to get to grips with and delivers compelling results quickly.
It works using a drag-and-drop interface requiring no in-depth programming knowledge and allows you to add lots of items: titles, images, videos, forms, buttons, etc.
Range of features
With LeadPages, there are plenty of features at each subscription level.
We like the easy integration of payment and booking modules used by lots of companies and the option to add customized pop-ups and forms.
Although not all the subscription packages give you this option, LeadPages also works with the main CRMs – HubSpot, Salesforce, and Marketo.
As with Unbounce, there is a WordPress plugin allowing you to integrate LeadPages quickly with the CMS. We also like the fact there is a Facebook advertising campaign creator.
LeadPages includes a basic A/B Testing solution available from the Pro package upwards.
Choice of templates
LeadPages offers some 160 templates available free of charge with the chance to buy other templates with more advanced features.
Pricing and subscriptions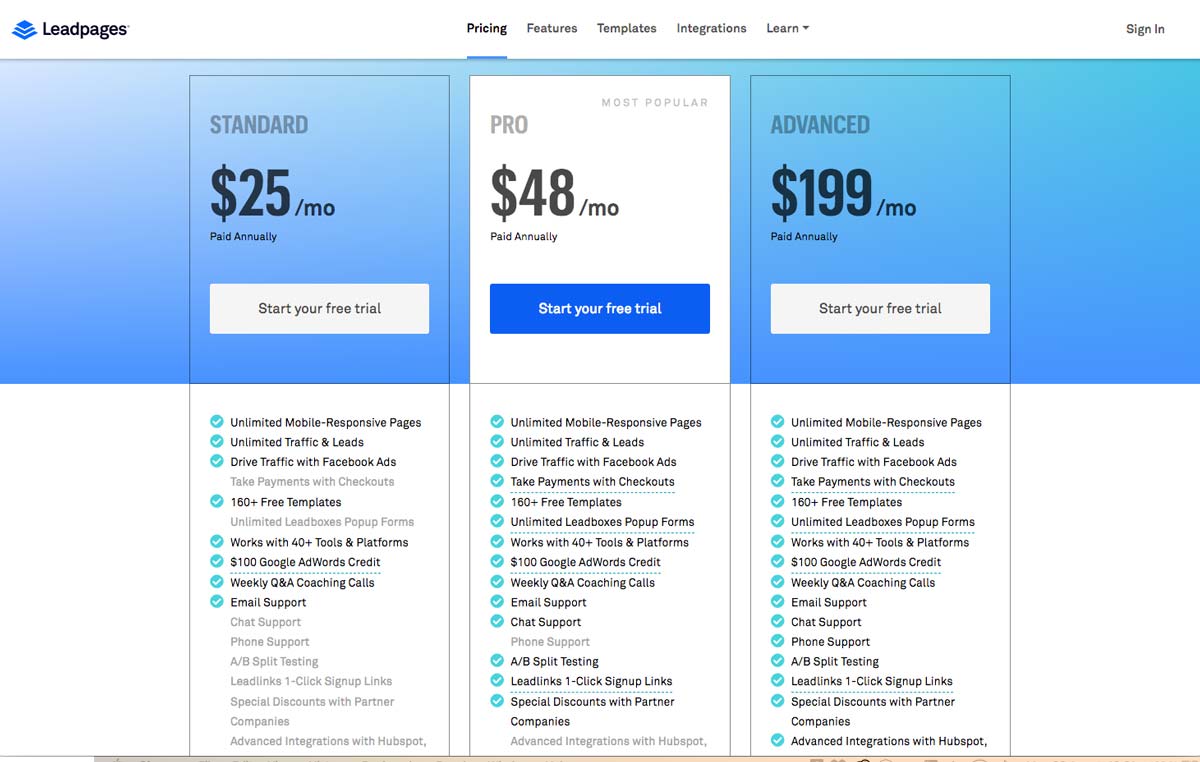 Available from $25/month with an annual payment, LeadPages is certainly one of the most affordable landing page creators.
However, many features aren't included in the Standard version, so you'll have to trade up to the Pro or Advanced packages to integrate LeadPages into CRMs or to take payments.
3. GetResponse
GetResponse is a comprehensive marketing solution which as well as an email marketing module, also offers a landing page creator.
Although GetResponse is available from as little as $15/month, there are several packages priced over $1,000/month.
Getting to grips with the publishing tool
The GetResponse builder takes the form of an intuitive and effective drag-and-drop interface. However, it's a shame that numerous features are only available in the Pro and Max subscriptions.
We like how easy it is to add videos and the option to add a payment method via PayPal.
Range of features
With GetResponse, you soon find your options are quite limited unless you trade up to the Pro package: you can only build one landing page using the Basic package, which does, however, allow you to test the builder in depth before subscribing to a more comprehensive package.
We like the fact that you can access a library of over 1,000 images free of charge, and that there is a built-in photo editor.
As far as additional features go, GetResponse also offers email marketing and marketing automation tools, along with some A/B Testing features.
GetResponse can be integrated with lots of CRMs and other tools, including AdWords, KISSmetrics, Facebook and Tag Manager.
Choice of templates
GetResponse includes several hundred free templates in its subscriptions: These are responsive and categorized by purpose: "opt-in", sales page, download page… all landing page possibilities are covered.
Pricing and subscriptions
Although subscriptions start from $15/month, it's only from the Pro package, costing $49/month, that the landing page building options become really interesting.
4. Instapage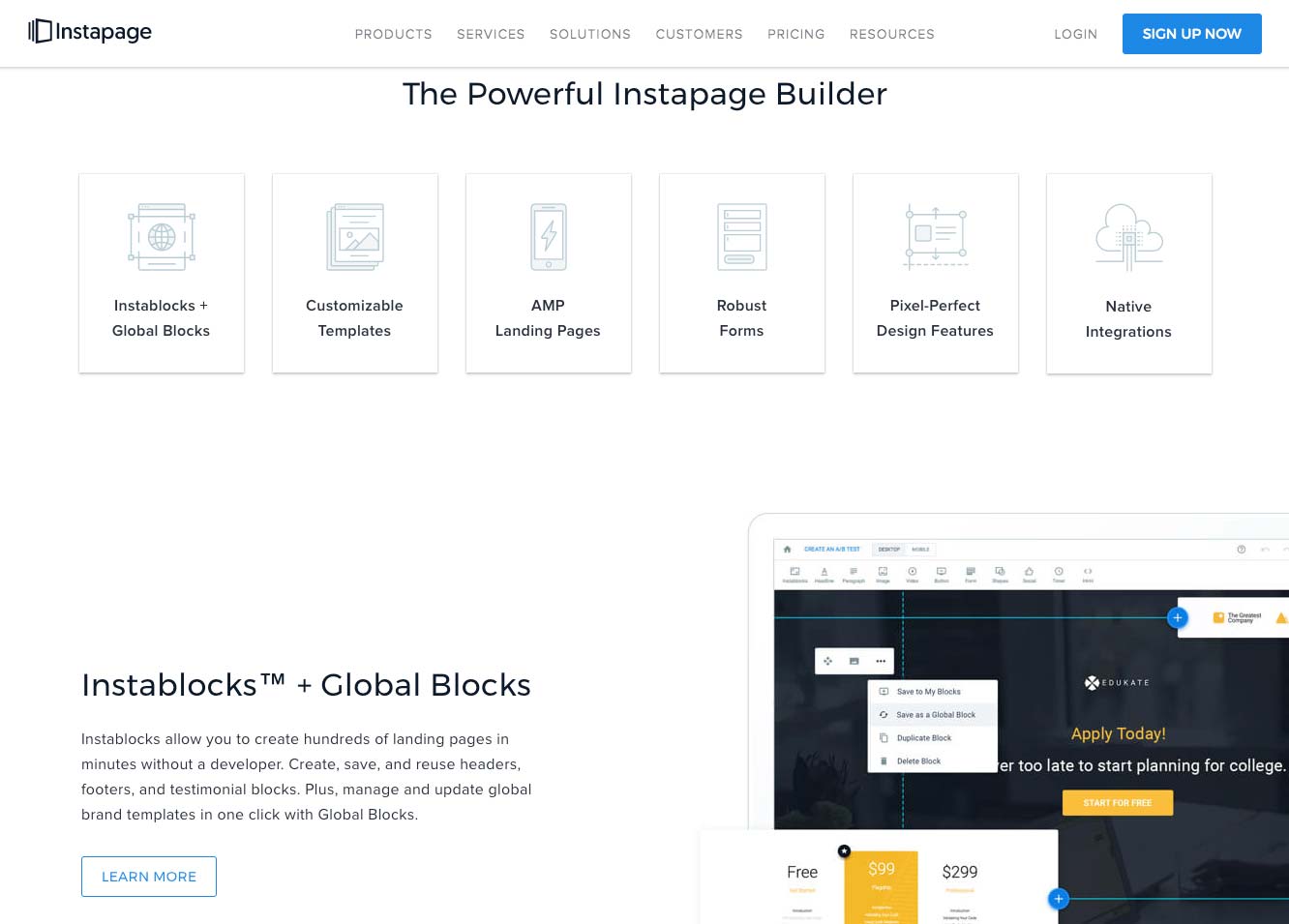 Instapage stands out from the other landing page tools by virtue of the speed and disconcerting ease with which it can be used. It is a powerful piece of software for entrepreneurs and marketers looking to build landing pages in a matter of minutes.
This makes it particularly well suited to people who want a fast, powerful and affordable landing page creator.
Getting to grips with the builder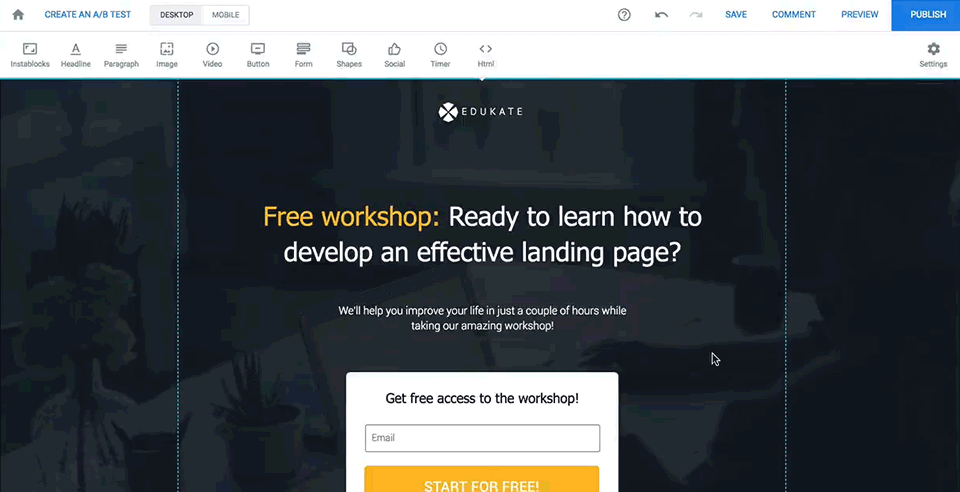 The Instapage builder is one of the best on the market because it's quick and easy to get to grips with.
Using the same drag-and-drop interface, users can add their choice of forms, titles, images, and videos.
Range of features
We like the power of Instapage's builder, the access to a large library of free photographs, and the clarity of Instapage's performance analysis reports. The software offers a wide range of features including responsive design, parallax, video backgrounds, AMP landing pages, and Instablocks functionality. We especially like the custom fonts feature, as well as perhaps its most unique feature, team collaboration.
However, please note that A/B Testing features are not included in the basic package.
Choice of templates
Instapage gives you access to a choice of some 200 responsive templates suited to most common uses. They are also categorized by use, saving you time and refining your choice to the most relevant options.
Pricing and subscriptions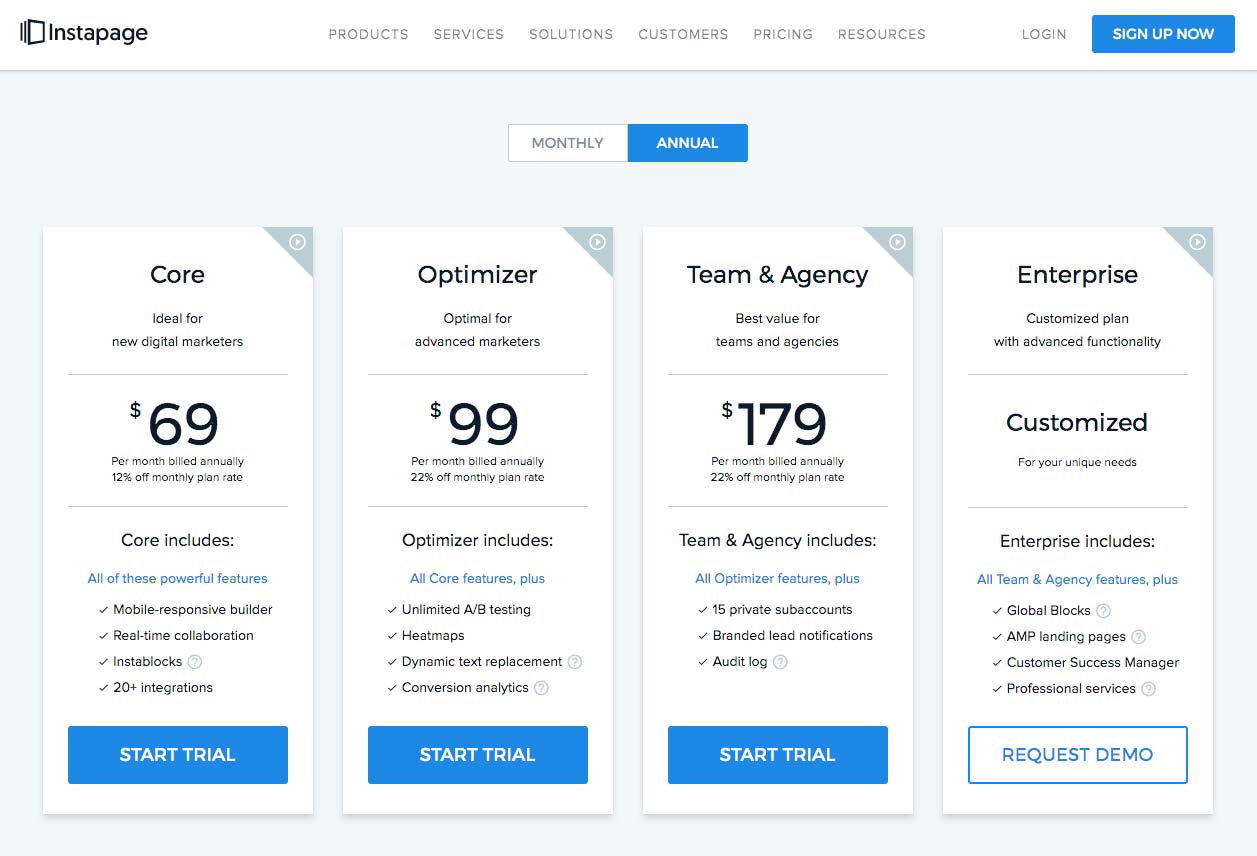 Given the number of features on offer, Instapage has an average price and offers a wide range of features depending on your needs. However, A/B Testing and heatmaps are only available from the "Optimizer" package up; the main landing page creator features are available in the basic package.
5. Wishpond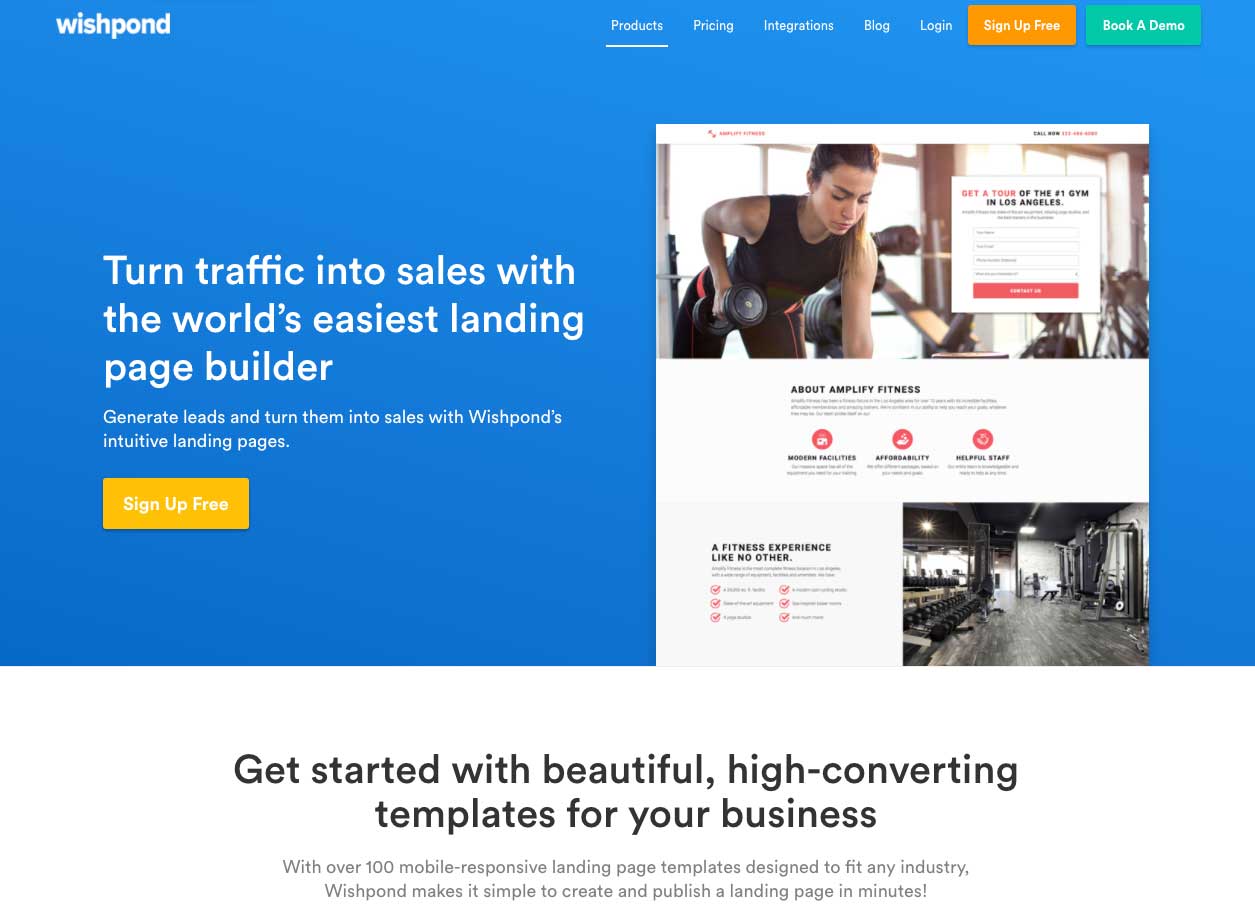 Wishpond is another fairly comprehensive solution with which you can create (in addition to landing pages) social content and pop-ups, and add a number of marketing automation features to your landing pages.
First of all, we like the fact that you can create an unlimited number of landing pages even with the basic package: the packages increase in price based on the number of leads generated.
Getting to grips with the builder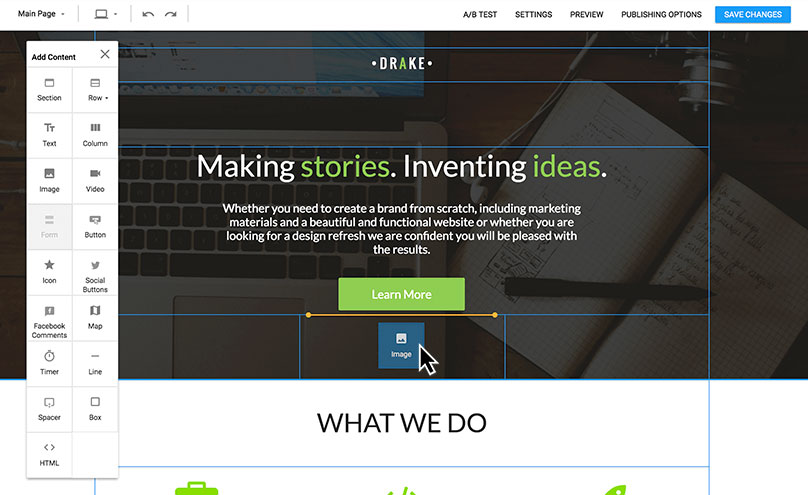 With the Wishpond builder, you can edit preselected templates using drag and drop. It isn't as comprehensive as the Instapage and Unbounce creators, but the main features allow you to create professional landing pages.
Range of features
Wishpond gives you access to most of the features you'll want in the most basic package: unlike any of the other tools presented here, you can use the builder to create an unlimited number of landing pages, email campaigns and pop-ups with no restriction on the number of users.
It also integrates with lots of other tools, including Zapier, Salesforce, SurveyMonkey, Infusionsoft, and Slack.
Choice of templates
Like its competitors, Wishpond gives you access to a catalog of around one hundred responsive templates suited to various business sectors.
Pricing and subscriptions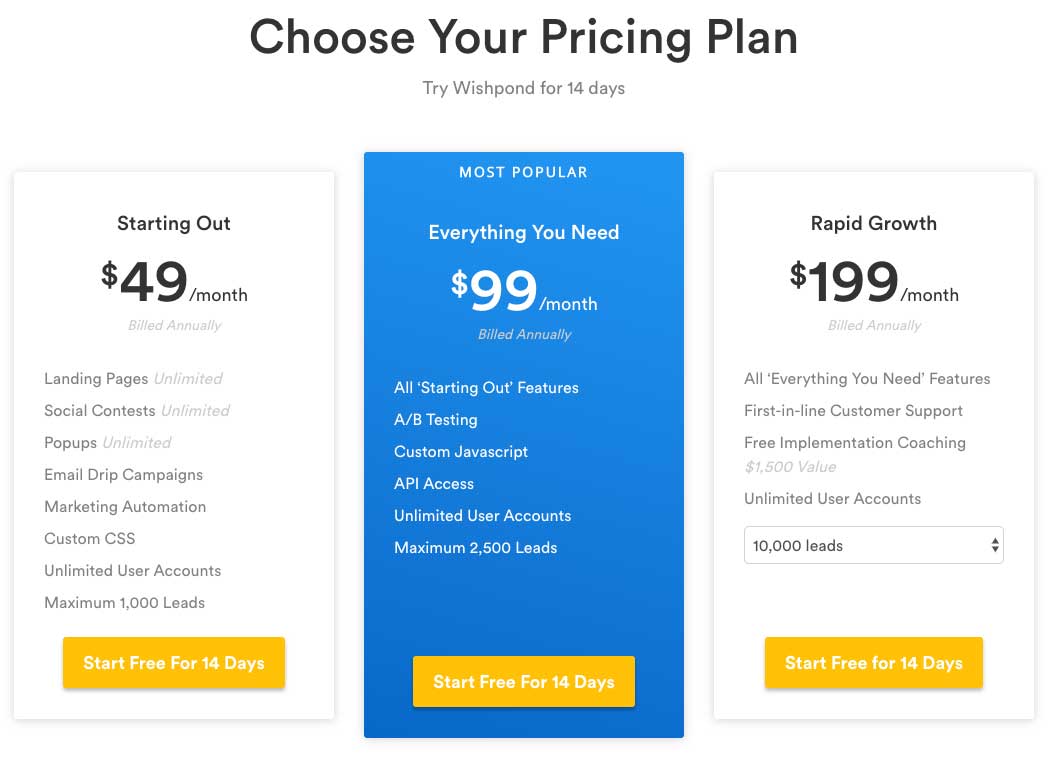 Available from $49/month with a free 14-day trial period, the "Starting Out" package is certainly one of the most comprehensive on the market for users looking to build an unlimited number of landing pages at low cost.
On that note, Wishpond prices its packages in a different way to its competitors: the basic package limits you to 1,000 leads generated, and you'll have to trade up to a more expensive package if you want to acquire more. A quirky but attractive model!
6. Ucraft
Ucraft is an affordable yet impressive option. They go beyond just landing page building by offering a suite of other tools such as a free logo maker, an e-commerce option, designer tools, and an articles app. Of course, these can all accompany their Free Landing Page Creator.
Getting to grips with the builder
Ucraft uses a self-hosted easy to use drag-and-drop website builder/landing page creator that does not require any coding, webmaster, or designer skills. Everything you build is hosted with Google Cloud and has pretty fast server speed.
Range of features
For a basic website, Ucraft can offer you a custom domain, a multilingual website, free hosting, and 15+ integrations. For e-commerce websites, they offer real-time tracking, a 0% transaction fee, and multi-currency support. We like that they offer SEO support as well.
Choice of templates
Ucraft has various templates for business, e-commerce, personal, restaurant, travel, sport, art, design, photography, portfolio, and blog.
Pricing and Subscription
Ucraft offers both monthly and yearly pricing packages. Unlike most other services, Ucraft does offer a truly free package that allows you to build a multi-page website. If you like it and decide to use a paid version, it is still very affordable and quite comprehensive.
7. MailChimp
Worth noting also that the email marketing tool MailChimp has also just launched its own landing page creator. At the time of press, we hadn't had the chance to test the tool but it might prove to be a serious option if you already use their newsletter or email marketing solution and want an integrated solution.
Landing page builder or comprehensive A/B Testing solution: what to choose?
If you're reading this article, no doubt building and optimizing website are key issues for you and your business.
Perfect for beginners or agencies who need to build lots of pages from scratch, tools like Unbounce, Instapage and LeadPages allow you to create new landing pages effectively based on templates: a rapid DIY solution which delivers concrete results in a matter of hours.
For companies looking to optimize pages already online, these aren't the tools for you: you can't use them to edit published pages, only to create new ones using a drag-and-drop builder.
Another limitation of landing page builders is that your newly created pages are hosted by the solution publisher, which has harmful effects on your landing page's ability to boost its Google ranking.
Why opt for a comprehensive A/B Testing solution?
Unlike all-in-one landing page creators, comprehensive A/B Testing solutions like AB Tasty allow you to edit existing pages which you've already put online, with the aim of optimizing conversion.
When you use a page builder, you're looking mainly to build new pages to target a particular audience: landing page creators are therefore fully suited to this purpose and really save you time.
When you want to analyse your own pages and optimize them, a solution like AB Tasty allows you to gain insights and an in-depth analysis that landing page builders won't give you.
Among others, here are a few features that landing page creators don't offer and which you do get with AB Tasty:
User Insights
Session Recording : watch your users interact on your site and analyse their behaviour in video.
Heatmaps : use heatmaps to view how these users interact with your site.
A/B Testing
Advanced A/B testing features: multivariate testing and sales tunnel testing where you don't just test one page but a series of pages in the customer journey.
Server-side A/B testing and tests compatible with JavaScript frameworks like Angular or React.
Advanced targeting: use several dozen parameters to target audiences assigned to an A/B test. You can also extend these criteria by connecting your third-party tools (e.g. Data Management Platform, Data Onboarding).
Advanced analyses and statistics: dedicated A/B testing tools offer much more refined results analysis algorithms than solutions built into landing page builders, for which A/B testing is not a core business.
Content customization
Audience segmentation: split your audiences by target and interest area to break down each audience's behaviours.
Send different messages to each customer profile using customized messages.
Predictive marketing: harness your data and use machine learning algorithms to anticipate how your future customers will behave.
Need to take control and boost conversion on your landing pages? Explore our comprehensive landing page optimization solutions.